While I originally created this Printable 3D Box Diorama Animal Habitat Craft as non-candy Halloween treats for trick-or-treaters, it is a fun craft that can be used year-round for interactive classroom activities for animal habitat topical studies, homeschool zoo activities, book report projects, and themed playdate crafts or zoo party favors!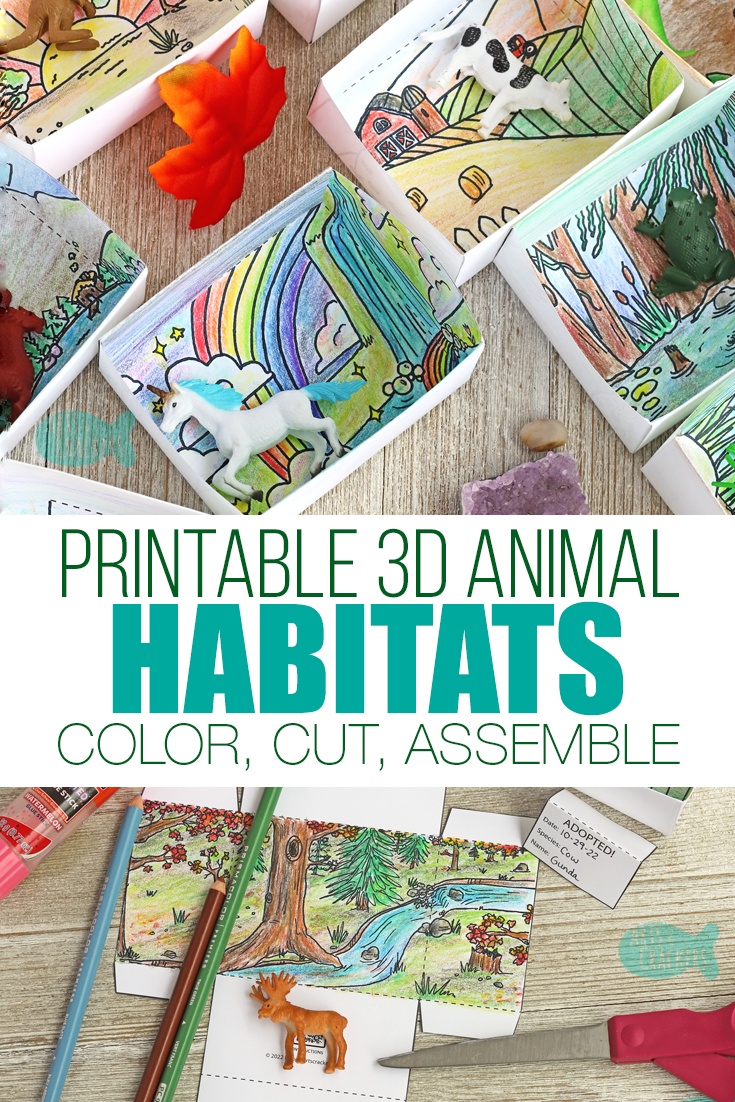 This post contains affiliate links; by purchasing through these links, you help support the family behind Arts & Crackers at no added cost to you! Thank you!
Each year for Halloween, I try to come up with something unique to hand out to trick-or-treaters. We do not really celebrate the holiday, so I try to keep it non-scary, though it is usually fall-related in some way. I also try to choose non-candy Halloween treats so kids can enjoy it for longer, and I try to come up with something that is free of all major allergens for the Teal Pumpkin Project so all kids can enjoy it.
This year I came up with this animal habitat craft, which consists of a 3D printable box with a hand-illustrated coloring page in the middle. Kids (and grown-ups) may color the habitat scene, cut on the solid line, then fold and assemble the paper into an animal habitat diorama. With this paper craft, I included little toy animal figurines that matched the habitat!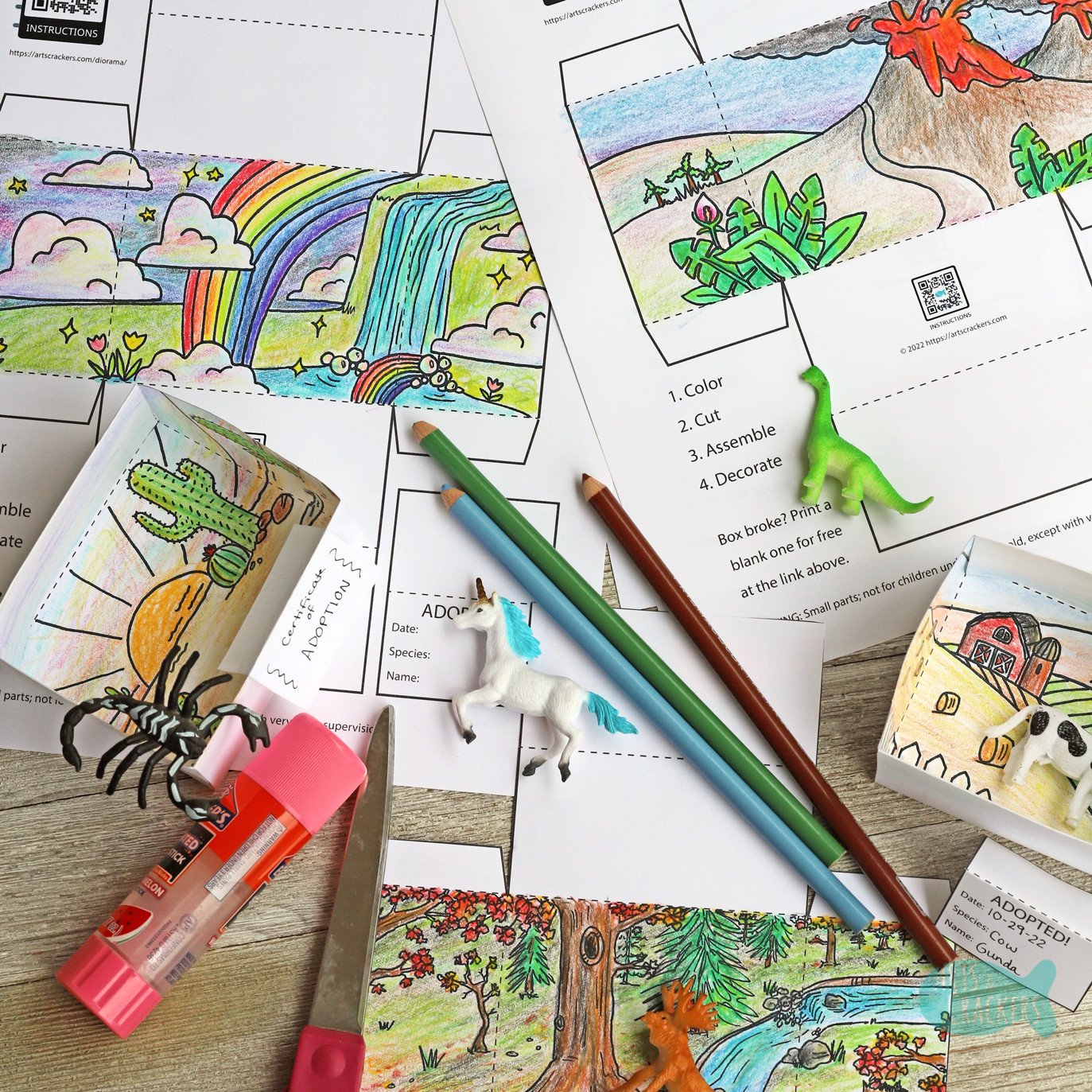 The best part of our Halloween handouts this year is that it is not fall or Halloween-related at all…and it is educational (leave it to a homeschool teacher to hand out educational crafts instead of candy)…so it can be used throughout the year for multiple activities in the classroom, at the zoo, as a party favor, for book reports, or just because! Don't you just love when things can serve multiple purposes?
Animal Habitat Printable 3D Paper Box Diorama
Supplies Needed:
*Note: I found categorized value packs at our local Hobby Lobby, but I have linked to bulk sets on Amazon that have a variety of animals.
As you will see below, I am providing one blank 3D paper box template page for free (this is especially helpful if you gift the craft to someone and they make a wrong cut or the paper box breaks, because they will be able to replace it for free and it is linked to on the printable pages) and the full set comes as a package at a low cost.
We love paper crafts!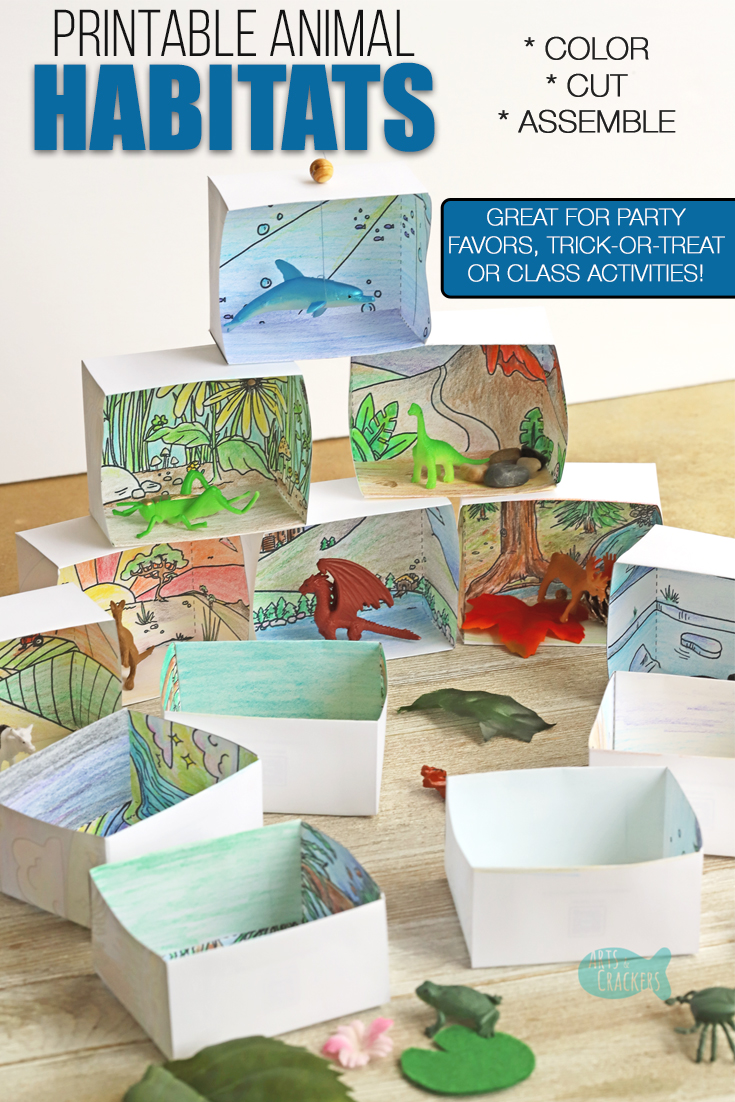 The full coloring page package includes these habitats: Dino Land, Dragon Land, Unicorn Land, Farm, Garden, Desert, Jungle, Savanna, Ocean, Ocean Floor, Swamp, Woodland, Tundra, and a blank design to make your own (perhaps a refrigerator like my E did or a more specific habitat than these generic ones…I see you, fellow poppies)!
BONUS! If you choose to purchase the full-color set, you will get a copy of my "bake shop" that I made using an extra blank template. This is so much fun for dessert-shaped erasers!
Each design is hand-illustrated (and incredibly fun to color in)! Each also comes with a small "Adopted" sign or document so kids can write the date they received it, the species of animal, and the name they gave to the animal that is now in their care. Links and QR codes that lead to this post are also included should instructions or replacement boxes need to be accessed.
Enjoy cutting, coloring, and assembling? You may also like our Cut, Color, and Assemble Fairies; they make great mobiles and puppets!
How to Make This 3D Paper Animal Habitat Diorama
1. Print out the pages below. If you are gifting these items, simply put the sheets and a coordinating toy animal and any optional extra supplies into a bag to hand out. Depending on your bag size, you may need to trim off excess paper.
If you are assembling these on your own, keep reading.
2. When you are ready, color in the picture and write your animal's information on the "Adopted!" sign. Each side with the picture will show when assembled correctly. If you choose to decorate the outside or the "ceiling" or "floor" of your diorama, you will need to color on the back of the page as well. I kept these parts blank rather than offering a double-sided printable to avoid potential printer errors.
*Note: If you have an animal that swims but fits in another scene, color what will become the floor of your diorama to look like water! If your animal stays on land, color it to look like land! You can even coat the "floor" with something to make it more realistic, like sand or paint or rocks, in step 6.
3. Once your page is colored to your liking and any words are written, cut out the box and sign. Make sure you cut only on the solid lines, as shown in the key at the top of each page. Again, if you mess up and you were not the one who purchased these pages, I have provided the box template for free download. If you still wish to use my design, you are welcome to trace it onto the new box template.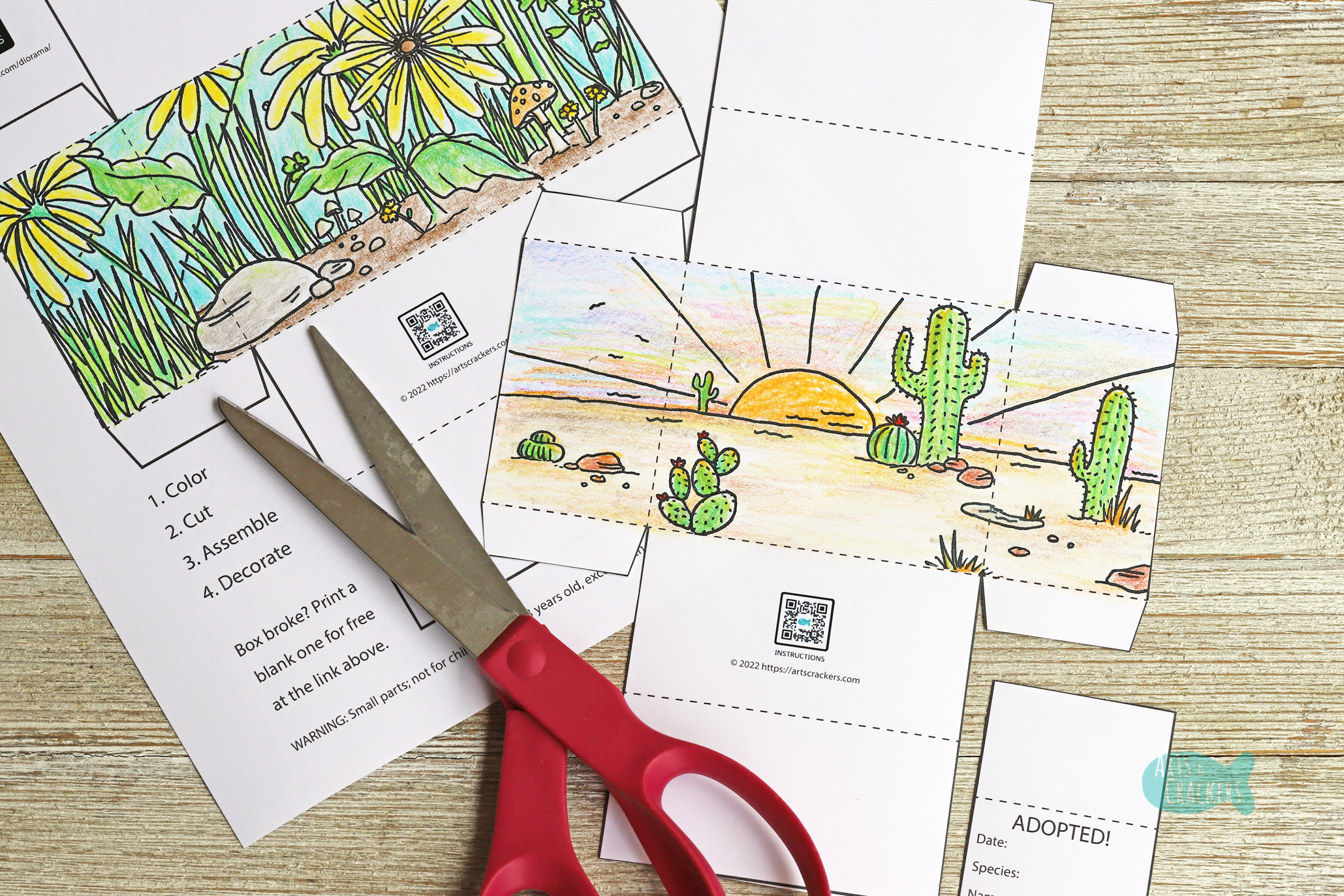 4. Now it is time to assemble the box! Make a fold on each dashed line. Each piece will fold inward towards the illustration. I like to fold everything in before placing everything into assembly position (sort of how you prepare for certain folds in origami). The "Adopted" sign can be folded either way; if folded backwards, you can stand the sign next to your animal habitat diorama, while if folded inwards you can add a picture on the top and it will look like a pamphlet or document.
5. Using glue or double-sided tape, assemble the box. the small trapezoid-shaped tabs will attach to the long, thin rectangles (like the one with the QR code), then the outermost long, thin rectangle sides will fold inwards towards the art to cover the tabs and reinforce the top and bottom of your paper box.
*Note: Make sure the glue you are using is not too wet, or you may risk smudging your beautiful coloring. This is why I recommend using a glue stick or double-sided tape before other types of glue. I never planned to purchase scented glue…that sounded like a questionable idea…but I cannot pass up clearance pricing, and, I've gotta say, it does smell pretty good!
6. If you choose to, decorate your scene a bit more! Add pompoms, ribbon, mini silk flowers and leaves, sequins, or other items to make your animal habitat feel like home. If you wish, you may even glue on some sand, rocks, puffy paint, glitter glue, or anything else that may make your diorama floor look more realistic too.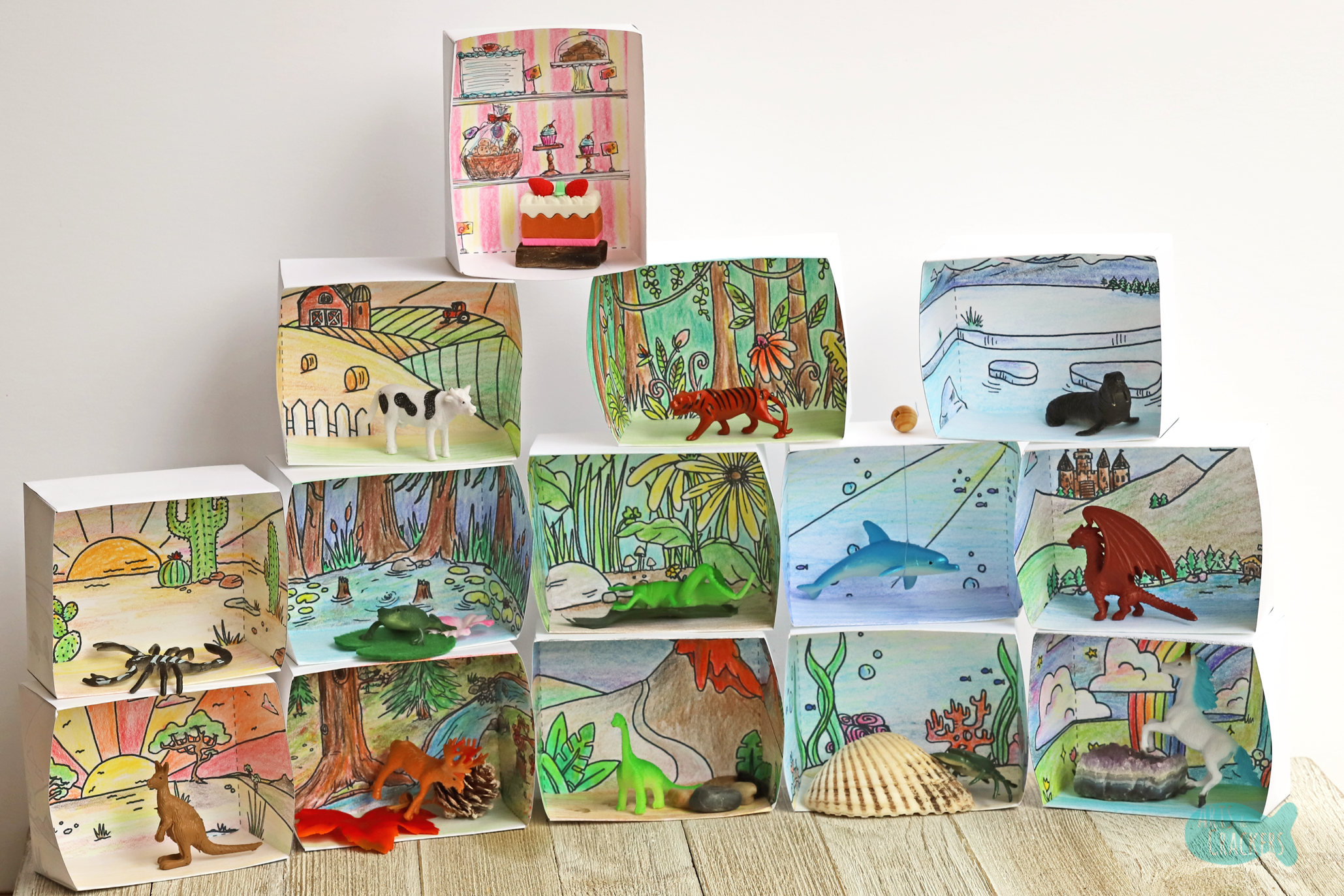 7. Place your animal into its new home! If you have an animal that flies or swims, you may want to try adding a small hole at the top of the diorama, then tying clear fishing line around your toy animal and poking it through the hole and knotting it so your animal "floats." You could also place your animal on a rock or just set it inside and use your imagination!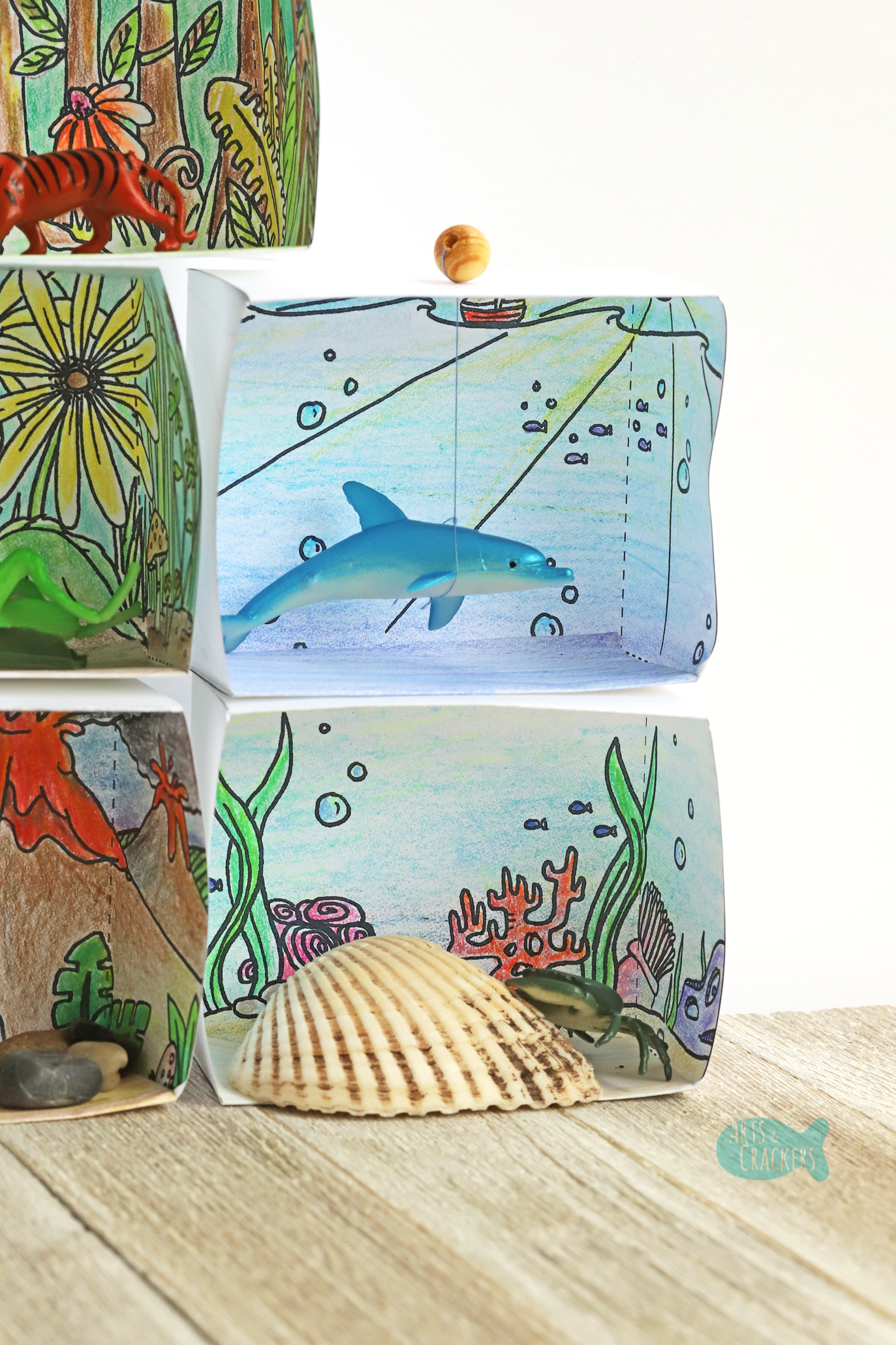 My boys realized that the water scenes work well together when you stack them! I loved their idea, so I wanted to share it here.
My boys did such a great job with theirs! I love E's "Dessert Desert" —how creative!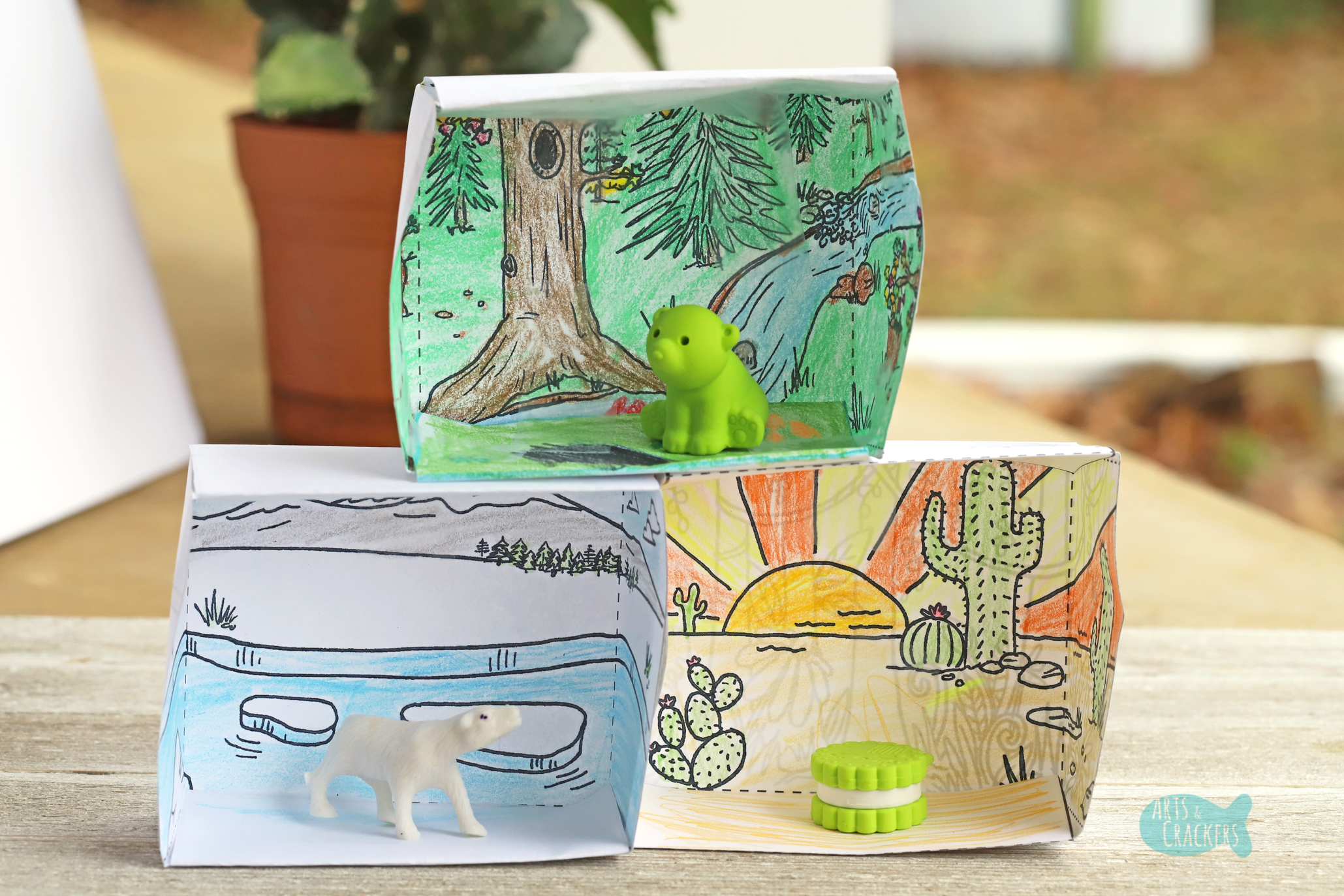 Here's how our treat stand for trick-or-treaters turned out! I dressed like a zoologist last minute and we set up all of the habitats, some decorations, and our bean bag toss game from our Zoo Party. I also had bananas and apples for littles who were too young for the small toys (or bigs who really did not want the craft kit, though most of the big kids absolutely loved it!).

Read also: Safari Playdate, Zoo Birthday Party At Home, Ocean-themed Birthday Party, DIY Glow-in-the-Dark Solar System Mobile, and Fauvism Art Lesson
Looking for more? View these categories!