Animal anything is huge in our house. My youngest, S, loves learning about animals and sometimes even says he wants to work with animals when he grows up. Naturally, he asked for a zoo birthday party. Instead of heading out to the zoo and paying for a destination party, I'm going to share How to Throw a Zoo Party At Home. You'll love our Zoo Birthday Party Idea for Kids!
This post contains affiliate links. By purchasing through these links, you help support the family behind Arts & Crackers at no added cost to you! Thank you!
>>Look below for our printable party package so you can host your very own Zoo At Home Party too!<<
To be perfectly honest, I am not a huge fan of standard zoos. I've never liked how they just take animals to put them on display. We love rescue zoos that offer rehabilitation or other resources to help out the animals (and sometimes even get them well enough to send them back to the wild), but the one by us was too far away for a birthday party, so we had to do the next best thing…
We threw a Zoo Party At Home.
While it would have been neat to incorporate a petting zoo or a visit from a zoologist or someone with animals for hands-on lessons, this just wasn't in the budget. Instead, we stuck with simple activities and incorporated other opportunities for learning.
How to Throw a Zoo Party At Home | Zoo Birthday Party Idea for Kids
Here are some of our favorite party supplies for this Zoo Birthday Party: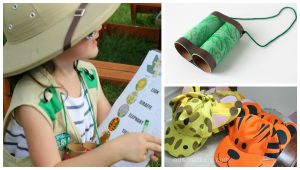 Zoo Party Decor

For this party, we did somewhat minimal decorating. Most of our focus was on activities and education, so some of our decorations were just printables that we taped around the house.
We utilized several rooms for this party. Our bedroom and my office were off-limits, but we used the kids' bedroom, the living room, the dining room, our school room, and somewhat the playroom for our activities. Because our house is pretty small and we tend to have a decent turnout for parties, spreading the party around the house was pretty necessary. If the weather was nice and the party was during the day, we may have even taken some outside as well.
One thing I usually do for parties is pull down a lot of my regular home decor if I can't incorporate it into the party theme in any way. This is a simple thing to do when it is just photos, calendars, and chalkboards, but we have even moved our piano for it before. We keep one room open for storing all of these things so we can have a spiffy-looking party and protect some of our favorite decor from the large group of children.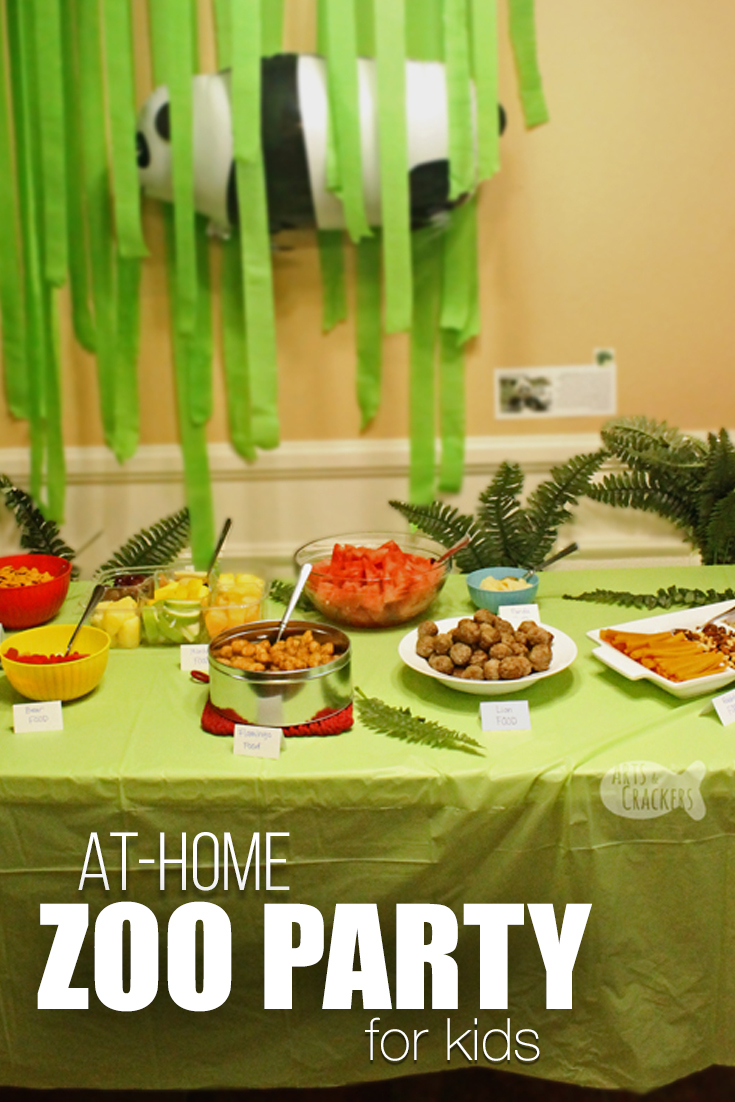 The main area that we actually "decorated" was the table for the food. We added a plastic green tablecloth over the table, just to keep things inexpensive, then decorated around the table with fake fern leaves (some were still bunched together, and others we pulled off the bunch to lie around individually).
Over the table, we hung many strands of green party streamers in a few layers. These were supposed to look like bamboo to hide the panda bear balloon. You could totally use real or fake bamboo, too!
We also taped a plastic blue tablecloth to the ceiling next to the table to look like a waterfall. If you decide to do this, I suggest having several rolls of streamer. Our goal was to cover the entire wall so it looked like you were heading into a panda habitat, but we ran out of streamers.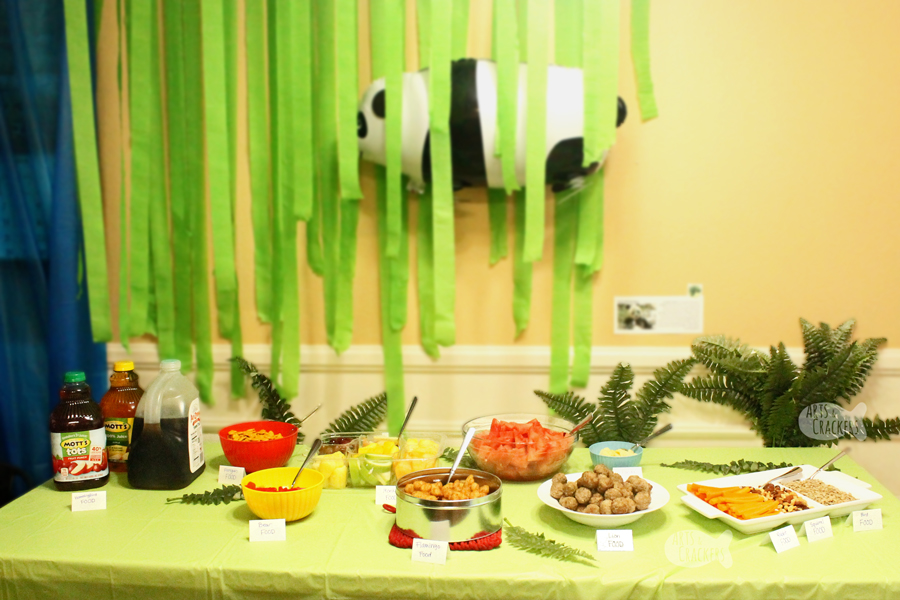 For this party, we were unable to move the piano, so we covered it with a plastic grey tablecloth and made it look like a giant rock for one of the big cats to have its habitat.
In the boys' bedroom, we put up our Christmas tree a bit early, decoration-free, to hide some of the woodland animals in and around. Our homeschool room/reading nook is already jungle-themed (check out our makeover details), so we were able to leave that mostly as-is and incorporate it in as several exhibits.
In each room, we hid animals and added exhibit signs nearby with the animal name and some animal facts for the kids to read and learn.
All of these decorations were fairly quick and simple. You can always add more to totally transform your home, like some fake leaves and flowers, safari grass, etc. We were even going to take black streamers to put "bars" over some of the exhibits so they looked like real exhibits, but we ran out of time on this one and it all still turned out fantastic. The kids enjoyed all the decorations, and the decorations didn't break the bank!
Oh, and we can't forget the extra little touch I like to add to all of my boys' parties…a custom bathroom sign! We tape this to our bathroom door so guests can easily find the restrooms when needed.
Zoo Activities
For our at-home parties, I always plan several activities so that we can keep the large amount of kids in order. Having activities allows us to offer free-play time, but structured activities in between to break things up and make sure all the kids are gathered together and not getting into things.
Feed The Animals Game

One of my favorite activities was our "Feed the Animals" bean bag toss game. This one was a work of heart. Of course, you can purchase pre-made games similar to this that would work just fine, but I decided that I wanted to make a game completely by hand.
I built the board, painted it, then made hand-sewn bean bags to toss inside. The kids had to toss the correct food item into the correct animal's mouth. The lion ate steak, the penguin ate fish, and the lemur ate cabbage. If they fed any animal the wrong food or missed completely, they got to try again! This activity was not only fun and educational, but also works on motor skills.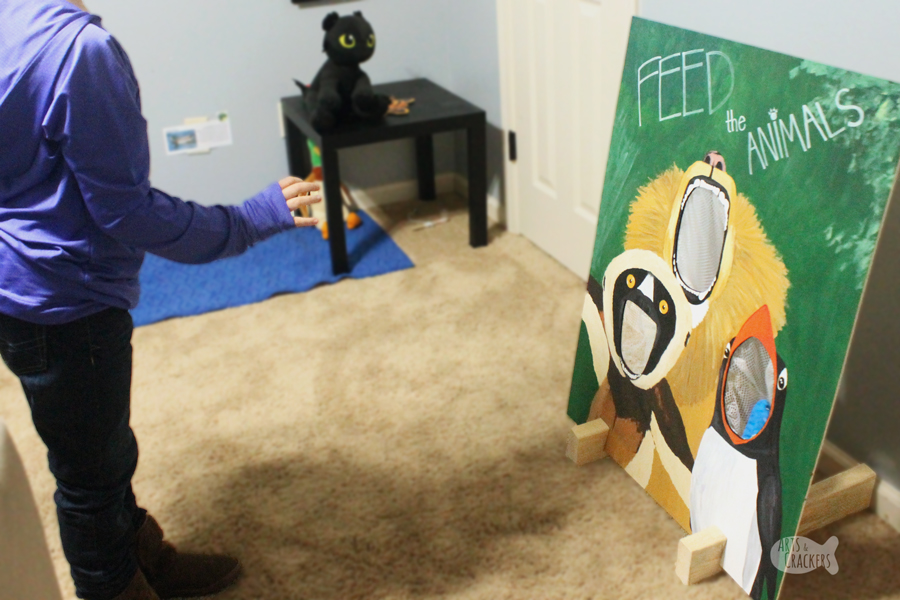 Zoo Scavenger Hunt Game

When we do go to the zoo, we love to do scavenger hunts. We decided to bring this fun Zoo Scavenger Hunt activity into our Zoo Party at home.
Around the rooms in our house, I hid different zoo animals. Some rooms had play animals or animal pictures already, some of animals were 3D balloons that we hid around the house, some of the animals were our live pets, and some of the animals that we wanted to display but didn't have were just the pictures on the display cards and a habitat card (because any time we go to the zoo, at least two of the animals are hiding).
In order for the kids to know which animals to count that they found, I also added a small picture with binoculars to show that a specific animal was part of the zoo scavenger hunt.
On our scavenger hunt sheets, I also added a space to include how many of each was found. This isn't a necessary spot to fill, but I had several of some animals hidden, so the kids could fill in a larger number if they wanted to show that they found several of the animals.
Give them animal print pencils to use and keep!
Our zoo scavenger hunt was one of our most-loved activities. Even the big kids got involved and were excited to find each, and some kids asked to do it twice (good thing I printed a few extra sheets)!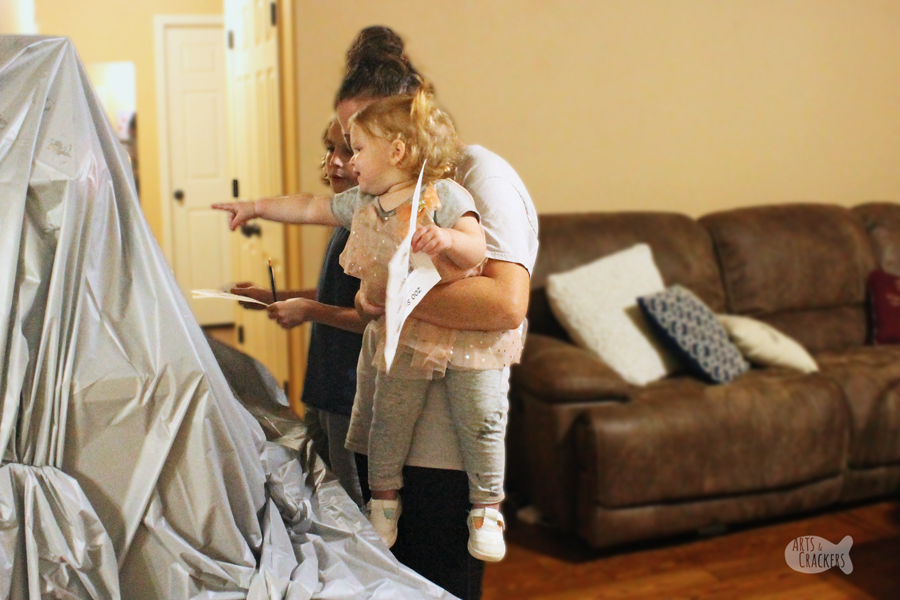 Kids and parents would search around the rooms we had set up, finding the binoculars and each animal we had in our zoo. Some animals would be hidden in their habitats. Some would be up high in trees or vines. Some would be hidden behind streamers. The habitat decorations we put up were hints as to where each animal could be found, too.
Zoo Party Food
Generally, I would start by sharing the main food that we served when guests arrived; however, since we just discussed activities, I am going to start with our food item that also served as one of our activities.
Do-It-Yourself Habitat Cupcakes Activity

For the boys, I usually like to make big, decorative cakes. I had one all planned out for S, but this was a hectic time of year and I just knew I wouldn't have time to decorate a whole cake to share with everyone, so I came up with a solution: DIY Cupcakes for the guests to decorate!
This did end up being a little bit of prep work on my part, but mostly because I had to custom make all the toppers and things (which is all now provided for you below).
Each animal had its own baggie full of the supplies needed and a list of edible supplies needed to create the cupcakes. I also made custom cupcakes for each animal's habitat. We had several cupcakes for woodland animals, each labeled so guests would know which cupcake base to grab. We also had arctic cupcakes, jungle cupcakes, forests of Asia cupcakes, safari cupcakes, desert cupcakes, wetlands cupcakes…each had a slightly different look on top to fit the animal's habitat.
In little baggies, I added a clean animal toy, any specific decorations (trees on toothpicks, the animal name sign, etc), and a piece of paper that said which cupcake habitat to grab and which candy toppings were needed. Since we have several who are gluten-free, I made gluten-free cupcakes and labeled any animals that would end up entirely gluten-free after choosing the habitat and candies.
Kids and parents would choose which animal they wanted, grab the supply bag, choose the correct base, pick out candy toppings, then decorate their habitat however they wanted!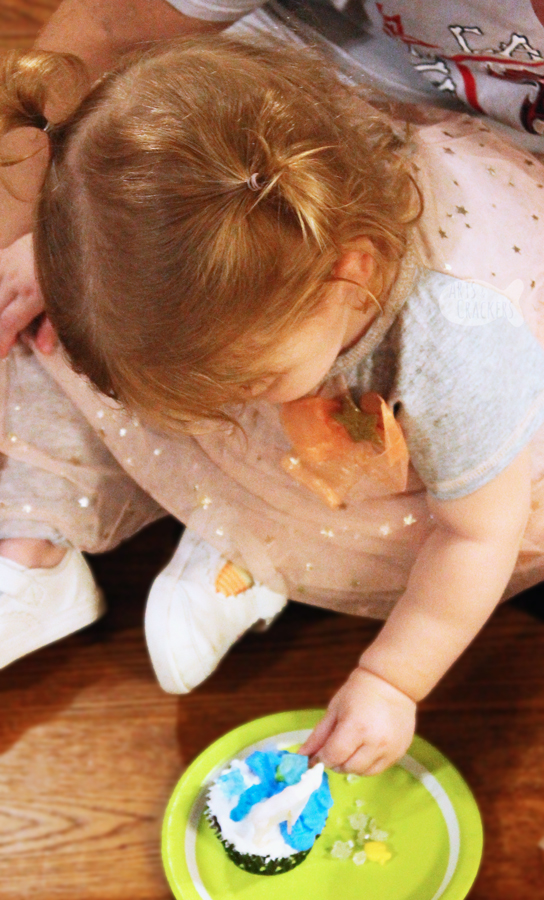 Not everyone picked out matching animals and bases, since we had a large crowd that didn't all hear instructions, but everyone had fun decorating and eating their cupcakes. Afterwards, they were able to rinse off their toy animals and keep them as a party favor!
The cupcakes that were leftover needed some love, so my friend and I went ahead and decorated them to give you a good idea of how some of these can be decorated, then I gave the extras to people in our neighborhood.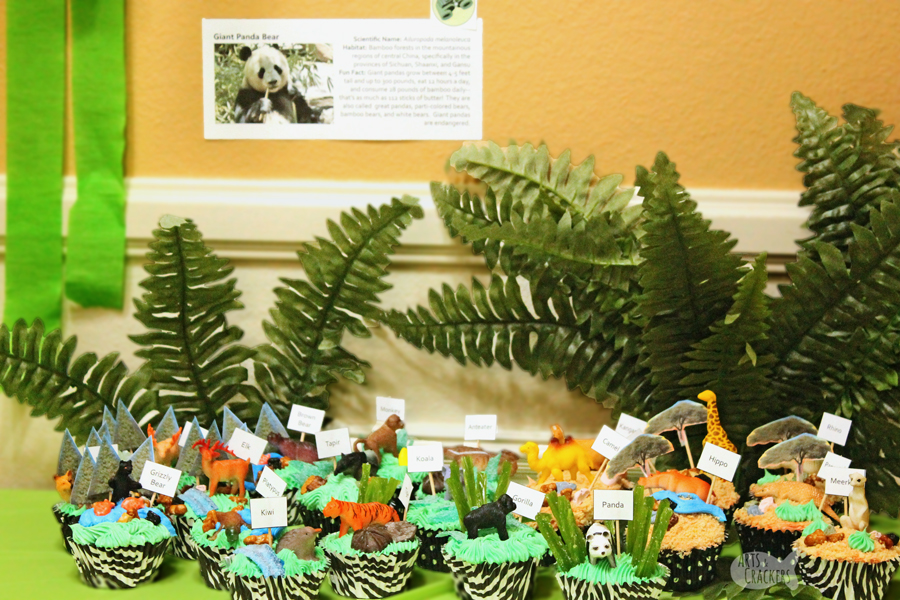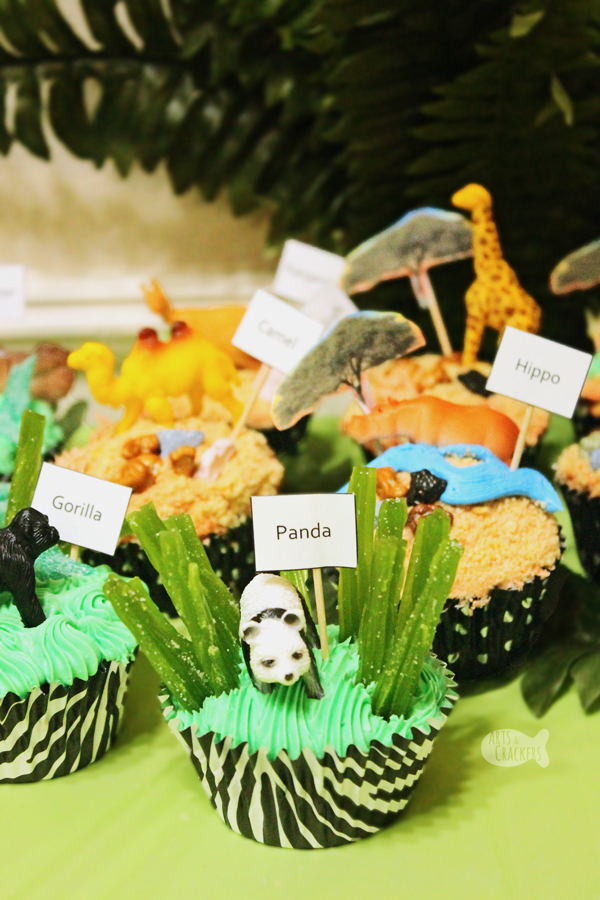 Zoo Party Food Spread

I never plan on feeding guests a full meal, but when things are planned every single Saturday and you need to have your party on a Friday night after work, sometimes you need to offer enough to count as a meal. We made sure to keep it all zoo-themed to go with the party.
Foods were labeled by which animal eats foods like that. Meatballs were "Lion Food," popcorn shrimp was "Flamingo Food," carrot sticks were "Rabbit Food," mixed nuts were "Squirrel Food," sunflower seeds were "Bird Food," bamboo shoots (for anyone brave enough) were "Panda Food," fruits were "Monkey Food," Swedish Fish (which looked like salmon) were "Bear Food," Goldfish Crackers were "Penguin Food," and fruit juice was "Hummingbird Food." Surprisingly, these labels helped some of the pickier kids be more willing to try new foods!
Eating Cupcakes and Other Party Details

Everyone enjoyed their cupcakes! Even the little, little ones had fun decorating and eating.
We always take time to sing "Happy Birthday" to our birthday boy during the party!
Towards the end of the party, before we offer more unstructured free time, we like to open gifts. Many guests don't bring gifts, so we usually just have a couple to open so guests that brought gifts can see our kids' reactions. We have learned, living elsewhere because of military life, that many places do not open the gifts during the party, but this is something we always try to make time for.
Here are some great gift ideas for your little animal lovers:
We sent these invites out (online, though in-person invites are great, too) so guests would know about the party! You can add more info like your address or phone number if desired. I've included a blank one in the party pack that you can use. Just upload it to a photo program and type words overtop before printing or sharing, or print and write the details on with a gel pen, permanent marker, or paint pen!
I am also one of those moms who gives out party favors to guests. I know, I know. People these days say not to do that, but it brings me joy, so I do it. We already had some cute zebra treat bags at home, so we filled them with inexpensive items: animal crackers (we bought in bulk at a great value and use the extras for road trips and easy snacks), a couple zoo animal stickers, a zoo animal eraser, berry fruit snacks, and they got to keep the toy animal from their cupcakes.
Print Your Own Party Package!
Our parties are always a hit, so I hope you are able to have fun with these ideas and use them to create your own memorable parties! Remember, parties don't have to break the bank, you can combine homemade with store-bought, and don't do so much that you completely lose your mind—your child will love whatever you create.
Read also: "Wild About Reading" Jungle Book Nook Makeover and DIY Flamingo Candy Cane Craft

Looking for more? View these categories!