I received free products from Oriental Trading Company to facilitate this party.
All opinions and ideas are my own and are not influenced by the party who provided this opportunity.
Playdates are such a fun way to get kids together with friends to socialize and learn. They are also a way to get moms out of the house and talking to other adults (because admit it moms, adult conversations, minus perhaps those with your spouse, don't happen very often once you become a parent.)
With the weather so nice in the afternoons, I want to get my kids outside more often. They wanted to see their friends, so we invited them all over for a semi-structured safari-themed party playdate with Oriental Trading Company. I set up a few decorations, some snacks, a game, and a craft for the kids to enjoy.
Some of the activities needed some guidance with the age range of the kids who participated, but they were not overly-structured so the adults could still relax. I combined indoor and outdoor activities as well to give a change of atmosphere.
Binocular Craft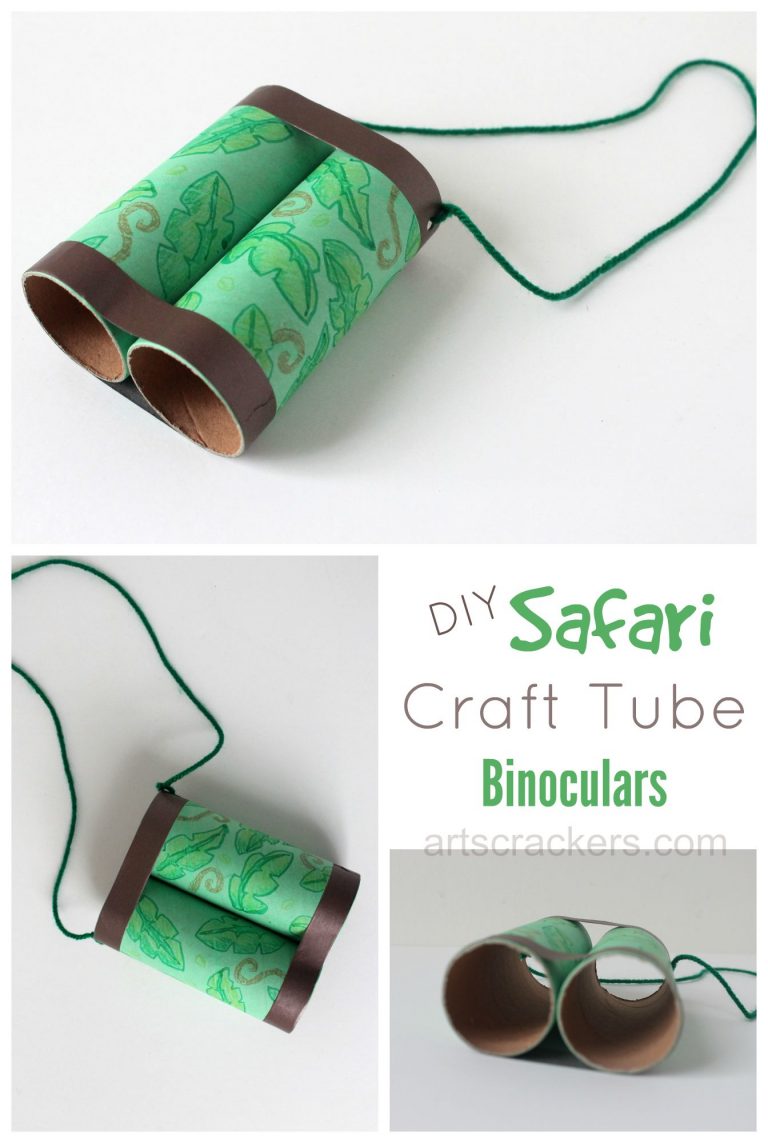 First we worked on our craft because it would be useful for the rest of the playdate. It also allowed for an ongoing activity until everyone arrived.
What You Need
Directions
You can go two ways with this: assemble these beforehand (recommended) or assemble these during the party (what we did to give the kids more creative freedom.) If you have help, you can assemble them during the party. Below is the example project I made to share with the kids as a visual for their binoculars.
1. Hold two craft rolls together and carefully tape them together with washi tape around each end. Wrap tightly so they do not fall apart; I wrapped two layers of tape around each end.
*If you want these to be more like regular binoculars and you have the time/supplies (I did not get around to this), you can hot glue two medium-sized wooden beads between the rolls just prior to taping. If you do this, it may be easier to pre-assemble the binoculars depending on your playdate size.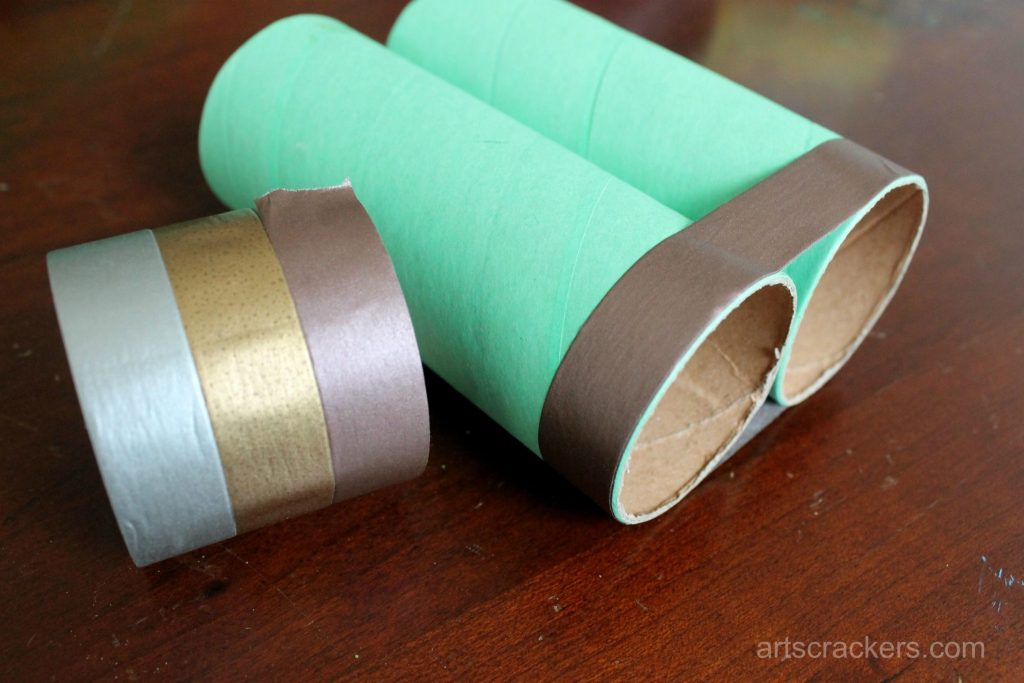 2. Color designs on the rolls. You can see here that I colored mine after assembly, however, I had the kids color theirs prior so they did not accidentally tear apart the tape and tubes.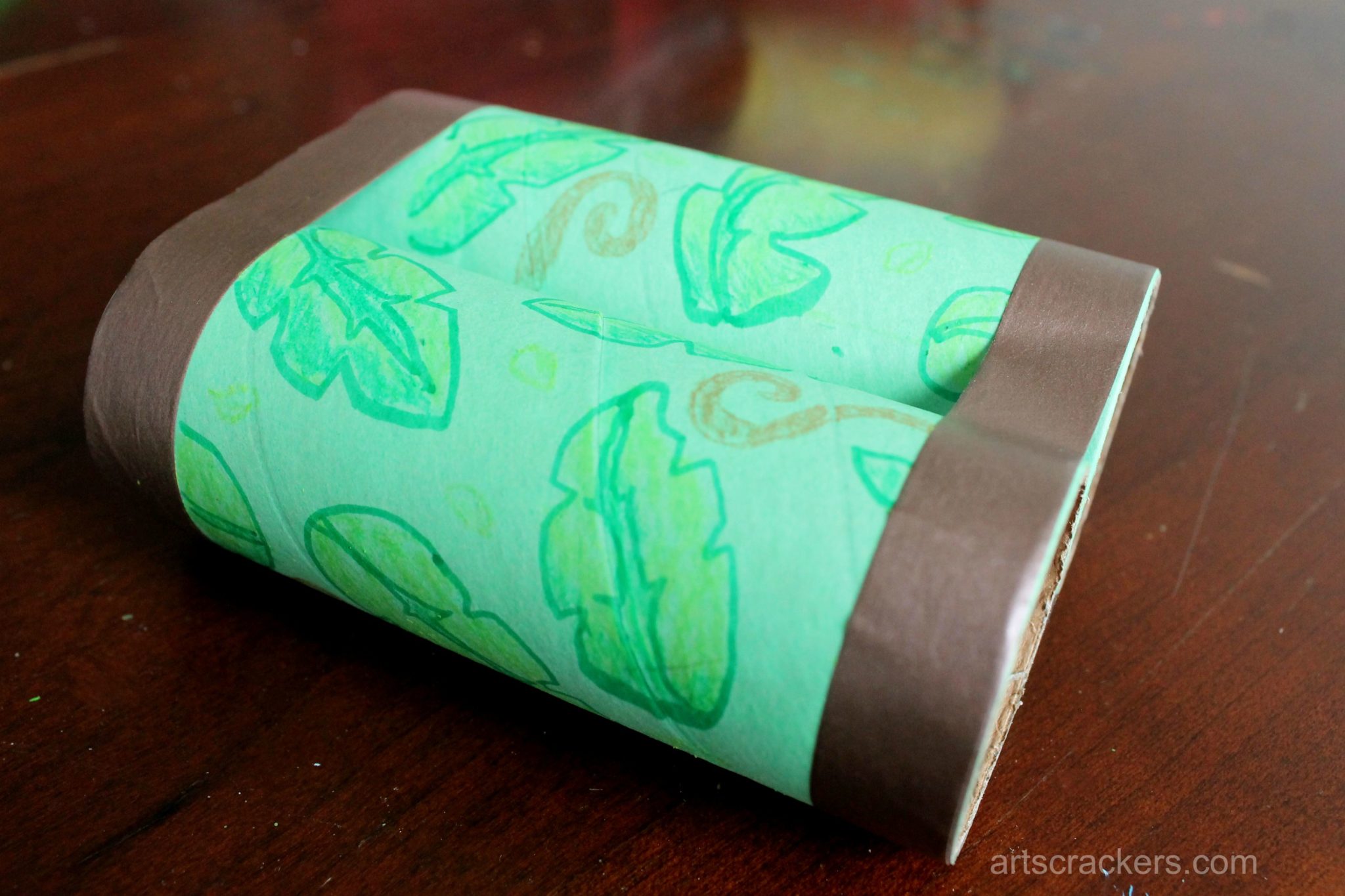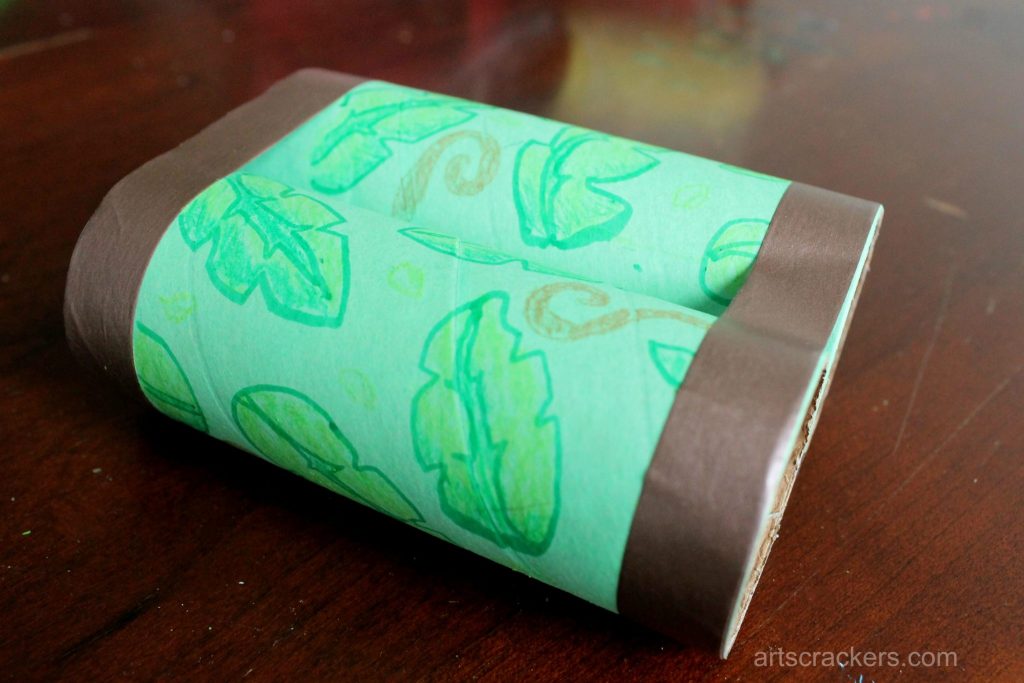 They had so much fun coloring. Don't forget to have them include their names!
3. Hole punch one hole on the taped part of the left and right sides of the binoculars on the side that will rest on your face.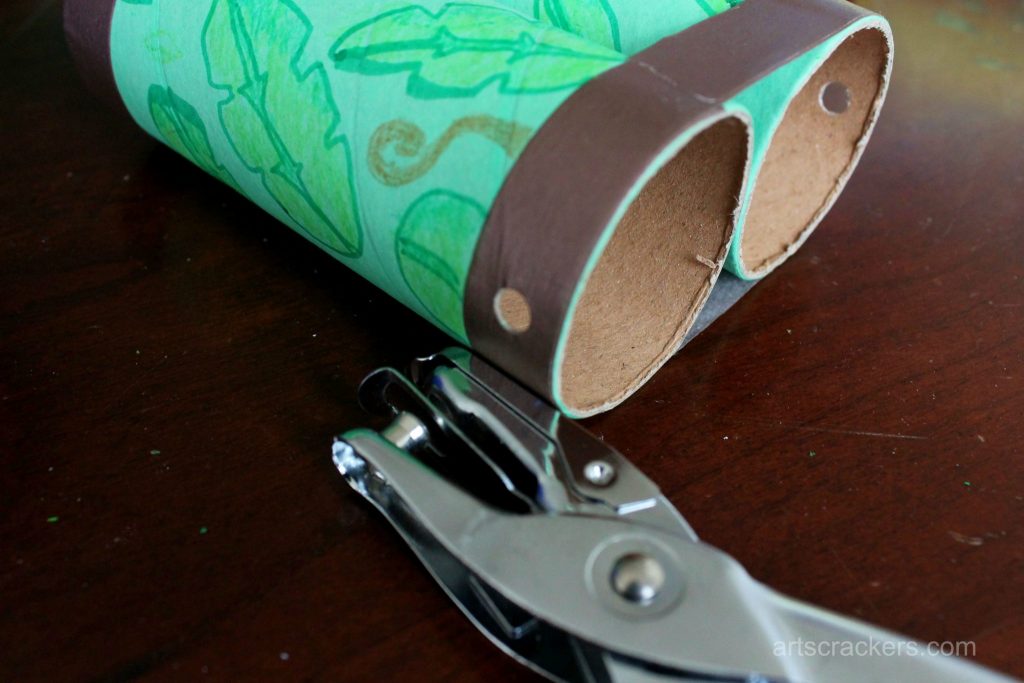 4. Measure out and trim yarn. You will want to leave the strings long enough that they comfortably fit around the head and neck like a necklace after they are tied (tying the strings will shorten them quite a bit.)
5. Lace the yarn through the hole and tie the strings tightly onto the tubes so they do not come undone.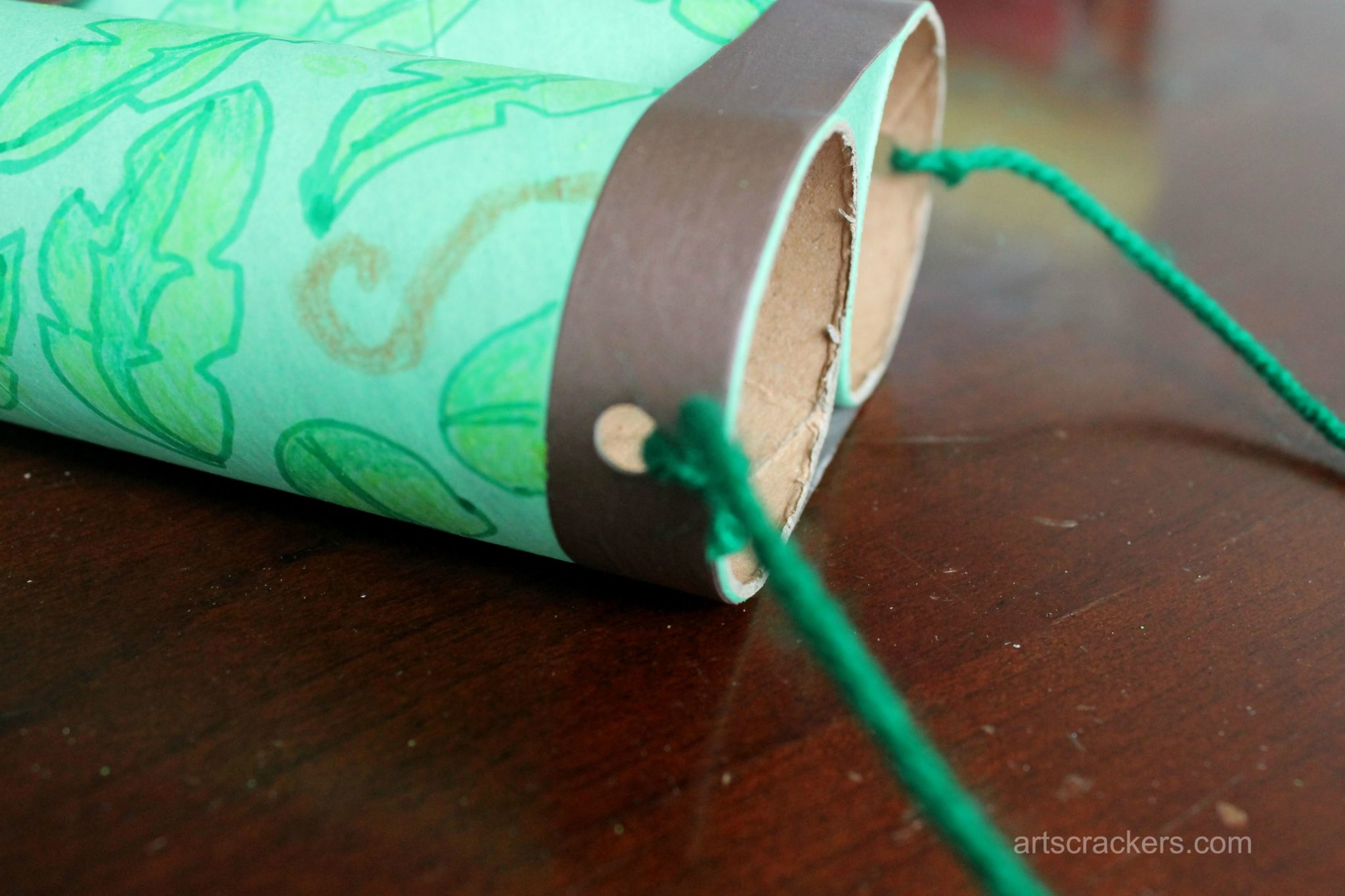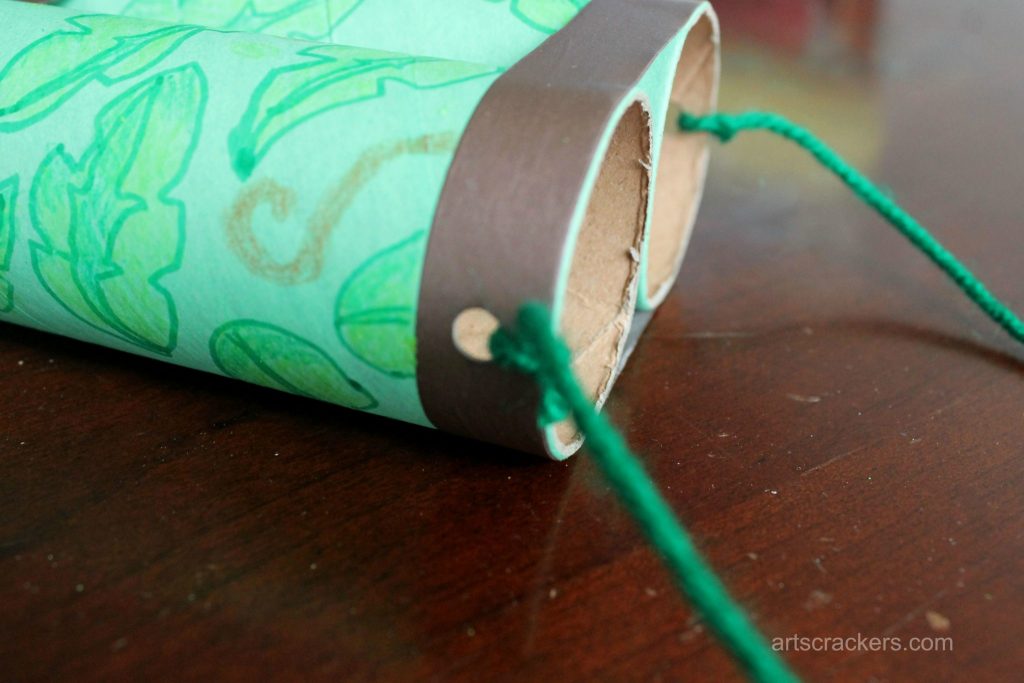 6. The children can use these for the game!
Snack Ideas
I always serve more nutritious, small, and usually inexpensive snacks. This time I served pretzel sticks, grapes that I got a great deal on, juice boxes, and had bananas as a decoration but available if requested.
Decorations
These were very simple as that was not the focus of the playdate, unlike a lot of the parties we throw. I simply set up a little area with the snacks and craft supplies, hung a toy parrot off of the light fixture, and put a toy snake and frog around the snack area. The supplies for the game were sitting on one of the seats.
Safari Seek Game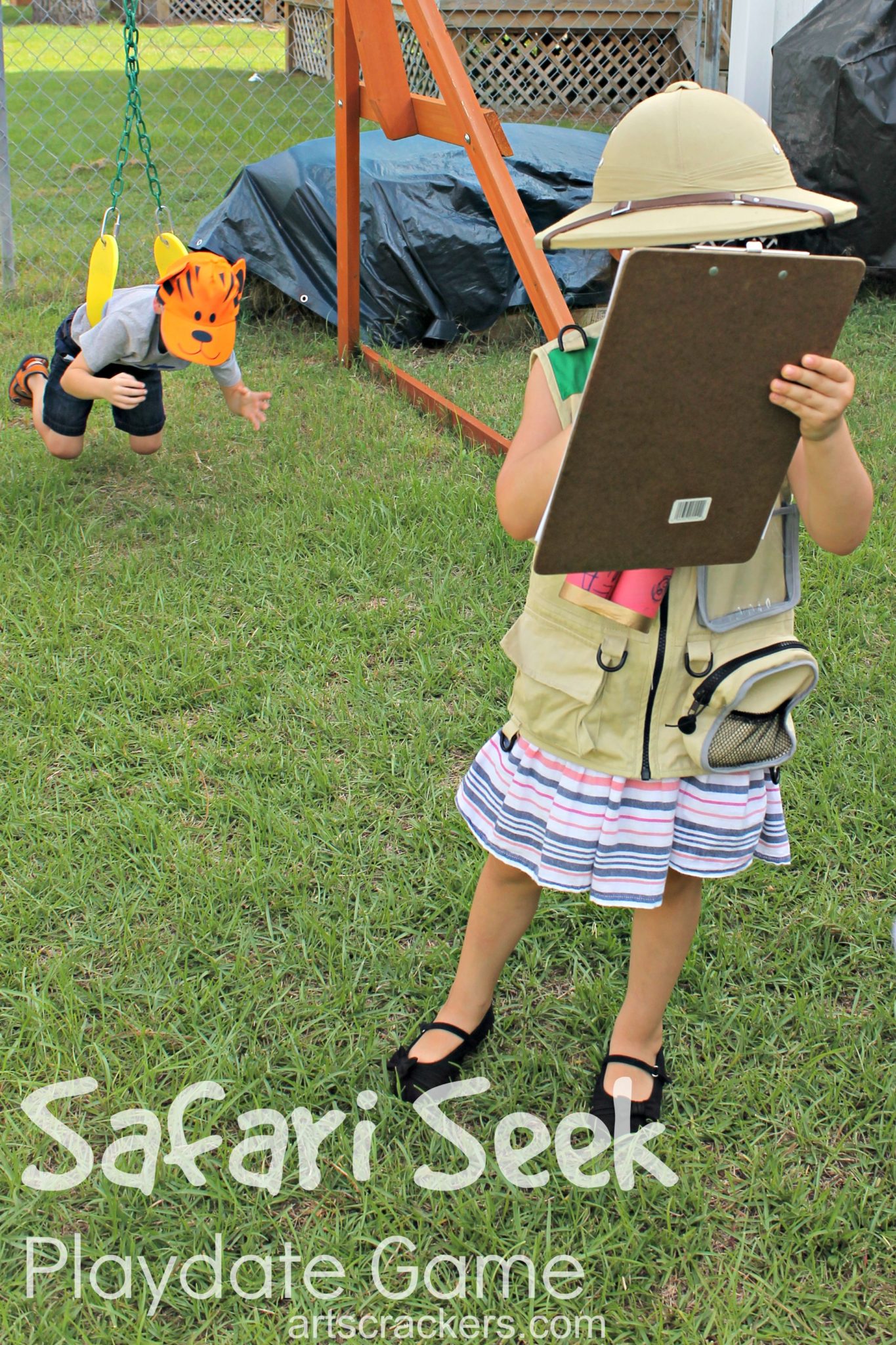 This game is a fun, more educational version of hide and seek. We used animal hats, a sturdy pith hat, this Printable Safari Seek Scavenger Hunt Checklist, and zoo animal stickers. We also used a safari vest we had in our dress-up clothes as well as a crayon and clipboard.
Each child was given a chance to be the seeker and wear the pith hat and vest. The other kids wore the animal hats (giraffe, monkey, elephant, tiger, and lion.) They then had to hide for the safari guide to find. Of course, the kids at our party were a little too young to understand what it meant to hide, but it still worked with them running around.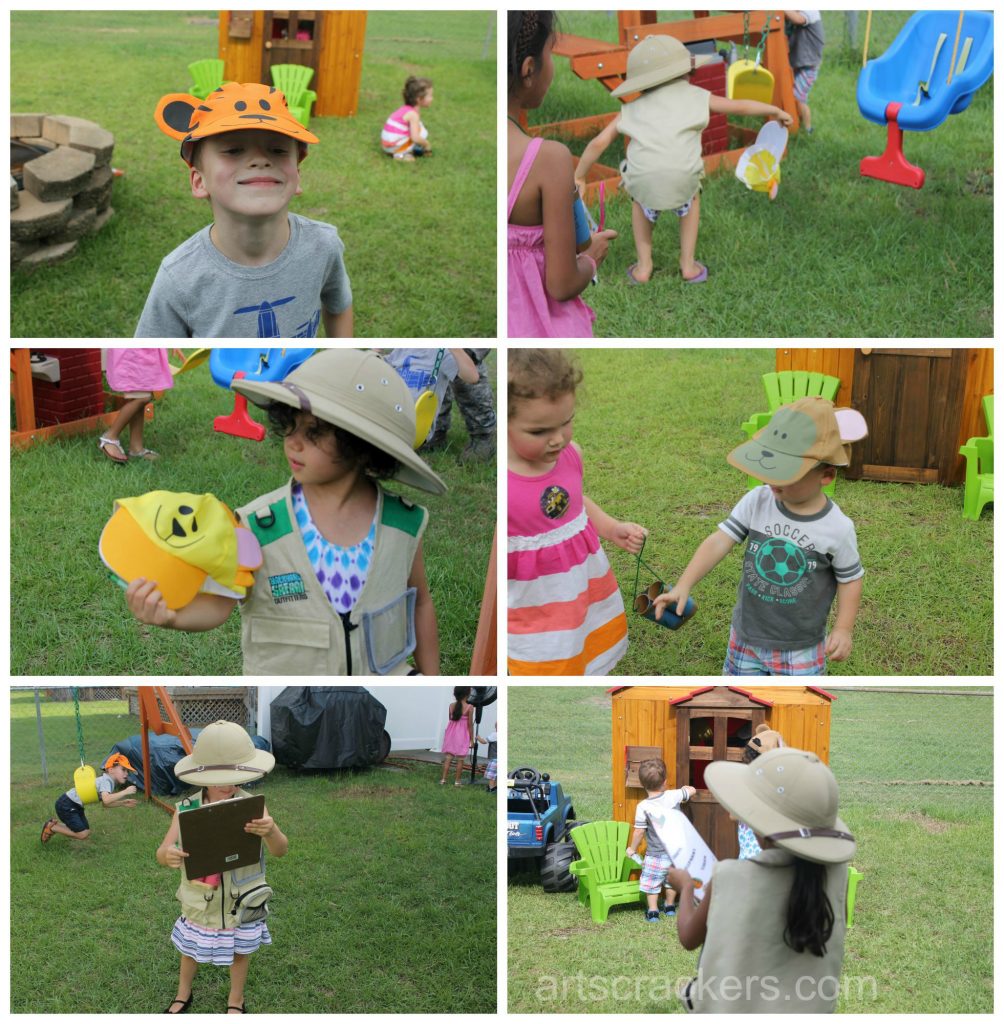 The printable list was put on a clipboard so they could walk around with it. The sheets have a spot to place the stickers. The children can place the stickers on themselves to help with fine motor skills and matching pictures to words.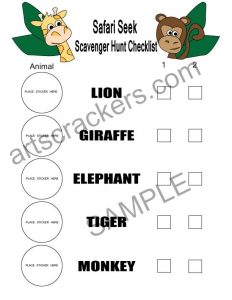 The seeker will search around for each of the animals and check them off the list as they are found. This will help with animal identification, sight word practice, and checking boxes.
Keepsake Photos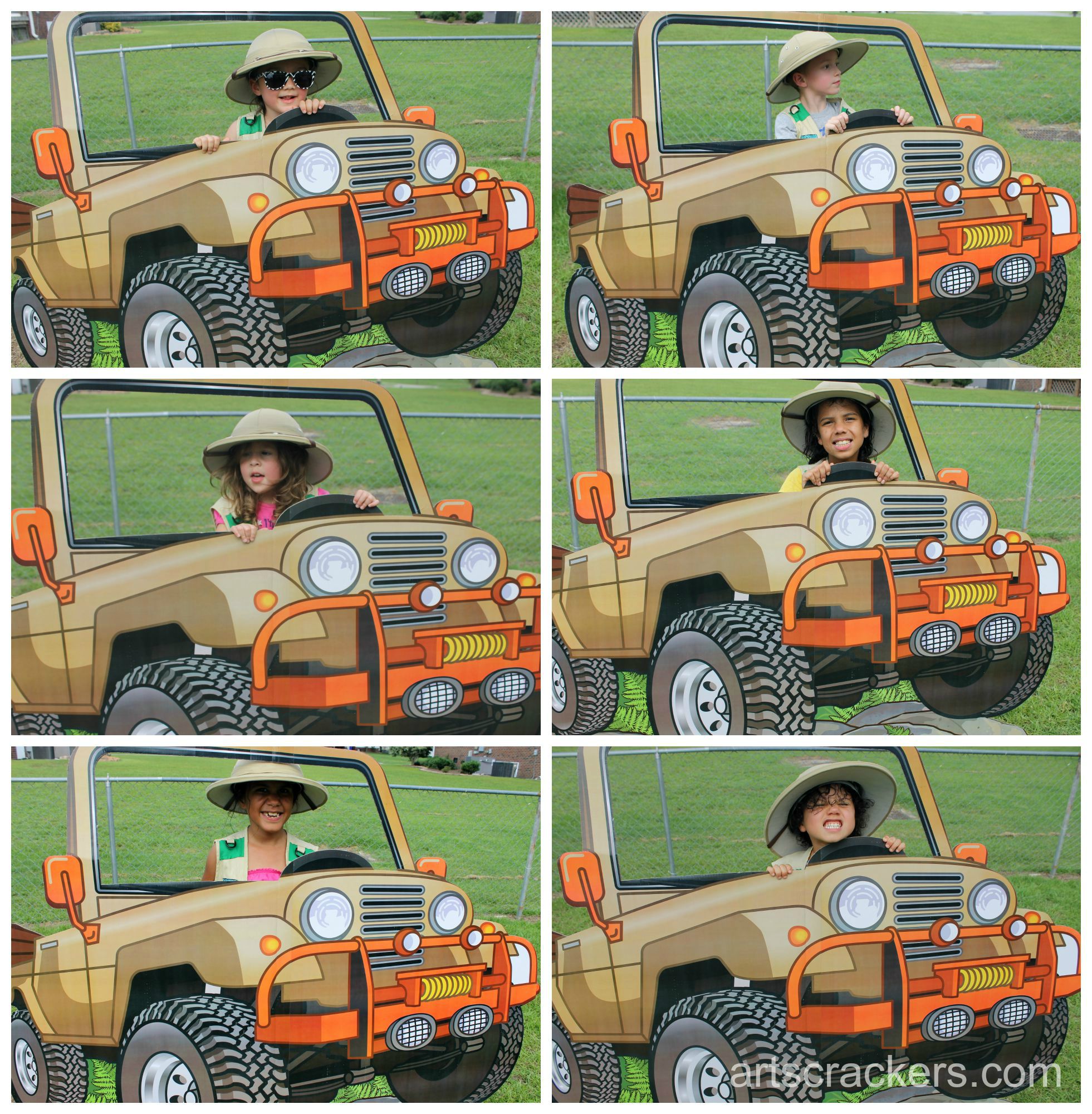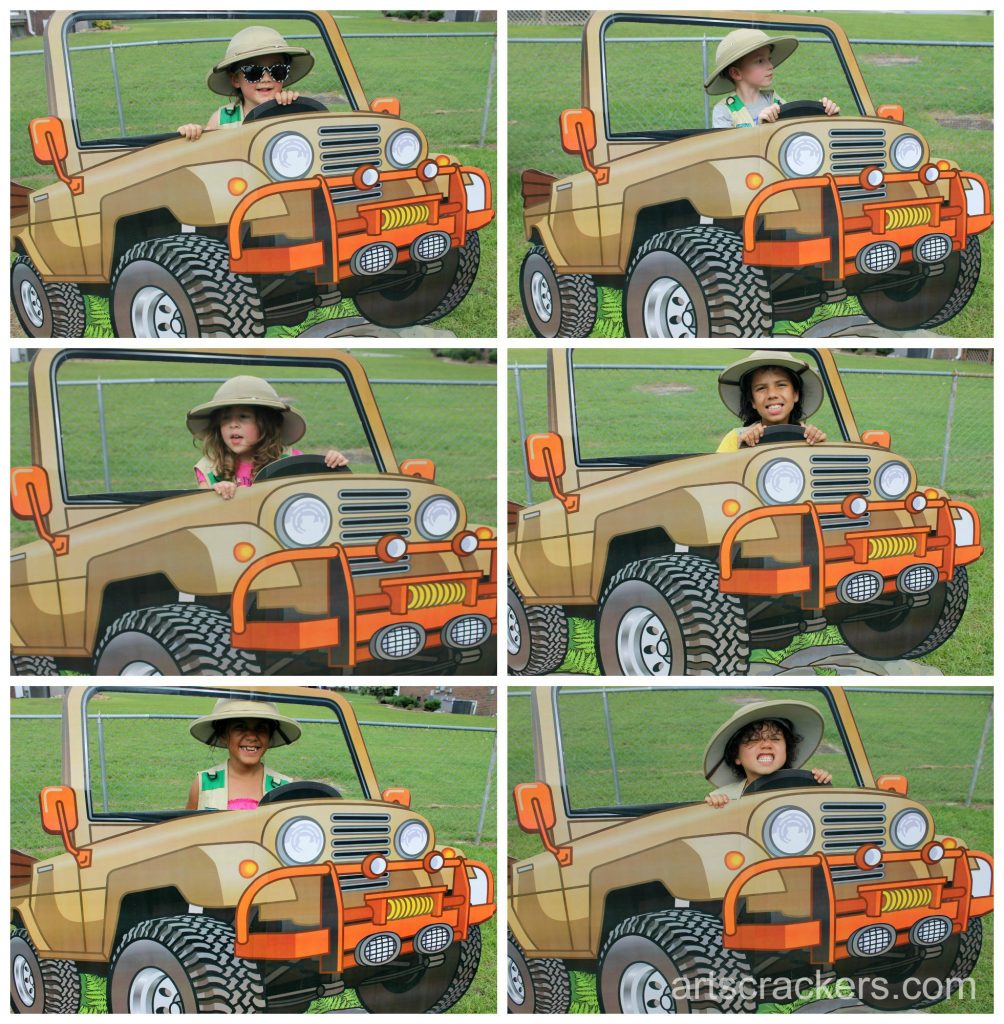 To make this playdate memorable for everyone, I set up a stand-up cardboard cutout jeep, stuck a step stool behind it for the kids who were shorter, dressed the kids in the safari guide outfit, and let them pretend they were driving while I took pictures. I then shared the pictures with their parents.
What is your favorite jungle animal? Let me know in the comment section!
Know someone who could use this? Hit the "share" buttons below! Be sure to follow Arts & Crackers on social media (buttons at the top right of the page.)
You May Also Like