I received product to facilitate this party. All opinions and ideas are my own.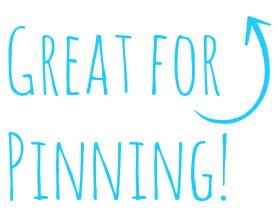 Ohhh the wondrous ocean. It's so magnificent and colorful. The diversity of creatures and plants is astounding to me. When I realized my kids share the same fascination and love for the ocean, I was ecstatic. We were trying to decide on theme ideas for our toddler's birthday party (which would be combined with our oldest son's party since we had family in town) so I drew out a few theme ideas–a dog, a car, a fish, cupcakes…he went straight to the "fi" (aka, "fish.")
Growing up, most of my birthday party themes in some way involved the ocean, whether it was a Hawaiian-themed party with loads of seashells or an actual underwater theme. I often had an ocean theme in my room. You might call me, ehrm, slightly obsessed. As you can imagine, I was way excited to start working on this under the sea party theme, so I may have gone a little overboard. You could say I got myself in a little too deep. Thankfully, I had some help and it was totally worth it, so I just had to share some of these ideas with you.
For our parties, we have a general party activity order we usually go in: decorating, snack time, craft time, eating time, CAKE and singing, gift opening, games/activities, and party favors. I will share each idea in that order.
Decorations
I absolutely love how the decorations turned out for this party. I started off everything with light blue and dark blue tablecloths and light blue and dark blue party plates from Oriental Trading Company. If you're going to have an ocean theme, you have to start with the basics, right? I decorated around the table with various sea shells, starfish, sponges, and handmade coral decorations.
I made these fun red coral decorations by twirling together various lengths of red pipe cleaners.
This coral rock is made with a floral styrofoam half-circle. I hot-glued strips of yarn on in spiraling patterns until everything was covered then I glued a few fabric flowers on it.
Another simple decoration idea is to fill a glass jar with some white sand, a few seashells, and a sparkly floral sprig that looks like some sort of ocean plant.
I tried to make a pool noodle octopus last minute and it turned out pretty cute, but I'm not including a tutorial on this one; think I will need to work on making a few adjustments if we want to use it again (mainly, making sure my husband mounts it from the wall or anchors it into the ceiling and not with mounting strips…at least it fell onto my head, not anyone else's, and gave everyone a good laugh.)
My very favorite decoration was my jellyfish! I don't want to spill the secrets of this one yet, so be on the lookout for the tutorial post coming soon. Don't forget to subscribe to my newsletter for this!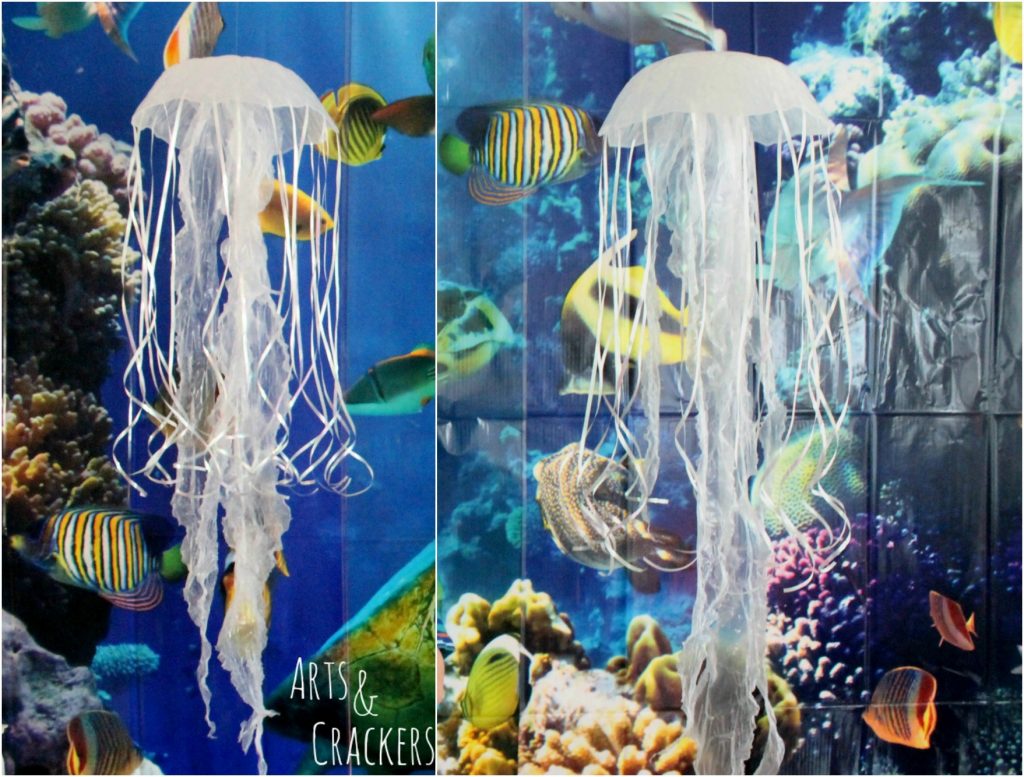 As you can see in the pictures, I also hung round, white balloons from the ceiling here and there to look like bubbles. You can see a gorgeous underwater picture in the background; I will get to this more later in one of our activities below.
Snack Time
One of the first things I offer my guests is a snack. Some will come hungry already and want to get eating right away. Others will snack throughout the entire time. I usually start my parties with a snack and craft so everyone can work at their own pace on these as we wait for the rest of our guests to arrive. I try to have a spread of various items and I usually do not make it too big, but we had to have this one around dinner time so we provided a whole meal.
Everything we serve is in some way part of the theme. I made "Ocean Punch" which was blue and bubbly with a tropical flavor and a hint of saltiness. I mixed together:
blue sports drink
lemon lime soda
splash of pineapple juice
We served it in the light-up party fountain that I've had since I was a kid. We didn't have it running this time so I only put one of the tiers on and filled it with cracker snacks and stuck this cute Nessie ladle.
We served vegetables (I worked this in by considering it to be ocean vegetation) and I even set out a small package of dried seaweed for those who wanted to try a true ocean snack.
I purchased a small, plastic fishbowl and a small fish net to serve fish-shaped crackers. Of course, I don't recommend using one that previously housed a pet fish. You can find ones that are very inexpensive.
One snack all the kids loved was our "Fish Bowl Parfait Bar" where they were able to build their own fish bowl-inspired parfait. I set out papers with each step for setting up the fish bowls and gave a few options for each category. Each guest received a plastic cup and a spoon. They started by putting some gravel in the bottom of the parfait (raisins or blueberries), added their water (vanilla yogurt with a drop of blue food dye), added some fish (pineapples or mandarin oranges), then "fed" their fish some fish food (fruity cereal or a granola mix, poured from re-used shaker containers.) This is such a fun way to serve a wholesome snack.
Craft Time
The unique thing about craft time for this party was that the craft WAS the take-home party favor. We did not hand out separate party favors. For each of these, we used products from Oriental Trading Company.
DIY Aquarium Jars
Before the party date, I set up some containers for the project. I cut strips from the Under the Sea Sticker Scene background so that they could fit on the back of the Pint Mason Jars.
Using decoupage glue, I stuck the picture side of the background to the plastic jar then added some more over the top so it stuck in place. Wipe off any extra glue then let dry.
On party day, each child received one of the plastic pint jars and a sheet of under the sea stickers from the sticker scene package. They all decorated the jars with loads of stickers.
Once they were done with the stickers, I cut out strips of sand colored paper and taped it along the bottom so it looked like sand.
Each child was handed a mini water bottle and a Mini Tropical Fish Squirt to stick inside the jar. This made it look like the jars were little aquariums.
We then gave each child a mini bag of flake cereal labeled "fish food." Of course this was a snack for them, but it was a cute way to stick with the theme. The kids loved these. I encouraged the kids to use these jars afterwards to save up money like a piggy bank. I used the extras to organize all the craft sticks and clothespins and pom poms and everything in my craft room.
Don't forget to have the kids write their names on the lids so they know whose is whose.
Eating Time
As I mentioned earlier, we usually have our parties between meals (around 1 or 2 PM) to avoid having to serve full meals, but this one was pushed out later than planned. To keep with the theme, I got a deal on popcorn shrimp and shells and cheese (if you do this, be sure to ask if there are any seafood allergies.) We made sure we still had yogurt and vegetables and a drink available during this time.
Cake
Okay, I admit it…cake time is my favorite part. I love decorating the cakes, singing to the boys, watching them blow out the candles, then seeing all the messy smiles it brings. I made this Aquarium Cake which was actually much more simple to make than it appears. If it is too much for you, you can always make the fish cupcakes for everyone instead. Another alternative would be to use blue frosting on cupcakes, add some candy rocks to the bottom then add a candy fish to make them look like fish bowls (I will do a simple tutorial for this later. Right now, you can get the DIY Aquarium Cake tutorial here.)
You can light any candles for this (spiraled green ones would look like seaweed!) We found under the sea shaped candles with fish like a seahorse and starfish. Time to sing the birthday song!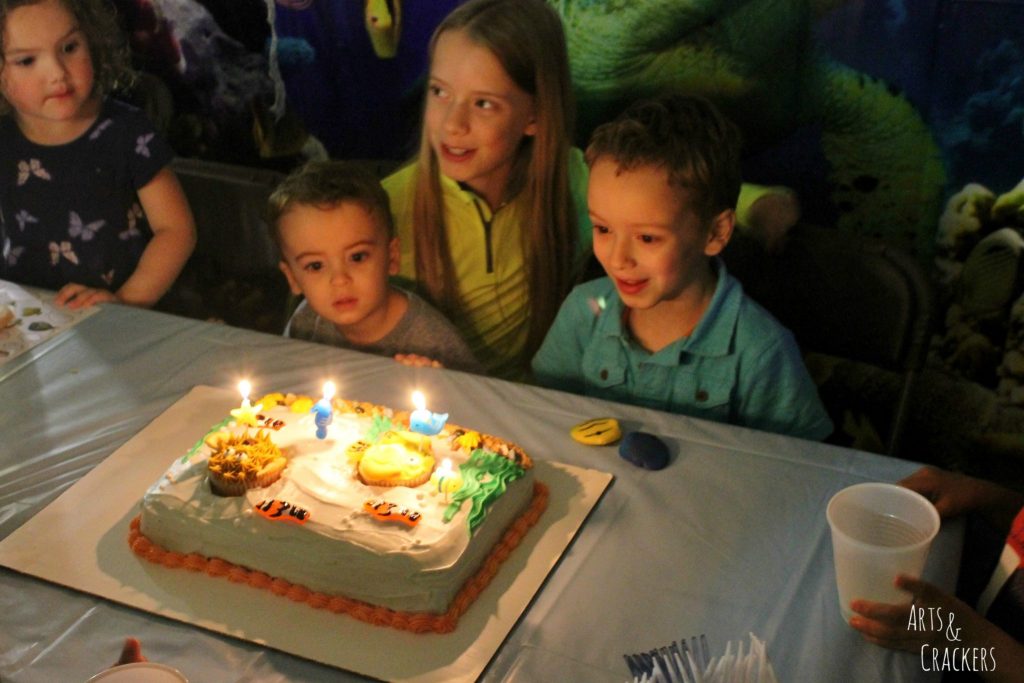 As you can see, the cupcakes were for my boys and were easily removed from the top so we could cut the rest of the cake into square pieces.
My youngest, S, was contemplating sneaking a bite of his brother's cupcake too.
Games/Activities
We were planning to do a bean bag toss game where the kids could "feed the fish", but it was pretty chilly outside and we decided we would rather not have throwing in the house. Instead, we calmed all the kids down by turning on Finding Nemo for the kids to watch. Not only did it match the theme and get them all sitting nicely in one place (quite an accomplishment with the size crowd we had), but it also is a great way to teach about different fish in the ocean. We had them try to spot and name some of the different creatures we had in our decorations.
Something unique that I have recently started doing at our parties is having a small photo booth area. I find that this is fun for the kids, preserves more memories of the party for us, and moms and dads love getting the pictures of their kids at the party. For this, we used our Under Sea Backdrop from Oriental Trading Company and had the kids pose in front of it wearing a pair of swimming goggles. We decided not to use the snorkel part of the mask because, well, germs.
If you don't have a scuba mask/goggles, you can use this scuba mask and snorkel printable instead! Print it out on cardstock, cut out the pieces, cut out the eye part of the goggles if you wish, then tape the goggles and snorkel onto paper straws or craft sticks.
Thank You Cards
It is always polite to send "Thank you" cards, so I decided to set some up. I'll be honest, I'm not the best at remembering to hand these out (I still have not sent them all, though I have them aside for when I see everyone again), but it is a courtesy that can mean a lot to your guests. I wanted something that was simple and still stuck with our underwater theme, so I purchased some simple blue "Thank you" cards that had multi-colored dots all over it. Using a black marker, I simply turned some of these circles into fish and other ocean creatures and some became bubbles!
Purchasing these cards at the store may be costly, or maybe you don't feel so artistic. Well, I have created my own version and have it up for sale at affordable prices in my online store!
Everyone had so much fun at this party. It was packed full of adventures, almost as if we dove right into the ocean. From snack time to craft time, cake to movies, I'd say this party made quite a splash. I hope you all enjoyed these ocean party ideas and have a blast at your own party!
What is your favorite part of the ocean? Do you have a favorite sea creature? Share with me in the comments below!
I'm also curious to know if you open gifts DURING the party or AFTER. I am used to gift unwrapping as part of the party, but around where we live, this seems to be a rare occurrence.
Know someone who could use this? Hit the "share" buttons below! Be sure to follow Arts & Crackers on social media (buttons at the top right of the page.)
You May Also Like