If you follow my posts regularly, you'll know that my baby boy just celebrated his FIRST BIRTHDAY! In celebration, we threw a play date party with the theme "First in Flight." Of course, I had to have multiple reasons behind the title I chose–it is the motto for North Carolina in honor of the Wright Brothers, my son's first birthday, he loves airplanes especially being on an Air Force base, and of course because that year just flew right by!

I received free products from Oriental Trading Company to facilitate this party.
All opinions and ideas are my own and are not influenced by the party who provided this opportunity.

When I throw a party, I go all out with the theme. I try to have themed invites, a schedule of activities, thoughtful decorations, a color scheme, and snacks that are fitting to the theme or age group. I even try to make themed "thank you" cards! Be sure to watch my blog for the full DIY posts and reviews for each item of the party and use my ideas to help your party take flight!
Invitations:
Our custom invites looked like airplane tickets!
Food:
Here is our snack table. Because we did not have much room, I used the table for the gifts, cake, and snacks. If you have more space, you can spread this out among a few tables. Our party was fairly small and after lunch, so it all worked out perfectly.
A nifty way to hold the silverware is to use cups! I used some plain plastic cups, but you can use whatever kind you'd like. I set out straws for the kids and only set out the colors that coordinated with the theme (yellow, blue, green.)
I used some clay airplane banks and inexpensive paint brushes (again, only the colors that matched the theme) to fill in some of the empty space on the table. These were used later on for a craft.
I had removed all the brown M&Ms from the bag I'd purchased and realized that all the colors left besides the red matched my color scheme. I decided to take out all of the red candies and set out the dish for a tasty treat and to add a pop of color to the table.
We wanted to set out some finger foods as snacking during a birthday party is a must, but we did not want anything too costly or inappropriate for a baby's birthday. We kept it simple and went with my baby's favorite snacks including: Goldfish crackers, pretzels, and marshmallows. For the adults (and kids) we also set out a very simple plate of crackers, cheese, and sausage. I did realize afterwards that I'd use the RED serving tray–I wanted to stay with the color scheme and use my green tray, but I did not think of it until it was too late. If you have serving dishes that do not coordinate, no worries! The party will still go great just like ours! A little bit of an accent color won't hurt anything.
Cupcakes were the dessert of choice as they are the perfect size for a first birthday cake, so I made them appear to have biplanes coming from the clouds. Biplane Cupcakes Tutorial here.
Decorations:
This idea popped into my head to have a table runner runway. I tried to find gray table runners or even a gray tablecloth, but I could only find silver so I decided to use a green tablecloth from Oriental Trading Company and make it into a DIY project (read the Table Runner Runway tutorial here.). I used some nifty paper airplanes as place markers for each of the kids and set up their square plates with "hangar" labelled on the underside.
As a centerpiece, I made a cloud of balloons.
I also used balloons, construction paper, and some straws to make a biplane and hung it from the ceiling with string. I printed out a few sheets of paper with the words "First in Flight" for our theme, cut them out and tape them together to make a banner that I could hang behind the plane (see picture at the top.)
For extra fun, we filled up tons and tons of white balloons from Oriental Trading Company and let them float along the ceiling like clouds, no strings attached! As they would fall down to the ground, the kids had tons of fun bumping them back and forth which turned out to be a great activity for them.
Party Favors:
Yes, I am one of those moms who loves to give out party favors. For me, it's not so much about other kids NEEDING to get something out of attending the birthday party as it is about finding a fun way to say thank you…and of course I enjoy setting up the packs! We used pails from Oriental Trading Company instead of little bags because they can be re-used rather than thrown away. I did this for my oldest son's birthday party as well. We filled it with little juices boxes (as close to 3 ounces as I could get in honor of airplane carry-on guidelines), pretzels like you get in-flight, animal crackers, dehydrated fruits, and an airplane sucker and adorable pilot duckies from Oriental Trading Company. I try to keep the party favors fun and healthy.
Activities:
We started off with chatting and the snacks until everyone arrived. Since the party was right after lunch and the table was already set with plates, we decided to make our first activity the cake!
We sang "Happy Birthday" and dug in. The cupcakes were a tasty success!
The birthday boy loved them too…
Then we painted our clay airplane coin banks from Oriental Trading Company! We bought a wide variety of colored paints and let the kids go crazy. This was one of the highlights of the party for many of them! After the party, guests were able to take their coin banks home with them as an additional party favor. We love take-home crafts!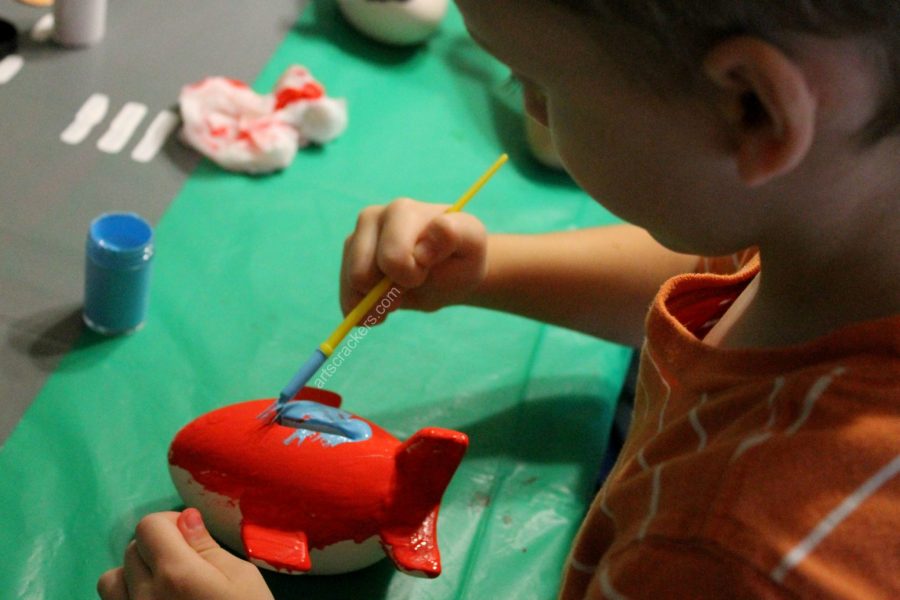 We had gift opening time…
…then went right into play time!
Check out this post I wrote in honor of my baby's 1st birthday!
-What was/will be your child's first birthday theme? Will you try any of these theme ideas?