Washing our van is something we do not get to do as often as we probably should, but when we do it is a family activity. Getting the kids involved in cleaning and learning a life skill while making it a fun bonding experience is our goal, even more than getting the car totally clean.
After a lot of pollen, road trips, and sitting outside, our van definitely needed a good cleaning. My husband had the idea first as the weather was just right for sitting outside and getting wet–not too hot and not too cold and not even too sunny.
Car Wash Hack #1: Socks
Rather than purchasing special car wash gear, my husband grabbed out some old, unneeded socks (clean ones, of course) and a bucket of warm water with car wash soap in it. Each of them slipped a sock onto his hand, soaked it with the soapy water, and started scrubbing the car. The socks worked like mittens and were soft enough to give a good clean while not scratching the paint.
My oldest enjoyed running in circles around the van, making lines of soap around the entire vehicle. My youngest stuck to one general area, an area that is now quite clean. The point isn't for them to do an amazing cleaning job and scrub the entire car, thus my husband was also working on it; the point is to get them involved, teach them about cleaning and caring for things they own, and providing a fun sensory activity.
Talk to your kids about the mess they see, show them how to make circles with the cloth and soap until the mess is gone, and discuss the smell and feel of the soap and socks. It doesn't even have to feel like learning or teaching, but will help the kids better understand wet, warm, soapy, scent descriptions, the circle shape, clean vs. dirty, and anything else you explain as you go.
I was in charge of rinsing the soap off of the vehicle (and the boys) and that in and of itself was a treat. Everyone loved this opportunity to cool off and play in the spray of water and the puddles that were created from it.
Car Wash Hack #2: Dish Soap
If you don't have car wash-specific soap, use dish soap! Since dish soap is made to clean and de-grease, it is perfect for cleaning up a messy vehicle and is often readily available in your home (and much cheaper than car wash.)
Purchase a dish soap that is soft (nothing with scrubbing beads) and gentle on the skin and you can even consider this a half-bath as your kids will inevitably be scrubbed head to toe with bubbles by the end and rinsed off after.
Car Wash Hack #3: Toilet/Bottle/Vegetable Brush
That's right, old brushes are useful when washing your vehicle. No, I do not recommend using a toilet brush that has been used already, but rather purchase a small, inexpensive toilet brush. Purchasing a small toilet brush or using an old bottle brush or vegetable brush no longer used for its intended purpose is much cheaper than purchasing special car washing tools.
These brushes should not be used on the body of the vehicle, as they may scratch the paint, but rather to clean up the rims or hubcaps that are caked in dirt.
Wet the brush then scrub the metal rims and reach into the crevices until they are shiny again. Look at the huge difference it made in our rims!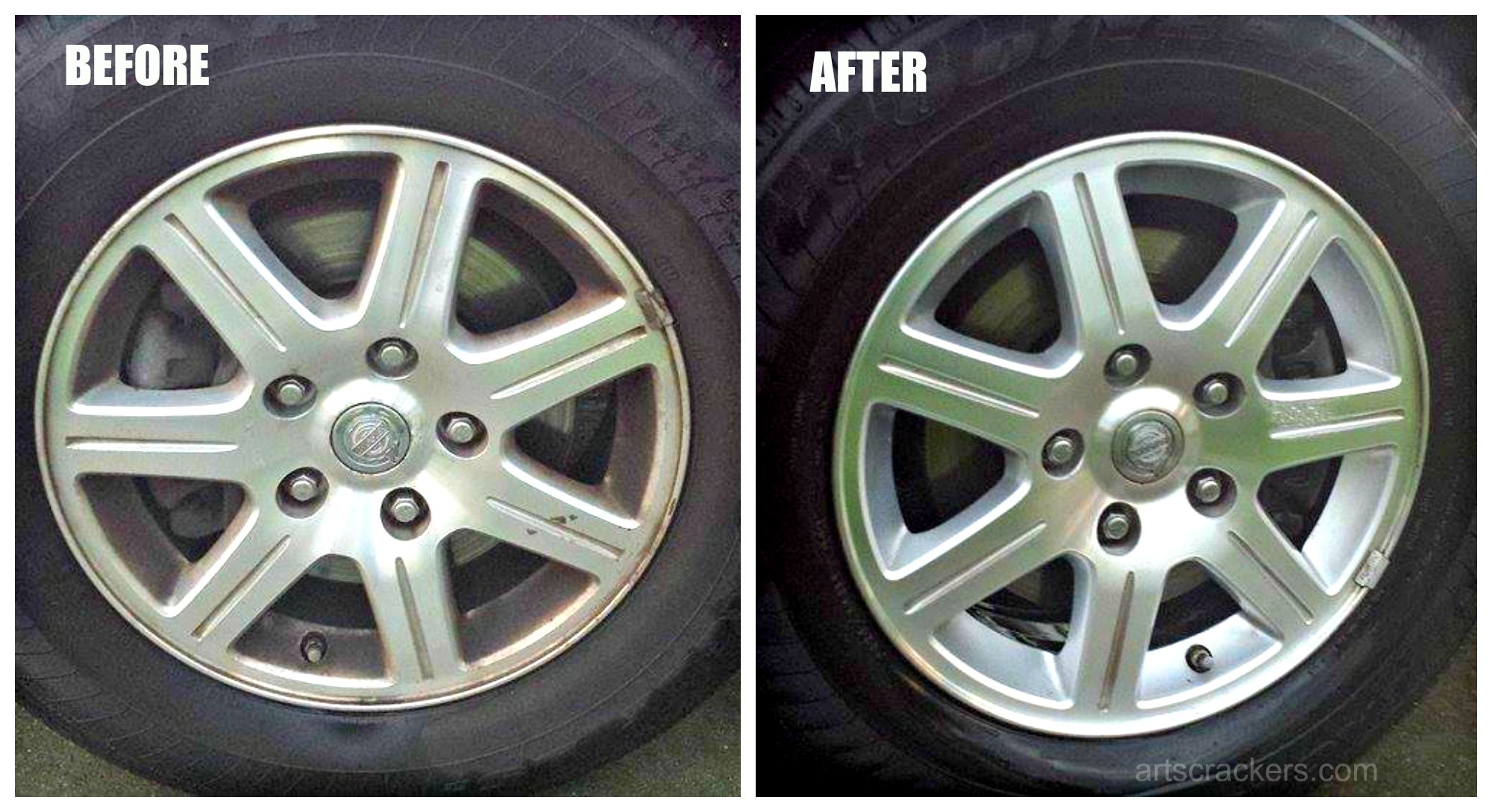 Before the cool weather rolls in, get outside and wash your vehicles as a family! Teach life skills, make it sensory, and just have fun. Don't forget the sunscreen!
What kind of vehicle will you be washing? Do you have any car wash hacks? Share them in the comment section below!
Know someone who could use this? Hit the "share" buttons below! Be sure to follow Arts & Crackers on social media (buttons at the top right of the page.)
You May Also Like