Have you ever ordered food in bulk, then it suddenly hit you that you have so much food and, at some point, that food is going to expire…and at some point, probably before that expiration date, you'll get sick of the food if you prepare it the same way every time? I have. Recently. And that is how this Hearty Gluten Free Salmon Chowder Recipe came about.

This post contains affiliate links. By purchasing through these links, you help support the family behind Arts & Crackers at no added cost to you! Thank you!
We purchased a large amount of large, frozen fresh-caught salmon filets some time ago. Y'all, these things are huge. One filet feeds our whole family at least twice.
This salmon chowder recipe was created by a stroke of late-night genius. We had baked the filet and eaten our servings for the day, but we had a lot left. I'm not usually a fan of leftover salmon, so I was brainstorming for a way to store it so I would still eat it.
As I went to put the leftovers into the refrigerator, I pictured a warm, hearty bowl of chowder sitting in front of a smiling husband—yummy Gluten Free Chowder made with salmon.
My husband loves chowder. He has family from New England, so he grew up visiting them and eating a lot of clam chowder. Now, I am not personally a clam chowder fan in the slightest. I just haven't been able to bring myself to eat it (maybe if someone made me a really fresh batch I'd like it), but salmon chowder sounded like something I may actually like…and it turned out so, so good.
I am a huge fan of recipes that are easy, especially easy salmon recipes, because sometimes the recipes you find online can be so complicated. Don't get me wrong, I'm okay with complicated sometimes (as you can probably tell from some of my more exotic recipes), but I usually prefer easy recipes for busy weeknights. This salmon soup recipe is so simple!
This Easy Salmon Chowder is creamy, almost like a lobster bisque, but…dare I say…even better. The vegetables add some delicious flavor and texture.
Hearty Gluten Free Salmon Chowder Recipe | Easy Salmon Recipes
Ingredients
Directions
Prepare the onion, celery, potato, and carrot and add them to a large frying pan (I love our rock pots and pans set!). Pour in enough chicken broth to cover (about two cans).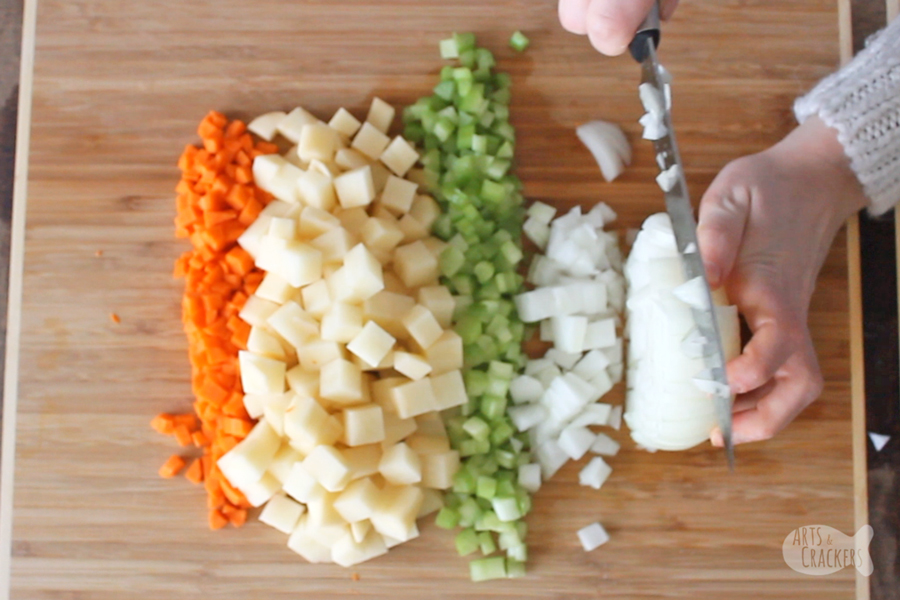 Simmer the vegetables and broth mixture on medium-high heat for about 20 minutes, until the vegetables are tender.
Once the vegetables have finished cooking, prepare the roux in a large pot. Melt the butter, then whisk in the flour, milk, and cream over medium heat, until combined—I recommend combining in this order.
Pour the vegetable mixture into the pot of roux while the pot is still on the stovetop.


Stir well. You will want to continue with these next steps quickly, or the chowder may thicken too much for your liking. The longer you cook, the thicker it will get. If you prefer a soupier consistency, remove the pot from the stove after this step and place on a trivet to complete the recipe. If it gets too thick, add a little more milk or chicken broth.
Add in the salmon…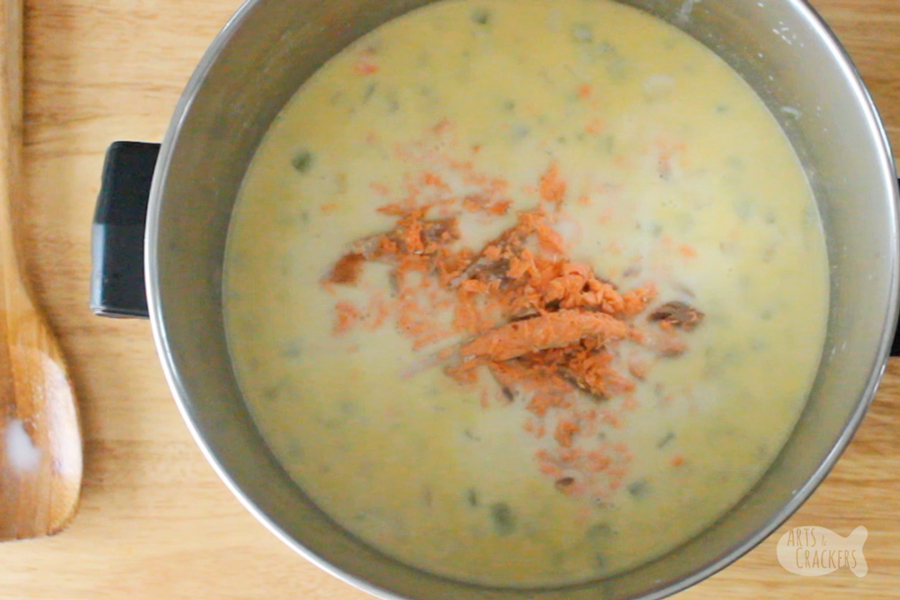 and spices…
and vinegar, and stir until combined.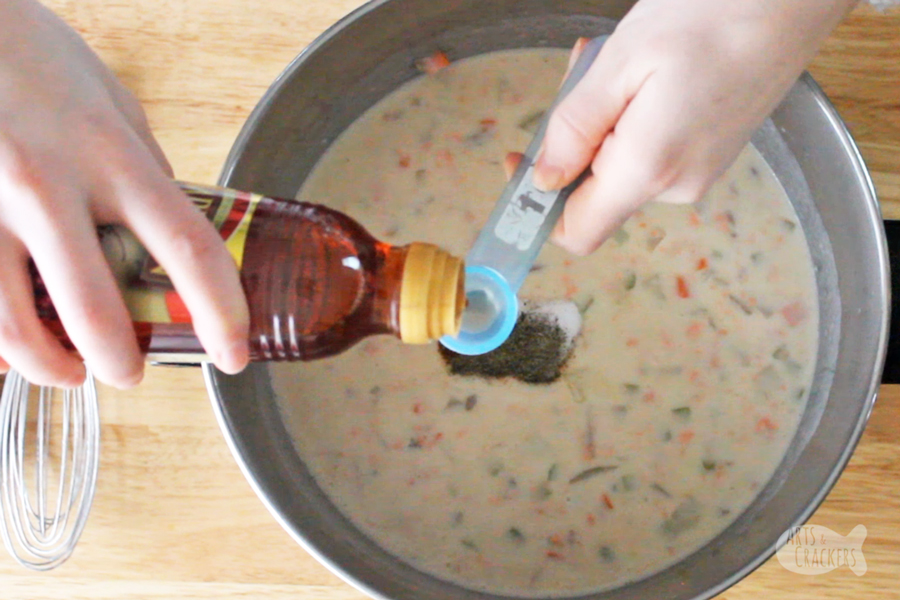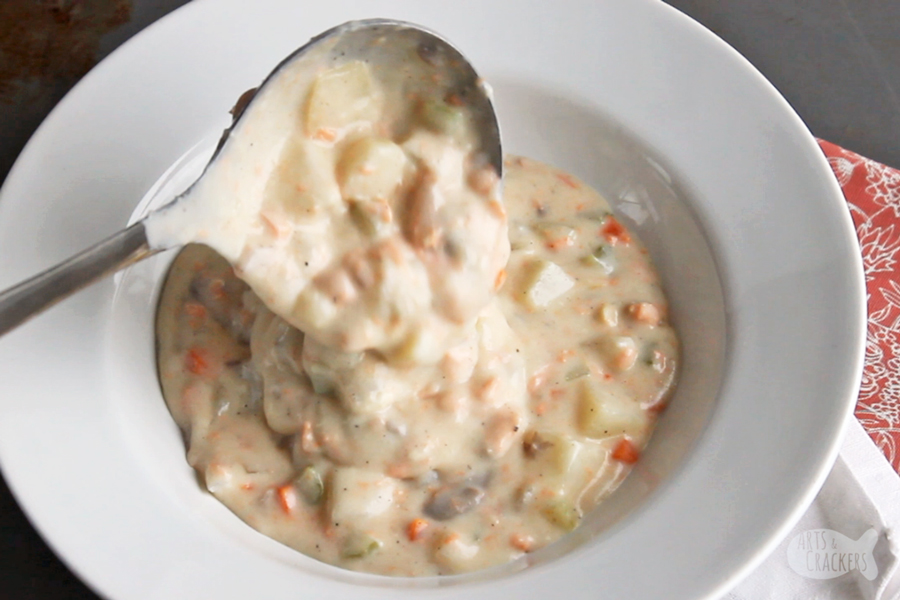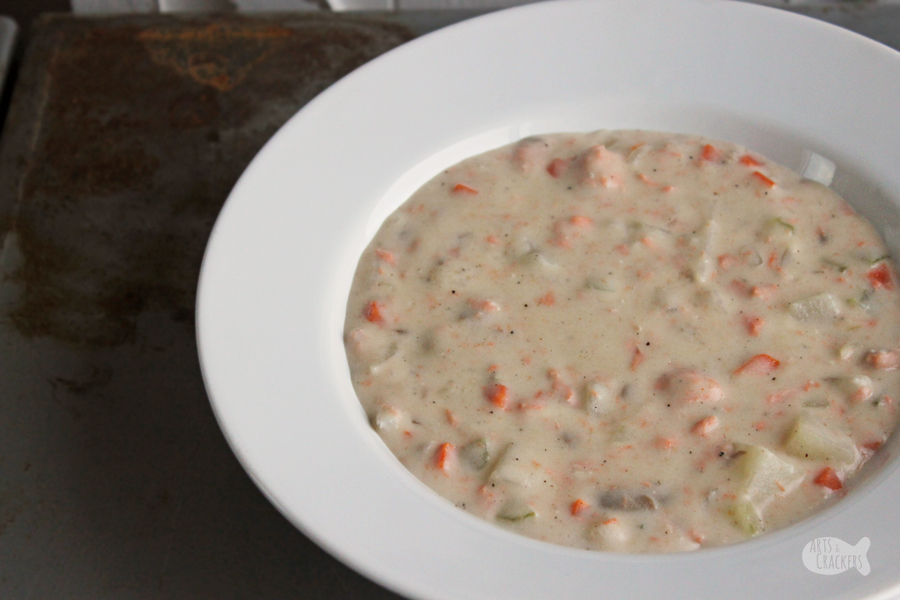 Warm up, in the company of your loved ones, with a bowl of our Salmon Chowder.
Did you try our recipe? Come back and rate it so we know how you liked it!
Read also: Buffalo Chicken Potato Soup and Gluten-Free White Turkey Chili Recipe
Looking for more? View these categories!