Whether you have tons of leftover turkey after the holidays or you just want to make a delicious chili recipe as an entree or side, this Gluten-Free White Turkey Chili will warm you up and make you feel happy inside. It's a perfect Thanksgiving leftovers recipe, just different enough from the turkey you had yesterday, to keep things interesting.
This post contains affiliate links. By purchasing through these links, you help support the family behind Arts & Crackers at no added cost to you! Thank you!
Each year, we are left with a large amount of leftover Thanksgiving turkey that we don't know what to do with. Each year, I try to come up with a different way to use the leftovers that will at least feel like we aren't really eating the same thing over again two (or more) days in a row.
This leftover turkey recipe is one of my favorites. It is very similar to a regular White Chicken Chili, but it does offer a slightly-different flavor and texture, and I've made my own spice variety. I always make sure my recipes have a decent amount of spice, but are initially family-friendly so my kids can enjoy them, so you may want to see the suggestions for making a spicier chili if that is what you enjoy, like I do.
Gluten-Free White Turkey Chili Recipe | Leftover Turkey Recipes
Ingredients
Turkey
2-3 cups pre-cooked turkey, shredded
1 small yellow onion, diced
3 cloves garlic, minced
2 stalks celery, minced
48 oz (6 cups) low sodium chicken broth
1 can (15.8 oz) Great Northern Beans
1 can (16 oz) Navy Beans
1 can (4.5 oz) mild green chilies, slightly drained (leave in the juice for extra heat)
1 can (4.5 oz) hot green chilies, slightly drained (leave in the juice for extra heat)
1/2-1 fresh jalapeño, de-ribbed, de-seeded, minced (use one whole jalapeño for extra heat; keep some of the seeds if you like it really spicy)
1 Tablespoon salt + any extra to taste
fresh pepper
1 12 oz bag frozen sweet corn (about 2 cups)
1 teaspoon cumin
1 teaspoon dried oregano
1/2 teaspoon chili powder
1/4 teaspoon cayenne pepper
1/4 teaspoon ground coriander
1/4 cup half & half
1/2 cup sour cream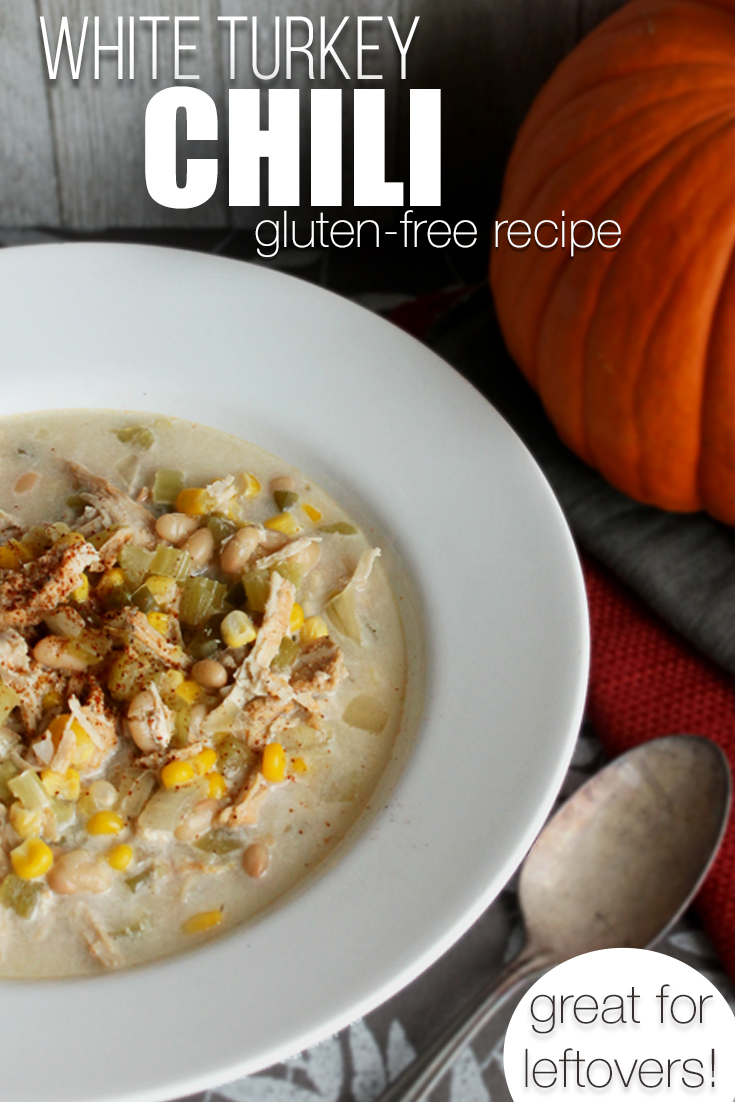 Directions
In a large slow cooker, add the shredded turkey
Add the diced onion, minced garlic and minced celery.
Pour in the broth, then add the beans, chilies, jalapeño, salt and pepper, corn and spices.
Cook on low for 4-6 hours, until cooked through.
Once the White Turkey Chili is cooked fully, Stir in the half & half and sour cream until combined. Let heat a little longer to bring it back to temperature. Serve hot!
If desired, top it with things like shredded cheese, jalapeño slices, cilantro, chili powder, avocado and/or sour cream.
There is no better way to warm up on a chilly fall or winter day than with a hot bowl of our White Turkey Chili.
Read also: Buffalo Chicken Potato Soup and Pork and Bean Soup with Kale

Looking for more? View these categories!