Crafts and games are always one of my favorite ways to celebrate any season. Whether you're a stay-at-home parent, a school teacher, or you just want some fun after-school activities, you and your kids will love these fun Halloween games and activities!
In our house, we don't really celebrate Halloween, but we do enjoy some seasonal "Falloween" activities like some of these shared below!

This post is a guest post shared with you from my friend over at Red Ted Art to share some ideas from her awesome new book! This post contains affiliate links; by purchasing through these links, you help support the family behind Arts & Crackers at no added cost to you! Thank you!
Throwing a Halloween party for kids? We have loads of fun Halloween games your kids will adore! Many of these games are based on Halloween paper crafts and, as such, easy to prepare and they are a good match for both home party or classroom party if you are a teacher.
Have some of the basic crafting supplies like these on hand:
Take a look at a supply list for individual craft projects for exact list of supplies.
Non-Spooky Halloween Paper Craft & Classroom Halloween Game Ideas
Here are some fun (and non-spooky) Halloween Paper Crafts and Halloween Activities to try:

1. Did you know that you can make a toy using paper folding or origami? Kids will easily and quickly make black cat finger puppets and have fun playing with them!
2. Another origami based DIY paper toy your kids can make and play with is Jump the Cauldron game! Who is cooking in cauldron? Jumping frogs of course! This game will be fun Halloween party game for little ones!
3. Skeletons are scary! On the other hand, Day of the Dead Paper Puppets are not so scary at all! Kids can color and decorate them as they please and, after they are done, play with them or use them to decorate their rooms!
4. We love this Spider and Fly Cup and Ball Game. What a fun way to practice your motor skills!
5. When we think about monsters, one of the most famous surely is Frankenstein! For this Halloween, fold and play with Paper Frankenstein (Eye)Ball & Cup game! This game will provide fun for kids while you prepare everything for Halloween feast!
6. We have more of the fun ideas for little ones! How about bowling with Halloween theme? They will surely have fun and enjoy taking down all of the Halloween scary creatures with Halloween tin can bowling game!
7. Plant some pumpkins then pick them with our adorable Pumpkin Patch Dirt Cups edible activity!
8. Next, we have a shooting game for your kids! They can even throw a little competition to see which of the creatures will fly the most. It takes only a few minutes to make Halloween shooter toys!
9. If you have toddlers or preschoolers, they can be entertained for quite some time with ice eye monsters sensory bin. They get to work on fine motor skills and even end up with monster soup as ice melts.
10. See who can make the silliest Jack-o-lantern face with our Halloween Craft Kit activity.
11. What kind of party it would be if we don't have a pinata?! To match a Halloween theme, make easy TP roll bat pinatas for your kids!
12. When short on time to prepare an activity to keep kids busy around Halloween, there is a quick solution! Grab a pack of toilet paper rolls to make toilet paper roll ghosts bowling and offer kids to knock some ghosts!
13. You gotta make Pin the Eye on the Monster game! A Halloween spin on a classic game is perfect for Halloween party both at home or in the classroom!
14. Have a costume party with our String Cheese Dress Up Challenge! See who can create the most detailed costume, the most realistic costume, and the most interesting costume. (Then eat your snack when you're through!)
15. Turn our DIY Mr. Potato Head costumes into a fun and exciting team game! Answer questions or roll a die to earn accessories (think of the game "Cootie"). The team or individual who make a fully-accessorized Mr. Potato Head first wins!
Our family enjoys playing games like these! How about you? Have you found a perfect Halloween game for your party? When it comes to easy and inexpensive crafts and games, we suggest grabbing a copy of a new book created by Maggy from Red Ted Art called Easy Paper Projects. In this book you will find many other suggestions for fun paper based crafts and DIY toys; your kids will enjoy both the process of making them and, of course, playing with they! Have fun!

Get your copy today
US | UK | International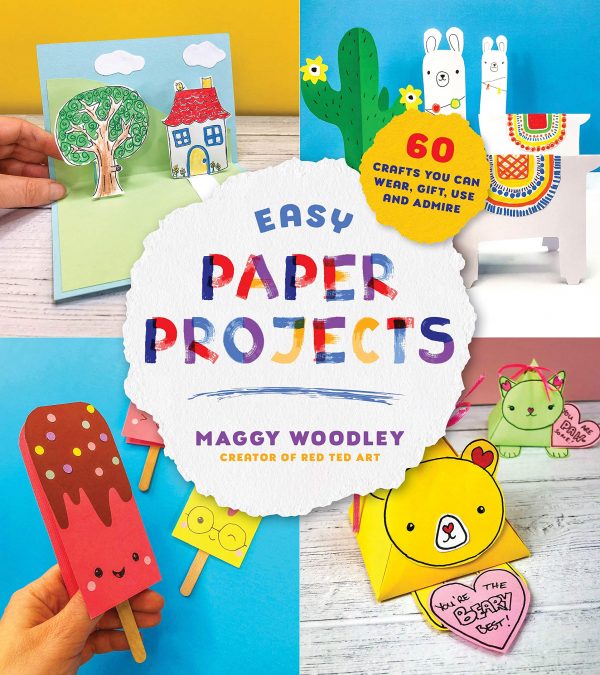 Read also: Five Fun Halloween Handprint Crafts and DIY Spider Web Bulletin Board
Looking for more? View these categories!