Over the past month or so I have shared some of our Fall/Halloween handprint crafts. I wanted to share them again all in one place so you can easily locate them with Halloween coming up at the end of next week!
These art projects are a lot of fun, great keepsakes, and a great way to spend time with your kids. They promote creativity and following instructions, improve fine motor skills, and you can even use them to open up teaching opportunities about the subjects.
1. Handprint Jack-O-Lantern Pumpkin–this craft is a lot of fun because it combines different materials and uses tape that you can peel away. Cut these out and hang them on treat bags for an extra special Fall/Halloween gift!
2. Handprint Bat–this craft uses both hands! Cut out the bat and turn it into a magnet to decorate your refrigerator for Halloween! You can also use this project to teach about bats–how they get around by echolocation, how they sleep upside down, where they live, etc..
3. Handprint Spider–this is another craft that uses multiple materials like crayons and paint. Get creative and draw designs on your spider and add as many eyeballs as you want! Use this craft to teach about spiders (arachnids) and webs.
4. Handprint Trees–this craft uses paint on your child's palms, fingertips, and a little ways down the arm so your child will have fun giggling and getting a little messy! Texture the tree stump and get colorful with the leaves. For more learning, talk about how and why leaves change colors in the Fall, identify which colors the leaves and the bark are, and discuss what types of animals hide in trees. You can even decorate around the tree to show a scene of grass, animals, and piles of fallen leaves.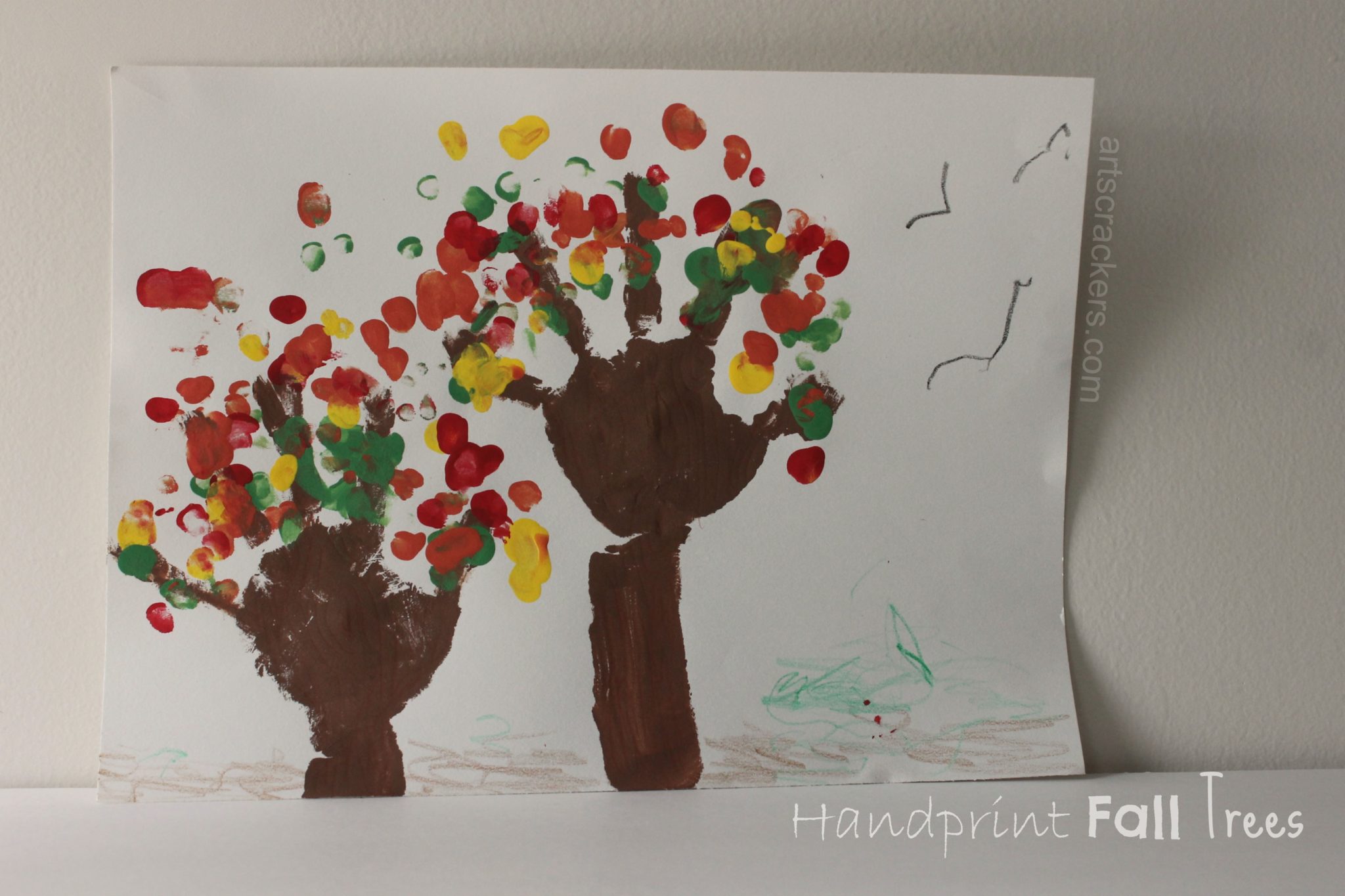 5. Handprint Scarecrow–this project is definitely my most unique of the five and it is a little more in depth. Do this craft with your child for a chance to bond or let your child get creative on his/her own. This craft helps with fine motor skills, imagination, textures, and patterns. Take this opportunity to teach your child(ren) about the purpose of scarecrows in keeping birds from eating crops!
-Which of these is your favorite and why?