Simple yarn crafts are my favorite, especially when they include the entire yarn skein. This year, I created this Easy DIY Yarn Pumpkins Craft for Fall to decorate my mantle. Using yarn adds a soft, warm, cozy feel that is so perfect for fall decorating.

This post contains affiliate links; by purchasing through these links, you help support the family behind Arts & Crackers at no added cost to you! Thank you!
One of the best things about my yarn skein crafts is that you can always easily reuse the yarn if you decide to get rid of your yarn skein decor. I have pulled some apart in the past to use the yarn for different projects (and they you can make it again just as easily!).
These yarn pumpkins are so adorable and so simple. The kids can even help make them!
While I do love a beautiful real pumpkin to decorate, I have had them rot on me before, so I don't tend to use them in my season-long decor. Yarn pumpkins are a great alternative, because they won't go bad and leave a stained, smelly mess to clean up.
Easy DIY Yarn Pumpkins Craft for Fall | Yarn Skein Craft Pumpkin Decor
Supplies:
Here's how to make this DIY Pumpkin Decor:

1. Fill a sock with a bit of rice. None of these took a full sock, so fill them as much as is needed for the size yarn skein you are using. I used a kids' sock for the yarn ball and used women's socks (cut or folded in half) for the larger pumpkin skeins. Tie the end (or ends, if you've cut it in half) with a piece of string so the rice won't fall out.
2. Carefully stretch apart the inside of the yarn skein at the bottom where the hole is. Do not do this too far or too quickly so the yarn doesn't unravel. Slowly squeeze the sock full of rice into the yarn skein opening, pushing it in slowly and gently stretching the yarn skein more to fit the sock inside. Leave a little showing flat on the bottom; do not squish it in all the way. This will allow the pumpkin to sit upright.
3. Using the twine, carefully hold the open end of twine on the bottom of the pumpkin (with some extra for tying later). Twist the twine vertically around the pumpkin 3-4 times, pulling it a bit tight to give the pumpkins their ridges. Tie the loose ends on the bottom and trim off the extra twine.
4. Turn the yarn pumpkin upright and make sure it sits up on its own.
5. Stick a cinnamon stick into the center hole on the top!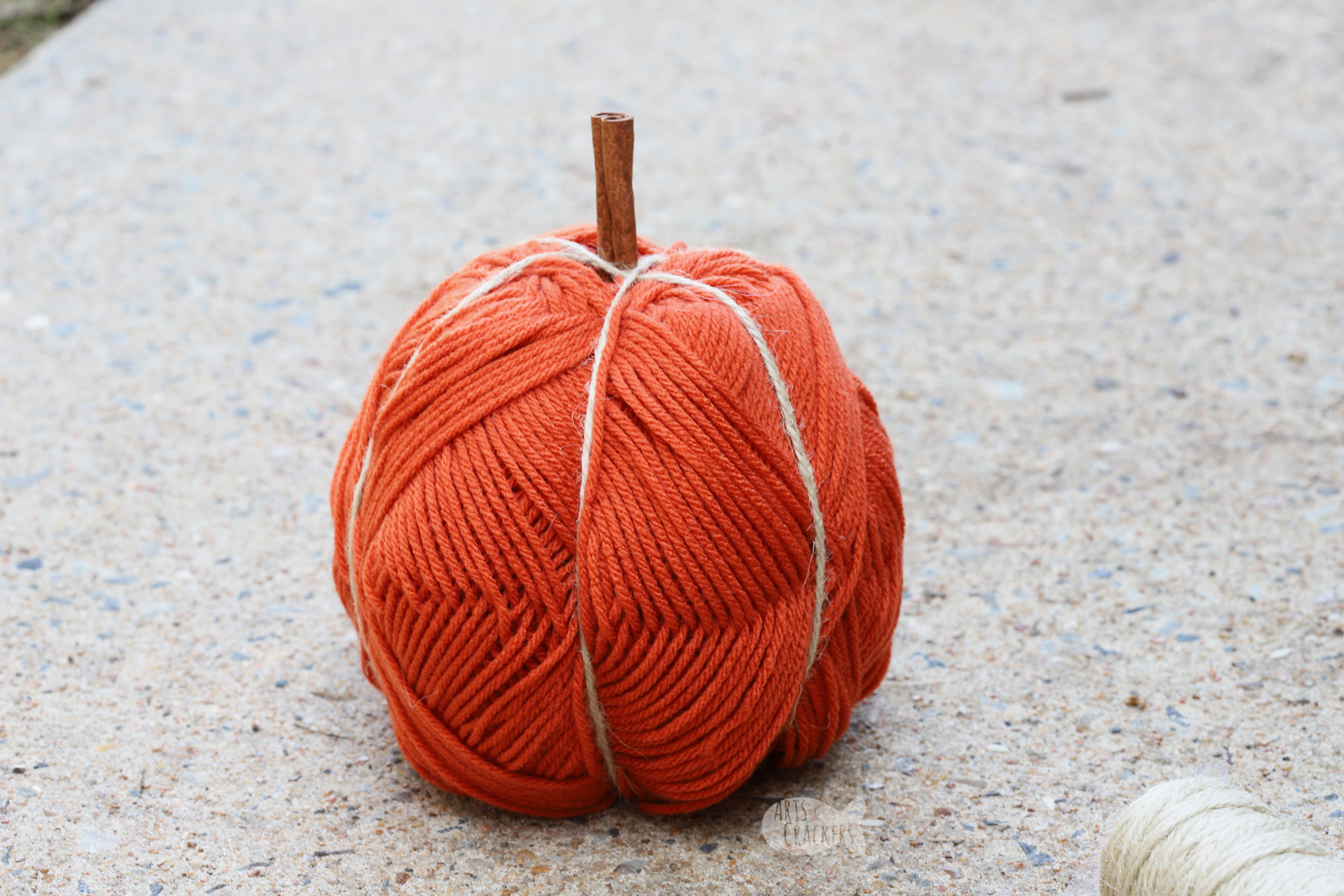 Try different colors, shades, textures, and sizes of yarn skein. Try filling tall rolls with extra rice so they plump out. Use skinny and fat cinnamon sticks, long and short cinnamon sticks. Give the pumpkins personality!
Read also: Cute Gnome Valentine's Day Gift Idea and DIY Spider Web Bulletin Board
Looking for more? View these categories!