Disclaimer: This is in no way a sponsored post. I am sharing per the number of requests I
receive about this. Arts & Crackers is not responsible for injuries sustained while building 
or using this project. Basic handyman, carpentry, and electrical knowledge required. 
Please exercise caution when working with tools, electricity, and glass and make sure the
piece is sturdily mounted on the wall for safety.
At our last house, my husband made this awesome Truck Grille Organizer for our son's room. We had purchased an '81 Dodge Ram truck and it wasn't doing so hot. We decided to sell it for parts, but I noticed that my son's Hot Wheels cars would fit perfectly in the grille so I told my husband to keep it.
As pictured in Decorating My Toddler Son's Bedroom
Initially I had planned for him to just put up the grille as-is, but he, being such an awesome daddy, decided he wanted to make the lights work as well. Below you will find the instructions he gave me and a few pictures he took during the process.
I apologize ahead of time for the lack of detail and clear step-by-step pictures. We did this project before I really started recording things.
For this DIY, you will need basic knowledge of carpentry and electrical work and possibly how to pull a part from a vehicle if you do not find a separate one to purchase. Project measurements and tools required may vary based on your grille choice, tool availability, and preference. Again, please take proper safety precautions when doing this project.
What You Need
Directions
1. Make a wooden frame. Unfortunately, I cannot tell you exactly how as each piece will be unique, but here is where your general carpentry knowledge comes in. The frame was a basic box, except for the top and bottom pieces which had to fit the curved grille.
2. To mount the top piece flush to the grille, my husband used a skilsaw angled at 45º from vertical and cut the wood to fit the tab where it curves downward and out. There was also a peak that needs to be custom fit as well.
3. Cut a box out of the side to attach the light switch where the kids can reach it.
4. For attaching the headlights, you will need to cut some thin boards to fit the back of the frame. My husband made slots for these so the pieces can easily be slid out of the way for mounting the grille to the wall and routing the lights and wires into position.
5. Cut a hole in the thin board to fit the headlights, according to the headlight bezel, so that when the boards are slid into position the headlights fit properly in the headlight trim pieces.
6. If you plan to have working lights, you can choose from plastic lights or the glass lights that come stock. We used glass, but would recommend finding plastic lights as it is easier and safer to prepare.
7. Choose how you want to create the electricity. You can either try to convert the AC power from the wall to DC using the old wiring harness from the truck, or go the route we did using candelabra lights. Again, use plastic lights if possible so you can just cut a hole to insert the lights.
8. If you have to go the glass headlight route, I recommend having a friend help or spot you. You will need to create a hole in the glass to insert the candelabra lights into. The first step here is to head the glass slowly. Make sure it is SLOWLY or the glass will shatter! Please wear your heavy duty leather gloves for added safety and I suggest long-sleeve clothing and safety glasses as well.
9. Once the glass is almost red, push the bolt and grips into the softened area and snap it out of the hard housing to create a hole. Let it cool. You can use files to open the hole up wider if needed or sand it down.
10. Candelabra lights are small night lights with two pieces of metal hooked on it for you to squeeze together and snap into the holes. Wire these with a two-wire plug (has no ground wire.) The black wire goes on one side and the white on the other.
11. Make sure everything is hooked up parallel so that you do not end up with one bright light and several dim ones. This means one "power wire" from each light connects from each light to the white wire side of the switch. Route one wire from each light to the ground side of the switch and they will be the same brightness.
12. Since the frame will be rather heavy, you will need a good mounting system attached. My husband used a shelf hanger, cut to fit, and made sure it had three mounting holes both for the part touching the frame and the part touching the wall.
13. Mount the grille to the wall. Make sure it is near an outlet and that you level out the grille when you hang it. Start with the frame then add in the lights.
Again, I apologize this post cannot be in more detail, but hopefully this helps those who have the basic knowledge required and have wanted to work on this project and need a place to start!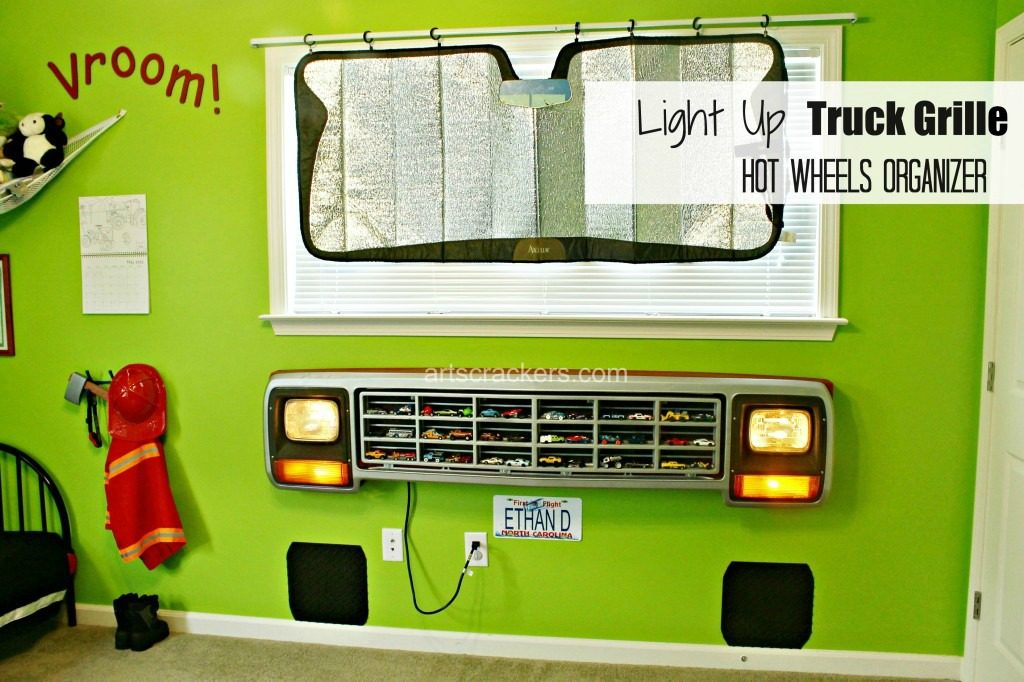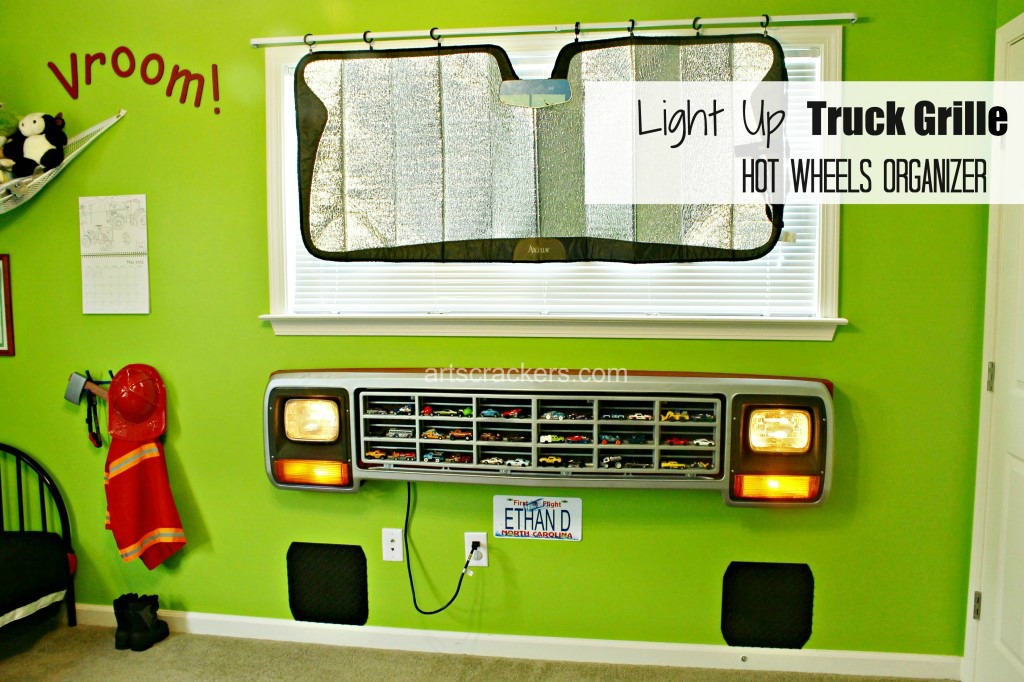 Know someone who could use this? Hit the "share" buttons below! Be sure to follow Arts & Crackers on social media (buttons at the top right of the page.)
You May Also Like
If your child LOVES cars, he or she may also love this Cars Themed Birthday Party!
-Who would love to have this? What room will it decorate?
Written by Alyssa Darby
Follow me on
Google+
,
Facebook
,
Twitter>,
Pinterest
, and
Instagram
.
This post may contain affiliate links and sponsored ads; using these links helps support my blog.
Advertise Here; contact artscrackers@gmail.com.