A well-structured, well-decorated space can be such a fantastic way to open up your child's imagination and give them opportunities to explore, play, and learn. One day I got the itch to organize and improve E's bedroom space and I want to share what we came up with. This vehicle themed kids' bedroom idea will help your child's imagine take off and satisfy many of their sensory needs, from touch to sight to sound.
Many of the things I made for his room were things we made (I apologize ahead of time for the lack of "in-the-process" photos.) Please enjoy these photos and I hope you are inspired by them to decorate your kids' rooms. If you decide to decorate your kids' rooms, I would LOVE if you would post photos on my Facebook wall, especially if you try any of my projects!
BEFORE
AFTER
I had so much fun adding unique touches to the room like reflectors on the bed and paintings on the wall.

One fun way to add a unique touch is to frame your child's artwork. This was drawn by a friend of ours so we wanted to display it. It's a little crooked in the picture, so I recommend taping it in or finding a smaller frame to fit better.
We got this plastic hubcap for only $0.05 on clearance!! We then bought a clock kit and added it to the center then added numbers around the edge.
I found a small fleece blanket for very cheap and stitched on some white ribbon along the edges and strips of yellow ribbon in the center to make it look like a road.
I taped out a landscape–first the layer of green for the grass since it's a lighter color, then once that was dried I put the delicate tape onto the green part and painted the blue sky. I then painted pictures all around the wall and he loves pointing them out.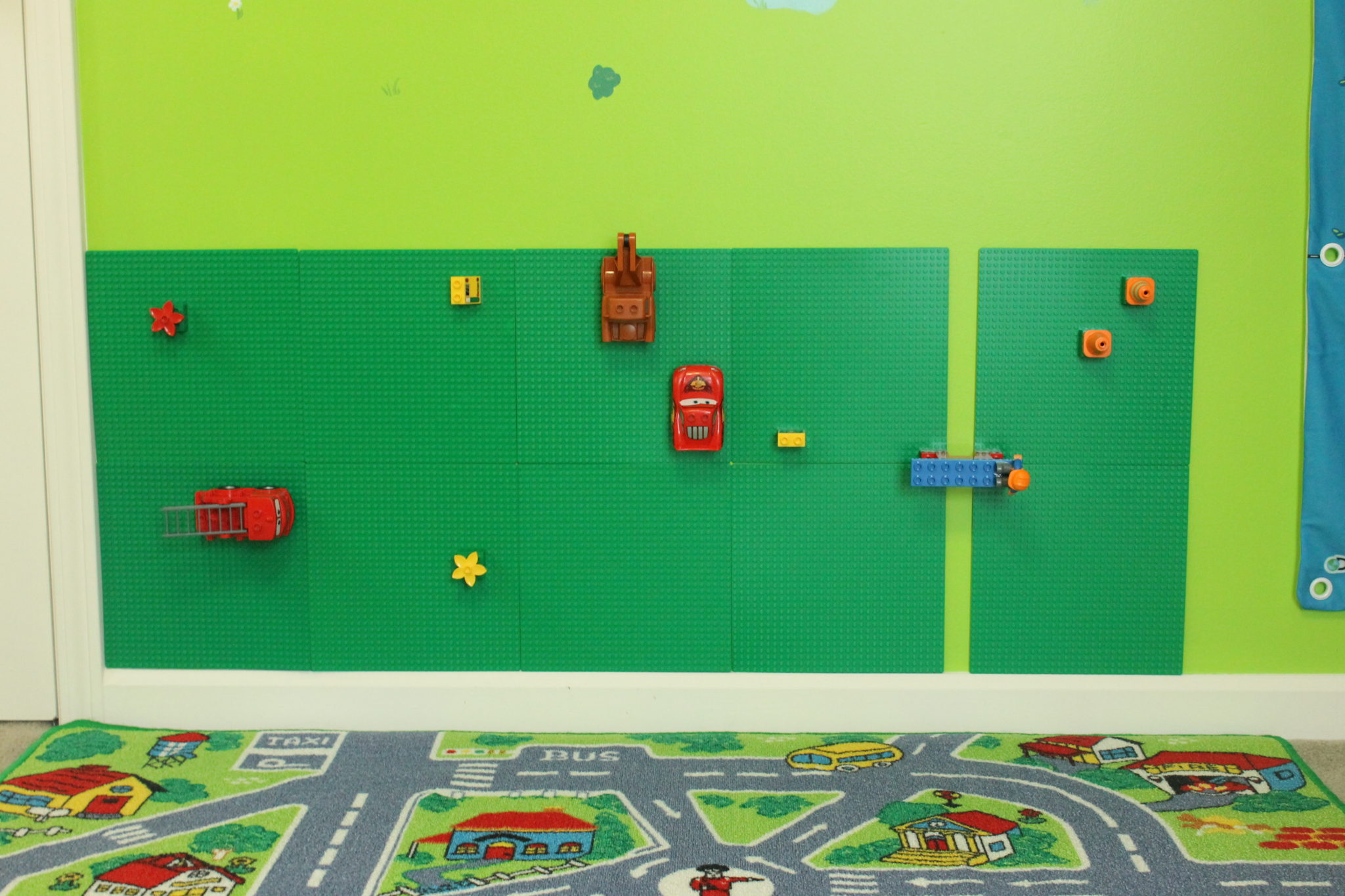 Our son loves LEGOs so we created a sensory wall with some LEGO plates. SEE THE TUTORIAL HERE.

My husband made this cool light-up truck grill that holds a bunch of our son's Hot Wheels cars. I added a sun shade as a partial window treatment that blocks out most of the light but allows a night-light feel through the edges at night. GET THE INSTRUCTIONS HERE.

We added a license plate and some sticky tire tread under the grill to make it look more like a vehicle. I made the license plate online and we found the sticky tire plates at the hardware store and trimmed the edges to round them.

The letters are from CraftCuts.com and we just stuck them to the wall with sticking mounting tape.
I found some cute airplane-shaped chalkboard stickers to put on the toy bins. We used a funnel and oil pan on the right for small LEGOs, but it is currently being filled by the excess of my son's Hot Wheels cars.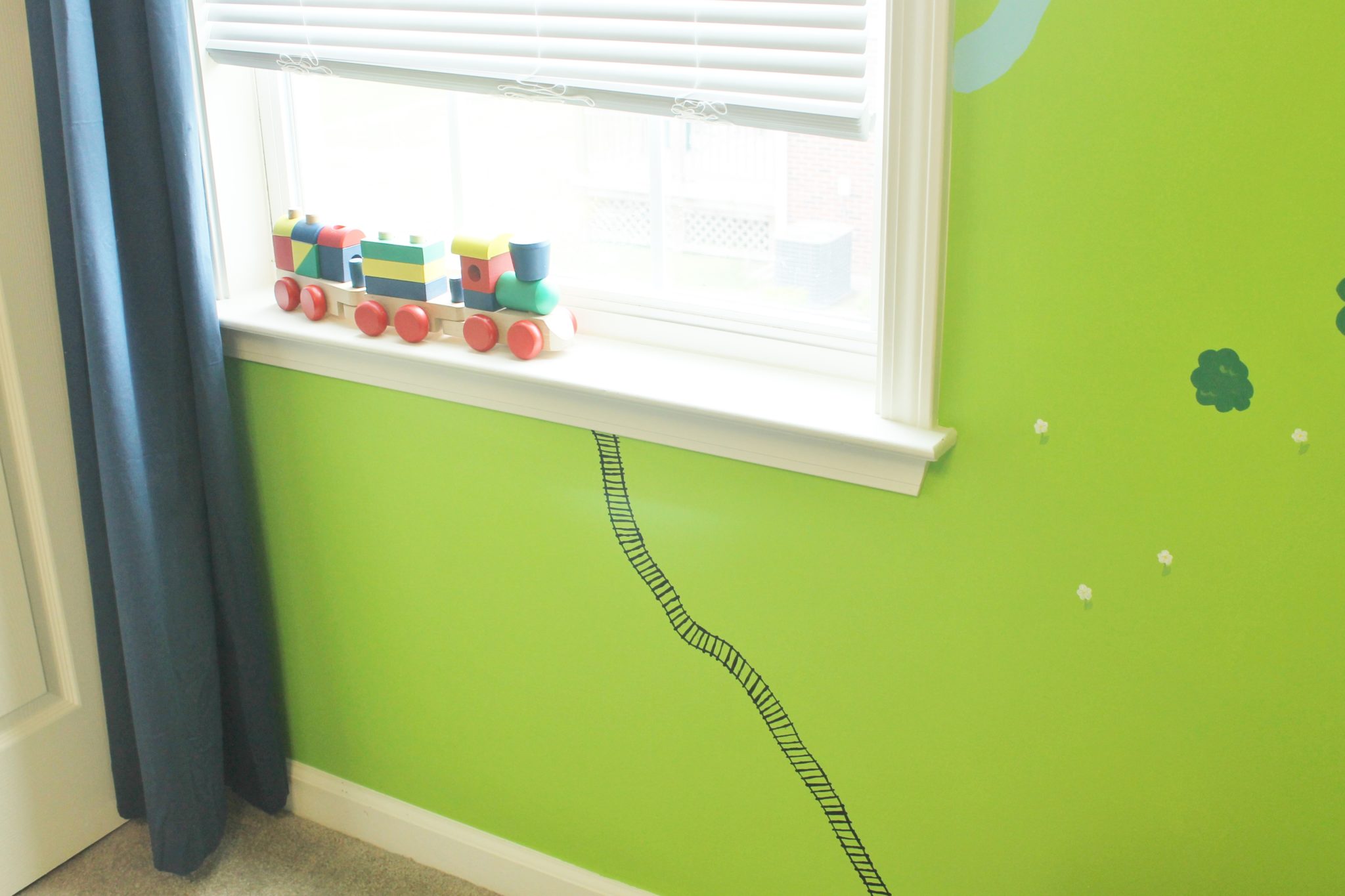 I painted a track from the wooden train in the window.
Custom painting by Mommy. You can add any artwork you'd like, but kids always enjoy things made by their parents.
This piggy bank was just a spotted one we found at the store. We sanded it down, primed it, and painted it to look like Lightning McQueen!
Know someone who could use this? Hit the "share" buttons below! Be sure to follow Arts & Crackers on social media (buttons at the top right of the page.)
If you enjoy my posts, be sure to subscribe (to the right,) follow Arts & Crackers on Facebook and follow on Pinterest!
You May Also Like
-Who would love to have this? What room will it decorate?