Disclaimer: I received a free product for my post! These views are my own and were not 
at all influenced by the party who gave me this opportunity..
It's safe to say we all can understand that babies grow very quickly. I know mine have! It feels like one day you're driving home from the hospital and the next they are starting school! Having a convertible car seat can help save money by growing with your child and having a great car seat is an important step in keeping him safe. This is why I was so excited to test out the NEW Combi Coccoro Convertible Car Seat!
Click here to visit their website
The Coccoro car seat currently comes in 5 gorgeous colors which include: Cherry Pie, Chestnut, Grape, Key Lime, and Licorice. I received the brand new Grape color for my review (and for a giveaway–see below!) While many will see a purple car seat as only for girls, I feel it is a great neutral color. In fact, purple is my husband's favorite color! You can see how adorable my little man looks in his seat.
What I Love
There is so much that I love about this car seat. For starters, I would have to say that I love its safety features. A few of these features are:
Rear-facing tether
SafeGuard® LATCH connectors
Tru-Safe® Side Impact Protection (SIP)
Rear-facing and forward-facing lock-offs
Single-pull adjustable 5-point harness with padding
Tru-Safe® Buckle
To explain a few of these, I will give you a quick overview.
The rear-facing tether is a nifty strap that comes off the top of the car seat and connects to something metal in your vehicle to better stabilize the seat (opposed to hooking ONLY the base of the seat to the car's latch hooks–most car seats do not come with this added safety feature!)
This seat has deep side walls and a layer of energy-absorbing foam making up its side impact protection. The foam is made to help safeguard your child's head, neck, and spine by distributing the force of impact away from your little one.
I really love though, the Tru-Safe® Buckle! It has an indicator that changes colors so you know the harness completely buckled to the base and the straps won't just pop out! Red means stop and fix that buckle; green means you're good to go!
Another thing I love about the Combi Coccoro is that it has a washable cover (just the cover–it is NOT safe to wash the seat belts as it weakens them) that is easily removed for cleaning. This is perfect for those of us who have a very messy baby!
The removable infant insert that comes with is important for smaller babies, helping them sit properly and comfortably in their seats. My son is still under the weight requirements to have it out, so you will notice that the insert is in place in his seat. It also comes with a pillow for the head and pads for the seat belts for added comfort and protection.
Seriously, there are so many cool features for this car seat I have to add one more…it has a compact design that allows you to safely install THREE car seats in the rear seat of most small fuel-efficient vehicles!
Is this car seat right for your child? See the specifications below.
Rear-facing weight requirements = 3-33 lbs.
Forward-facing weight requirements = 20-40 lbs.
Minimum height requirement = 19″
Height limit = 40″
Also shown below: Combi Catalyst Stroller. Read the review HERE.
What I'm Not Huge On
The only thing my husband and I really had a difficult time with was buckling the belts. I do not have too difficult of a problem with it, but getting our child's arms through the loops can be a little bit of a challenge as there is not much room when the harness is set to the proper tightness.
To buckle the clip, you need to insert both sides into the latch at the same time. To me, this is added safety and it really only takes us an extra few seconds. If needed, you can always loosen and re-adjust the straps as it is very easy to loosen and tighten unlike most seats we have used. My guess is that this feature is for the color-safety feature to work. It ensures both sides are completely buckled in properly rather than one stuck in incorrectly and showing green to go.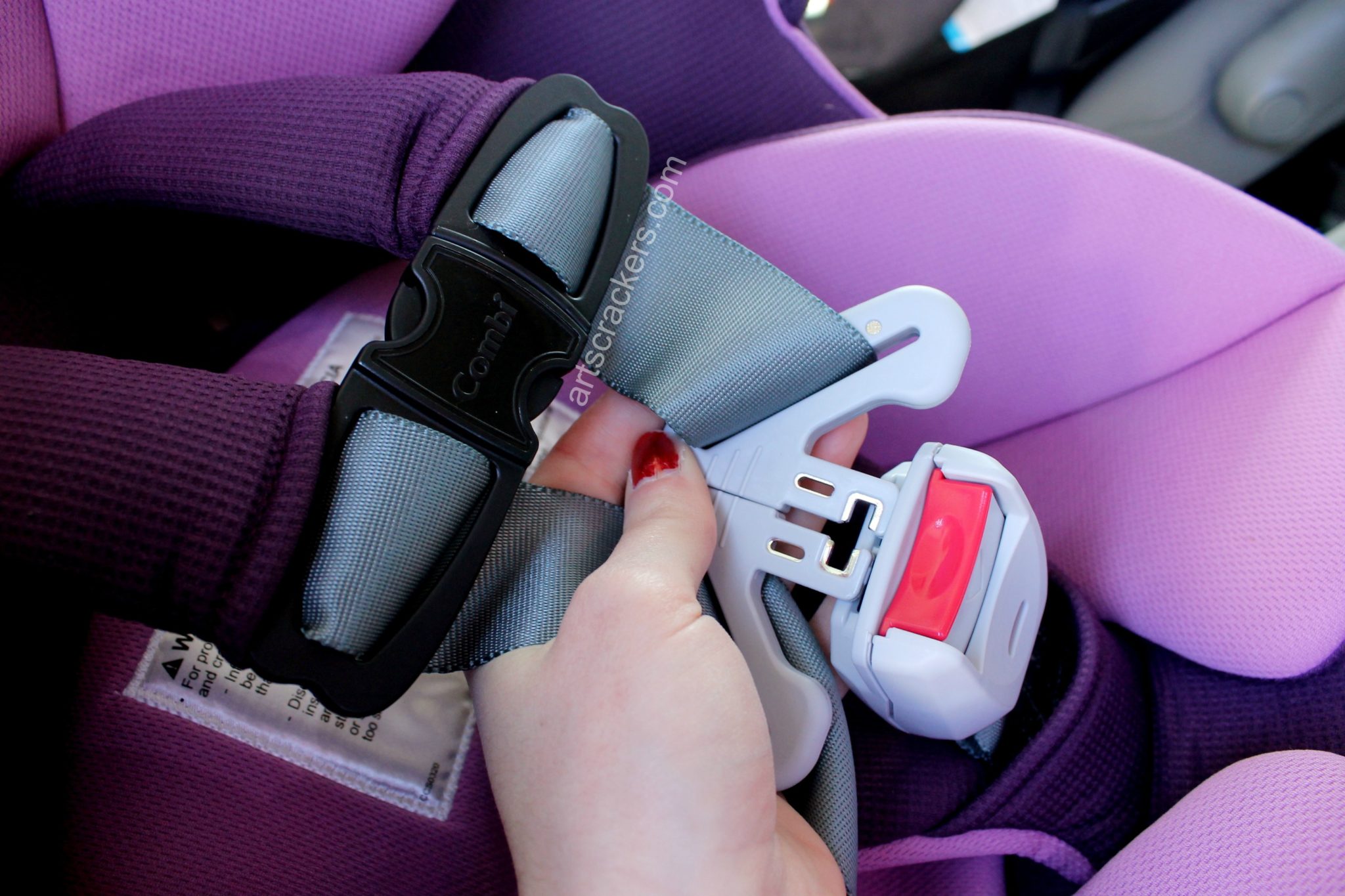 Overall, this seat is safe, stylish, and simple to use! I highly recommend adding this seat to your baby registry or purchasing for your little one.
Bonus safety tips:
When setting up your car seat and buckling your child in, please make sure you know about car seat safety! There is a proper way to buckle children into seats that can make all the difference into saving their lives.
Remove puffy jackets!
In cold Winter months, it is tempting to leave your child in his comfy coat and just loosen the belt straps to fit. DO NOT DO THIS! The added puffiness means there is more room for your child to slip out of the seat in the case of an accident. Instead, remove the jacket before entering the car and replace it with a thin fleece jacket or a warm blanket on your child's lap (over the buckles.)
There are many great resources for car seat safety, but a few include AAA, Safecar.gov, and the instruction manual itself. You can find out car seat laws HERE and, to find out where you can get a free car seat check, call (866) SEAT-CHECK or click HERE (this includes most fire stations!)
You May Also Like
-Which Combi Coccoro color is your favorite?