Chemistry has always been a love of mine…the Periodic Table, reactions, experimenting…what better way to share the love of chemistry and others than with these super fun printable Chemistry Valentines for Kids (with chemistry facts)?!

This post contains affiliate links. By using them, you help support the Arts & Crackers family at no extra cost to you. Thank you!
These educational Valentines to print are cute, funny, and informative. On the front you will find adorable chemistry-inspired puns and Valentine's Day sayings. On the back you will find an interesting fact, usually related to the design or a more generic chemistry fact. I mean, I'm a homeschool parent. Of course I had to find a way to make these educational (and fun!).
Each of these Valentines feature unique hand-drawn, hand-painted watercolor designs. Who ever said chemistry couldn't be artsy? This "compound" will make your whole brain happy.
To fit various needs and budgets, I have set these Printable Chemistry Valentines for Kids packages up as follows:
Younger-age (suitable for mid-to-older elementary age or advanced lower elementary as well as older ages)
Older-age (suitable for older elementary, middle school, or older ages if you still love handing out Valentines!)
Full package (suitable for anyone who loves chemistry!)
Printable Chemistry Valentines for Younger Kids



Grab the younger set if you have younger children who will appreciate simpler concepts with fewer or less-detailed facts (four designs have blank backs where you can write your own fact, draw a picture, or just leave it off). These designs are also suitable for older ages, however I wanted to make sure there was a set just for younger children who have a love for chemistry. (Pictured just above.)
Printable Chemistry Valentines for Older Kids



The older set may be suitable for younger ages as well, depending on how advanced your child is, but is geared more towards older ages and their peers. (Pictured just above.)
Printable Chemistry Valentines for Kids Full Set
What do the sets come with?

Each age-appropriate set comes with 24 unique designs, four to a page and they are $4 each. The backs, besides chemistry facts, also have "to" and "from" spaces to fill in.
The full set comes with all 48 unique designs for $7! I highly recommend this set, because some of these are just too cute to pass up. Share the set with a sibling or a friend who also loves chemistry, hand them out to extra people you care about, pick and choose your favorites, or save the extras for next year! This set is perfect if your child is in a larger classroom, too.

The designs are fun and relatable, even for younger ages. I wanted something that would combine my love of creativity, color, art, and sophistication with my love of science/chemistry and knowledge. Some designs are more feminine, some more masculine, and most are gender-neutral so they are suitable for both boys and girls (because girls love STEM subjects too!).


Hand these out at school, extracurricular activities, church, groups or clubs you participate in, around town, or mail them!
Printable Chemistry Valentines for Kids (with Chemistry Facts)
Personally, I am a big fan of NOT handing out extra candy for holidays…because that seems to be what all holidays for kids are about these days…but you can put candy, toys, erasers, all sorts of fun goodies inside of these!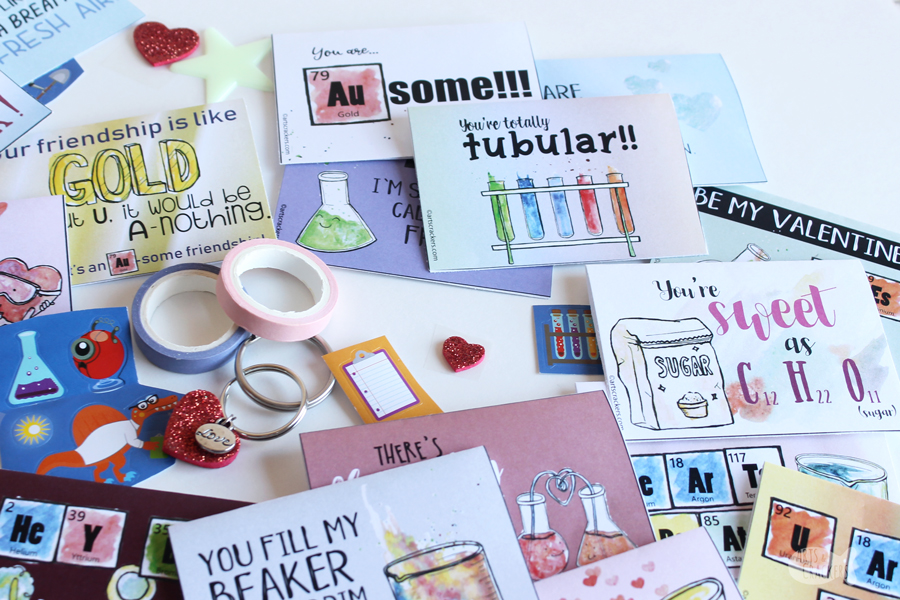 We just used some double-sided tape or invisible tape to seal them. We have plenty of double-sided tape now…
Shortly before Christmas, E decided he wanted to make a craft and used up a bunch of my double-sided tape without asking. He had been given several warnings not to use the tape without permission. That tape isn't cheap (though I would have said yes to the project had he asked). Since he didn't ask again, I told him he had to ask for double-sided tape for Christmas then give it to me. Somehow this translated to "that's all he's getting" (you know how kids exaggerate things).
We did end up putting double-sided tape in his stocking and he gave it to me right away, but we also hid one in his gifts to unwrap. He thought that one was mine too, but when I told him it was his to keep, his face lit up. Every day after Christmas, for the following two weeks (and even now still, occasionally), he would come up to me, hug me, and thank me for giving him tape for Christmas because tape is the best.
I'm not really sure what's quite so exciting to kids when it comes to tape, but they really do like it! Get a pack of double-sided tape and let them help seal the Valentines!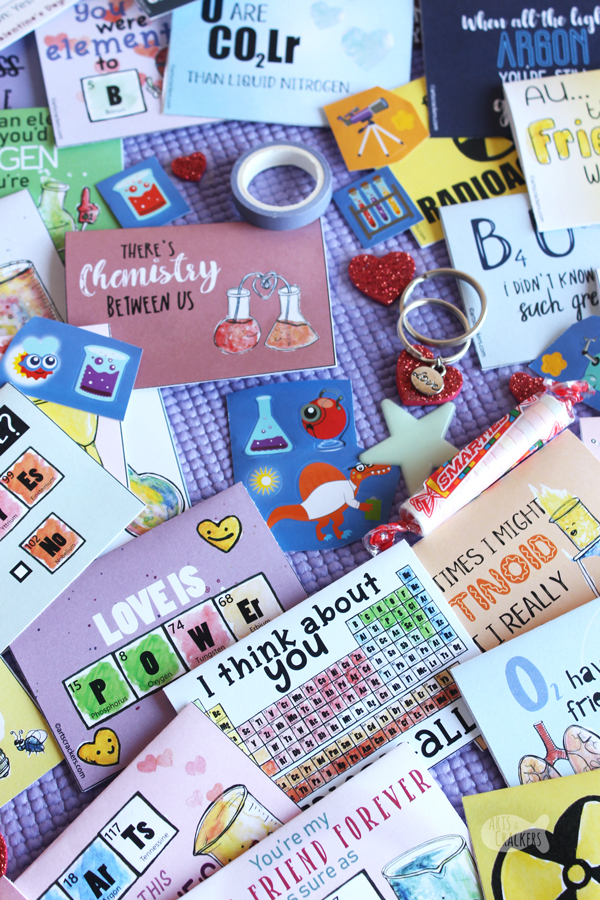 Inside the Valentines
Looking at these and how they are set up, you will notice that the fold in half, like cards, horizontally. (By the way, I use a nifty paper cutter to cut them out so the lines are straight and it goes quickly.) You can totally hand out just the cards, but if you want to include something small inside you can totally do that too! Just tape them shut from the inside using double-sided tape if it's something small and flat, or from the outside with invisible tape if it's something larger.
*Obviously, remember to keep fillers age-appropriate.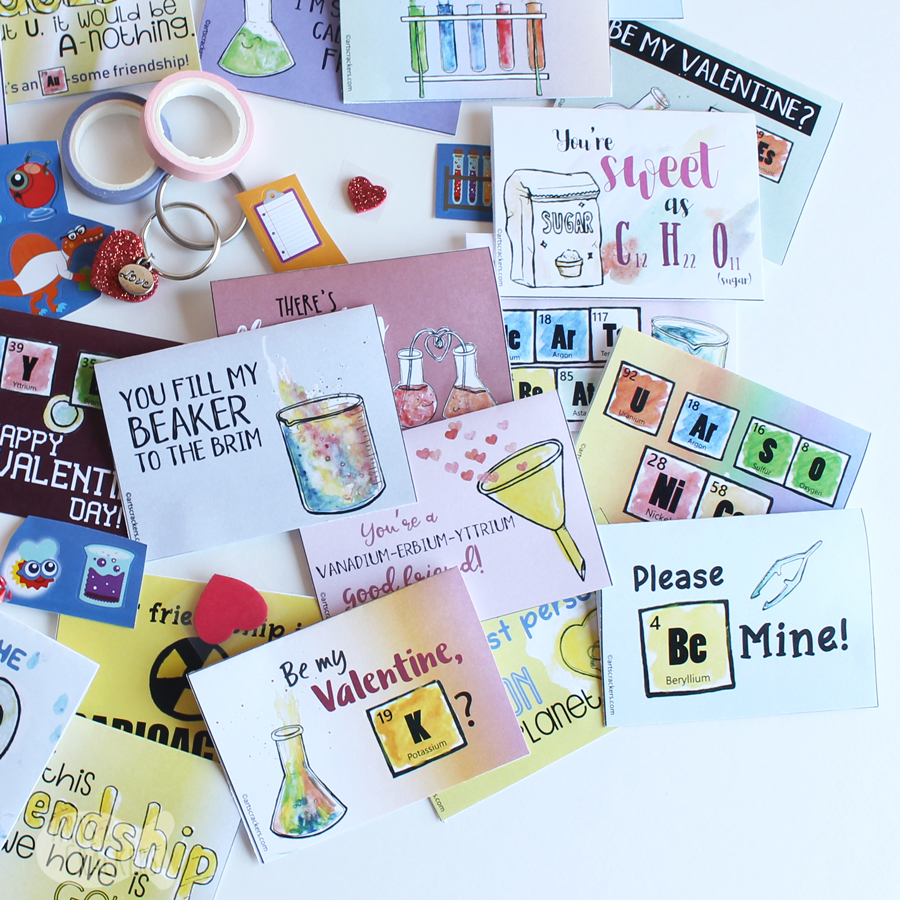 We tried filling ours with some random trinkets and treats. Here are some fun filler ideas:
Bouncy balls (this one is harder, but just tape it inside and tape the bottom of the valentine so it stays closed!)
Stickers (how about some super cool chemistry stickers like we have!)
Small keychains
Small, individually-wrapped candies
Coins (this is fun for small classrooms–just a quarter or a few pennies to fill it with something other than just air)
Rainbow diffraction slides (these are so fun!)
Which Valentine is your favorite??

Hey you. Yes, you. I'm going to let you in on a little secret. Do you like my chemistry watercolor designs? Well, you're in luck, because I'm working to add more great products with these, like t-shirts and wall prints…what else would you like to see? (P.S. they won't be seasonal, so you can enjoy them year-round!)
Here are some newly available styles!
Feeling the chemistry between you and these Valentines?
GET YOURS HERE!
Choose Your Package!
Don't forget you can shop the Arts & Crackers Gumroad store for more!
Read also: Ways to Encourage STEM Education At Home and School and Hands-on Education That Will Stick | Making Memories Playing with Dad

Looking for more? View these categories!