Easter baskets are always so much fun to give and receive, but sometimes it is hard to think of what to include.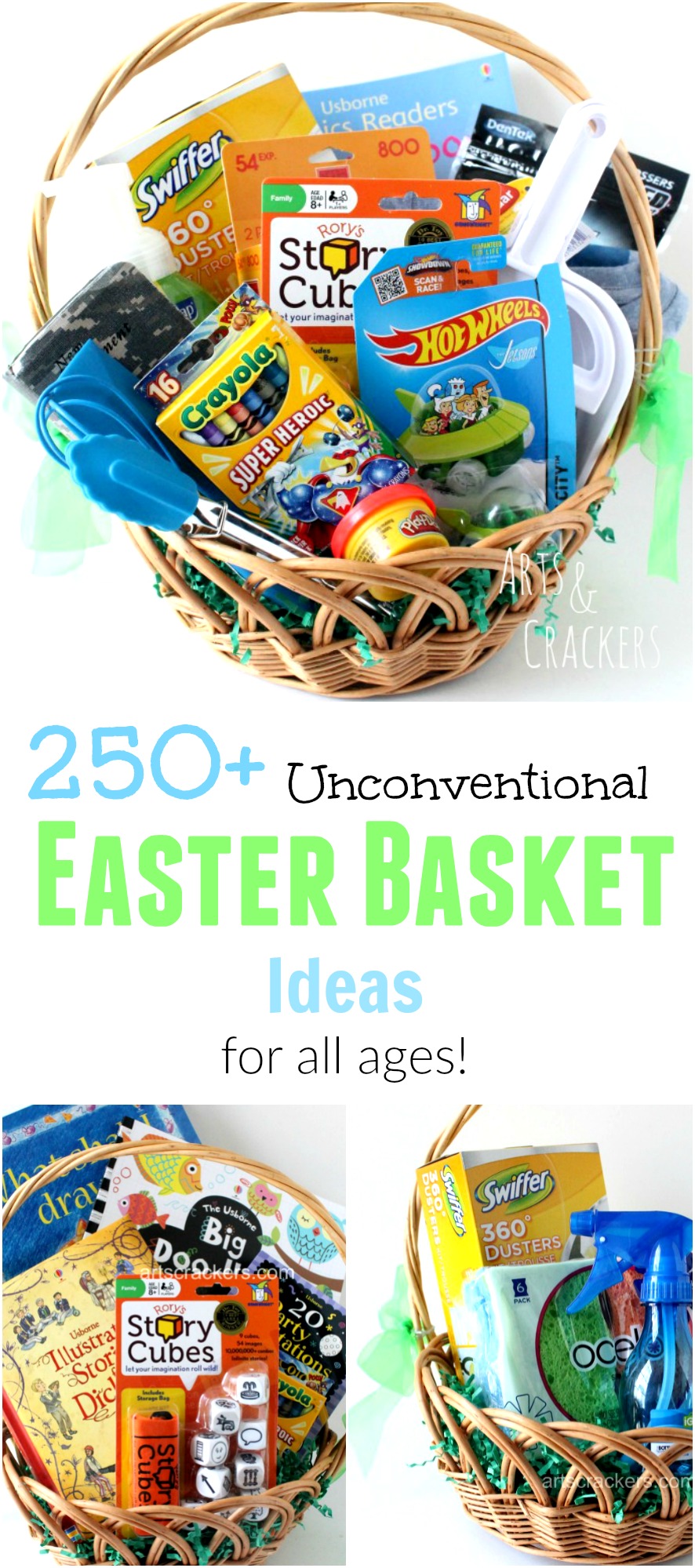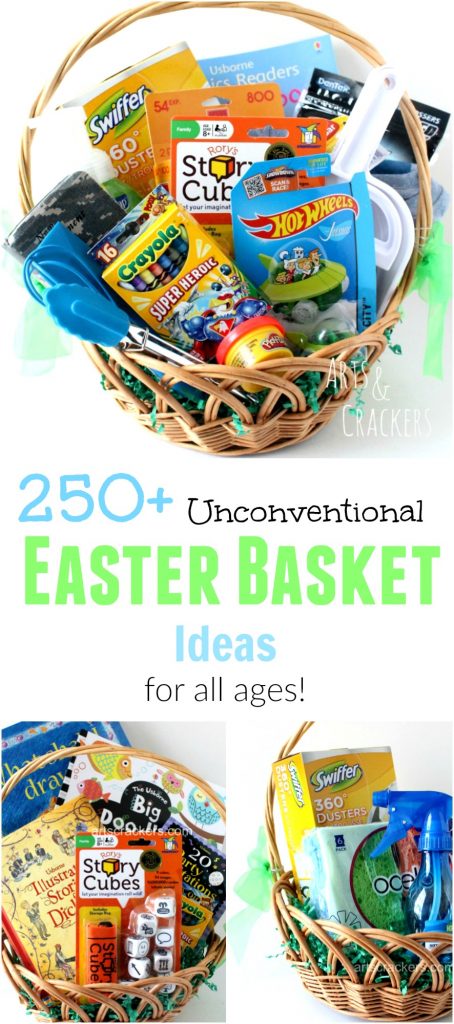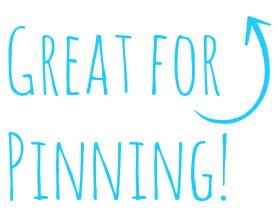 Problem: Traditionally, you'll find loads of candy and toys in Easter baskets, but my kids have so many toys and certainly do not need all that candy.
Solution: I wrote up a list of themed basket ideas for kids of all ages!
Almost all of these ideas are:
Unconventional
Fun
Useful
Educational
Affordable
Create one of these themed baskets or mix and match items from each like I did for my boys! We even add a treat or two in there, just for a little extra fun without overloading them with candy. When we gave the boys theirs last year, their favorite items out of everything–LEGOs included–were the household items!
Be sure to also check out our categorized gift shopping lists on our Amazon Storefront. Don't see a shopping list you'd like to have for ideas? Send me an email at [email protected].


Read Also: I Didn't Hand Out Candy… Huge List of Allergy-Friendly Non Candy Halloween Treats for Trick or Treat and Unconventional Stocking Stuffer Ideas by Category
Since this is a long list, I have linked this table of contents to jump to the specific categories to make it easier for you!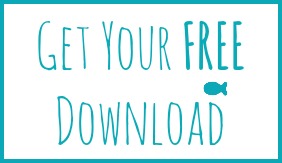 For Eating
While we may be trying to stay away from candy, some kids really like treats. Choose items you would usually buy already to save money, but buy the extra special version just for your child. We tend to stick with the brands that have no artificial dyes or flavors, but you can choose whatever works for your family. Here are some fun non-candy food items you can include that my kids personally enjoy receiving:
For the Artist
Some kids prefer to doodle. Inspire creativity with these basket fillers:
1. Animal Crackers
2. Beef Jerky
3. Cereal Bars
4. Fruit
5. Fruit Snacks
6. Shaped Cheese Crackers
7. Hot Chocolate
8. Gelatin Mix
9. Macaroni and Cheese
10. Pretzels
For Bath and Body
Baths and personal care are always more fun when you have your own special products. Encourage good hygiene with these fun basket fillers:
11. Bubble Bath
12. Body Wash
13. Loofah
14. Bath Toys
15. Band-aids (the fun kind)
16. New Clothes
17. Bar Soap (Johnson & Johnson has a really neat kids' one)
18. Flossers (the kid kind)
19. Character Toothbrushes and Toothpaste
20. Bath Color Fizzies
21. Foaming Hand Soap
Basket Itself: Shower Caddy
For the Crafter
Some kids really love to do crafts, so why not support the interest with these fun basket fillers:
22. Crayons
23. Construction Paper
24. Craft Books
25. Colored Pencils
26. Markers
27. Pipe Cleaners
28. Googly Eyes
29. Craft Sticks
30. Stickers
31. Glitter Glue
32. Safety Scissors
33. Feathers
34. Craft Store Coupon (so they can pick out something special and learn to save money)
Basket Itself: Craft Bin/Shoe Box

35. Coloring books (like my book, "Let's Color Together"!)
36. Drawing Pencils
37. Sketch Pad
38. Pastels
39. Paints and Brushes
40. Small Wrapped Canvas
41. Calligraphy Pens and Instructional Book
42. Frame to Display Artwork
43. Coupon for Special Display Space (your wall/refrigerator/work desk)
For the Learner
Some kids just love to learn and school supplies like these would put a smile on their faces:
44. Activity Books
45. Educational Board/Card Games (Dominoes, UNO, Ludo)
46. Non-Fiction Books
47. Pencil Case
48. Pencils
49. Calculator
50. Planner/Notebook
51. Puzzles
52. Globe/Map
53. Kids' Magazine Subscription
Basket Itself: New Backpack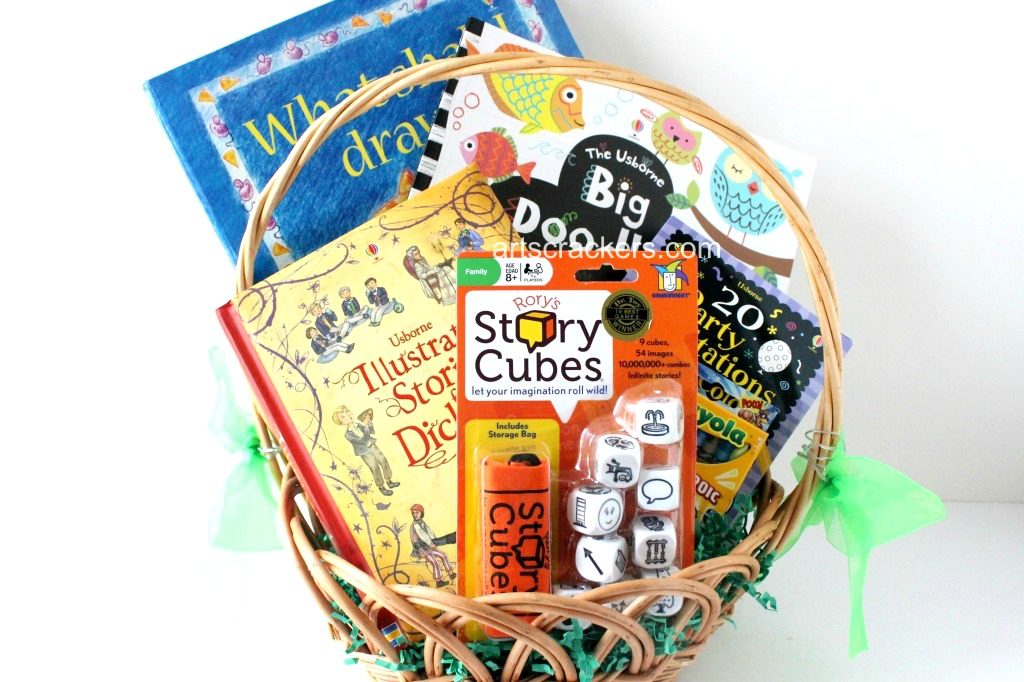 For the Author
If your child has an active imagination and loves to write, here are some great fillers:
54. Journal/Notebook
55. "Create Your Own" Books
56. Make-A-Book Kit
57. Dictionary and Thesaurus
58. Rhyming Dictionary
59. Special Pen/Pencil
For the Musician
Music is always fun! Jam out with these basket stuffers:
60. Recorder
61. Song Writing Program
62. Tambourine
63. Maracas
64. Metronome
65. Children's Songbook
66. CDs
67. Sheet Music or Blank Sheet Music Journal
68. Instrument Accessories (if your child already has an instrument)

For the Baker
Bake up something sweet with these:
69. Cooking Utensils (I found mini tongs, spatulas, whisks, and measuring cups at Walmart–perfect for use in the real kitchen or the play kitchen)
70. Apron
71. Cupcake Kit with Kids Cook Book
72. Shaped Baking Pans/Cookie Cutters
73. Frosting Flavorings
74. Sprinkles
75. Baking Mixes
76. Measuring Spoons
77. Kitchen Timer
Basket Itself: Mixing Bowl
For the Chef
Get a little help in the kitchen from your little chef! Here are the ingredients to the perfect Chef Basket:
78. Chef Hat
79. Cookbooks
80. Pots and Pans (play ones for a toy kitchen)
81. Cutting Board
82. Measuring Cups
83. Spices
84. Meal Ingredients
85. Grocery Store Gift Card (to shop for ingredients)
86. Oven Mitt
87. Unique Kitchen Gadgets (like the ones shaped as animals–we have these Nessie ladles)
88. Sandwich Shape Cutter
89. Mini Salad Spinner
For the Gardener
Do a little for the environment while helping your little one's green thumb with these:
90. Gardening Gloves
91. Plant Food
92. Seeds
93. Garden Labels
94. Garden Trowel
95. Watering Can
96. Vase for Flowers
Basket Itself: Planter Pot
For Your Little Helper
As I mentioned earlier, the items my son was most excited to see in his basket were the household items. These may not seem at first like something your child would enjoy, but you'd be surprised how much they like them. He will mostly use his for his play kitchen. These items will not only get you a little extra help around the house, but they will also help your child feel grown up and responsible as little kids love to feel:
97. Mini Dust Pan and Broom
98. Sponges
99. Dusters
100. Mini Handheld Vacuum
101. Spray Bottle
102. Cute Kitchen Towel
103. Play Iron
104. Purex PowerShot Detergent (seriously, my son loves this)
Basket Itself: Plastic Pail
For the Handyman
This basket gives your child more than just things; it also offers an opportunity to spend more quality time with mom or dad creating memories and items:
105. Small Hammer
106. Level
107. Measuring Tape
108. Ruler
109. Building Kit (perhaps a birdhouse or a pine car)
110. Screw Driver
111. Tool Belt
112. Paint
Basket Itself: Toolbox
For the Swimmer
With the weather warming up, pool and beach time is right around the corner. Make a splash with these basket add-ins:
113. Swim Diapers (for younger children)
114. Goggles
115. New Swimsuit
116. Pool Toys
118. Sunscreen
119. Beach Towel
120. Flip Flops
121. Swim Shoes
122. Beach Hat
Basket Itself: Beach Tote
For the Athlete
If your child plays sports or simply enjoys them, help them to stay active with these:
123. Sports Balls (soccer, basketball, baseball)
134. Sports Gear (cleats, baseball glove)
135. Water Bottle
136. Kids Sports Drink
137. Clif Kids Bars
138. Exercise Clothes
139. Licensed Sports Gear
Basket Itself: Duffle Bag/Drawstring Bag
For the Seamstress
This one probably requires some adult supervision, at least for younger children, so it also offers special bonding time. Help your child learn to sew and create pillows, blankets, and more with these fun items:
140. Craft Store Coupon (to purchase needed items and learn to save money)
141. Fabric pieces
142. Pinking Shears (for older kids)
143. Thread
144. Craft Stuffing
145. Buttons
146. Sewing Patterns

For the Photographer
Take a picture; it will last longer. We are always changing, every moment, so help your child preserve these amazing memories with the following:
147. Disposable or Inexpensive Digital Camera (like this one)
148. Frames for Pictures
149. Photo Store Gift Card (like Shutterfly)
150. Photo Props (bunny ears headband, makeup, hats, silly faces on sticks)
151. Coupon for Photo Session with Mom/Dad or Coupon For Gallery Space (fridge/wall/office)
Basket Itself: Camera Bag
For the Reader
Did you know that a love of reading can help you be successful? It also allows you to imagine yourself doing so many fun things you cannot do otherwise. Spark your child's love of reading and imagination with these:
152. Books
153. Reading Light
154. Bookmark
For the Actor
"To be, or not to be…." If it's talking about being an awesome parent, this basket is sure to be the thing that makes that happen:
155. Dress-up Clothes
156. Silly Glasses
157. Wigs
158. Feather Boa
159. Fake Mustaches
160. Hats/Crowns/Other Accessories
161. Makeup
Basket Itself: Hat Box
For the Explorer
Set out on a grand expedition for the perfect Easter basket. Fill it with these items to help your child explore and discover this spring and summer:
162. Flashlight
163. Magnifying Glass
164. Butterfly Net
165. Bug Catcher/Mason Jar
166. Binoculars
167. A Map (even make a treasure map or a scavenger hunt)
168. Periscope
For the Traveler
Planning a vacation with the family? To visit family? Use this basket to announce your trip or just make it even more special for your child:
169. Travel Pillow
170. Travel-Size Bottles
171. Travel-Size Bath Items
172. Kids' Toothbrush Cap
173. Personalized Luggage Tag
174. Scrapbook and Supplies
Basket Itself: Children's Rolling Suitcase

For the Beautician
Girls especially love to play dress-up. Make her feel beautiful with these items (and let her use them on you!):
175. Kids' Makeup
176. Lip Gloss
177. Nail Polish
178. Hair Brush
179. Spa Mask
180. Slippers
181. Tiara
182. Jewelry
183. Tutu
Basket Itself: Makeup Tote
For Family Night
Family time is important, so why not plan on it with these basket stuffers than can also help your kids learn to share with the whole family:
184. Popcorn
185. Popcorn Flavoring
186.Family Board Games
187. Movies
188. Tickets to a Local Event (circus, bowling, mini golf)
For Getting a New Pet
Are you surprising your child with a new pet? These basket ideas are a fun way to announce:
189. Tank Decorations (for fish/reptile)
190. Cage Accessories (for hamsters, rabbits, birds, etc.)
191. Pet Food
192. Leash (for dogs or maybe even rabbits/cats)
193. Food Dishes
194. Pet Store Gift Card and Coupons (for purchasing the pet/pet supplies)
195. Responsibility Chart
Basket Itself: Fish Bowl/Tank/Cage
For Springtime
Welcome spring with a fun Easter basket full of these springtime essentials:
196. Raincoat
197. Rain Boots (for puddle jumping)
198. Umbrella
199. Sunglasses
200. Sidewalk Chalk
201. Kite
202. Rainy Day Activities Book
Basket Itself: Pail with a Shovel
For a Picnic
As temperatures outside get warmer, it's fun to eat outdoors. Kids love picnics, so spend some quality time in the fresh air with them using the goodies in this basket:
203. Picnic Blanket
204. Fancy Disposable Plates/Bowls/Silverware/Napkins
205. Picnic Food
206. Bubbles
Basket Itself: Small Picnic Basket
For a Tea Party
For little kids, tea parties can be a big deal. Be a guest at your child's tea party and give him/her the supplies to host in this basket:
207. Tea Cups and Saucers
208. Tea Pot (maybe a Paint Your Own set!)
209. Kid-Friendly Tea or Juice
210. Fabric Flowers in a Vase
211. Tablecloth
212. White Gloves
213. Fun Hats/Plain Hats with Things to Decorate
For a Date Night
Have you ever taken your kids out on a date night? This could be a great one-on-one time opportunity. Fill up the basket with some of these items and invite your son/daughter to a parent-child date night:
214. Nice New Outfit
215. Promise Ring
216. Special Mix CD for the drive
217. Flowers/corsage/boutonniere
218. Gift Card to Child's Favorite Place (activities/food/both)
As promised, here are some ideas by age group: babies, toddlers and young kids, older kids, as well as some miscellaneous:

For Babies (My First Easter Basket)
Is your child celebrating his/her first Easter? First–YAY! This is such an exciting time. Babies can be hard to shop for when it comes to Easter gifts, so get things that are fun but also functional including some of the following:
219. Soft Books/Bath Books
220. Touch and Feel Books
221. Egg Shakers (Easter version of a rattle!)
222. Baby Bath Toys
223. Teethers
224. Baby Snacks/Baby Food
225. Soft Jammies
226. Fluffy Blanket
227. Stuffed Animal
228. TV Remote (without the batteries)
Basket Itself: Diaper Caddy
For Toddlers and Little Big Kids
Toddlers are at the age still where they do not really care what they are getting, they just think it is fun to get something. Use this opportunity, as above, to get something both useful and exciting. Check them out below:
229. Cereal
230. Stacking Blocks
231. Wooden Puzzles
232. New Clothes/Shoes
233. Character Undies
234. Potty Seat
235. And Old Pot and a Wooden Spoon (to make music)
236. Musical Piano Book
237. First Multi-Vitamins
238. Finger Paints
239. Plastic Mug/Special Cup
240. Character Plates
241. Play Purse/Wallet
242. Fake Razor and Shave Cream
243. Old Credit/Gift Cards
244. Family Photo Album
245. Playdoh
Basket Itself: Canvas Organizing Bin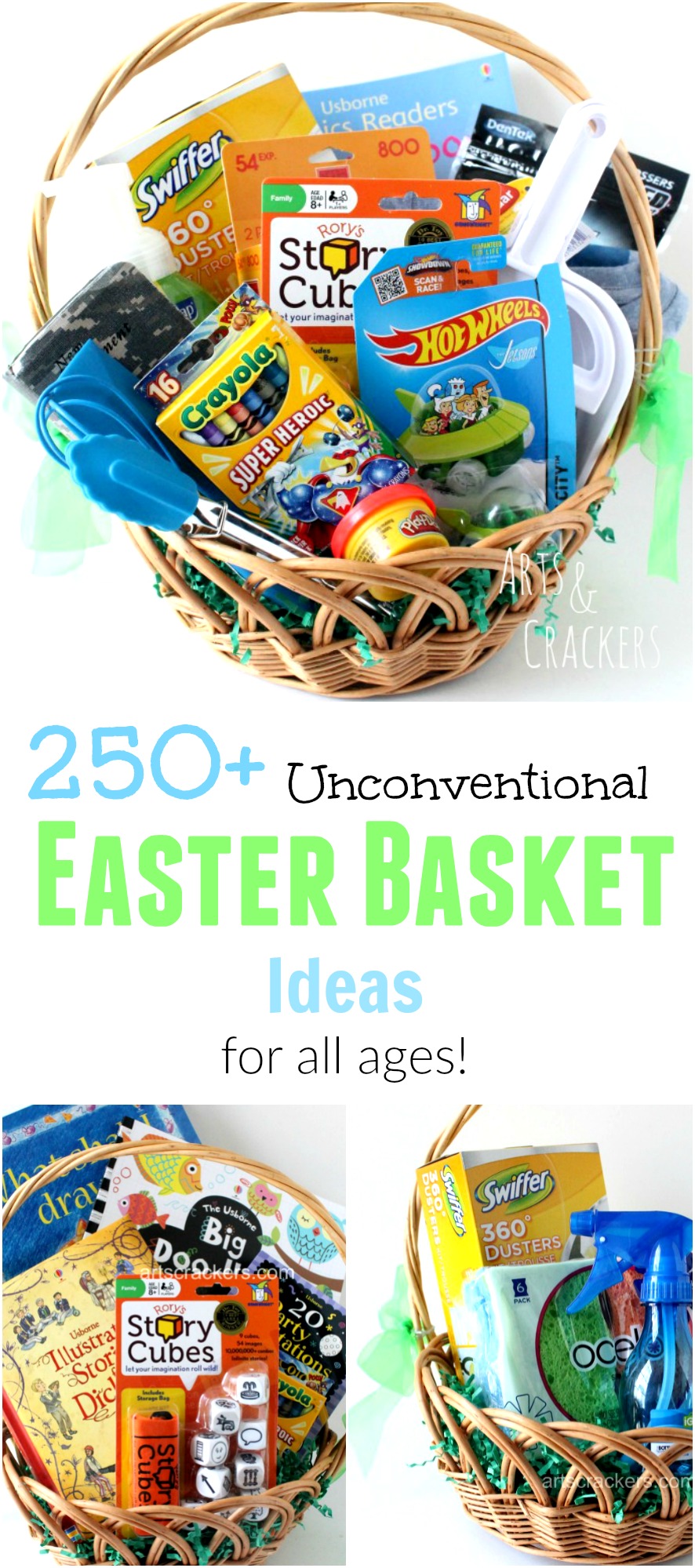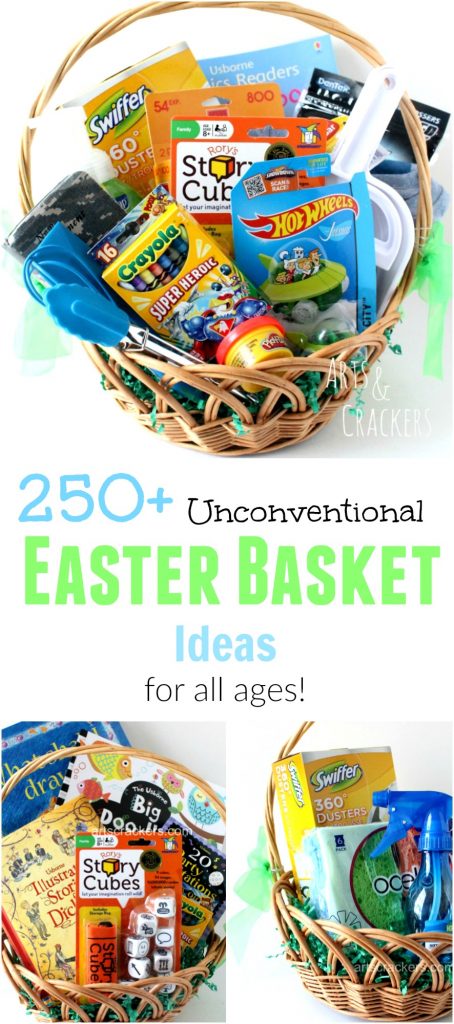 For Older Kids
Shopping for kids gets more difficult the older they get. Take time to get to know your child, their likes and dislikes, to personalize basket goodies just for them. At older ages, this is what matters more to them (whether they admit it or not), but below are a few ideas to get you started:
246. CDs/iTunes Gift Card (I have a hard time recommending this as there are some bad CDs out there, but listen to the words first and give your kids what you deem appropriate)
247. Chapter Books or activity books (like "Awesome LEGO Creations with Bricks You Already Have")
248. New Shoes/Clothes
249. Clothing Store Gift Card (The catch? They have to go shopping with you! Yay for quality parent-child time)
250. A Saving's Account and Checkbook (teach responsibility while helping save for college/adulthood)
251. Board Games for Older Kids (Cranium, Wits & Wagers, The Logo Game)
252. Body Products (lotion, wash, body sprays, etc.)
Basket Itself: Organizer Bin
Miscellaneous
There are always things that don't have a specific category but would go perfectly in any basket such as these:
253. Bible (New Testament or full Bible)
254. Money (I encourage you to encourage them to put it into savings)
255. Calendar
Bonus: Your time.

In the end, it really doesn't matter what you give your children in their baskets. What they truly just want is time with you. Take advantage of the holiday to accomplish that and do something special with them. Don't stress the gifts. Hopefully this list has helped you get some thoughtful ideas for your children so you can spend more time having fun with them and less time preparing for the day.
What basket idea is your favorite? Do you have any ideas to add? Let me know in the comments! I'd love to hear from you.
Know someone who could use this? Hit the "share" buttons below! Be sure to follow Arts & Crackers on social media (buttons at the top right of the page.)
You May Also Like