Easter baskets are always so much fun to give and receive, but sometimes it is hard to think of what to include.
Problem: Traditionally, you'll find loads of candy and toys in Easter baskets, but my kids have so many toys and certainly do not need all that candy.
Solution: I wrote up a list of themed basket ideas for kids of all ages!
Almost all of these ideas are:
Unconventional
Fun
Useful
Educational
Affordable
Create one of these themed baskets or mix and match items from each like I did for my boys! We even add a treat or two in there, just for a little extra fun without overloading them with candy. When we gave the boys theirs last year, their favorite items out of everything–LEGOs included–were the household items!

Read Also: I Didn't Hand Out Candy… Huge List of Allergy-Friendly Non Candy Halloween Treats for Trick or Treat and Unconventional Stocking Stuffer Ideas by Category

For Eating
While we may be trying to stay away from candy, some kids really like treats. Choose items you would usually buy already to save money, but buy the extra special version just for your child. We tend to stick with the brands that have no artificial dyes or flavors, but you can choose whatever works for your family. Here are some fun non-candy food items you can include that my kids personally enjoy receiving:
1. Animal Crackers
2. Beef Jerky
3. Cereal Bars
4. Fruit
5. Fruit Snacks
6. Shaped Cheese Crackers
7. Hot Chocolate
8. Gelatin Mix
9. Macaroni and Cheese
10. Pretzels
For Bath and Body
Baths and personal care are always more fun when you have your own special products. Encourage good hygiene with these fun basket fillers:
11. Bubble Bath
12. Body Wash
13. Loofah
14. Bath Toys
15. Band-aids (the fun kind)
16. New Clothes
17. Bar Soap (Johnson & Johnson has a really neat kids' one)
18. Flossers (the kid kind)
19. Character Toothbrushes and Toothpaste
20. Bath Color Fizzies
21. Foaming Hand Soap
Basket Itself: Shower Caddy
For Your Little Crafter
Some kids really love to do crafts, so why not support the interest with these fun basket fillers:
22. Crayons
23. Construction Paper
24. Craft Books
25. Colored Pencils
26. Markers
27. Pipe Cleaners
28. Googly Eyes
29. Craft Sticks
30. Stickers
31. Glitter Glue
32. Safety Scissors
33. Feathers
34. Craft Store Coupon (so they can pick out something special and learn to save money)
Basket Itself: Craft Bin/Shoe Box
Get My Exclusive "30+ Easter Egg Filler Ideas" Here!
For Your Little Artist
Some kids prefer to doodle. Inspire creativity with these basket fillers:
35. Coloring books (like my book, "Let's Color Together"!)
36. Drawing Pencils
37. Sketch Pad
38. Pastels
39. Paints and Brushes
40. Small Wrapped Canvas
41. Calligraphy Pens and Instructional Book
42. Frame to Display Artwork
43. Coupon for Special Display Space (your wall/refrigerator/work desk)
For Your Little Learner
Some kids just love to learn and school supplies like these would put a smile on their faces:
44. Activity Books
45. Educational Board/Card Games (Dominoes, UNO, Ludo)
46. Non-Fiction Books
47. Pencil Case
48. Pencils
49. Calculator
50. Planner/Notebook
51. Puzzles
52. Globe/Map
53. Kids' Magazine Subscription
Basket Itself: New Backpack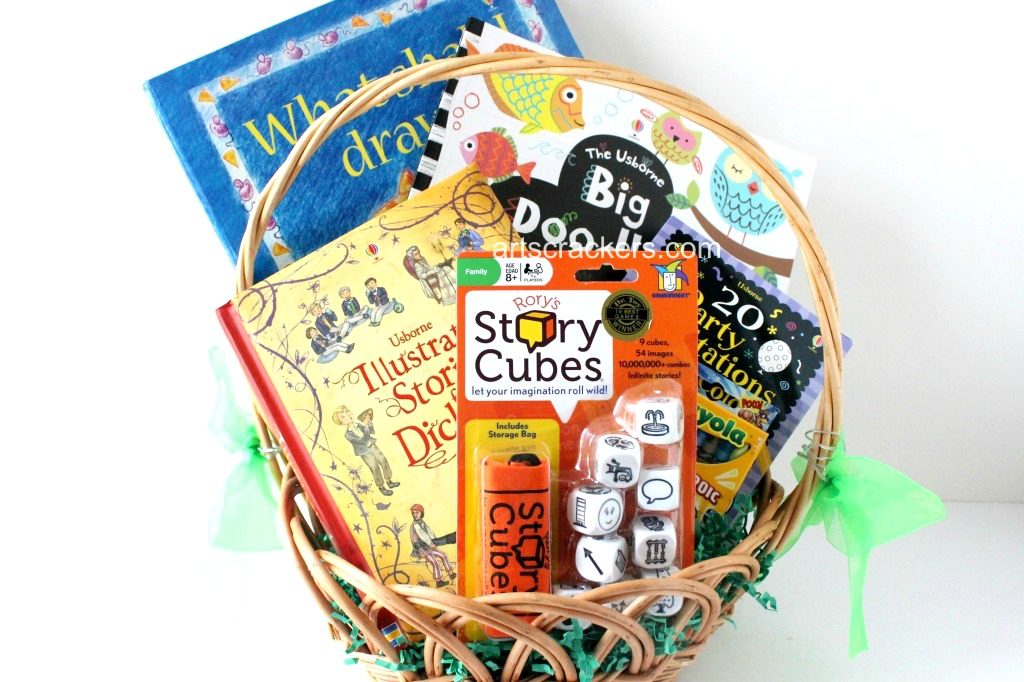 For Your Little Author
If your child has an active imagination and loves to write, here are some great fillers:
54. Journal/Notebook
55. "Create Your Own" Books
56. Make-A-Book Kit
57. Dictionary and Thesaurus
58. Rhyming Dictionary
59. Special Pen/Pencil
For Your Little Musician
Music is always fun! Jam out with these basket stuffers:
60. Recorder
61. Song Writing Program
62. Tambourine
63. Maracas
64. Metronome
65. Children's Songbook
66. CDs
67. Sheet Music or Blank Sheet Music Journal
68. Instrument Accessories (if your child already has an instrument)
For Your Little Baker
Bake up something sweet with these:
69. Cooking Utensils (I found mini tongs, spatulas, whisks, and measuring cups at Walmart–perfect for use in the real kitchen or the play kitchen)
70. Apron
71. Cupcake Kit with Kids Cook Book
72. Shaped Baking Pans/Cookie Cutters
73. Frosting Flavorings
74. Sprinkles
75. Baking Mixes
76. Measuring Spoons
77. Kitchen Timer
Basket Itself: Mixing Bowl
For Your Little Chef
Get a little help in the kitchen from your little chef! Here are the ingredients to the perfect Chef Basket:
78. Chef Hat
79. Cookbooks
80. Pots and Pans (play ones for a toy kitchen)
81. Cutting Board
82. Measuring Cups
83. Spices
84. Meal Ingredients
85. Grocery Store Gift Card (to shop for ingredients)
86. Oven Mitt
87. Unique Kitchen Gadgets (like the ones shaped as animals–we have these Nessie ladles)
88. Sandwich Shape Cutter
89. Mini Salad Spinner
For Your Little Gardener
Do a little for the environment while helping your little one's green thumb with these:
90. Gardening Gloves
91. Plant Food
92. Seeds
93. Garden Labels
94. Garden Trowel
95. Watering Can
96. Vase for Flowers
Basket Itself: Planter Pot
For Your Little Helper
As I mentioned earlier, the items my son was most excited to see in his basket were the household items. These may not seem at first like something your child would enjoy, but you'd be surprised how much they like them. He will mostly use his for his play kitchen. These items will not only get you a little extra help around the house, but they will also help your child feel grown up and responsible as little kids love to feel:
97. Mini Dust Pan and Broom
98. Sponges
99. Dusters
100. Mini Handheld Vacuum
101. Spray Bottle
102. Cute Kitchen Towel
103. Play Iron
104. Purex PowerShot Detergent (seriously, my son loves this)
Basket Itself: Plastic Pail
Here are over 100 more themed ideas, from sports to makeup, to baskets by age group!