When we moved into our current house, we noticed it had a really large window seat in an addition the owners had put on. It was right across from our homeschool area, so I immediately knew I wanted to turn it into a gorgeous reading nook. Since S is crazy for zebras (and we have an abundance of jungle decorations), we chose to do a "Wild About Reading" Jungle Book Nook Makeover.
We are so excited to partner with Minted on this wildly amazing reading nook idea. This post also contains affiliate links. By purchasing through these links, you help support the family behind Arts & Crackers at no added cost to you! Thank you!
Every school morning, E and I head over to the window seat for reading class. It's fun to sit on the bench with the bright lighting, but it was such a plain corner and I wanted to make it more exciting.
E really struggled to get interested in reading for a while. He was reading words fairly early, but just lost interest. Since we have had the window seat, his interest has increased a bit, and I am so excited that the fun Jungle Book Nook has really gotten him "Wild about reading" just as our sign says.
Here's the "before" picture:
Besides the incredible obsession S has with zebras, our main inspiration for this Jungle Book Nook Makeover was Minted Art. They have so many amazing prints that it was hard to choose, but I knew we wanted something jungle with bright colors. From there, we planned the rest of the space.
Here's what it looks like now:
Are you ready for the tour?
One thing I didn't want to do with our space was to make it over-crowded and busy. While a jungle is generally overflowing with plants and animals, I wanted to just take a small part of that, but keep things clean and easy to upkeep. Our organization method has a Montessori vibe to it.
The Reading Area
We had loads of books. Actually, it's more like loads and loads of books. My boys love books, but this can get very overwhelming to them and causes quite a mess. We decided to highlight just a few books (starting with jungle or jungle animal-themed books).
We placed these, cover out, on our shelves so the boys have fewer to choose from, making decisions easier. We will rotate these books out so they have a chance to enjoy some of the books they may have forgotten about. This also makes clean-up a lot easier.
Minted Art shelves offered the perfect space for holding books and keeping them at a level the boys could easily reach. Specifically we chose The Artful Shelf because it has a great look with stacked joints and a natural wood color. They come with all the proper gear for hanging (and they are packaged amazingly well, so the condition was flawless). They come in various lengths, but we went with the 2-foot shelves for our small space. Since they are made to hold artwork, they have a ledge that keeps books in place as well.
I added a few other fun items to our book shelves, including a dress-up tail and some plastic animals to make reading a little more interactive.
This is what the shelf looks like at night
To make the space even more delightful, especially for evening reading, we used damage-free mounting foam to hold an LED light bar underneath the top shelf. The area underneath was recessed perfectly for this.
The Art
All art was hung around halfway up the room, low enough that the kids can enjoy and interact with it. Hanging art low for children is another Montessori practice we incorporate.
Here is a picture of the original art as you can purchase it from Minted:
Above the book shelf area, we hung our larger Minted Art print (we chose the size 20″ x 16″ print.). This piece is called "Sumatran Tiger Art Print" and it has all sorts of bright colors. It actually comes without the wording, but I added "Wild about reading" to fit our theme (see below.).
To add the wording, I downloaded free fonts and chose the one I liked the best. I made it the size I wanted then printed it out, placed it on a light table with the Art Print on top, then traced the words onto it in pencil. Afterwards I went back through with green paint markers and colored it in a way that matched the print, let it dry, then framed it. I seriously love how it turned out! Test your markers on a separate piece of paper first to make sure they are the colors you want.
On the opposite side of the room, I added another Minted Art Print, Lounging Gorillas Art Print (we chose the 10″ x 8″ print.). When I first came across this painting, I really thought they were lounging around enjoying some good books. It just felt so perfect for this space.
They are not actually reading in the original art, but I was able to incorporate this piece perfectly into our space by adding some books to their hands using paint markers. Our Jungle Book Nook is the most magical place to lounge around with a good book!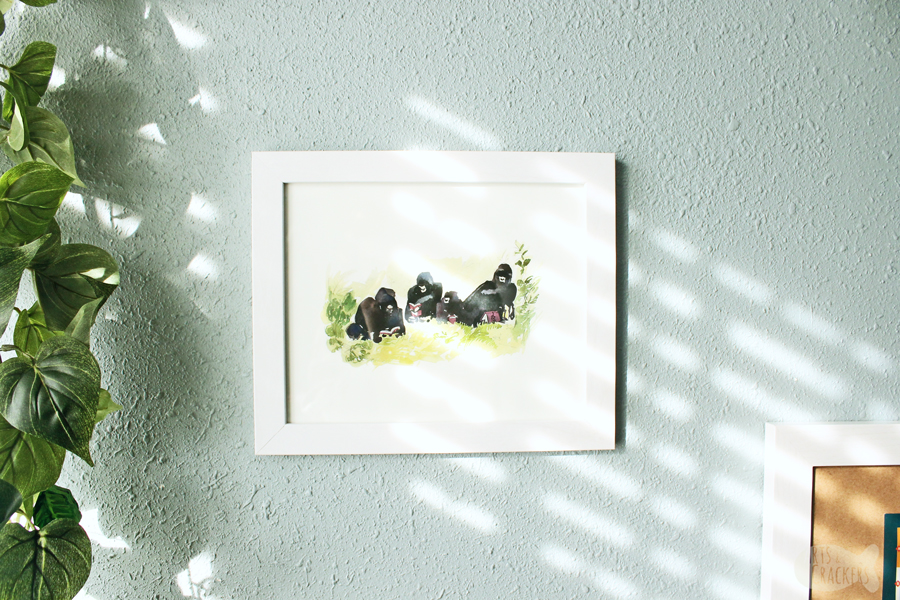 We decided to purchase frames and just order the prints, but you can also choose pre-framed prints if you wish. Minted has several great frame options. We've actually used this previously on some of our prints and they are really high quality.
See how great Minted looks in our playroom makeover!
Seating
In order to lounge around with a good book and get wild about reading, comfortable seating is essential. I was able to offer several different areas for seating. In fact, all four of us can comfortably read together in this small space if we wish because we have enough comfortable seating!
Sometimes the boys love to read sitting. Sometimes they read lying down on their backs or stomachs. Sometimes they enjoy just leaning up on something. Any way they choose to sit, there is a cozy option for them.
Of course our first seat is the bench area itself. To make this more comfortable, since it is a hard surface, we added several soft pillows and a blanket–some items handmade and some from Minted.
A couple of the throw pillows were purchased from Minted. We did have one "Mermaid Pillow" with sequins on it that we kept in the area for when the kids need to fidget while they read, then we added a Minted Nature Abstract Lumbar Pillow (this measures 21″ x 12″) and an In The Wild Square Pillow (measuring 20″ x 20″). Their pillows are seriously the most comfortable pillows! I could snuggle up with these any day. They are cool to the touch, firm enough to offer support, but soft enough that you just sink in with a smile. I really don't know how else to describe them…just awesome.
To make the space a little more personal, I added one of the boys' stuffed elephants ("Ellie"…it's scented). This way they have a reading buddy.
I love encouraging my boys to read, especially practicing out loud, and a great way to do this is by having them read to one of their stuffed animal reading buddies. S just looks at pictures with his buddy for now, but E has really taken to reading books out loud to the stuffed animals–sometimes it's not as embarrassing as reading to another person, so he is really able to open up.
The throw blanket I included in our reading nook was one that I made for E when his daddy was at basic training. My husband's mascot was an alligator, so we were all about alligators for some time there. I made this out of green and camo fleece and just had fun with it. The boys love wrapping it around them and it fits the space so well.
I included one other pillow and it's one that I made (I am thinking of sharing the tutorial…it's a little "odd" you could say, but it has a purpose and turned out totally fun…would you like to see how to make it?).
A while back, we decided to get S this plush zebra head for the wall (yes, it's a zebra head) because he really wanted it and had a birthday coming up. To be perfectly honest, I felt a bit awkward just hanging a zebra head on the wall…I mean…it's just the head. Weird. He didn't picture it as any more than a decoration, so I wanted to find a non-creepy way to incorporate it into our Jungle Book Nook. The best way I could figure out how to do that was by making it look like it was peeking out from behind some grass.
Since we are renting our house and the walls are already painted another color than white, I didn't want to paint all over the wall like I usually would, so I had to come up with something else. I decided to make a giant pillow that the kids can lean up on or pull away from the wall and use as a floor pillow to lie down on. It's plush and huge and quirky and I think it adds the perfect touch to the space.
Besides pillows, I made sure there was a chair. This way the boys can choose to sit in separate reading areas or just have a little extra support while reading.
My grandma purchased this chair for the boys some time back and it is just so incredibly cute. It rocks and everything. For years we left it with the stained wood and yellow velvet material it had, but I decided it was time to re-paint and reupholster it as I'd intended for some time. I painted the arms and legs with a white chalk paint then used a jungle leaf-patterned upholstery fabric right overtop of the old fabric (so it would stay plush and soft).
Again, I added a few extra small details like this plush elephant (named "Ellie Ellie") and a pith helmet to make reading a little more interactive. Dressing up, I find, can really bring your imagination to the next level while you're reading.
When I was pregnant with S, a lovely couple from church gave me a handmade foot stool. It happened to be a turtle (we didn't yet have a pet turtle when they gave that to us) and the fabric was zebra print (who knew S would develop such a love for zebras?!). I was sure to include this in our reading nook. It sits neatly under the book shelf area and can pull out as a stool to sit on or a foot rest to use with some of the other seating.
Lighting
While our reading nook being conveniently in front of a giant window helps with light usually, adding extra lighting was essential for late-night or rainy-day reading. Besides this, all book nooks need a good light for ambiance, right? At least I think they do.
Minted has some gorgeous lampshades. You can purchase it as a shade for a regular tabletop lamp, but we went with this chandelier lamp shade so we could hang it above the reading area. The pattern we chose was the green Brushed Chevron. The lamp shade felt so huge at first, but I love how it looks! The lampshade measures 16″ x 20″ but there are other sizes you can choose from. We purchased this plug-in light to go with it to hold the light bulb. The plug allows us to stick it into an outlet rather than having to wire a light to the reading area. We plugged the cord into a special outlet with a switch that allows it to stay plugged in and be turned on and off easily.
Here it is at night:
Since the walls in this house are already painted, the white cord stuck out like a sore thumb against the wall. We purchased some fake vines and hung it off of the cord all the way down so it looked more like it was meant to be in the area as part of the decor.
Growing up I had loads of those stuffed monkeys that hang around your neck (in fact, for a long time I had a jungle theme in my bedroom), so I naturally had to include one. I hung it just slightly out of the kids' reach on the light cord.
Other Fun Decorations to Spot
My boys got a magazine that came with a super fun pull-out map. We framed that and hung it to the wall near the chair. While the boys read stories, they can see where they are set compared to where we live (if they are based on actual places on earth) or imagine where they want to explore next.
If the boys want to get out of this world, they can go back to their Air and Space themed bedroom! You'll love this fun glow-in-the-dark mobile we made.
Since our Jungle Book Nook is in a window seating area, it gets incredibly bright and often very warm. To dim down the light, we added some lightweight curtains (I actually purchased them for a birthday party I helped plan and they looked so good in our nook!). The curtains are a sheer white material with shiny gold dots that reminded me of animal spots. The light comes through just enough.

My awesome husband was such a big help prepping the reading nook space
We found an inexpensive curtain rod with leaves on the ends and I just painted them green with acrylic paint (you can use spray paint too) so they matched better with our reading corner.
We also found these nifty magnetic curtain ties that allow you to pull back the curtains without attaching a hook to the wall. These also were shaped like leaves so I painted them green as well. We store them by hanging them off of the vines on the light cord when not in use. They blend in well and don't get lost.
On the floor is another one of S's amazing zebra finds. It is actually a zebra bath mat, but it serves as a fun zebra rug for our reading space.
These aren't listed, but I was also able to find "I'm Wild About You" custom stickers. They are meant to include your chlid's name, but I instead typed in "Way to Go!" and use these as rewards when my boys do very well with homeschool.
I also have the "A Teacher's Prayer" weekly day planner where I am able to keep track of all of our homeschool happenings, lessons, and extracurricular activities. I was able to choose a green option so it coordinates with the rest of the room and it has been so helpful in keeping us on track. They have tons of other great planners as well, including many adorable jungle-themed planners.
Eventually we will also add a special bookmark area and an area to display the boys' artwork (you may be able to see our little art table set up in the corner.).
Minted 20″ x 16″ Sumatran Tiger Art Print
Minted 10″ x 8″ Lounging Gorillas Art Print
Minted 20″ x 20″ In the Wild Square Pillow
Minted 20″ x 12″ Nature Abstract Lumbar Pillow
Minted The Artful Shelf™ with Stacked Joints
Minted Brushed Chevron Chandelier Lampshades, Green
Minted is one of our favorite places to go for all things decorating. I use them for wall art, lampshades, throw pillows, fabric napkins and placemats that work great for my food photography, and so much more. We have a fantastic Minted teepee (that we also use for reading, but we usually pull out in the living room for a change of scenery), we've handed out Minted Christmas cards, and I have countless planners, notebooks, and address books. They've recently added clothing as well! Their quality is top notch! If you have any questions about their products, feel free to ask me questions and I'll see how I can help (because I very well may own one of whatever you are thinking of ordering).
Read also: Safari-Themed Playdate and Toddler Boy Vehicle Themed Room Makeover

Looking for more? View these categories!