Sending Christmas cards is like sending cheer through the mail. Maybe you are like me and love sending them, but you are just never quite prepared so you are either late sending them or you just forget to send them altogether. Whether you are a pro at sending Christmas cards or you are just trying to get remember to send them to family and friends, these tips will hopefully be a huge help to you!
We love sending beautiful Christmas cards, so we partnered with Minted to bring you this list of tips for sending Christmas cards.
10 Less-Hassle Tips for Sending Christmas Cards
Sending Christmas cards can be stressful, but it doesn't have to be. That's why I'm sharing my top tips with you!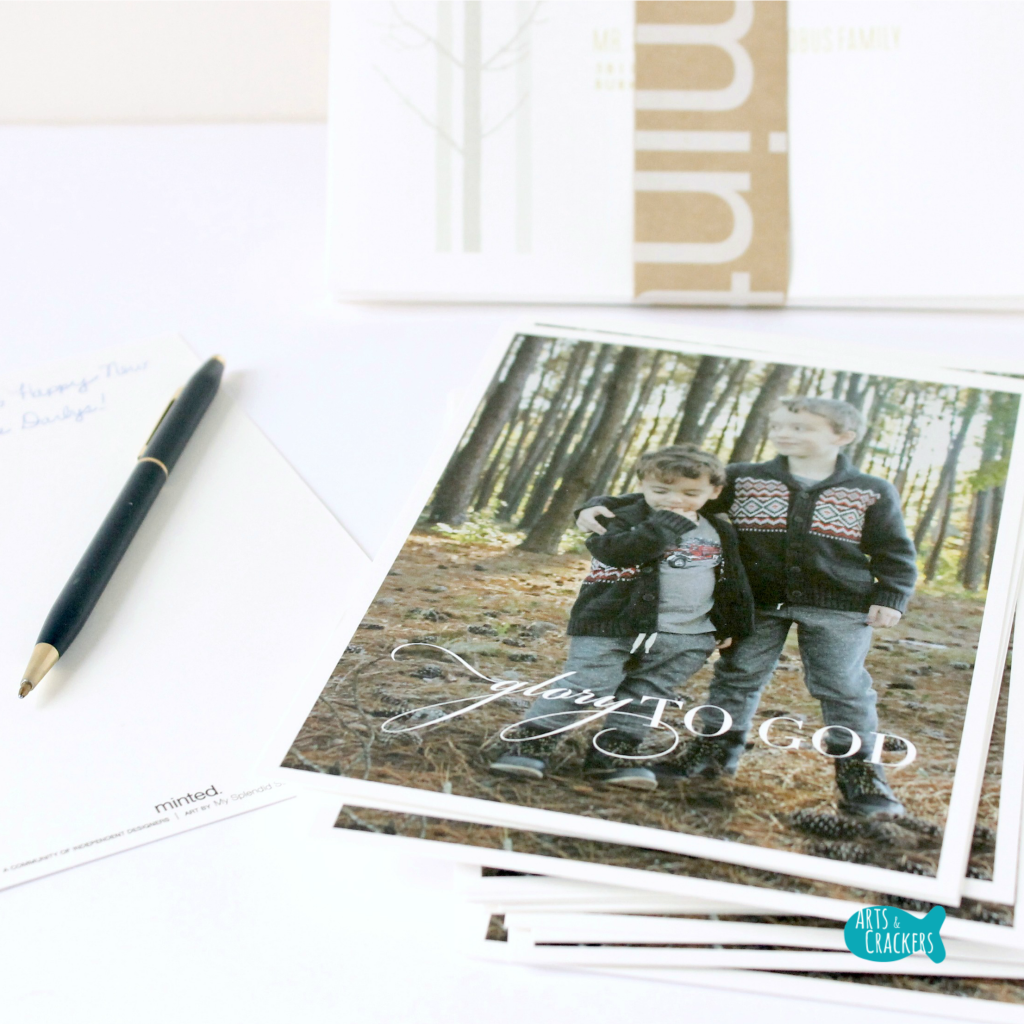 1. Keep Addresses on a Spreadsheet
You have tons of families to send Christmas cards to. Sometimes it is hard to keep track of everyone (trust me, I know.). Between people moving, new recipients, or whatever other changes are constantly happening in your address book, it is far too easy to leave someone out or send a card to the wrong address.
Keeping a spreadsheet with all the names and addresses easily available is such a time-saver; plus, it is easy to edit with updates!
2. Keep a Folder for Your Favorite Pics
If you are like me, you push off cards until the last minute and forget to go have actual family photos taken. Throughout the year, drop your favorite pictures into a folder on your computer (or copy them over) so you can easily find a great photo or photos for your cards. I am absolutely in love with the pictures I recently took of the boys for a campaign I was working on, so I used one of those!
3. Order Online
I really do try to have the kids help with making hand-made cards, but with the kids in a very busy stage of life, this has just not been something we could manage. We started ordering our cards online and absolutely love the cards Minted has to offer. They are beautiful.
You can find just what you need. They have photo cards, flat or folded cards, different color options, different cut options, even cards that double as ornaments! While they may not be hand-made by the kids, they are very special (and I'll share how you can add a handmade touch near the end, because that is still something I love to do.).
Ordering from Minted is so easy. Their cards are categorized and you can select filters to find just the style you are looking for. I absolutely adore mine. Simple and gorgeous. You then follow the simple instructions to complete your cards. They can be reviewed for any errors or you can bypass that option and have your cards in hand more quickly.
4. Have Envelopes Pre-Addressed
Hand-addressing each and every envelope can be time-consuming. While this is always wonderful and a personal touch, if you have tons of cards to send, this may not be a very good idea because it can discourage you from sending all the cards, put you way behind schedule, (cramp up your hand), or pose the risk of incorrectly-addressed envelopes. Minted has the option to have your envelopes pre-addressed for free!
Remember that spreadsheet I encouraged you to create? While you can hand-enter each and every address on the Minted website for their free recipient addressing option, they also offer the option to upload a spreadsheet. *Cues choir sound effect.* This option made me me so happy, because it really is such a time-saver. In past years, I have had cards all set and decorated and ready to go, but I ended up forgetting to send them because I was just so pokey on getting all the cards addressed (and of course I just have to send them all at the same time), so now I don't even have to worry about that. They're already addressed!
PS, Minted will let you personalize the envelopes too with decor if you have them pre-addressed. I chose the trees that coordinated with our pictures.
5. Buy Address Labels
Most of us can probably agree that writing our addresses in the corner of an envelope over and over and over again can get pretty old pretty quickly, especially when you're sending Christmas cards. I find myself getting so wrapped up in it that I start writing other things and wasting envelopes because I need to redo it. Address labels are such a huge help!
Just order the address labels with your cards then stick them in the corner of the envelopes and you're good to go. Even the kids can help with this. Minted offers some beautiful labels and you can also personalize these with photos.
6. Plan a Date
Confession time–one thing I am terrible at is hunkering down and getting things done and not waiting until the very last minute. I need to set dates. I need to add them to my planner (which is fabulous, and from Minted, by the way.).
Choose a date that you want to send the cards out no later than and stick to it. Order the cards well-enough in advance that you should receive them prior to that date. Give yourself time to address them (or just stick on the address labels, if you've saved yourself loads of time by pre-addressing.). Have everything set up that you possibly can so you can get those cards completed and mailed out by that date, or it may never happen…or you could send them 3 months late like I did one year.
This year, I'm on top of it. People are getting their cards, y'all.
Keep in mind shipping cutoff dates. Find out the Minted shipping dates for Christmas here.
7. Have Stamps Ready
Another thing that sometimes gets me a bit behind is not having stamps ready to place on the cards. Sure, I can run to the post office and have them add the stamps for me, but I like to do that myself and stuff my mailbox full of outgoing mail.
Before I receive my cards, I usually purchase a few books of stamps (if I'm not already stocked up) and then I have them already for sending Christmas cards out quickly. Minted also offers the option to purchase custom stamps with your order.
8. Hand-Write a Note
I know, I know. Most of these tips I have been sharing are meant to save you loads of time, and hand-writing notes is definitely not a time-saver. BUT…it really makes your cards stand out. I'll be honest; I cherish cards with hand-written notes inside far more than completely 100% printed cards.
Sending Christmas cards with something hand-written inside always makes them extra memorable because of the thought and time put into them, so I always make sure I include just a short hand-written note. This can be a generic "Merry Christmas, Love Us" or something more personal like, "We really miss you this year and wish we could be home to visit." I also usually try to hand-write one Bible verse to go with the cards. It doesn't have to be long.
9. Type Out Longer Notes
Each year, my grandma types up a long Christmas letter to include in all her cards. For years, I wondered why she bothered, but now I understand. People really do like updates. These are fun to receive with the cards and it is actually pretty personal, even if they aren't hand-written…I mean, if someone cares enough to include you in updates in their life, that card is probably pretty meaningful.
When sending Christmas cards with a longer note, type it out!
Last year I grabbed out the computer, went through each month of the year and tried to remember what happened as I typed up my very first Christmas letter with family updates. I forgot most of the year. I was half asleep when I wrote it so I rambled. It was funny. People loved it. You don't need some incredibly intricate, college-paper quality story to include. Just be yourself and have fun with it.
10. Make It Memorable
Sending Christmas cards can become so mundane sometimes, you know? I like to add a little winter spice and make my cards stand out. Of course I hand my kids crayons or markers and have them add designs to the backs or insides of the cards, but this year I wanted something even more fun.
On Minted, I saw they have these incredibly awesome ornament cards. Since I usually decorate our Christmas tree with the cards I received, I thought this was an amazing idea. The only problem is that stamps for these square cards cost even more.
I decided to turn some of my Christmas cards into ornaments like Minted has. Using a hole puncher, I put a hole at the top of the cards then I threaded some twine through it and looped it back on itself (so it can be easily added or removed) then tied it so the card would hang. You can use ribbon too. Once I stick the cards in the envelopes, I will probably take the hanger off so they fit in the envelopes better and add the twine/ribbon to the envelope.
The cards I chose were flat, so I made some of them to stand upright (for those that place cards on a mantle or shelf). I placed a piece of colorful cardstock paper flush up against the back of the card then drew out a frame stand, modeled after a small frame I had available. You may need to try this a couple times until you get one just the right size for it, but it shouldn't take long. Once you have a good size, trace it to make several copies then glue them at the top to the back of the card. Once the glue is dried, fold them out slightly so they will stand.
As a military spouse, especially with my husband currently serving overseas, I know how hard all the holidays can be. If you think of it, save a card or two to send to the troops! You don't need to include a family update letter, but a short hand-written note of gratitude can really bring them some holiday cheer. Look around online for organizations that will take cards for the troops. I am working on finding a place for people to have them sent to; in the past, Soldier's Angels has taken them.

(affiliate link–shopping here brings you to what you need and supports my family!)

Check out the Minted website. What card design is your favorite? Are you a card-sending pro or are you just starting? Share with me in the comments!

Read also: Unconventional Stocking Stuffer Ideas by Category and Playroom Makeover Sneak Peek with Minted Art

Know someone who would love this? Hit the "share" buttons below! Be sure to follow Arts & Crackers on Facebook, Twitter, Pinterest, Instagram, or the others at the top right!

Sign up for my newsletter!