Star Wars.
My boys are obsessed.

As much as I loved making my Yoda Cupcakes as part of my son's Star Wars party, I needed a second type of themed cupcakes that I could make more of more quickly.
Something simple.
Something fun.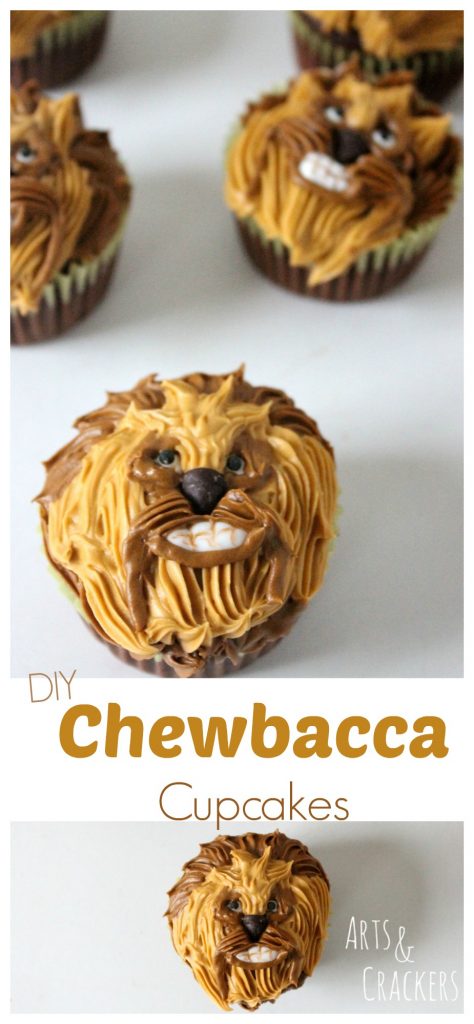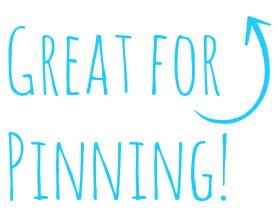 My son loves all the Star Wars characters, but there are are a few that he talks about all the time. One of these lucky characters is Chewbacca.

I had to make Chewbacca cupcakes!
These are really quite simple to make, which worked out perfectly since I needed something I could whip out a ton of for our party goers. I decided I should probably share the tutorial with you and have even included a video for this one!

Here's how to make these "Wookiee cute" Chewie cupcakes: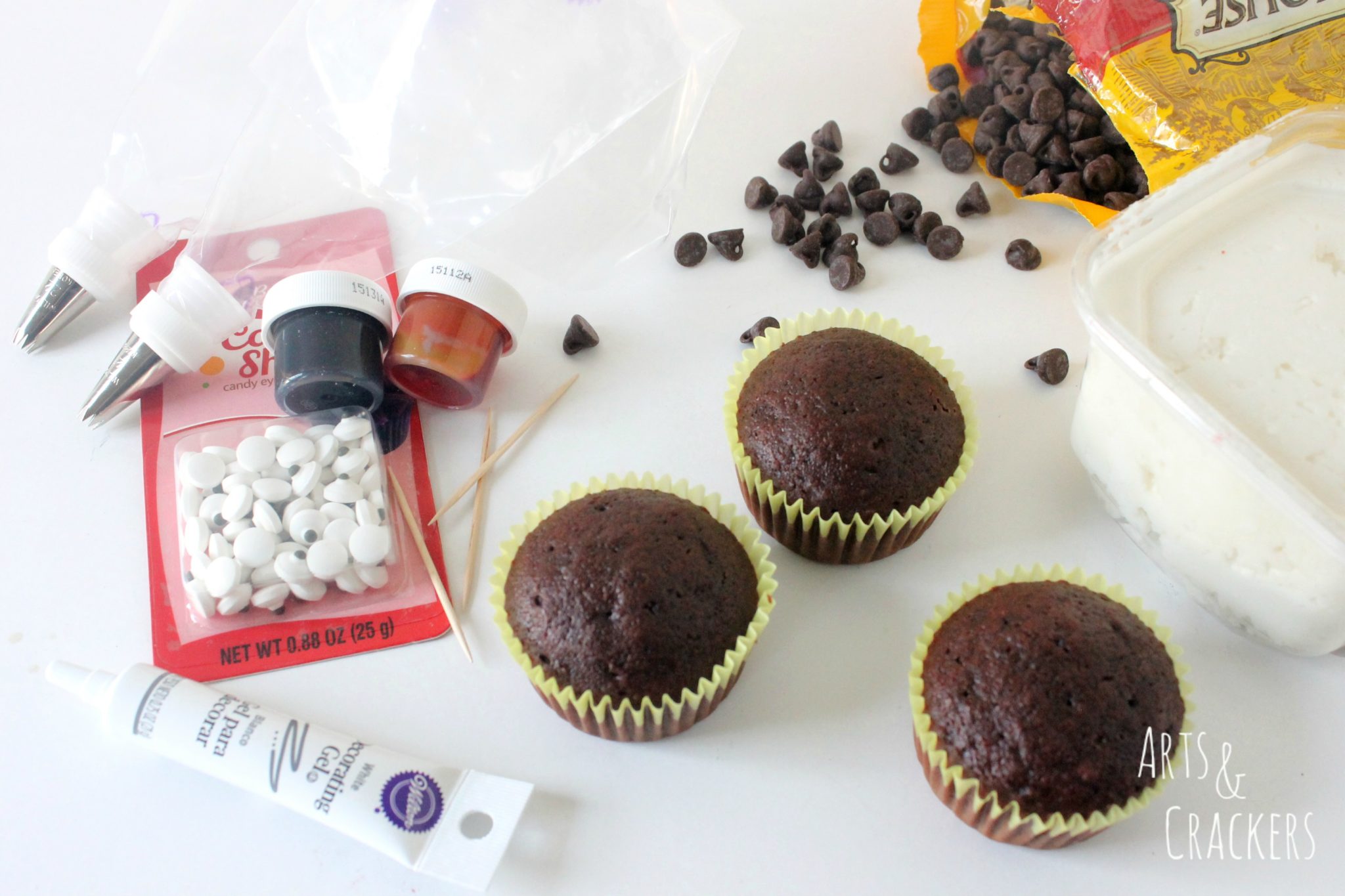 What You Need
Cupcakes (I used chocolate–bake them in brown rappers if you have them), fully cooked and cooled
Cake frosting (you can make your own, buy it here, or buy from the store–I picked up some white frosting at our grocery store's bakery; alternatives, thanks to my boys, listed in the directions list)
Gel food coloring (I used brown and a goldenrod color which can be made with a mix of brown and yellow–here is my favorite starter set or this one is great too)
Toothpicks
Frosting bags (Here are the ones I have; use as directed)
Frosting tips (two different sizes star tips–I believe I used #22 and #21, and one thin round tip–I believe I used #2)
Two small containers for mixing the frosting colors
Chocolate chips
Directions
 
1. After the cupcakes are cooked and cooled of course, you will want to prepare the frosting. Split the frosting into two sections to make your two different colors. Put dark brown in one and make the other a golden yellow and brown mixture.
My boys pointed out that the frosting colors looked like chocolate frosting and peanut butter, so if you want something a little simpler with more flavor, try using quick chocolate frosting (can be store-bought) and peanut butter if there are no allergies. I haven't tried using peanut butter, but I would think it may be a bit sticky, so try mixing it with some powered sugar and a dash of salt to make it the right consistency.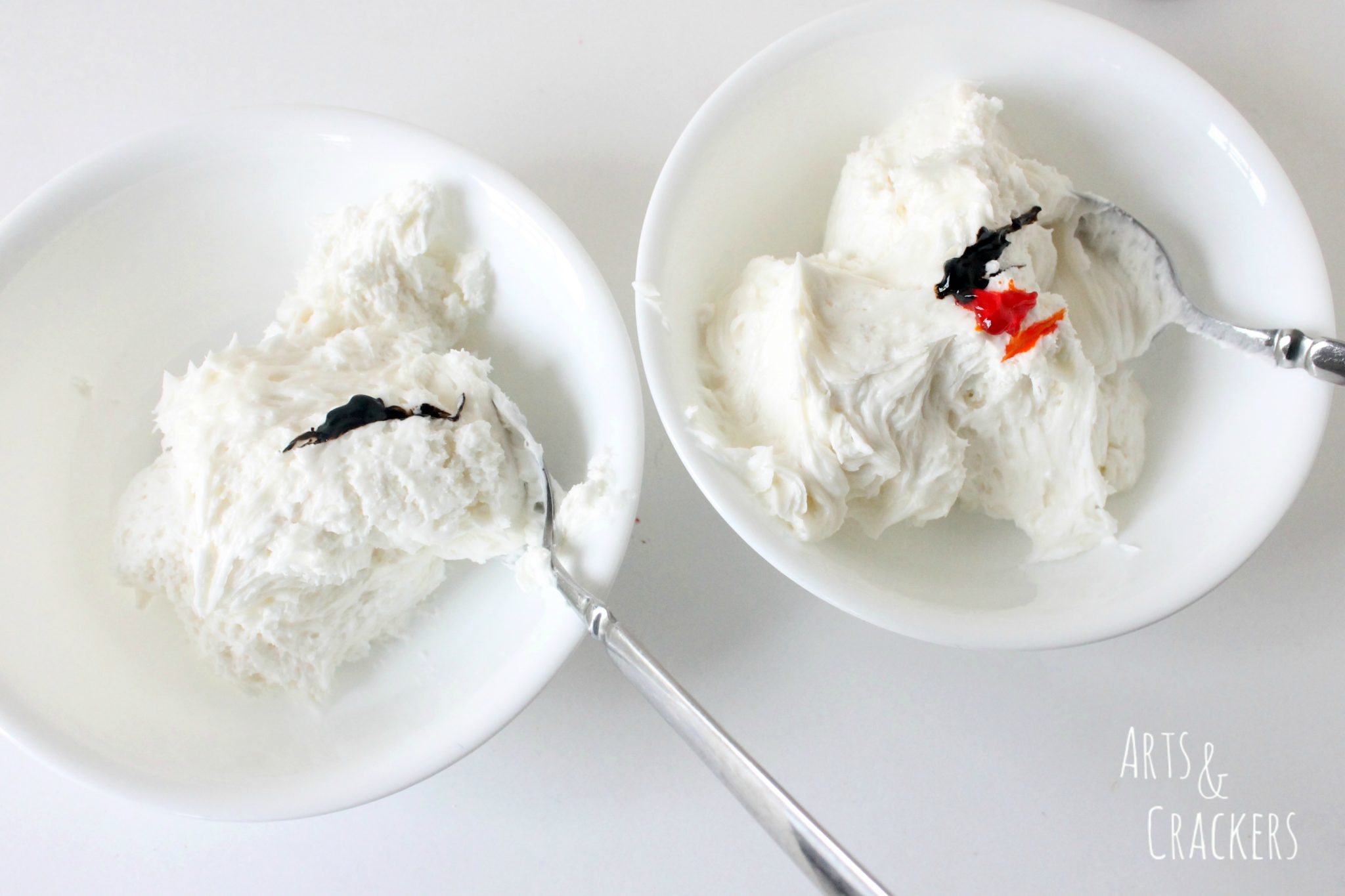 2. Stir the frosting colors until they are well combined.
3. Place the couplers into the frosting bags according to the package instructions then attach the decorating tips. I used only two bags and started with the star tips. I used the larger tip for the dark brown and the smaller star tip for the golden brown.
Expert tip: Fold the top of the bag inside out over your hand before filling. This will help keep things a little cleaner. Fill the bags about 3/4 full then pull the top of the bag back up and twist it. Push the frosting down a little by squeezing then squeeze a little back into the bowl to make sure any air bubbles are out.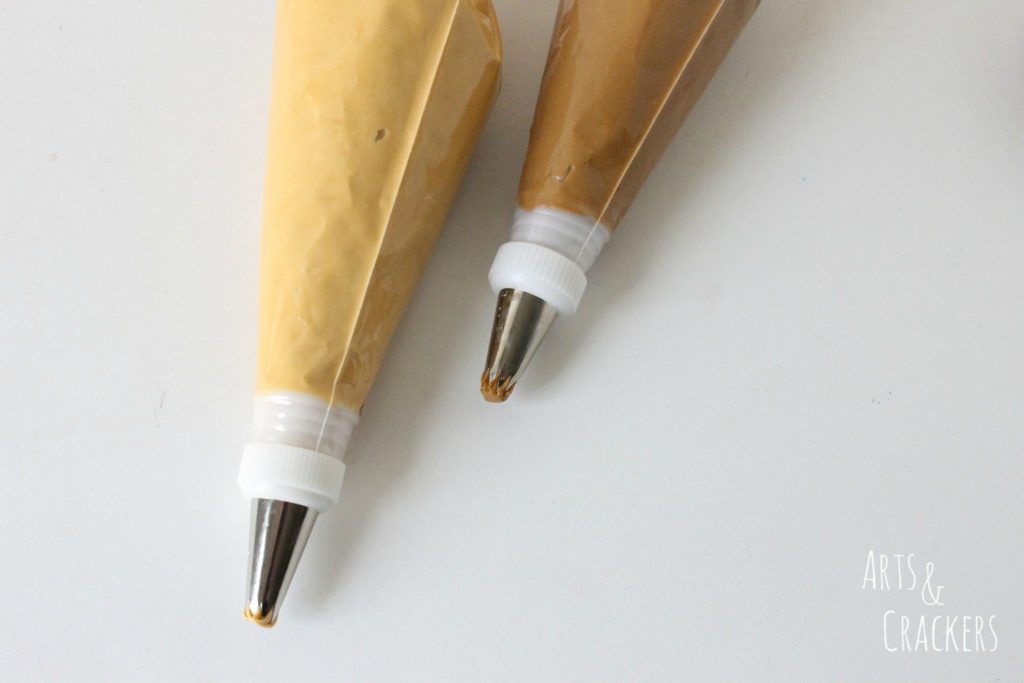 4. Add a layer of dark brown frosting to the top of the cupcake. I outlined then filled in with long, fur-like strokes, until the cupcake was completely covered.
Expert tip: Hold the frosting bag at a slight angle while squeezing onto the cupcakes then release pressure and lift sort of upwards and backwards or to the side for cleaner-looking ends.
5. Come back in and do the same with the golden brown, but leave some of the darker brown showing. I did a few strokes upwards near the top of the head then pulled the rest down and around in the face shape.
6. Chewbacca has some dark features on his face, so add some of the dark brown where the eyes will go and above where the mouth will go. This will sort of look like a pouty face.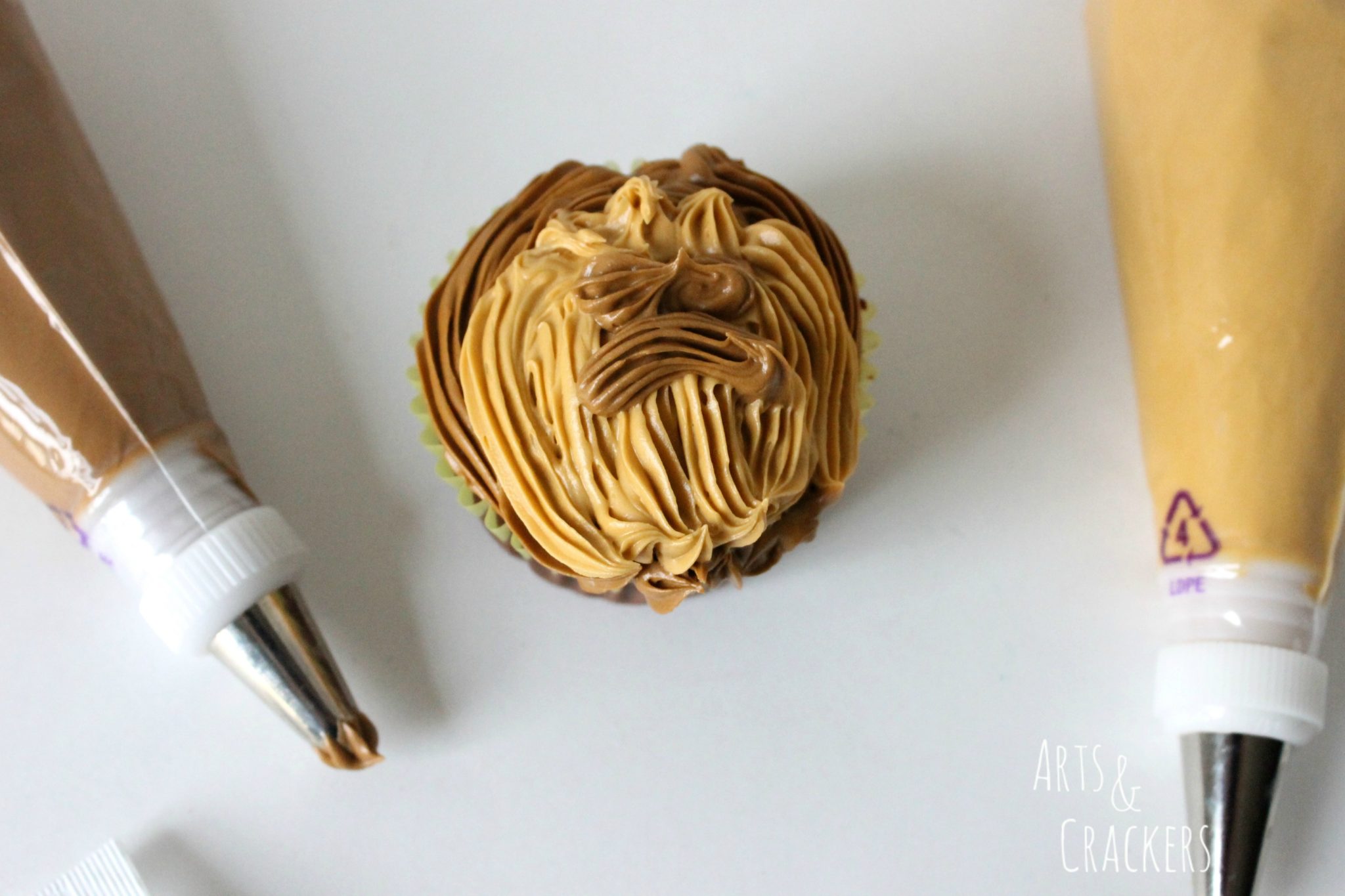 7. Stick two candy eyes into the dark brown frosting circles and an upside down, sideways chocolate chip underneath them for the nose. Press in slightly so it sticks, but be careful not to press too far.
8. I came back through afterwards and added some more of the dark brown around the outside and more of the golden brown in a "Y" shape between the eyes.
9. Add an oval-shaped mouth below the dark brown "pout" then dip a toothpick into a little of the dark brown dye and draw some teeth onto the white.
10. Switch your frosting tip on the dark brown to the thin round tip. Add a line around the mouth, lines coming from the brown "pout" that now looks like a mustache, then a little around the eyes to adjust the eye shape if you wish.
Let everything sit just a little while before the party so the frosting gets slightly crisp. This will lessen the messes made and ensure that your facial features stay in place. If you want to learn how to give him a candle lightsaber in a candy arm, check out the Yoda Cupcakes post and substitute the green candy for a chocolate brown variety.
These are really great to make, especially if you do not feel you are super great at cake decorating. Do a few and you should get the hang of it. I did mine assembly-style where I did one step at a time for all the cupcakes I needed to decorate.
Watch the quick video below for more help and direction with this.
If you love Star Wars cupcakes, you might also like these Yoda Cupcakes or Princess Leia Cupcakes.
Who do you know who loves Star Wars? Which Star Wars character is your favorite? Share with me in the comments below.
Know someone who could use this? Hit the "share" buttons below! Be sure to follow Arts & Crackers on social media (buttons at the top of the page.)
You May Also Like
If you decide to do this project, I would love for you to share on my Facebook page or email me at [email protected]!