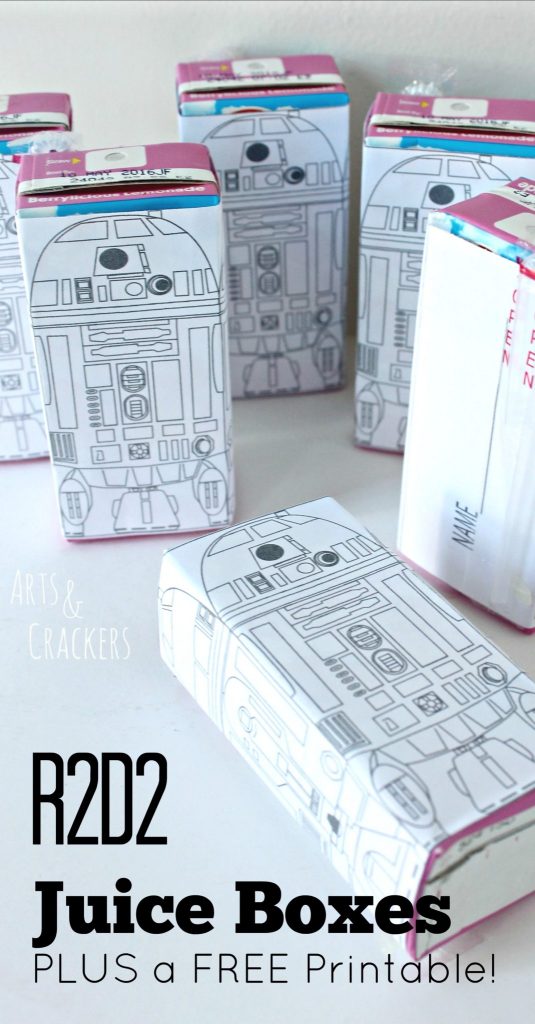 It's no secret that my boys like Star Wars…and boy are they excited about the new movie coming out!

Of course, my son had to have a Star Wars birthday party this year.
You may have seen my Star Wars Rebels party on a budget post.
Well, we used many of those and expanded on it for his actual birthday party. One of those extras was our R2D2 juice boxes (foods and treats coming soon!)
The kids loved these juice boxes.

Not only were they fun to look at, but they were also made as coloring pages so the kids could color them in as an activity!

The best part?

You have to do almost nothing because I am providing the printable for you.

What You Need
R2D2 Printable Juice Box Covers
Juice boxes (tall, skinny ones)
Directions
1. Using a scrapbooking scrapbook trimmer or paper cutter, cut the rectangular juice box cover from the printed piece of paper.


2. Fold the paper to make creases along each side of the paper. You can tell where these need to be either by a thick black line or two sides joining into a line.


3. Remove the straw from the juice box then set the box properly on top of the printed wrapper, so the front of R2D2 is in place and you have one loose side on the left of the box.


4. Fold the rest of the paper tightly around the juice box and tape the entire side down onto the juice box (the thin strip will go underneath the short side.)


5. Fold the short end of the paper up and tape the entire side down onto the juice box.


6. Fold a piece of tape onto itself and stick it to the back of the straw wrapper.


7. Stick the straw wrapper onto the back of the juice box near the "name" space.
Download Your Free R2D2 Juice Box Cover Coloring Page



Kids will enjoy this new way to experience juice boxes! Set out some coloring crayons so they can color the wrapper and add their names!
-Who is your favorite Star Wars character? Tell me in the comment section! I'd love to hear from you!
Sign up for my newsletter!
Know someone who could use this? Hit the "share" buttons below! Be sure to follow Arts & Crackers on social media (buttons at the top right of the page.)
You May Also Like
Written by Alyssa Darby
This post may contain affiliate links and sponsored ads; using these links helps support my blog and my family. Money earned goes towards tithe, coffee to keep me sane, and then placed into savings towards our dream of buying a house and homesteading. Thank you for your support! Content from my site may not be copied, used or repurposed, and all rights belong to Arts & Crackers; however, if you are doing a roundup post, you may included one watermarked "finished product" image with a direct link back to the coordinating post (do not hotlink); I appreciate when notice is given to me ahead of time or specific permission requested. Have questions? Contact me at alyssa@artscrackers.com.