Disclaimer: I received a free product for my post! These views are my own and were not 
at all influenced by the party who gave me this opportunity..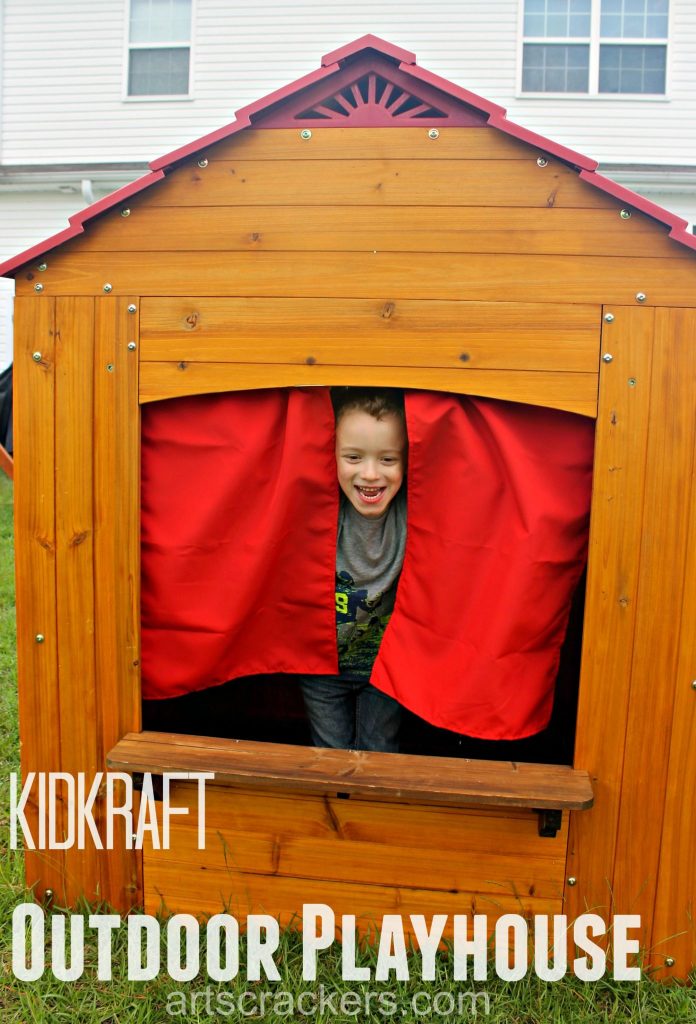 My boys love to play outside so we have a lot of outdoor play equipment to encourage exercise and imagination. Our latest addition was the KidKraft Outdoor Playhouse.
Click here to visit their website
This outdoor playhouse was actually featured in my Safari Playdate post!
The playhouse measures 49.1 x 43.6 x 59.2 inches and weighs 96 pounds (shipping weight is 127 pounds according to amazon.com.) This product is recommended for ages 2-8 years old.
What I Love
This playhouse is really simple, but the kids are enjoying it. For the most part they run in and out and peek out the windows and door. I like how the windows open outward and the fact that there is one on either side so my boys can both open and shut the shutters.
The doorknob is pretty nifty as well. When the handle is turned, the door will actually latch shut so it stays closed and doesn't blow around in the wind.
Oh, and let's not forget the adorable mailbox. This will be fun when Daddy is away, so we can put mail from him in the box so the boys can check their mail.
The playhouse is very sturdy and is made from very nice wood. My husband did not have too difficult of a time putting it together; he pre-assembled each wall indoors then brought them outside to piece the full house together. The instructions were pretty simple and he had the house together fairly quickly.
What I'm Not Huge On
The main parts that I wish were different were the plastic pieces. The roof is okay, though I can see it fading over time, but I really wish the doorknob was made of wood like all the other knobs. I cannot see plastic lasting as long as wood and it sticks out where all the rest of the house blends together. I will probably be replacing this once I have the money to.
I also wish there was more to do, like the Modern Outdoor Playhouse. While the basic house leaves more room for imaginative play, I also like things like a little bench, a sink and counter, etc. to bring that imaginative play to life. For the price this runs online, I really would like to see more included on it. Eventually I will add some more to it and do a "home makeover" but we cannot do much with it at this time so the kids still just run in and out and nothing more.
I also would love to see an easier way to take the curtains off the back opening. While I am sure they are made to handle the weather, it rains here a lot and I would prefer to take them off until the kids go out to play so they last a little longer.
Overall, this is a very neat little playhouse for your children. If you already have a little table and some accessories or your kids don't play with any of those, I would recommend this playhouse. If your kids need more to be entertained, the Modern Outdoor Playhouse looks neat. Even if you don't have insane carpentry skills, you should have no problem building this house.
Be sure to like KidKraft on Facebook and Twitter! You can purchase this playhouse on Amazon.com (affiliate link.)
Some accessories you may want to consider purchasing with this playhouse: picnic table, grill, grilling food and tools, chef outfit and tools, sink and stove.
Know someone who could use this? Hit the "share" buttons below! Be sure to follow Arts & Crackers on social media (buttons at the top right of the page.)
You May Also Like
-What will you add to your outdoor playhouse? Have you done a makeover on your outdoor playhouse? Share with me in the comments below!