I'd slide on some boots and wrap a scarf around my neck, sip some apple cider, and wander through the muddy dirt searching for my very own, oddball-shaped, cheerfully orange pumpkin. Going to the pumpkin patch has always been my favorite fall activity, so I brought a little of the magic to our home with these adorable Pumpkin Patch Pudding Dirt Cups!
They are simple to make and taste delicious. In the spirit of the fall season, I wanted to celebrate with festive fall dirt cups that didn't involve worms. This pumpkin patch pudding is perfect for that.
Pumpkin patch pudding dirt cups are simple, so they are the perfect fall treat to involve kids in and to send with them to school as a classroom snack.
Hey, are you needing a virtually germ-free, individually-wrapped version allowed in the classroom?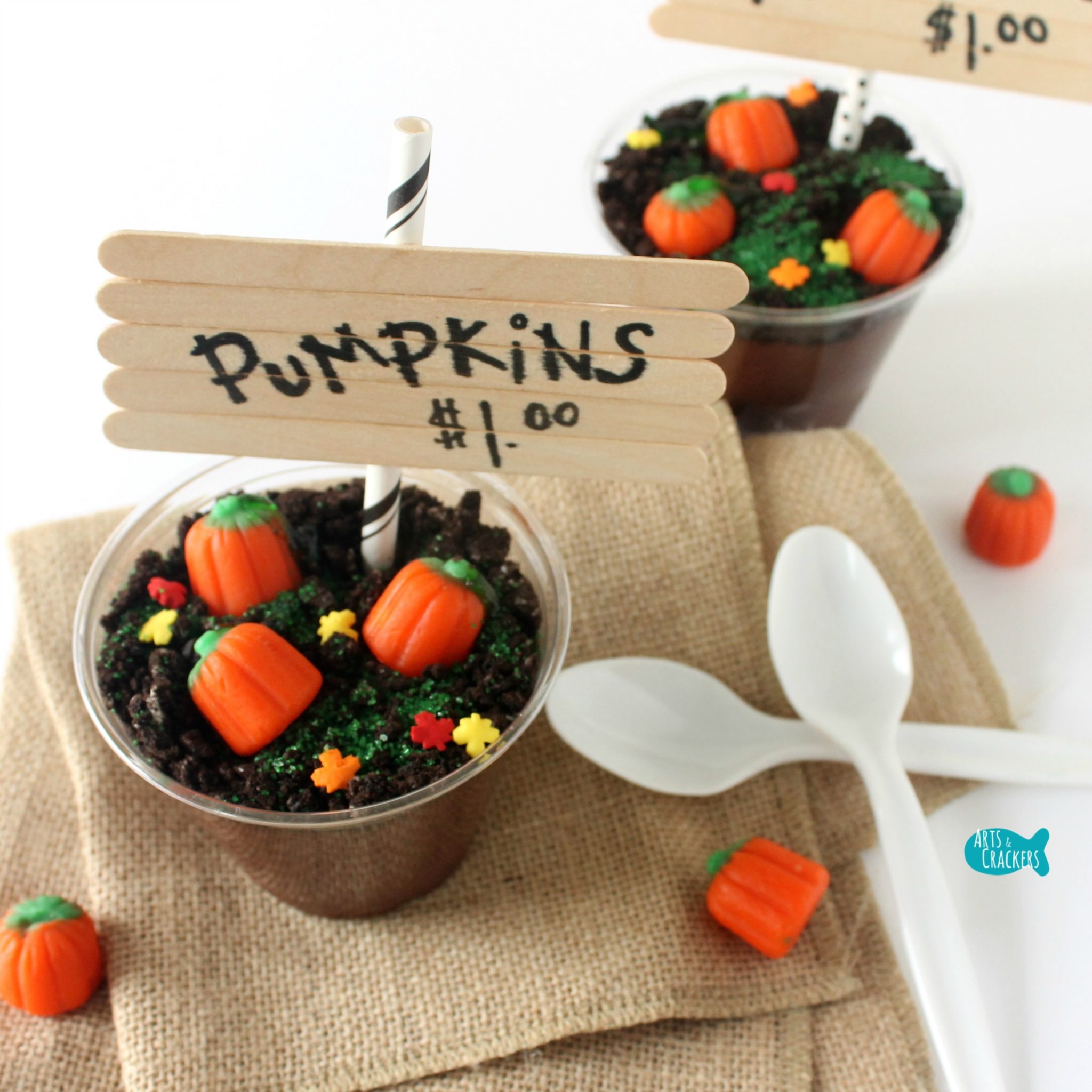 Pumpkin Patch Pudding Cups
What You Need
Chocolate pudding
Chocolate cream cookies
Green gel (optional)
Fall leaf sprinkles (optional)
Craft sticks (5 each)
Hot glue
Paint or paint pen
Directions
1. To begin the pumpkin patch pudding cups, prepare soft-serve chocolate pudding (I just used instant pudding) and fill the cups about about 3/4 full.
2. Crush up some chocolate cream cookies using your fist, a spoon, or a food processor. This is a fun activity to get kids involved in, especially if you use a hammer.
3. Sprinkle a decent amount of cookie crumbs onto the top of the pumpkin patch pudding. This will be the "dirt."
4. Most pumpkin patches have a little bit of grass still with the pumpkins, not just dirt, so add some of the green sprinkles around the top of your pumpkin patch pudding cup. I did some spots with none, some with very little, and others with a decent amount so it looks more like grass would.
5. Place a few mellowcreme pumpkins on the top of your pumpkin patch pudding and push them down gently into the "dirt" like they are sitting in a pumpkin patch. If you can find different sized/shaped pumpkins, that would be even better! I just went with whatever was in the Autumn Mix Mellowcreme and candy corn package that I purchased. You can also add some green gel for vines and sprinkle on some leaf-shaped sprinkles if you wish!
6. While the pudding sets, make the pumpkin patch signs! Start by gluing the craft sticks onto the paper straw. Make sure these are centered and that they each touch. Leave a small amount of the straw poking out from the top and a good amount below as it will be sticking into the pudding.
7. If you would like to make the signs sturdier, flip the sign around and add some more glue around where the straw meets the craft sticks. I reinforced my sign this way.
8. Flip the sign back around. Using the paint or paint pen, write "Pumpkins $1.00" onto the sign. Let dry.
9. Once the Pumpkin Patch Pudding has set, carefully stick the sign in near the back. If needed, place the pudding cup back into the refrigerator for a bit so the sign does not fall over.
10. Serve chilled.
My boys loved these. Apparently the pudding is thin enough that you can somewhat drink it through the straw while you scoop the delicious cookie crumb topping and pumpkin candies into your mouth.
The kids will love these pumpkin patch pudding cups. Make it a family activity. Bring them along as a special treat for your pumpkin patch field trip. For a more nutritious option, try chocolate graham crackers.
**FUN TIP! Want to make these spooky? Pipe on some faces with black cookie icing or gel and a small tip to turn them into jack-o-lanterns!
Read also: 6 Awfully Adorable Pudding Cups for Halloween and 11 Fun String Cheese Wrappers for Fall and Turkey-Shaped Turkey Sandwich Lunch Idea
What is your favorite fall activity? Where will you bring these Pumpkin Patch Pudding Cups? Share with me in the comments!
Looking for more? View these categories!


Sign up for my newsletter!
Know someone who would love this? Hit the "share" buttons below! Be sure to follow Arts & Crackers on Facebook, Twitter, Pinterest, Instagram, or the others at the top right!