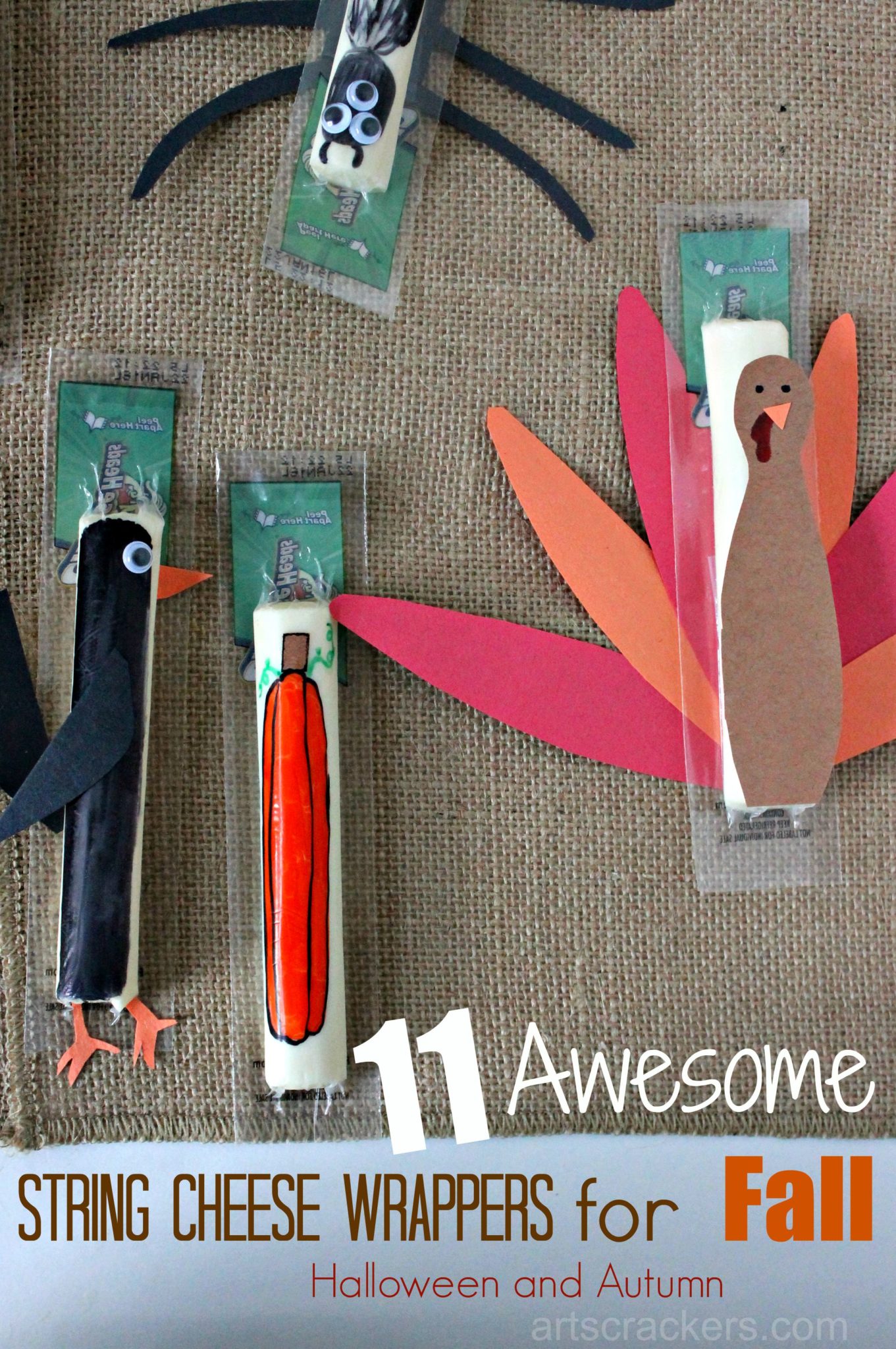 Imagine the smile on your child's face and the gleam in his eye when he opens up his lunchbox to find a delicious string cheese…but not just any ordinary string cheese. Instead, he finds a flying bat or crawly spider, made by you just for him. My boys love when I make these fun string cheese wrappers for them, and they are really not complicated at all!
In the past, you may have seen my bunny rabbit or flower pot string cheese wrappers. Since autumn is one of my favorite times of year, I decided to add some fall designs and share them with you. They are easy to make and hardly take any time, but they make the kids so happy.
I have eleven designs for now and will surely add more in the future. Below you will find designs for fall in general, for Halloween, and one that is more for Thanksgiving (watch for more of these coming soon too!)
Keep in mind as you make these that cold string cheese sticks may have condensation on the outside of the wrapper as they warm to room temperature. Wipe down any condensation before drawing, gluing, or taping. They should be fine once they go back into the refrigerator.
Ghost
This one is by far the easiest. All you need is the string cheese, in the wrapper, and a permanent marker. Draw two eyes and a wide open mouth near the top then some bumps towards the bottom.
Frankenstein
This one is just about as simple. You will need a green permanent marker as well as a black one to draw the hair, face, and part of the top. Cut out two small knob shapes from gray or light blue construction paper and glue them onto Frankenstein's neck, one on either side.
Mummies
There are two ways to make this one. The simple route is to just wrap masking tape around the entire cheese stick wrapper. Don't worry, it tears easily so your child should not have any difficulties opening it. The other way is to tear up pieces of masking tape into strips and stick them all over the front of the string cheese wrapper until it is covered. Draw on two red eyes and a black smile.
Monster
This one gives you the most creative freedom, because you can make the monster look however you wish. I colored mine purple with a permanent marker, glued on some construction paper horns and arms, glued on a few googly eyes, then drew on a mouth and gave him a fuzzy belly with a black permanent marker.
Scaredy Cat
I began by cutting out a tail shape and head shape, and a small piece as a neck out of black construction paper. I then used a black permanent marker to draw a furry tummy section and made it curve a little into legs and feet. I even added the back leg/paws. After that, I glued the tail, neck, and head into position. If you want, you can draw a face on the cat. You can even add googly eyes.
Spider
Cut black construction paper to make a piece of eight long, gangling legs, four on each side, with a section of construction paper connecting them in the middle. Roll some masking tape back onto itself to create a loop and stick it to the construction paper then to the back of the cheese stick wrapper. Use a black permanent marker to draw on a big, fuzzy body, a head, and a little mouth on the spider then a red permanent marker to draw an hourglass shape on its back. Glue on a few googly eyes.
Bat
Cut black construction paper to create a wing span. If you want both sides to be the same, fold the paper into half and cut only one side of the wings with the folded section in the center of the wings. This way, once you open the piece of paper the crease will be in the middle and the wings will mirror each other. Tape this onto the back of the wrapper as we did with the spider. Use a black permanent marker to draw on a head, ears, body, and little feet. Glue on two googly eyes.
Crow
This one requires a little more detail, but it is so cute that it's worth it! Using a black permanent marker, color the string cheese wrapper black on the front. From black construction paper, cut out a tail piece and a wing. From orange construction paper, cut out a small beak and two clawed feet. Glue each piece into place on the wrapper then glue on a googly eye.
Pumpkin
I did not add a jack-o-lantern face to this one, but you can if you wish. I simply drew on a pumpkin shape with an orange permanent marker, outlined it with a black permanent marker, glued on a tiny rectangular shape for the stem and gave it a black outline, then used a green permanent marker to draw on a vine from the stem.

Autumn Tree
Cut a piece of brown construction paper into a rectangular shape the length of the string cheese (you can simply color this on if you have a brown permanent marker.) Draw a bark pattern on if you wish. Cut a piece of green construction paper to make the top of the tree then cut out a notch to go around the top of the string cheese. Draw on a few leaf outlines with a green marker. Cut out tiny leaves from orange and red construction paper (you can also use leaf-shaped sequins or confetti decorations if you wish) and glue them on all over the green top. Tape the tree trunk and top onto the cheese stick.
You can even use this as a regular tree without the fall colors or add some circles to make it into an apple tree! Try making one design on either side!
Turkey
From orange and red construction paper, cut out six big feathers, three per color. Cut out a turkey head and body shape from brown construction paper. Draw on two eyes, a red snood, and glue on a little orange beak. Tape the feathers together than onto to the back and tape the body to the front.
I really enjoy making these for my kids (and even to stick in my husband's lunch…yes, I'm one of those wives, but he always appreciates it. You can even include a little lunchbox note and play a pun on what the cheese stick design is…like, "I love you, pumpkin!" Comment to let me know if you'd love for me to come up with some punny printable lunchbox notes you can include!
We used a lot of googly eyes, so I decided to ask my kids and husband to save the eyes if they remember, that way we can use them on another craft in the future (rather than just buying more.)
Which design are you excited to try first? Would you love for me to make punny printable lunchbox notes for you to send with these? I'd love to hear from you in the comments below!
Know someone who could use this? Hit the "share" buttons below! Be sure to follow Arts & Crackers on social media (buttons at the top right of the page.)
You May Also Like