When you launch a coloring book, you must have a party with themed snacks, right? I invited over some friends and cooked up a sweet treat–Artist Palette Sugar Cookies!
(Check for an updated ingredient list that shows alternatives for ** artificial-dye-free paint palette cookie and *** gluten-free paint palette cookie options and even a vegan paint palette cookie option.)
You can't have a painter's palette without a paintbrush, so I've included one of those as well–pretzel paintbrushes. My guests enjoyed pretending to dip the brush into the paint before eating it.
Psst…please follow the instructions…the full instructions…or you may have a "Pinterest fail" on your hands. These are easy to make, but you can have a big mess if you don't pay attention to the tips and directions below. I hope you love them!
Artist Palette Sugar Cookies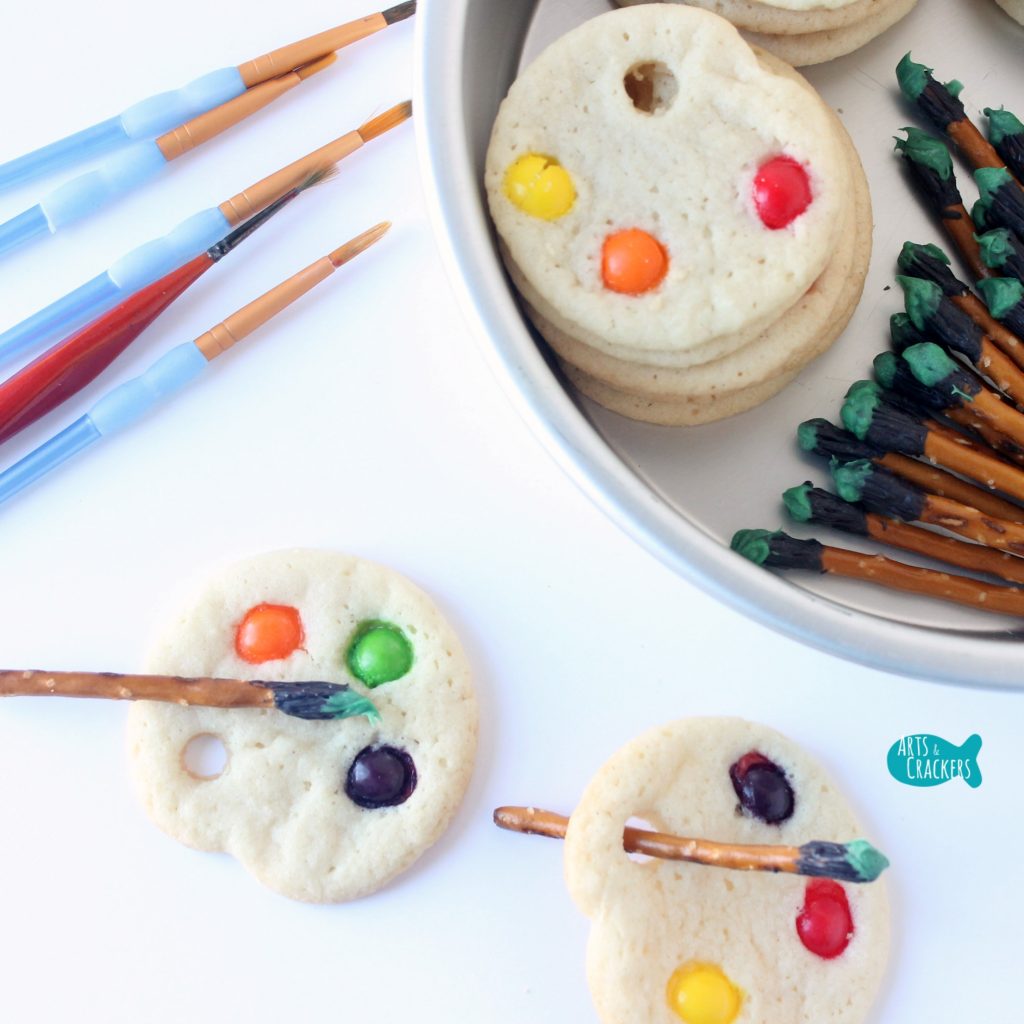 These Painter's Palette Sugar Cookies are quick and simple to make –get the kids involved with some of it! These fun shaped sugar cookies are a huge hit for school treats, art classes, and parties.
Have your seen our other edible crafts like our popular Pumpkin Patch Dirt Cups? Check them out  look in the post for our new classroom-friendly version!
Supplies List:
Refrigerated Sugar Cookies (use a brand you trust) ***
Skittles **(We used leftover Halloween candy the first time then bought a large bag for the second time we made them; you can use candy-coated chocolates like M&Ms, but they may crack and show brown through)
Pretzel Sticks ***
Small Round Cookie Cutter (I used the small one from this gingerbread man set…you can also use a paper straw) *Update: at this time, I am seeing that the gingerbread man set is no longer available. The hole, I believe, was around 1/4-inch in diameter; you could try these fondant cutters or even using some round decorator tips.
* NOTE: you may want to roll out sugar cookies and use a paint palette cookie cutter if that is easier for you. For me, shaping them per my instructions below was easier.
** ARTIFICIAL-DYE-FREE ALTERNATIVES:
*** GLUTEN-FREE ALTERNATIVES:
Directions
1. Place the cookie dough pieces on a pan according to the package instructions or slightly further apart. You may want to line the pan just in case the melted Skittles leak through.
2. Shape the dough. Do not press down on it too much–if it is too thin, the candies will melt through and make a sticky mess on the pan. Using your finger, add a dent to one side of the dough. This needs to be pretty deep or it will not stay when the cookie flattens. The dent should also be a little off-center, just like an artist palette.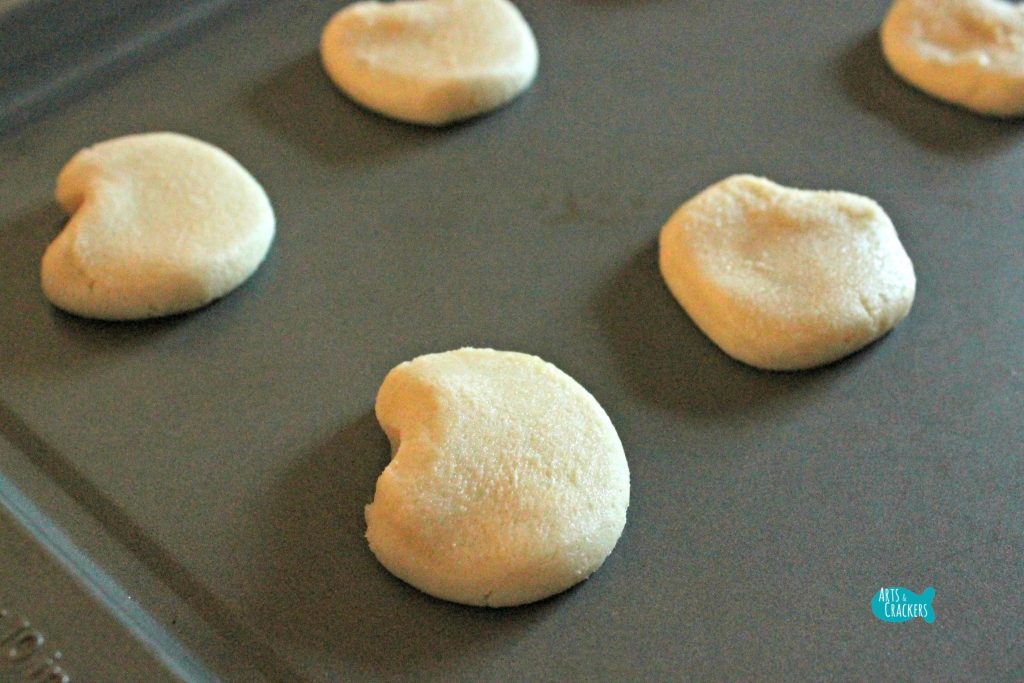 3. Place 3-4 Skittles on top of the cookie dough across from the dent. These should be very close together–they will spread apart as the dough flattens during cooking. Press down on them very gently just so they stay in place; do not press the candies into the dough or they will melt right through to the pan.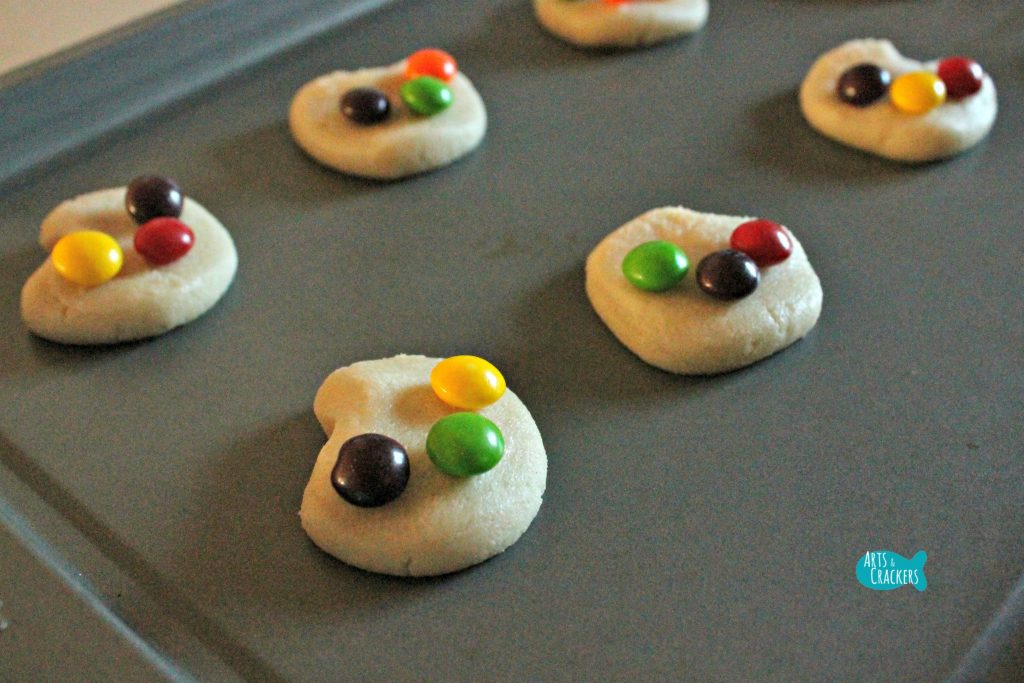 4. Bake the cookies according to the package instructions. Depending on your oven, you may want to check on these a little early so they don't over-cook.
5. Once the cookies have finished baking, you will want to immediately poke out the thumb holes at the small end of the curve using the small cookie cutter. Use the side of a paper straw to make the curve in the palette more pronounced.
Warning: this will get HOT. Since it is thin metal and will touch the pan, it transfers the heat quickly. You may want to wear heat-resistant gloves. You could also try using a paper straw to poke the hole (I have not tried this to see how well this works.). Remember, work fast. Once the cookies cool, you will not have smooth thumb holes.
**Update: I tried a paper straw for the holes; it works okay if needed, but the holes were not as large or clean.
6. Before the cookies are cooled, use a flat metal spatula to carefully remove the cookies from the pan and onto a cooling rack.
7. While the cookies cool, prepare the paintbrushes. Start by melting some black (or brown) Candy Melts by package instructions.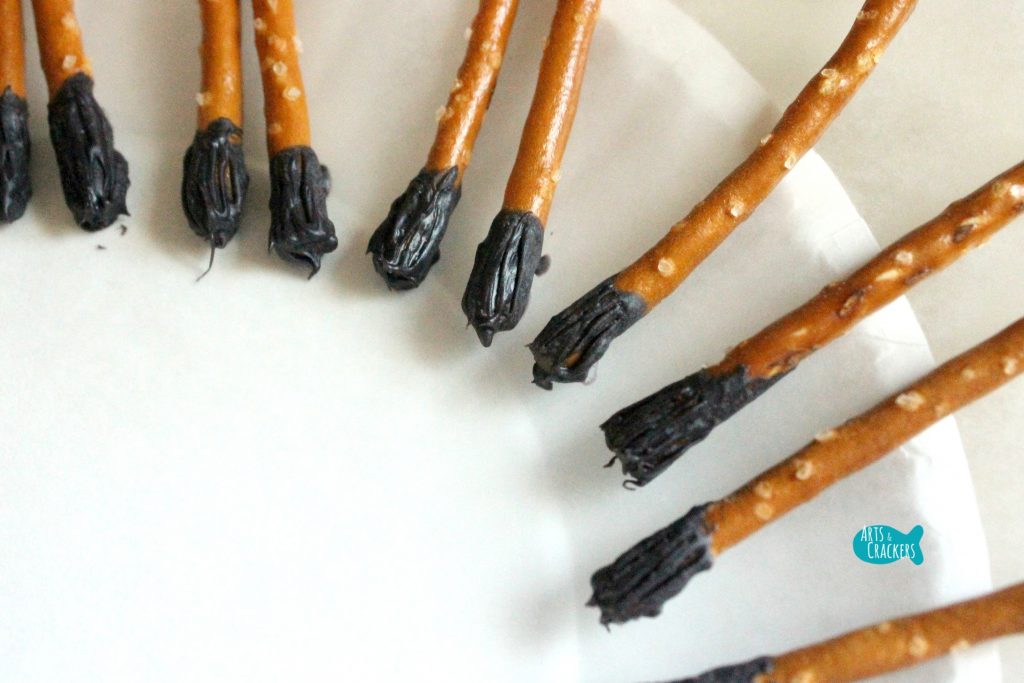 8. Dip one end of each pretzel stick into the melted chocolate. Gently spin it and pull out, shaping it into a brush-looking tip. Place the pretzel brush onto a plate covered with wax paper and let the chocolate harden. Repeat with as many more pretzel sticks as you need.
9. Once the first chocolate layer is hardened, gently scrape a brush texture into the chocolate while you melt another Candy Melt color (of your choice) by package instructions; dip the tips of the pretzel paintbrushes into the colored chocolate just a bit as if you were painting. Place them back onto the wax-paper-covered plate until they are cooled.
***I recommend using various colors that are available on the palettes; when I was making these for my coloring book release party, I did not have all of the supplies, so we made do with green.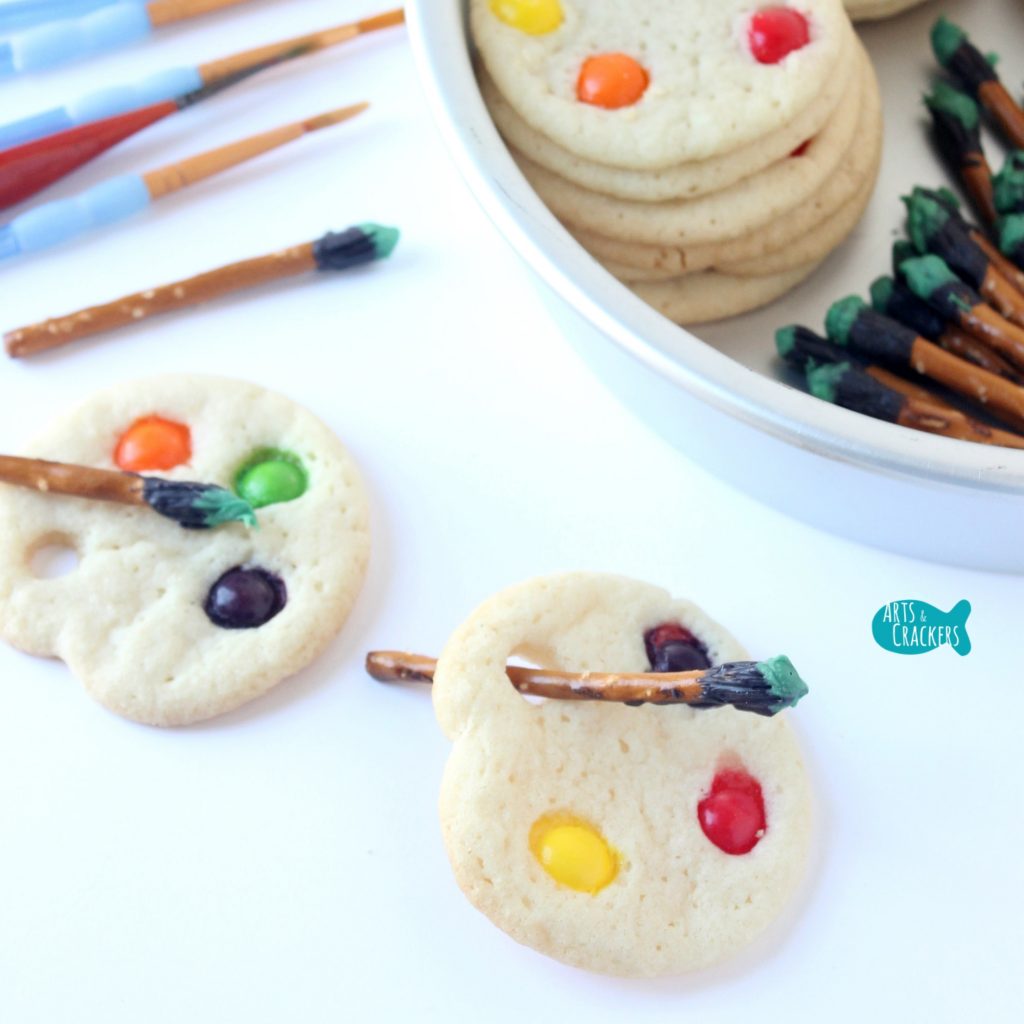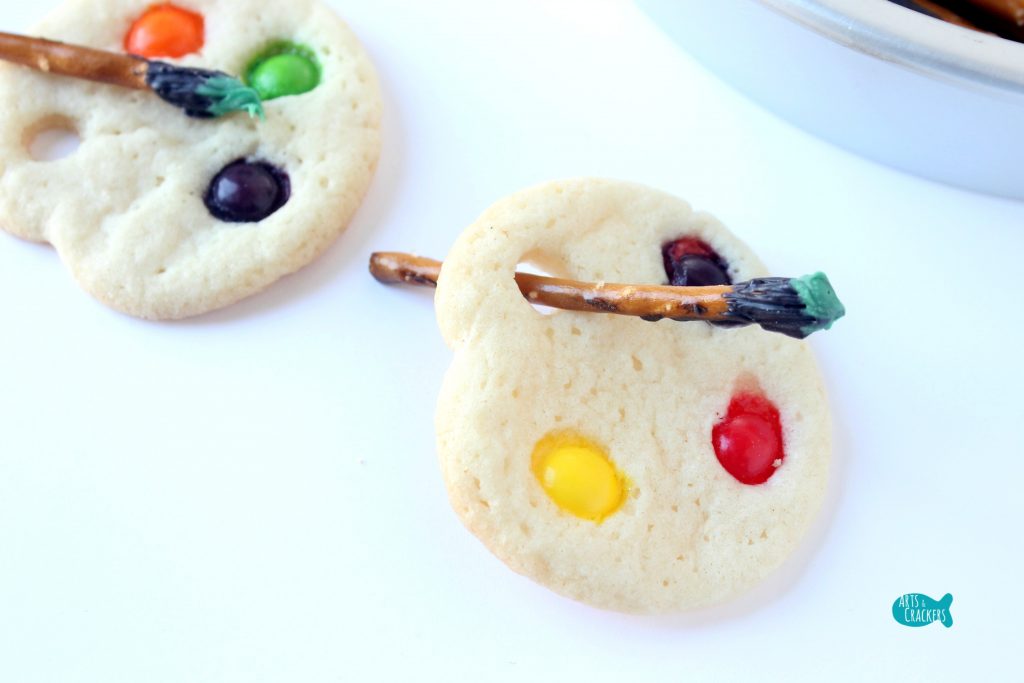 Serve the Artist Palette Sugar Cookies alongside the pretzel paintbrushes. The cookies have a fun, fruity flavor and surprising and fun chewy texture. You can try using candy-coated chocolate candies, but the color will show brown through from the chocolate once it melts, so keep that in mind.


Here are some pictures from our party! I also served fish-shaped cheddar crackers to go with my Arts & Crackers logo and some vertically-cut grapes because they are bright, fun, and healthy!
For my guests to color, I purchased a large pack of Staedtler colored pencils then I provided them with pages to color from my book. they were also able to see and touch my printed books.
If you are interested in learning more about my first printed coloring book, visit artscrackers.com/lets-color-together/. You can also find a link to download a free sample from the book. Be sure to check the free sample page for an exclusive discount on the print-at-home version!
Watch this video for a quick sneak peek into the book!
Where will you serve your Artist Palette Cookies? Share with me in the comments!
Read also: Coffee, Canvases, (and Cupcakes!) Party and Toddler Outdoor Canvas Painting Project
Looking for more? View these categories!