Paper Crafts have always been a hobby of mine. When I was younger, I used to attend paper crafting parties with my mom ; we would make cards, scrapbook, and even bookmarks. This year I decided to put my paper crafting skills back to use and create a paper leaf wreath for fall. I have even included an adorable and simple paper owl!
I love paper crafts, especially seasonal and holiday crafts, so I am excited to partner with Distinct Papers to bring you this DIY Paper Leaf Wreath.
While this fall wreath may seem a bit overwhelming with all of those paper leaves, it really did not take very long; just wait until you see how it is made.
My paper leaf wreath was designed to resemble an autumn tree. You will find a green tree top covered in fall-colored leaves. The brown bow is the tree trunk and I have even included branches for the woodland critter to sit on.
The fall wreath uses bright fall color paper from Distinct Papers. They sell all types of paper, envelopes, and packaging supplies. The paper is perfect for paper craft and stamping lovers like me.
Paper Leaf Wreath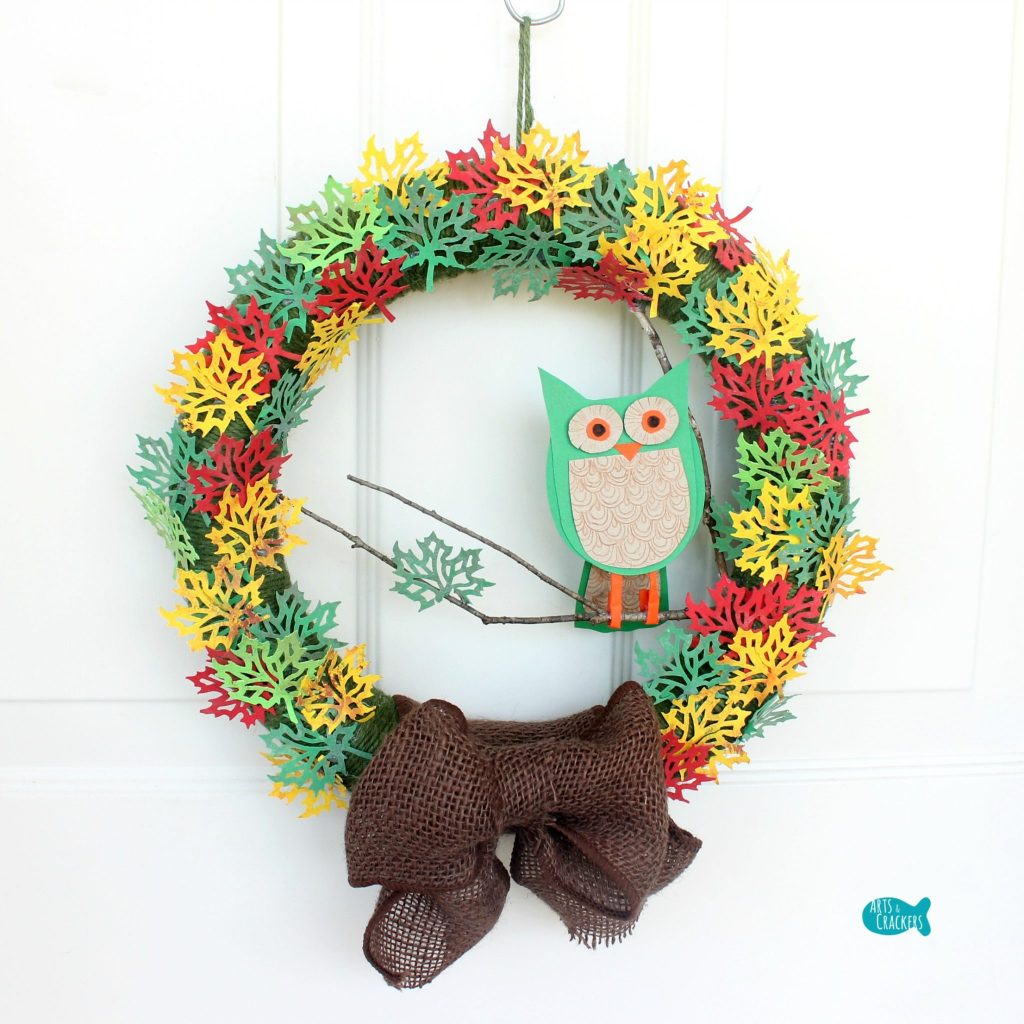 What You Need
Foam floral wreath (I used green)
Green twine (I ended up using just over 120 ft.)
Hot glue
Distinct Papers cardstock (I used dark green, light green, red, yellow, orange, and light brown)
Sponge
Slightly damp watercolors or acrylic paint I used green, brown, red, yellow, purple and orange)
Large leaf-shaped paper punch (I have this one which you may find cheaper in stores, or this one works too)
Brown ribbon (I used wired burlap)
Sharp scissors (fabric scissors are best)
Black permanent marker
Brown colored pencil
Twigs
Directions
1. Begin by wrapping the twine around the entire foam wreath base. Add a small amount of hot glue every few wraps. Note: if you do not wish to take the time for wrapping so much, try using thick strips of fabric or ribbon.
2. Choose your paper colors.
3. Using your sponge, dab bits of brown, red, orange, yellow, purple, and green paint onto the dark green, light green, red, and yellow cardstock from Distinct Papers. Make sure the sponge is is not too wet, just very slightly damp. Let dry.
4. Place the paper, one piece at a time, into the paper punch, and punch out a bunch of leaves in different colors. If the paper gets stuck, it's good to have another thick piece of cardstock and a tweezer on hand to pull the paper out of the punch. Set aside.
5. Cut a small piece of the brown ribbon and wrap it around one part of the wreath then glue it down.
6. Since you are already working with the ribbon, go ahead and make the bow. Begin by twisting a piece of the ribbon into a loop.
7. Take a small piece of the twine and tie the bow in the center.
8. Trim another small piece of ribbon off and clue it around the middle of the bow. Set aside.
9. Now you can start gluing some leaves on. Make the colors sporadic so it looks like a real tree. I started with the dark green then added the yellow leaves, red leaves, and light green leaves. I glued mine on everywhere but the brown section. Add a few more to the outside and inside of the ring so they are not all on just the front of the wreath.
10. To make the owl, I cut out an owl body shape from the dark green paper, a belly shape from the light brown paper, two circles from the light brown paper, and two small circle eyes and a triangle beak from the orange paper.
11. On the belly, I drew a fun loop pattern with the colored pencil, just to give it some feature-like texture. I drew a fish scale pattern then filled those each in with two more loops and little peaks at the bottom between each set of loops. You may notice that I went back over it to darken the pattern later as I decided it was not bold enough. Around the brown part of the eyes, I drew a starburst pattern and on the orange eyes I drew pupils. Glue everything together.
12. Make small slits all along the outside of the light brown circles around the eyes then use your finger to pull it up a little to make it look 3D.
13. Roll two rectangular strips of orange paper to make the owl's legs. Glue them onto the back of the owl.
14. Cut out two wings and a long tail from the green paper. Add a smaller piece of light brown to the tail and add the same pattern that you used on the owl's belly. Glue everything into place.
15. Bend the owl's tail back slightly so it sticks out.
16. Find a twig or two that fit perfectly into your wreath and glue them down into the middle of the paper leaf wreath. If needed, add another leaf or two to cover up where the twigs are glued down.
17. Perch your owl onto one of the twigs by wrapping the orange legs around the branch and gluing them down onto the branch.
18. Tie a hanger onto the back of the wreath if needed. I just used another piece of twine. If you have better wreath hangers, you can use those instead.
19. Glue the bow into place on the front, on top of the brown piece of ribbon. Remove any strings of glue that may still be on the wreath; I know hot glue can get messy.
Hang your beautiful paper leaf wreath in your home or on your front door behind a storm door! Since this paper leaf wreath is made with, well…paper, it is not meant to be an outdoor wreath, but it displays nicely indoors. I chose to hang mine behind our storm door.
I love the details on the owl and leaves!
As with any craft, get creative with your paper leaf wreath! Take a look through all the lovely paper colors and paper products from Distinct Papers. You can make the owl and the leaves any colors you wish. Keep them all green, make them browns and oranges, make the owl teal…make it fit your style!
Be sure to sign up for the Distinct Papers newsletter and Distinct Papers Blog and follow them on Instagram. They have so many great paper craft ideas and are the perfect go-to paper and packaging source for small business owners, graphic designers, crafters, teachers, and anyone else who uses a lot of paper, envelopes, and packaging. Distinct Papers is a very new brand and their products are high quality. I love their bright papers and vellum. I love using the cardstock for printing my coloring pages.
I just had to sneak this picture in here…captioned "When you're a DIY blogger, but you're also a mom…you might find out some of your pictures have been 'photo bombed.'"

Read also: Simple Fall Wreath Tutorial and Paper Fairy Mobile Craft

What is your favorite way to paper craft? Share with me in the comments!

Sign up for my newsletter!
Know someone who would love this? Hit the "share" buttons below! Be sure to follow Arts & Crackers on Facebook, Twitter, Pinterest, Instagram, or the others at the top right!