My son, S, loves zebras…just a little bit. Okay, a lot. He also loves strawberries–it's probably one of his favorite fruits–and he is the inspiration behind these Chocolate Covered Strawberry Zebras. This post contains affiliate links.
If you know S, it is very clear that he has a very passionate love for zebras. Not only does he have everything zebra, but also he dresses up like a zebra on a quite regular basis. When I say he dresses like a zebra, I do not mean he dresses in an actual costume.
He gives his whole body stripes, just like a zebra…using markers. And no, he did not see that viral video to inspire it. He will even crawl on the ground acting like a zebra (including in public). We made a point to see, feed, and even touch some zebras in person when we went on vacation and he was in love. Those zebras were a little feisty though, so he mostly stood and enjoyed looking at them and spent more time with the zonkey (a donkey with zebra legs…he was pretty fascinated by that.).
In case you were wondering, no, I'm not the type of parent who minds my son turning himself into a zebra. He [thankfully] uses washable marker and it makes him so happy, so I just giggle and let him enjoy it until we get the stripes washed off. He has such a fun personality.
A couple months ago, when I was feeding my little zebra his favorite snack of strawberries (I may or may not have been daydreaming about dipping those delicious berries in chocolate, because I love chocolate covered strawberries), I realized those strawberries would make very cute zebras.
Chocolate-Covered Strawberry Zebras
We typically dip our strawberries in milk chocolate and white chocolate, which is perfect for zebra stripes. I brainstormed a bit and that's how these Chocolate-Covered Strawberry Zebras came to be. S was over the moon excited when he'd seen what I made for him. They are not too difficult to make and are so fun to serve as a treat, for parties, or just to put a brilliant smile on your little zebra-lover's face. The kids can help make these too!
What You Need
Strawberries (washed and dried; chocolate will not stick to wet berries)
Candy eyes (you can make these using royal icing or even white chocolate and a black edible ink marker)
Bowls, spoons, a knife, wax paper
Directions
1. Melt the Candy Melts according to the instructions. The mixture should be smooth and not too stiff. You may want to try this melting pot made just for melting these properly for coating (personally, I over-melt a lot when using the microwave…oops!)
2. Dip the strawberries in the white chocolate until the red is covered. Leave the green leaves so you have somewhere to grab the berries and also to sort of look like the hair zebras have on their heads. If you want, you can add a dab of chocolate to the center of the leaves too and fold them up to make a "zebra mohawk."
Let this layer dry. I did not have much time to finish these before we headed on vacation, so they only dried for a little bit or they'd be much smoother looking. If you want them to look their best, let them dry completely. Candy Melts generally harden fairly quickly.
3. Melt the black Candy Melts, reserving a few to use later for ears. Using a spoon, drizzle the mixture back and forth horizontally over the strawberries to make the zebras' stripes.
4. Dip the tip of the strawberry into the black chocolate to give the zebra a nose, then use the spoon to drag some upwards in the center, towards the strawberry leaves.
5. Cut the few black Candy Melts you reserved to make ears for the zebras.
6. While the chocolate is still melted, dip the bottom of the ears into it a little bit and stick them on the top of the strawberry where ears should go. Add a little to the back of the candy eyes and attach those slightly off-center on either side of the zebra's head.
7. Once the chocolate is hardened, serve! Refrigerate if you are not consuming these Chocolate-Covered Strawberry Zebras right away.
Does your little one just love safari animals like mine? You'll love this Safari Playdate idea, complete with activities, printables, crafts, and snacks!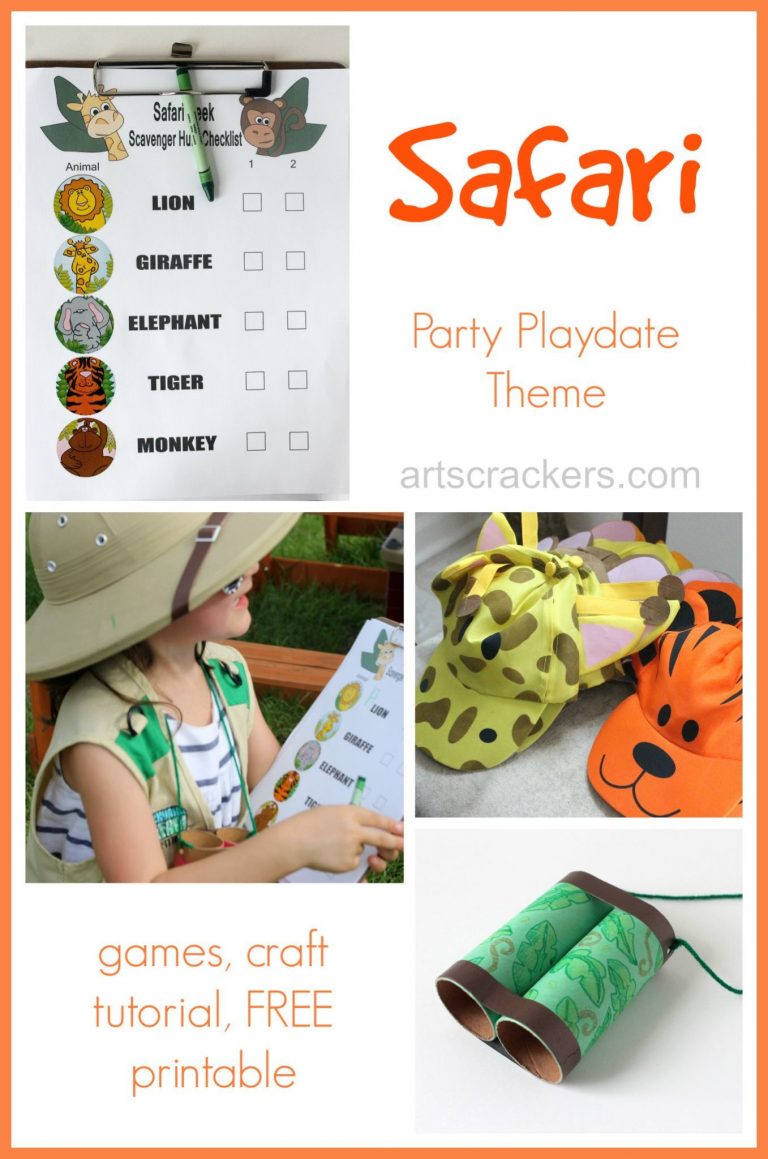 Do you have a zebra-lover in your family? Any funny zebra dress-up stories to share?

Read also: Ladybug Dirt Cups Pudding Snack Idea and Artist Palette Sugar Cookies