Snow. It is absolutely beautiful to look at as it settles over the landscape. Its white glistens and soaks up the beautiful blues and pinks and purples from the sky. Snow. That is what inspired this month's free adult coloring page.
My dream is to someday live in the country. Near mountains is a bonus, because they are such a magnificent and powerful addition to the skyline. For this free adult coloring page, I captured the Snowy Mountain Country in a fun and rustic light.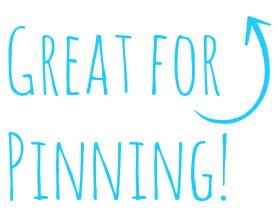 This may look like a lot of white space with all the snow, but I encourage you to add some colors where the sky reflects onto it to make it really come to life. Don't worry; I'll share my tips below.
Snowy Mountain Country Free Adult Coloring Page for Winter
Truth be told, I was extremely nervous going into this piece. I am not the best at drawing vehicles or animals and I can't say I'm great at drawing regular houses where the doors actually meet the windows properly, so I actually did a pencil drawing first rather than jumping right in with pen. I really wanted to challenge myself.
The end product? I am so pleased with how it came out. Rarely do my drawings come out just like I pictured, but I'd say this one pretty much did. It encompasses a lot about me and has a little something for everyone. I bet my husband will love coloring this one. I'm going to mail him a copy!
What I Used:
Here are some close-ups of the different items I've included to color.
The mountains were so much fun–I did a combination of blues and grays and purples and whites with a lot of shading and blending with my blender pencil.
For the cabin I combined a little marker with my colored pencils to really try to grab the textures of the wood and shadows and make it pop. I used a combination of browns, black, and a little white between the logs where the snow landed. I also included a windmill behind the house–you know, sustainable living. Having a windmill in my yard is one of my goals when we get a house.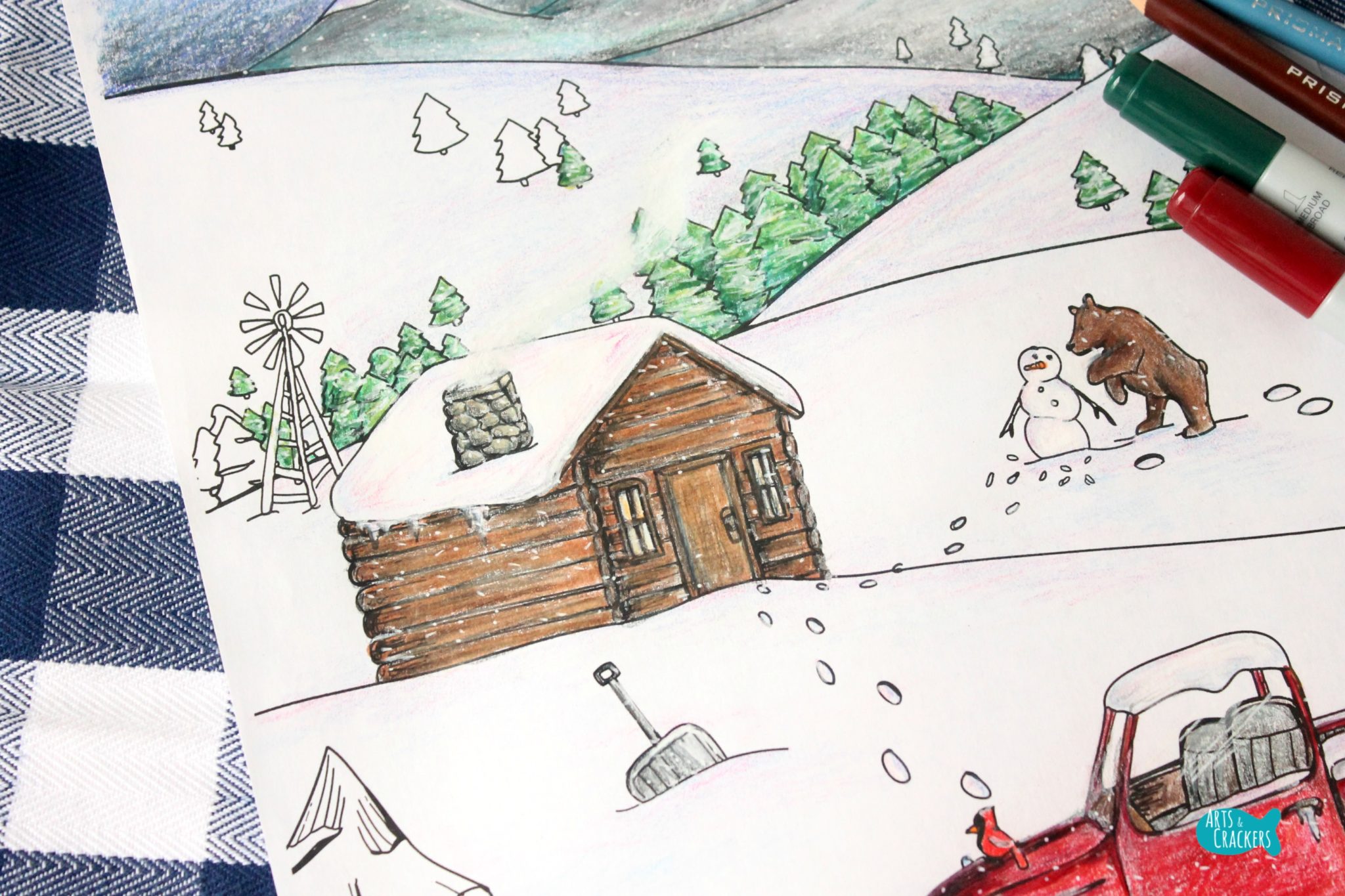 If I had to choose, I would say the bear is my favorite. Not because it was necessarily "incredibly fun" to color–it was a pretty small piece in the big picture (unlike the truck, which was tons of fun to color)–but because I really wanted to add something a little quirky, silly, and cute. The bear is making his way through the snowy mountains when he stumbles upon a snowman. He is very curious as to what this strange-looking creature is, so he stops by to check it out. (I can't help but adding a pun to my story, so…) He thinks to himself, "That's sno-man!"
The old truck was a blast to color. I chose deep red, but was also really considering a blue or seafoam green color. I added some gold and brown to give it a patina in various spots, especially around the edges and the bare metal bumper. In honor of my husband's obsession with whitewalls, I gave the truck some whitewall tires. Some snow has settled on the truck and a beautiful cardinal is perched on the hood.
(PS, if you haven't already, check out my Winter Cardinals coloring page!)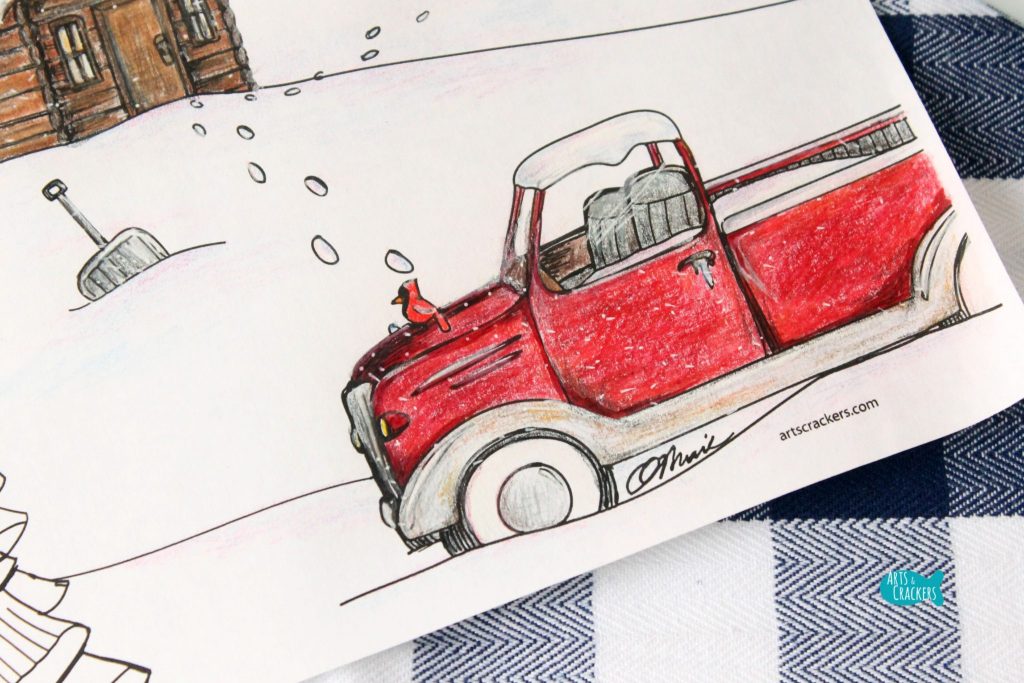 To highlight the snow, I grabbed some of the blues and purples and magenta colors I'd used in the sky and added some along the edges of the large hills and the smaller drifts, in the footprints, here and there to give the landscape a little more depth and character, and even added a little to the puffy white clouds. The hills further back had a little more of the grays and blues as they were further in the distance and I kept the closer snowy areas a brighter white with minimal colored highlighting.
Using a chalk marker (one of my favorite highlighting tools), I added some quick highlights to a few key spots on the truck, shovel, cabin, and hills. I also added smoke coming from the cabin's chimney and dots around the whole page to give the appearance that it is currently snowing more in the scene.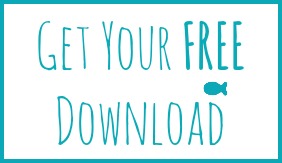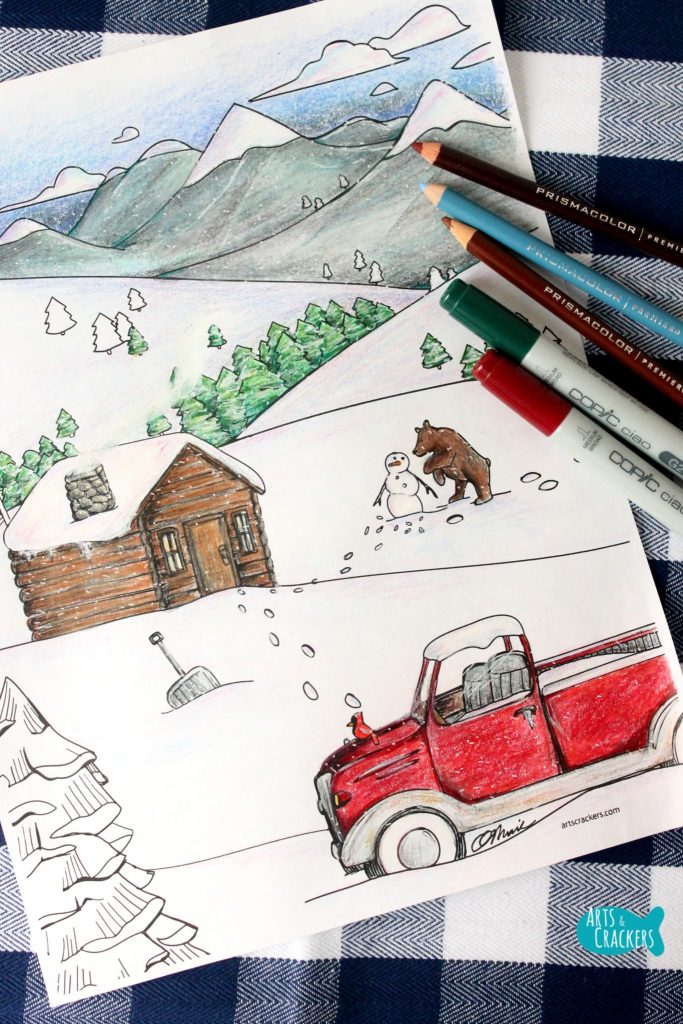 This Snowy Mountain Country free adult coloring page is one I will actually complete and frame. I hope you love it!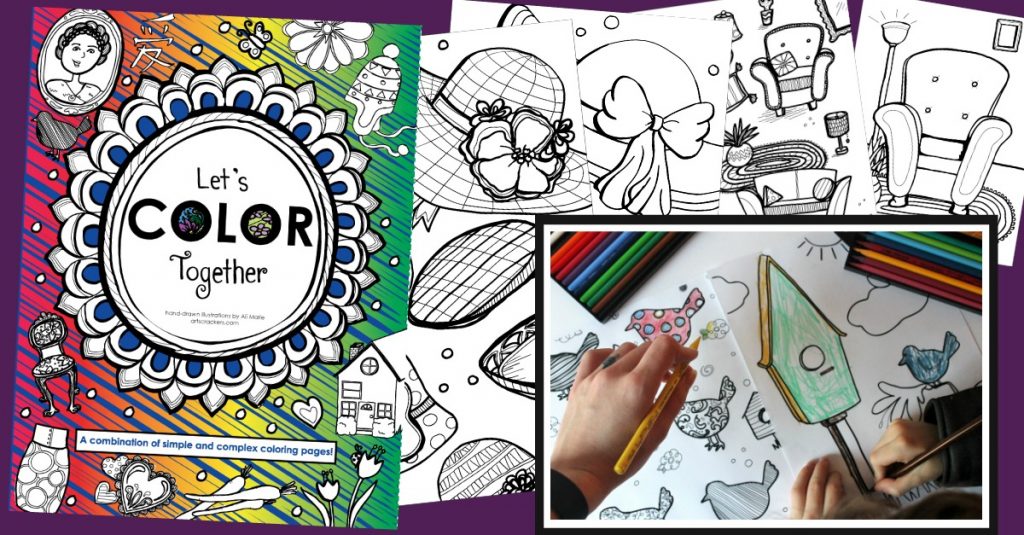 Be sure to check out my very first coloring book! You can purchase this in my online store or printed-and-bound on Amazon. Use it as an adult coloring book or color with someone else–a kid, deployed loved one, someone at the nursing home…more ideas and information as well as how to purchase at artscrackers.com/lets-color-together/.

Know what would make me 'snow' happy? If you would decorate your world of friends and family with the with the news of this free adult coloring page! You can share on social media, in an email, by word of mouth…I'd also love for you to share your completed pages with me, either to [email protected], on my Facebook, tag @Artscrackers on Instagram or @AlyssaDarbyBlog on Twitter with the hashtag #ColoringTribe, or share in our Coloring Tribe Group! Seeing these pages enjoyed and colored by others makes it all worth it.

Keep reading for more FREE printable Snow-themed adult coloring pages!
Don't forget you can shop the Arts & Crackers store for more great coloring pages!
Read also: Let's Color Together New Coloring Book Release Update and Winter Cardinals Christmas Coloring Page

This coloring page is part of a blog hop with my "Coloring Tribe"! Once a month we will each bring you a FREE detailed coloring page on a different topics. Join our Facebook group here to share your awesome colored pages!



If you loved this coloring page, you will also love these free coloring pages from my friends:
Stick around and be sure to subscribe for more coloring pages and other great goodies!
Sign up to be the first to hear about new free coloring page printables, the launch of my coloring book, and even get a few exclusive coloring pages here and there!