Halloween is just around the corner. While we don't personally celebrate, I do love handing out goodies and we let the kids dress up and go around the block. Sometimes we will have visits from furry friends. Some like to hand out treats to the dressed-up doggies too, so here is a fun Halloween printable sign for animal lovers and those who will have dog treats available.
A lot of people we know with furry friends love to dress them up in cute costumes for trick-or-treating. When we had our cat, he loved to wear outfits. One year we dressed him as a skunk. Growing up, I loved to dress my puppy. These days, when we visit the pet store there are tons of costumes for dogs of all sizes. Pet owners are really getting into the dress-up season.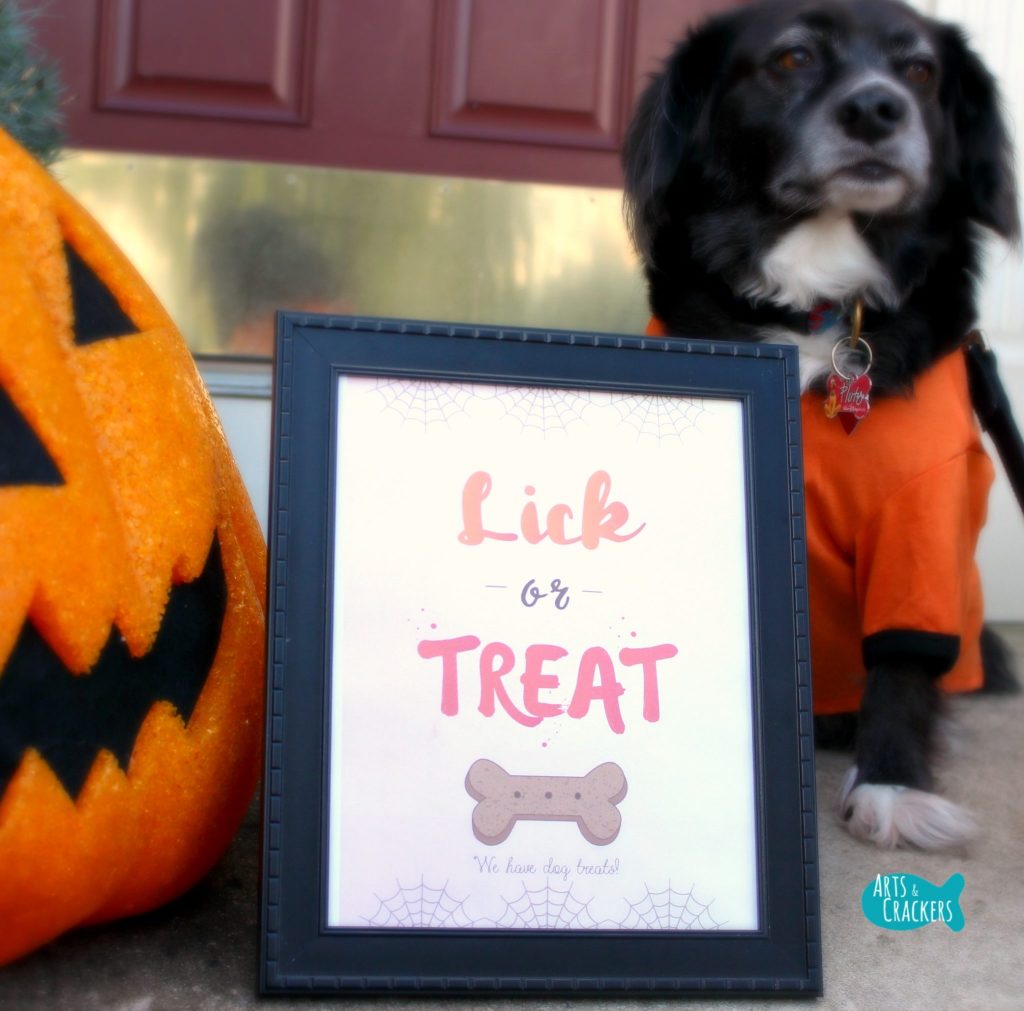 Thanks to Sunny Day Family for the pictures with her adorable puppy! Check out her site!
"Lick or Treat" Halloween Printable Sign for Dog Lovers




This Halloween printable (or should I say…Howl-oween) has multiple uses. Actually, it comes in two styles (one has extra words on it.).
You can use it as a decoration.
Frame it and let it grace your mantel (or shelf, or desk, or wall…). It makes adorable wall decor and will be a cute addition to your dog's living space. Surround it with candles, pumpkins, cobwebs…get creative.
You can use it as a trick-or-treat sign.
Let people know you have dog treats available in addition to the treats for the kiddos. There are areas where a lot of dressed-up pets are visiting door-to-door. If you like to offer treats, set this sign out with a bucket of treats. One version includes "We have dog treats!" on the bottom letting visitors know dogs are welcome.
This printable fits size 8×10 frames. Cut off the edges to fit in your frame. I recommend printing on sturdy cardstock paper. The background has a gradient, so a printer at home may not give smooth color (mine is a pain with that sometimes.). If needed, bring your download to a local printer or office store to have it printed.
You can purchase this printable from my online store. I may add this to Etsy later, but I know it's a bit last minute this year. Psst…since this is up a little later than planned, I am charging only $1 for this fabulous print!
Read also: For Halloween, I Didn't Hand Out Candy…(Includes FREE Printables!) and Huge List of Allergy-Friendly Non-Candy Halloween Treats
Do you hand out dog treats for Halloween? Do you have a pet that dresses up and goes door-to-door with you? Where will you display this sign? Share with me in the comments!

Know someone who would love this? Hit the "share" buttons below! Be sure to follow Arts & Crackers on Facebook, Twitter, Pinterest, Instagram, or the others at the top right!

Sign up for my newsletter!