Rainbow Chili is where it's at.
I love chili all year round, but sometimes the heavier, spicier chili isn't quite as good in the warmer months. I wanted a chili that is light, bold, fresh, and perfect for spring and summer, and this Rainbow Chili Recipe is perfect.
Beans always add some nice color notes to chili and I'll add some green peppers too usually, but for the most part it's not the most colorful dish around.
Spring especially is all about colors.
Inspired by St. Patrick's Day and the rainbows galore, I wanted to make a rainbow chili. It still had to have the flavor and consistency of chili, but I wanted it to be so much more to the palate and a tasty sight to the eyes.
That meant a lot of:
Colors
Flavors
Vegetables
Textures
Anyone else eat chili just for the fun of it, or is that just me? Do you know what I like to do for late night snack time?
"Netflix and chili"
Now that's a mom's idea of relaxation.
My Rainbow Chili recipe had to have all the colors of the rainbow. This soup had to be loaded with nutrition. It looks high-end, tastes delicious, and is even kid-friendly!
I had to remind myself of all the colors of the rainbow…ROYGBIV–red, orange, yellow, green, blue, indigo, violet.
The last three were a bit more challenging and I may or may not have skipped actual blue, but look at this colorful spread I came up with!
Make this for St. Patrick's Day or an any day treat. It's sophisticated enough for adults and fun for kids. My boys ate it right up…all those vegetables. I had my oldest tell me what colors he could find and he thought that was pretty cool.
Pssst…get your FREE PRINTABLE recipe cards at the bottom of this post!
First you will want to prepare the ground meat.
Heat up some olive oil in a large pot and saute some garlic and onion.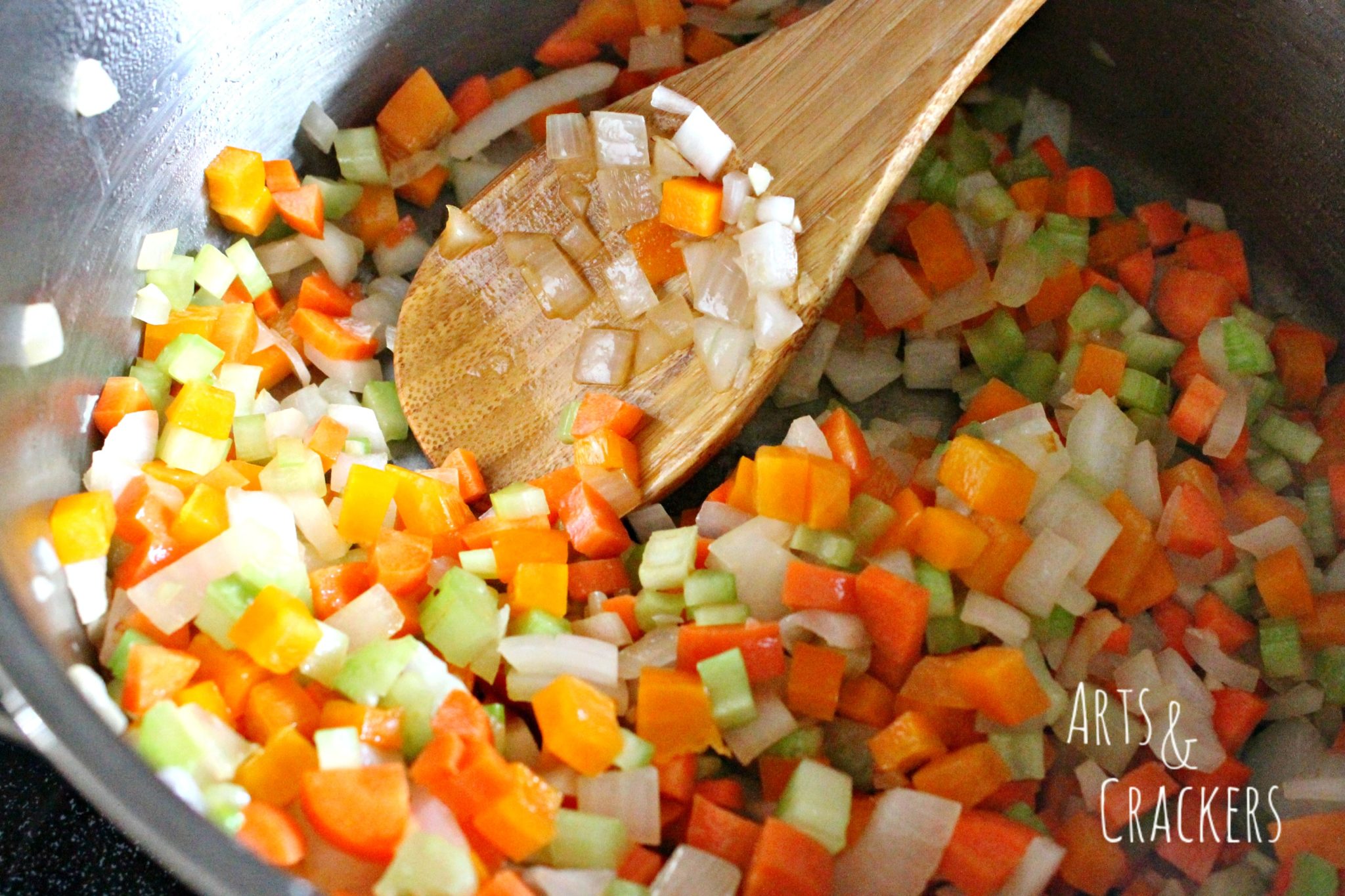 Add in the carrots, celery, and orange pepper. Smell that?
*Closes eyes, breathes in deeply, and smiles*
As if that delicious smell wasn't enough, let's make it really cheerful and add in the seasonings!
Stir in the tomatoes, tomato juice, green pepper, corn, and the secret ingredient needed in all chili recipes–
 
chocolate.
Let it simmer. Oh, I wish I didn't have to wait for it to cook!
Meanwhile, you will want to prepare the cabbage in another pan so you can turn it blue. This is also how you can make natural blue food coloring, so you can reduce the liquid and set it aside as food coloring afterwards!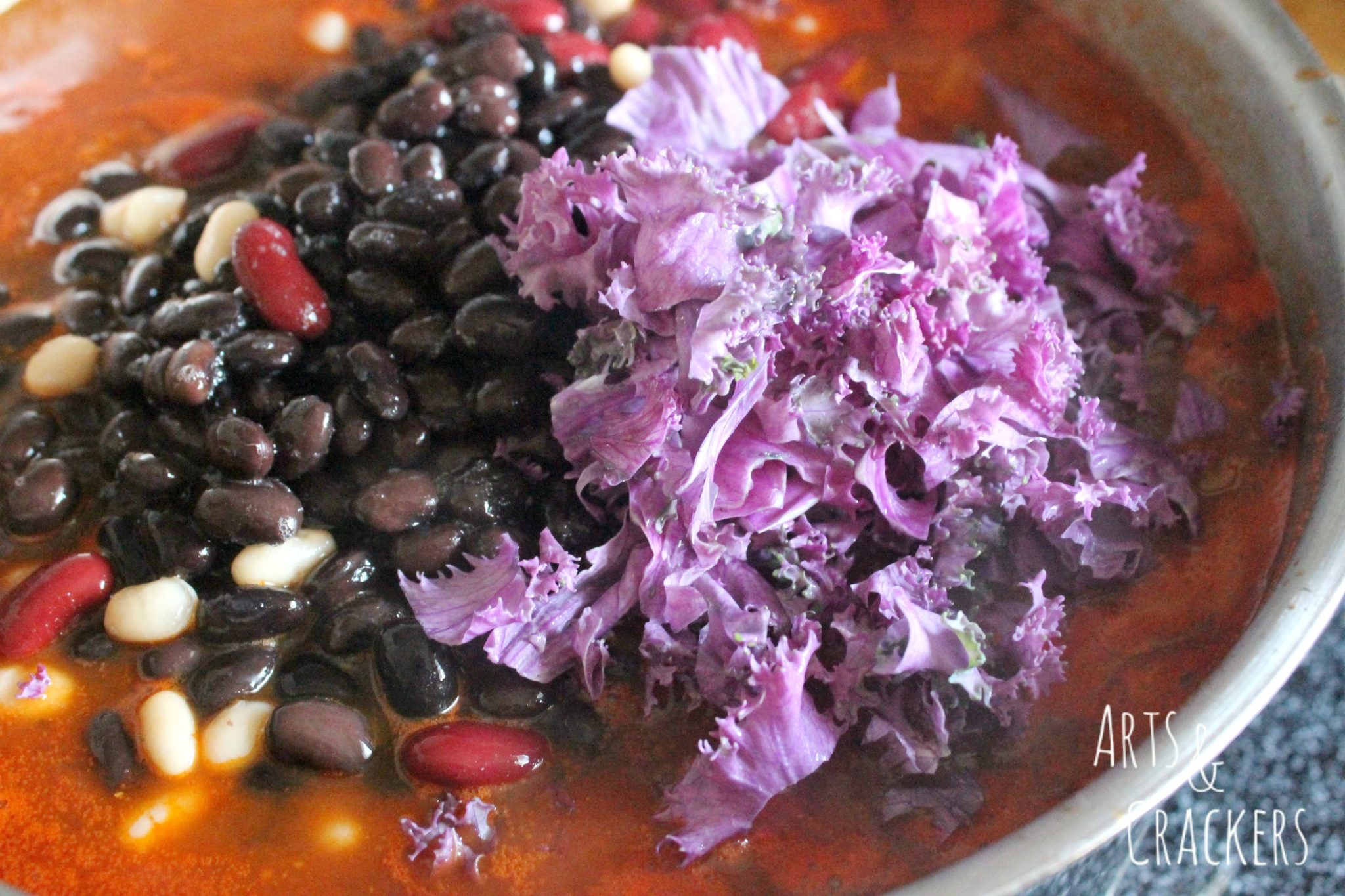 Back to the chili. That pot is getting pretty full, but we've got more to add! Time for the beans, purple salad savoy, and the ground turkey/beef. The salad savoy will have just enough time to wilt so it is not crunchy when you eat it.
Once you're ready to serve, stir in the cabbage.
Add noodles if you wish (I love noodles in my chili, but I prepare them on the side so they don't get mushy and so everyone can choose if they want them or not.) Like to top off your chili? Add some cheese!
If you're like me, this won't be spicy enough. I keep it to a lull of spices for the sake of my kids then I stir some delicious Tabasco sauce into my personal bowl.
For more fun, we served it with our awesome Nessie ladle! We love ours. You can get one for yourself here!
Okay, so it's not a literal pot of gold at the end of the rainbow, but this recipe is pure gold in a pot of rainbow colors.
 
Grab your recipe cards! These already have the chili recipe on two of them, so you are all set! Blank ones included.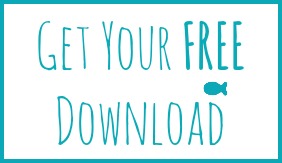 Download Your Free Recipe Cards
Rainbow Chili Recipe
A deliciously colorful chili recipe--sophisticated for adults but appealing to kids!
Ingredients
1.5 lb ground turkey/beef
1 Tablespoon olive oil
2 cloves garlic, minced
1 small onion, chopped
2 carrots, chopped
2 celery stalks, chopped
1 orange pepper, finely chopped
1 teaspoon paprika
1 teaspoon chili powder
½ teaspoon cayenne pepper
½ teaspoon basil
salt & pepper
1 regular can petite diced tomatoes
1 green pepper, chopped
1 cup yellow corn
1 teaspoon dark chocolate chips
1 large can tomato juice
1 cup red cabbage, chopped
pinch of baking soda
1 can black beans, drained and rinsed
1 can navy beans, drained and rinsed
1 can red kidney beans, drained and rinsed
½ cup purple salad savoy, chopped
Ditalini noodles, cooked (optional)
Shredded cheese (optional)
Tabasco sauce (optional)
Instructions
Prepare the ground turkey/beef and remove excess grease.
Heat the olive oil in a large pot and add in the garlic and onion. Saute 3 minutes.
Stir in the carrots, celery, and orange peppers and saute an additional 5 minutes until tender.
Mix in the seasonings.
Pour in the diced tomatoes, green pepper, corn, chocolate chips, and tomato juice. Bring to a boil then reduce heat and simmer 15 minutes.
In the meantime, boil the red cabbage in a small pot of water until the desired texture. Remove from the heat and sprinkle in a tiny bit of baking soda until everything turns blue. Be careful not to add too much or it will turn green. Once it's blue, remove the cabbage from the liquid and set aside. If desired, continue reducing the liquid in the pan to make food coloring for a later recipe.
Back to the soup. Mix in the beans, salad savoy, and ground turkey. Continue cooking about 10 minutes until the peppers are tender.
Remove the soup from the heat and stir in the cabbage. The cabbage will gradually change colors, since the soup is acidic, so don't be surprised if it doesn't stay the bright blue color.
If desired, top the soup with cooked noodles, some cheese, or extra red pepper sauce.
Read also: Pork and Bean Soup with Kale Recipe and Chicken and Lentil Bowl with Collard Greens Recipe
I would love to hear from you in the comments below–Do you love chili? What is your favorite time to eat chili? Do you like it spicy or sweet?