This shop has been compensated by Collective Bias, Inc. and its advertiser. 
All opinions and recipes are mine alone. #FallWithATwist #CollectiveBias
The oven is on and the sweet smell of onions, garlic, spices, and vegetables is filling up the chilly air. Mmm…Thanksgiving. My favorite Thanksgiving comfort food is stuffing. Here's my dilemma: my grandma is coming to visit and is on a vegan diet for health reasons. I want her to be able to celebrate Thanksgiving with us, even if she is coming a little before the holiday. Now, I am not on a strict vegan diet, so I need all the help I can get! I heard she loves MorningStar Farms products, so I decided I would make delicious stuffing that is not only vegan, but also a nearly-complete meal in and of itself.

I got to thinking…how can I make stuffing a [nearly-complete] meal while keeping it vegan? It needs a protein, dairy (or something with calcium), grains, vegetables, fruits…the whole pyramid. Inspired by my Chicken Nugget Gourmet series and the delicious Chick'n Nuggets from MorningStar Farms, I decided to use their vegan chicken nuggets in my family-friendly side dish. These, as well as the bread and flax meal, contain calcium. There are vegetables mixed in, as well as nutrients in the vegetable broth. I even tossed in an apple for good health, since chicken and apples is a popular combination.
I tend to snack while I cook. It's a big problem of mine. To prevent myself from eating all the ingredients meant for the stuffing, I also picked up a box of their buffalo wings. Oh, they were so good. Spiciness was on point. Even my husband enjoyed them, and he's a meat-and-potatoes kinda guy.
Ingredients
1 loaf vegan whole grain bread, cubed and left out overnight or until stale, but not hard*
2 Tablespoons olive oil
1/2 cup onion, diced (I used white)
1 clove garlic, minced
3/4 cup celery, diced
Salt and pepper to taste
2-3 cups vegetable stock (I used this recipe from Oh My Veggies and it's great!)
1 small-medium apple, about 1 cup, peeled and diced (I used a fuji apple…or green apple…whatever type you like works.)
1/2 teaspoon dry sage
1/2 teaspoon dry rosemary
2 sprigs fresh parsley, minced
6 MorningStar Farms Chick'n Nuggets, cooked
1 flax egg (make by combining 1 Tablespoon ground flaxseed/flax meal with 2-1/2 Tablespoons of water)
*You can find out if the bread is vegan or not by reading the ingredients label. Eggs? Not vegan. Milk? Not vegan. Cheese? Not vegan. Meat? Not vegan…and probably a really interesting loaf of bread….I've found most breads that are vegan have flax meal listed instead of eggs.
Directions
Preheat Oven to 350°F
1. Prepare the flax egg by combining the water and ground flax meal.
2. In a medium saucepan, heat the olive oil then add in the onion, garlic, celery, salt, and pepper. Saute about 5 minutes, until everything is translucent.
3. Place the bread into a large bowl.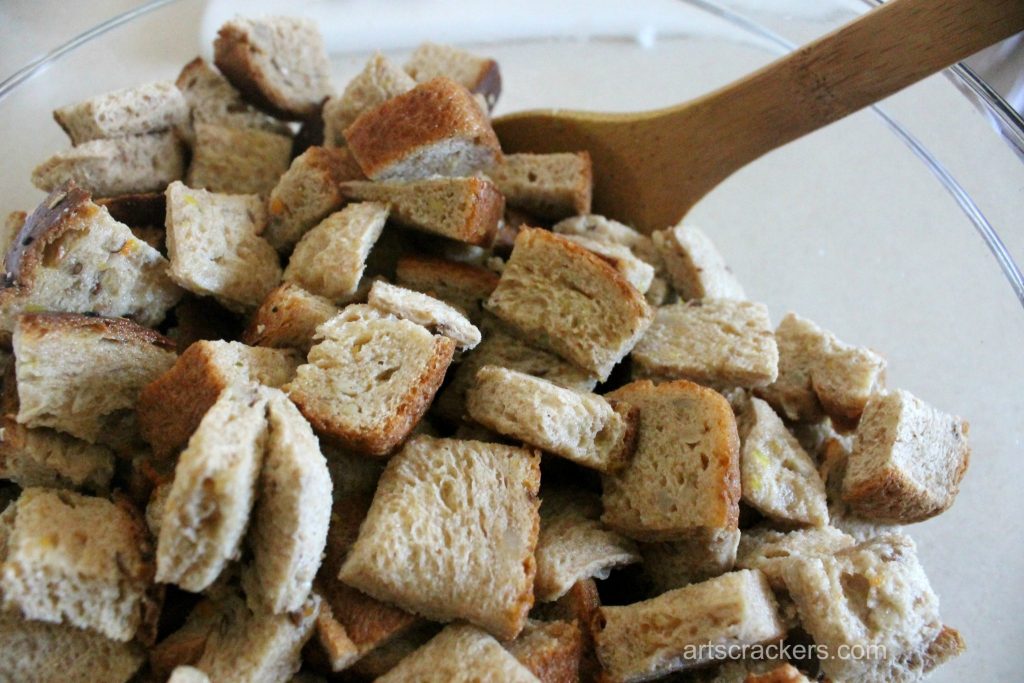 4. Cut up the Chick'n Nuggets and add them to the bread.
5. Add the broth (I started with 2 cups and added more later to get the proper consistency), apple, sage, rosemary, parsley, nuggets, flax egg, and cooked vegetables.
6. Fold together carefully. If needed, add some more broth until everything is damp and sticky, not too wet and not too dry.
7. Transfer the mixture into a nice casserole dish.
8. Cover the dish with foil and bake for 45 minutes. Mmm, smell that savory scent coming from the oven?!
9. Remove the foil, increase the oven heat to 400°F and cook another 10-15 minutes until the stuffing has a nice browning on the top.
Serve warm.
Some possible reviews you could give this Thanksgiving dish:

"This dish is so stuffing, I had a very satisfied stomach when I finished eating."
"So yummy, you'll be stuffing it in your mouth."
"This is the stuff, right here."
What is your favorite Thanksgiving comfort food? Have you ever tried MorningStar Farms products? Which would you like to try most? I'd love to hear from you in the comments below!
Know someone who could use this? Hit the "share" buttons below! Be sure to follow Arts & Crackers on social media (buttons at the top right of the page.)
You May Also Like