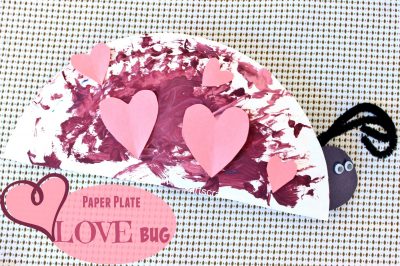 I found a stash of paper plates that were not being used, so we decided to do a fun Valentine's Day craft! When I was little, I remember doing a lot of love bug crafts, so this was the perfect time to make a Paper Plate Love Bug with my son!
What You Need
Paper plate
Glue
Staples (optional)
Black construction paper
Black pipe cleaner
Googly eyes
Pink and purple paint
Paintbrush
Pink construction paper
Scissors
Directions
1. Cut out shapes from the construction paper–a head for the love bug from the black and hearts to decorate from the pink.
2. Fold and glue/staple the paper plate in half. Leave a small opening so you can attach the head and antennae.
3. Slide the head and antennae into the open part of the paper plate then glue/staple down.
4. Carefully curl the antennae to make spirals at the ends.
5. Paint fun designs on the bug using the pink and purple paint.
6. Glue the googly eyes onto the love bug's face.
7. Glue the cutout hearts all over the bug's body to make spots.
Bonus tip: You can decorate your bug even more by adding glitter, sequins, or big kissy lips!
You May Also Like
-Who will you give your love bug to?
Written by Alyssa Darby
This post may contain affiliate links and sponsored ads; using these links helps support my blog and my family. Money earned goes towards tithe, coffee to keep me sane, and then placed into savings towards our dream of buying a house and homesteading. Thank you for your support! Content from my site may not be copied, used or repurposed, and all rights belong to Arts & Crackers; however, if you are doing a roundup post, you may included one watermarked "finished product" image with a direct link back to the coordinating post (do not hotlink); I appreciate when notice is given to me ahead of time or specific permission requested. Have questions? Contact me at alyssa@artscrackers.com.