When I was growing up, my mom had us make Valentine's Day Collage Hearts each year and it was one of my favorite Valentine's Day activities. I knew it was something my boys would love too, so we had an art day and made some to share with you!
These are a simple Valentine's Day craft to make and make a fantastic classroom activity or last minute Valentine's Day art activity. Gather together a few supplies and you're ready to go!
These Valentine's Day Collage Hearts make for an awesome learning activity. Not only do they teach collage art concepts, but it also helps with fine motor skills, wrist strength, picture or word identification, shapes, and creativity. Your child will have the ability to express himself or herself by creating a collage of things he or she loves.
Valentine's Day Collage Hearts Art Activity
Can you find the hidden fish crackers?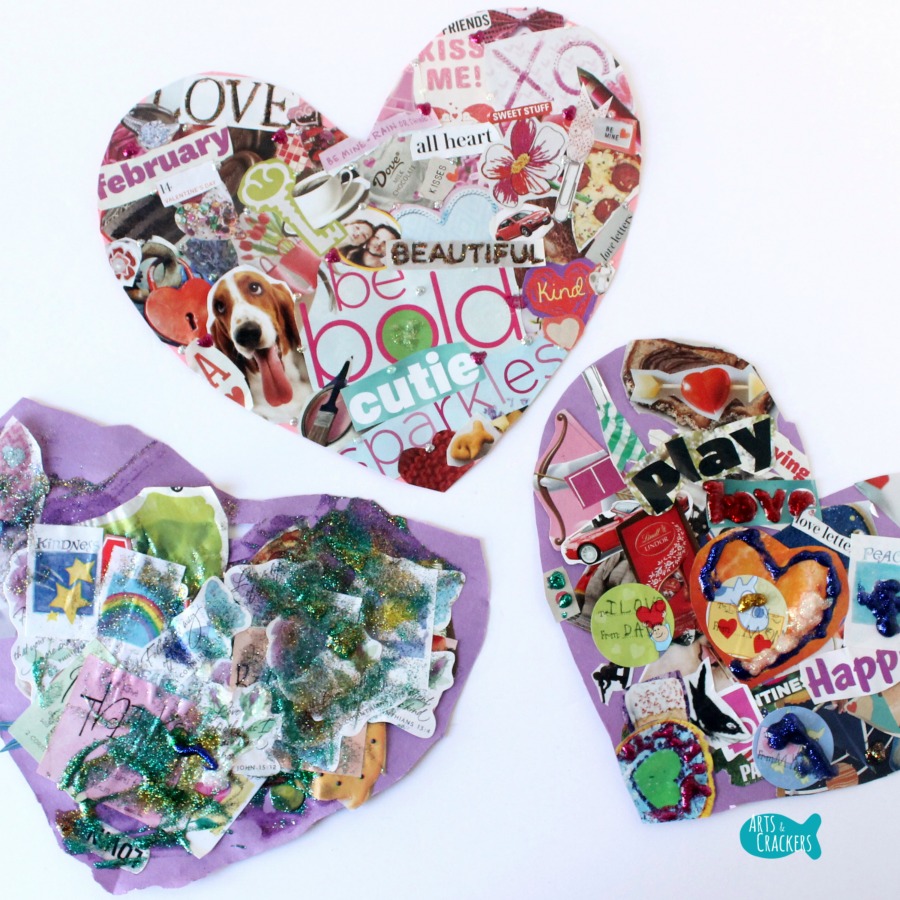 Supplies Needed
Magazine clippings/newspaper clippings/store ad clippings/old book clippings
Stickers (optional)
Scissors
Other decorations (optional)
Decoupage glue (to seal, optional)
Directions
1. Grab the kids and sift through magazines (we subscribe to free family ones–this is a great way to upcycle magazines), newspapers, store ads, and old books to find various Valentine's Day-related items or things you love. We cut out flowers, hearts, words, puppies, and even food. We cut out a ton then chose our favorites later. Not all were used.
S really got into cutting…
2. Fold a piece of construction paper in half and draw half of a heart along the folded edge.
3. Have the kids carefully cut out the heart. I let both cut theirs out without help. S used special safety scissors as he has a difficult time with cutting still (this is great practice!).
4. Using the glue stick, add some glue to the back of your magazine clippings. Let the kids choose which ones they want and put them wherever they want. You can also use decoupage glue, like Mod Podge, for this part, but glue sticks are easier for littles.
I did encourage my boys to put the larger ones on the bottom and fill up with the smaller ones so they made sure their favorite ones were showing on the top, but ultimately I gave them full creative freedom on this.
If needed, help them glue down edges so everything lays flat.
5. Trim the edges of the heart where the clippings hang over the edge.
6. Decorate your heart a bit more! You can use stickers, or glue on rhinestones or buttons or even use some washi tape.
7. Can't forget the glitter glue! S added piles of glitter glue, so we scraped the piles across the heart to add a glitter coating to the whole heart.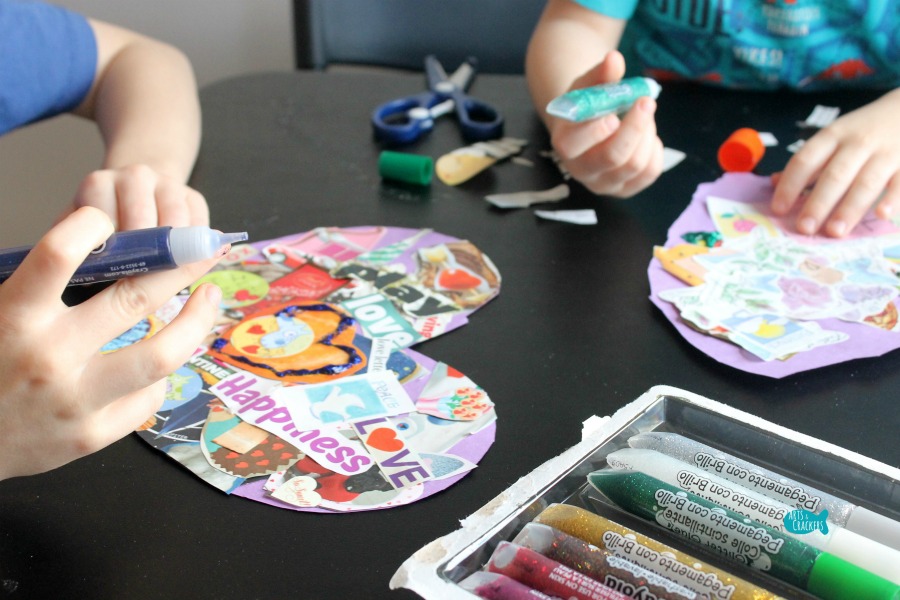 E went over some of the words with glitter. I thought it was such a great idea, I did that for a couple of mine as well!
8. Let it dry completely. Drying times will vary depending on how much glue has been used.
Optional: finish your project by sealing with matte or glossy finish decoupage glue. Simply brush on a thin layer to cover the whole piece and let it dry completely. This will offer your project protection, and help any loose clippings to stay a bit better.


Display your Valentine's Day Collage Hearts for everyone to see or give them to a loved one or a friend!
My boys are so proud of their Valentine's Day art. They did an amazing job!
This Valentine's Day Collage Hearts art activity is great for all ages. My toddler enjoyed it, my 1st grader enjoyed it, and I enjoyed it! Even teenagers will enjoy this! Express yourself or make a special collage heart for someone you care about.
These make great keepsakes, too. Frame them to display them!
Who will you share these Valentine's Day Collage Hearts with? What is your favorite Valentine's Day memory? Share with me in the comments!
Read also: Cupid's Arrow String Cheese Valentine's Day Snack Idea and DIY Paper Plate Love Bug for Valentine's Day