Something that I really struggle with is socialization. In person, I am usually very awkward and have no clue how to start or continue conversations with people, so Conversation Starter Hearts for Valentine's Day can be so helpful!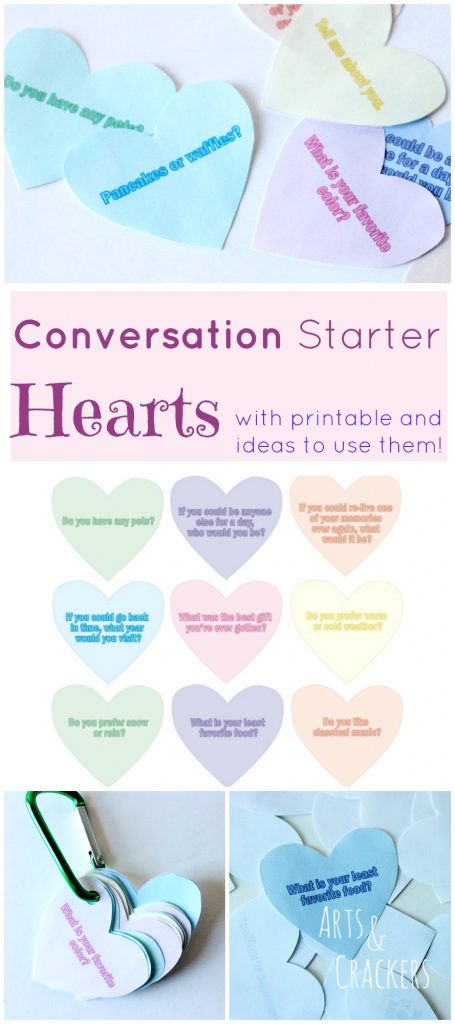 If you were around last year, you may have read my post "Not Loving Valentine's Day? Consider This…." One thing I want to do for Valentine's Day is make it about others–I want to strike up a conversation, get to know someone, make them feel special. Unfortunately, with my lack of conversation ability…
This is incredibly difficult for me.
So, what am I to do?
I am always thinking about how conversation might be easier for me if I had a little push…if I knew what to say to get people talking. Conversation starters.
Pssst…I'll share great ways to use them, too!
Speaking of conversation, I really love Valentine's conversation hearts candies. There is just something about that taste that makes me feel like a kid again…really, I'm not sure why I'm addicted to them, but I am (a specific brand, of course.) Each year, I enjoy reading the little notes on the candies (and seeing how they change over the years and with new technology and lingo.)
Conversation hearts…conversation starters…what if I made super fun and cute Conversation Starter Hearts?! They would look like the candies, but have questions to get conversations started with loved ones or even total strangers.
Of course, I didn't want to just leave you with these hearts as they are; I decided I should give you a few ideas of how you can use these on your own, in a classroom setting, on a date…it'll be a fun experience and great way to get to know people a little more.
I recommend printing these cards on cardstock so they are sturdier.
Keep scrolling for fun ways to use these!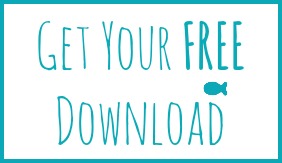 Some of these conversation hearts are better suited for young children and some are deeper and better suited for older children and adults. Many of these questions you can follow up by asking the person to explain why. Why is green her favorite color? Maybe you will find out it's because she loves spring and has fond memories of playing in the grass!
Idea #1: One a Day
Pick one card each morning and ask it to a handful of people you talk to throughout the day. Who knows where these conversations will take you! You might make a brand new friend.
Idea #2: Conversation Keychain
Use a hole puncher and add a hole to the corner of each of the cards. Slide them onto a small, thin carabiner. Carry this around with you. If you see someone you'd like to talk to, find one of the conversation starters you like, walk up to the person you'd like to talk to, and strike up a conversation! Be a blessing to someone! Maybe it's that person at church you've seen but never talked to or that mom that always goes at the same time to pick her kid up from school…
Idea #3: After School Conversations
When your child gets home from school each day, ask one of the questions from the cards. Some you will know the answers to, some will change, and some will allow you to learn something new about your son or daughter.
Idea #4: Classroom Game
This will work in non-classroom settings too. Set out all the conversation hearts upside down in the center of a table. Everyone takes a turn picking a card and asking a question. This question can be asked to a certain person in the room or for the whole class to answer. Everyone should get asked an even number of questions so everyone can participate. This is a great way to get to know classmates and even the teacher and teacher's assistant!
Idea #5: Date Night Game
Whether you or your child is on a date with a boyfriend or girlfriend or if you're on a date with your spouse, this would be a fun way to get to know each other or see how much you know each other. There are two ways you can play.
1) Split the cards in half…you get half and your date gets half. Take turns asking each other the questions on the cards.
2) Put the cards in a pile and take turns grabbing one off the top. Ask the question to your date (this would work better with your spouse) then each of you write down an answer–your spouse the correct answer and you a guess to what you think will be the answer. If you get the answer right, you get a point. At the end, the person with the most points wins…a box of chocolates…or a kiss…you know what, winning isn't what really matters though; what matters is sharing that experience and those answers (and maybe those chocolates and a kiss) with your spouse.

I hope you have fun with these conversation hearts! Meet some new people. Learn things about the ones you love. Grow relationships and have a wonderful Valentine's Day!
If you love these printables, you will love these printable Seed Packet Valentines!
Know someone who could use this? Hit the "share" buttons below! Be sure to follow Arts & Crackers on social media (buttons at the top right of the page.)
You May Also Like
-Do you have a favorite conversation starter? Share it in the comments below! Did you try any of these conversation starters? How did it go? I'd love to hear from you in the comments.