This post is part of a social shopper marketing insight campaign with Pollinate Media Group® and Universal Pictures Home Entertainment, but all my opinions are my own. #pmedia #TrainYourDragonAtWalmart http://my-disclosur.es/OBsstV"

One thing that is very important to me is family time. We just finished purchasing our first home and moving into it, and we are still in the process of doing renovations, but we still make a point for family time in the midst of it all. I can say that my kids' favorite family time the past couple of weeks, by far, has been family movie night…and the cute "How To Train Your Dragon 3" Dragon Cupcakes we made to enjoy with the new movie!

We have already watched the first two "How to Train Your Dragon" movies, so we were very excited to see the newest. At Walmart, you will find the "How To Train Your Dragon 3 Walmart Exclusive DVD Gift Set" that we purchased. Plus, it comes with two Funko keychains! You'll also find some awesome "How To Train Your Dragon 3" apparel and toys, like E's t-shirt and S's Astrid & Stormfly toy!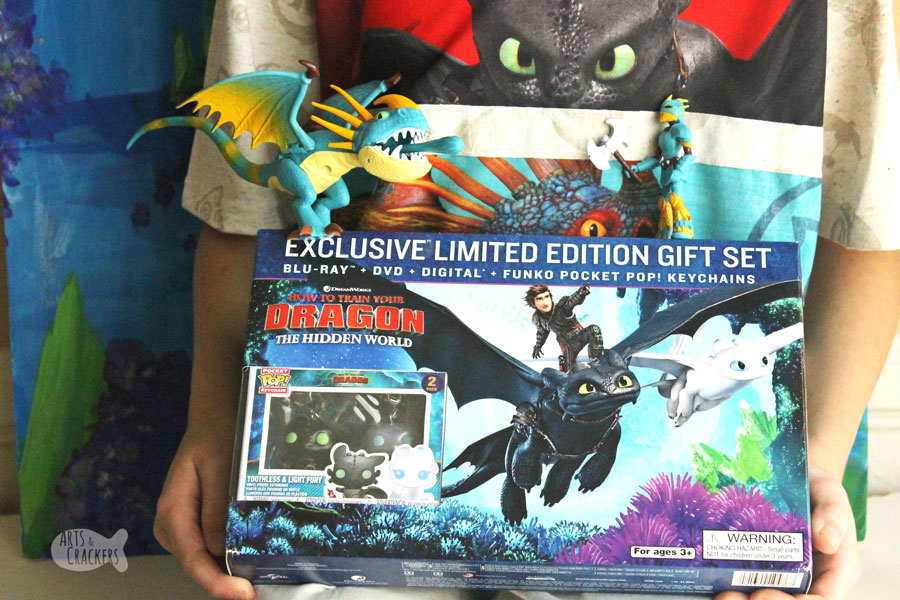 Did you see that "How To Train Your Dragon 3" introduced a new character? Yes, Toothless gets a girlfriend! She is a Light Fury, and we totally love her. One of my favorite parts of the movie is where Toothless discovers her; you can sort of understand the conversation between the two dragons just by their expressions, even though no actual words are exchanged! The kids kept laughing and laughing at how clumsy Toothless was around the Light Fury.
For our cupcakes, we wanted to celebrate the addition of this new character with Light Fury and Night Fury dragon cupcakes, and I'm going to show you how to make them!
"How To Train Your Dragon 3" Dragon Cupcakes for Family Movie Night
Ingredients & Supplies:
Chocolate cupcakes (with black liners)
Vanilla cupcakes (with white liners)
Chocolate frosting (the darker the better)
Vanilla frosting (a white and fluffy version)
Regular marshmallows
Mini marshmallows
Black gel food coloring
Black edible spray (optional)
Black edible gel tube
White edible gel tube
Lime green chewy candy (like chewy fruit rolls or Frooties)
Blue chewy candy (like Frooties) or blue fondant (or white fondant with blue food coloring)
Plastic icing bags
Icing spatula
Clean kitchen scissors
Here's how to make this adorable Toothless cupcake:
1. First, you will want to prepare black frosting. The easiest way I have found to do this without making it look speckled and gray is to add black food coloring into chocolate frosting. Stir in a little at a time until you get the black color you want.
2. Scoop the black frosting into a plastic frosting bag and cut off the tip. Squeeze and swirl around the cupcake until most of the cupcake is covered. Spread smooth using the spatula. Note: you do not need to add a thick layer of frosting, just enough to cover the cupcake.
3. Cut a large marshmallow in half on an angle to make two big ears, then place them at the top of the cupcake. Cut two mini marshmallows on an angle and place two halves on either side of the face underneath the ears. Cut one more mini marshmallow on half the long way and place the two pieces at the top between the ears.
4. To cover the rest of the cupcake, you can either pipe more of the black frosting over the marshmallows and smooth it out with the spatula, or you can carefully spray a later of black edible spray. You can see that I tried both options. The frosting wasn't much more work, so that is my recommended method since it isn't as messy, but either works.
5. Cut small pieces from the chewy green candies and form them into eye shapes. Place the eyes on the cupcake then use black edible gel for the pupils and to make some spikes on Toothless's forehead and give two nostrils. If desired, add a tiny dot of white food gel onto the pupil to make it look like his eyes are shining.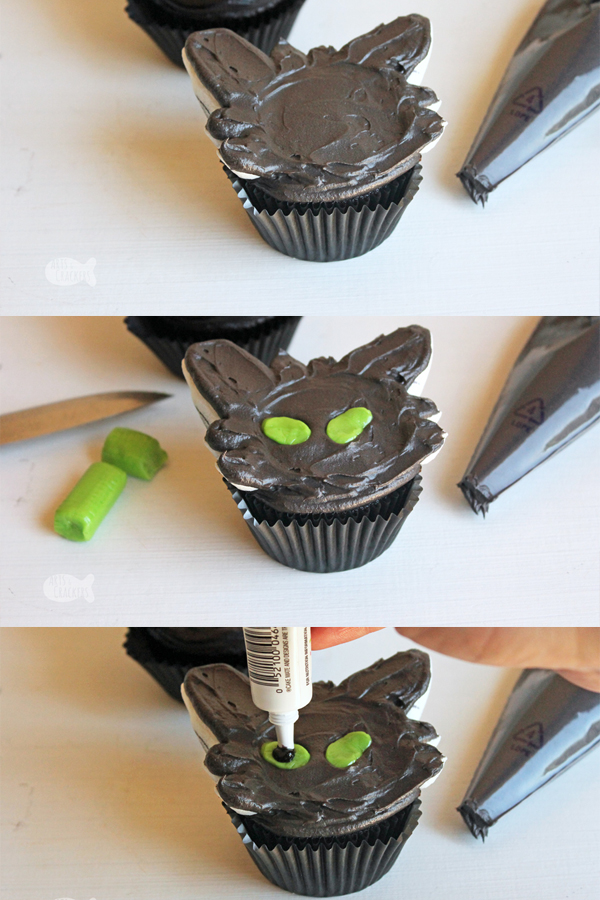 Here's how to make this adorable Light Fury cupcake:
1. Just as with the Toothless cupcakes, pipe a layer of white frosting onto a vanilla cupcake and spread it out smooth.
2. Cut a regular marshmallow in half on an angle and a mini marshmallow in half on an angle, then add at the top and sides of the cupcake as shown.
3. For her eyes, I shaped white fondant, colored with blue gel food coloring, into the correct shape; you can also use blue raspberry chewy candy, buy blue fondant pre-made, or even pipe blue eyes with frosting or gel.
4. Add black edible gel for the pupils, a tiny dot of white gel (if desired) inside the pupil, and draw on some nostrils with white gel.
These "How To Train Your Dragon" Cupcakes were sure a hit, and they are simple to make! Set up a cupcake bar and let the kids assemble their own. These are also perfect for a "How To Train Your Dragon" birthday party or movie night with friends.
We loved the overall theme that you don't need to do this life alone. You can find others who will support you and encourage you and help you along, just like Toothless had his Light Fury and Hiccup has Astrid. And I loved how it showed that sometimes you need to make sacrifices and hard decisions and trust that things will work out.
Gather your baking supplies and head to Walmart and purchase the new release of "How to Train Your Dragon 3 Walmart Exclusive DVD Gift Set" today!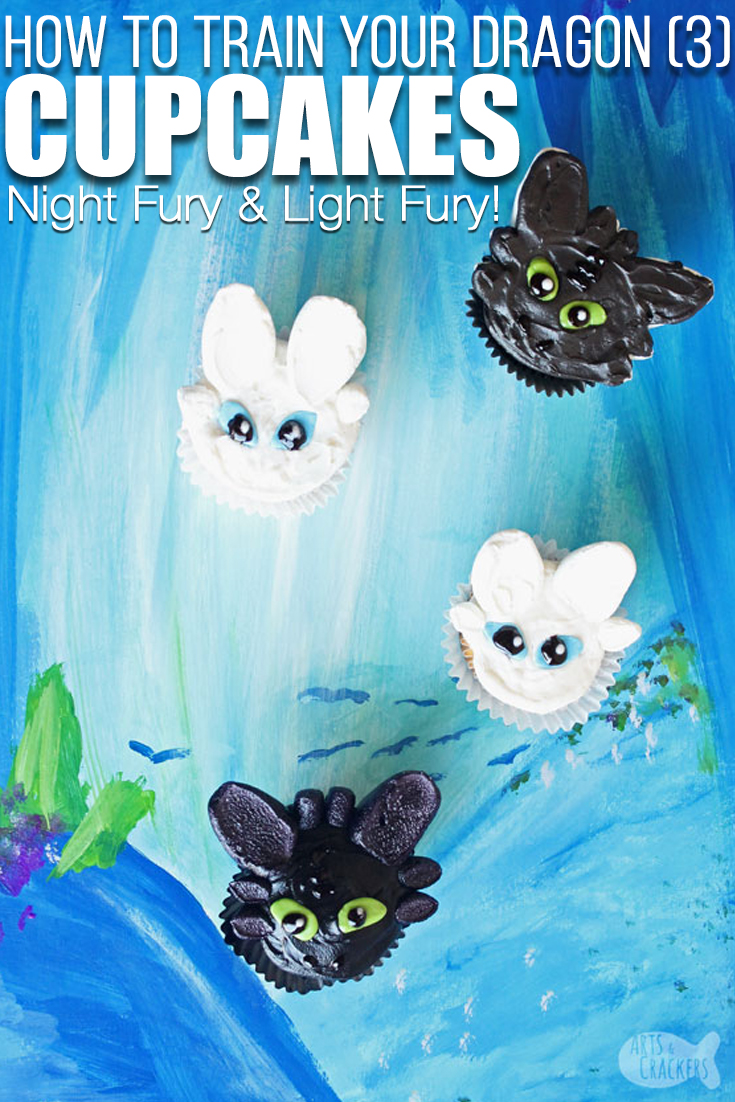 Read also: Tips and Ideas for Family Time At Home and On the Go and DIY Yoda Cupcakes
Looking for more? View these categories!