Growing up, I used to love orange cream pops, the Orange Julius drink, chocolate oranges, and cookies and cream milkshakes. Yum! This Chocolate Orange Cream Smoothie combines some of my favorite childhood tastes.

We are excited to partner with Torani® to make some tastes of childhood come to life. All opinions and recipes are our own. This post contains affiliate links; by purchasing through these links, you help support the family behind Arts & Crackers at no added cost to you! Thank you!
My chocolate orange smoothie recipe is a little bit closer to a morir soñando (a frozen orange + milk + sugar drink from the Dominican Republic) with added Torani Cookies & Cream Sauce, because I used real ingredients instead of concentrate. It is a nearly guilt-free dessert beverage, and I think it will quickly become one of your favorites.
You can find the new Torani Cookies & Cream Sauce at Walmart in the Cocoa or Ice Cream Topping sections. When I first heard of this delicious new sauce flavor, I planned on making a recipe for just my boys to enjoy, since I cut most gluten out of my diet…but this Torani Syrup is gluten-free!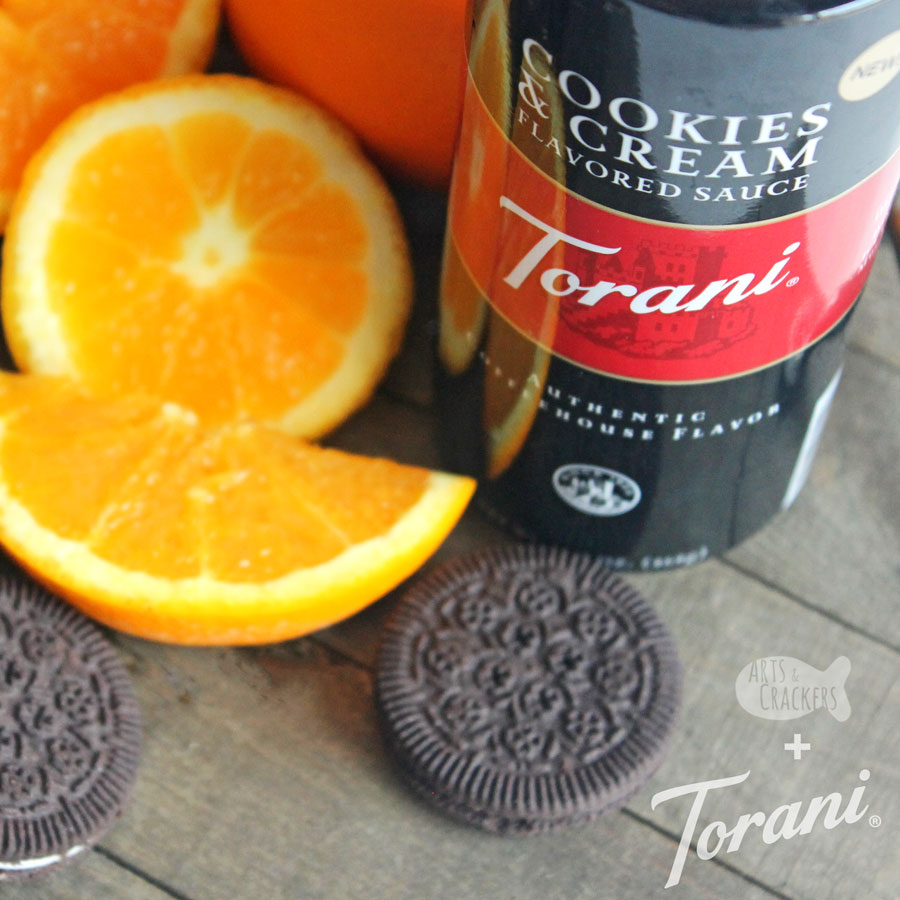 Torani Syrup uses real cane sugar and natural flavors. They are all about real ingredients, just like I aimed for in my recipe!
Chocolate Orange Cream Smoothie | Delicious Dessert Smoothie Recipe
Ingredients:
3 scoops vanilla frozen yogurt or vanilla ice cream (1 scoop per serving)
1 cup real orange juice, not from concentrate (1/3 cup per serving)
1-2 cups ice cubes, to desired consistency (a handful per serving)
6 tablespoons Torani Cookies & Cream Sauce (2 Tbsp per serving)
Slice of orange, for serving
Whipped topping (optional)
Here's how to make this tasty Chocolate Orange Cream Smoothie Recipe:
1. Scoop frozen yogurt or ice cream into your blender. If you are making only one serving, use the measurements listed above for a single serving. The more solid your frozen yogurt or ice cream is, the thicker the consistency will be. If you prefer your Chocolate Orange Cream beverage more like a milkshake, use firmer frozen base ingredient.
2. Add fresh orange juice and ice cubes. If you want a thicker consistency, you can also freeze a portion of the orange juice ahead of time and add them as "orange ice cubes." Just make sure you still add enough liquid that everything blends smoothly.
If desired, add a few more ice cubes for a thicker consistency.
3. Blend the mixture until it has a smooth consistency. Be careful not to over-blend, or the frozen ingredients may start to melt more, causing your drink to thin out too much.
4. Drizzle Torani Cookies & Cream Syrup around the inside edges of your serving glass. The containers make it so easy to drizzle the syrup where you want to. Let the syrup drip down for a pretty drip or marble effect.
5. Carefully and slowly pour your blended orange drink into the glass. If you pour it directly into the middle before the chocolate gets there, it is less likely to mix prior to serving.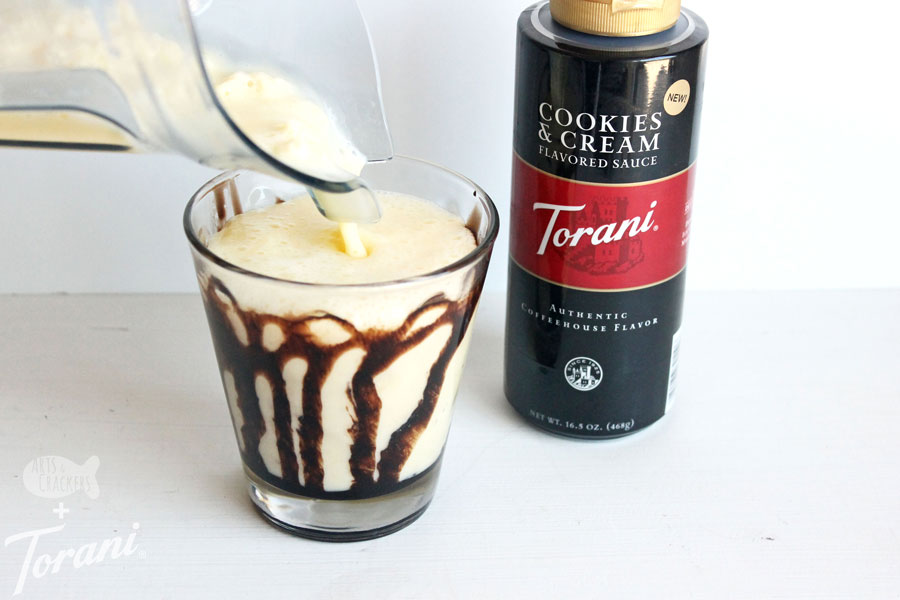 6. If desired, place a little whipped topping on your beverage. Top with a slice of fresh orange and add a colorful paper straw to finish it off.
7. Serve this delicious dessert smoothie immediately for the best texture. Enjoy the satisfying combination of chocolate cookies and cream, vanilla, and orange!
Torani Syrups are so versatile!
Drizzle them on top of or stir them into all types of beverages and desserts. Try it in your coffee or cocoa, on your ice cream, or even on top of a cheesecake. Yum! Watch for more recipes using Torani Cookies & Cream Syrup (because I couldn't just stop at one)!
Read also: "Mission Nutrition" Loaded Dairy-Free Blueberry Smoothie Recipe and Sunset Tropical Twist Sundae Recipe
Looking for more? View these categories!