Warm apple cider is one of my favorite drinks. I love to add spices as I heat it up in a slow cooker. I also love the flavor of apple pie…just different enough from spiced cider to change things up a bit. Our Gluten Free Warm Caramel Apple Pie Ice Cream Thanksgiving Punch Recipe combines these two fall favorites.
This post contains affiliate links. By purchasing through these links, you help support the family behind Arts & Crackers at no added cost to you! Thank you!
This delicious slow cooker drink is easy to make and is a tasty way to warm up during a chilly fall day. Serve it alone as a spiced cider, or top it with ice cream for a warm punch recipe.
Slow Cooker Caramel Apple Pie Punch has all the flavor of a traditional apple pie, but without the gluten. Everyone will enjoy it!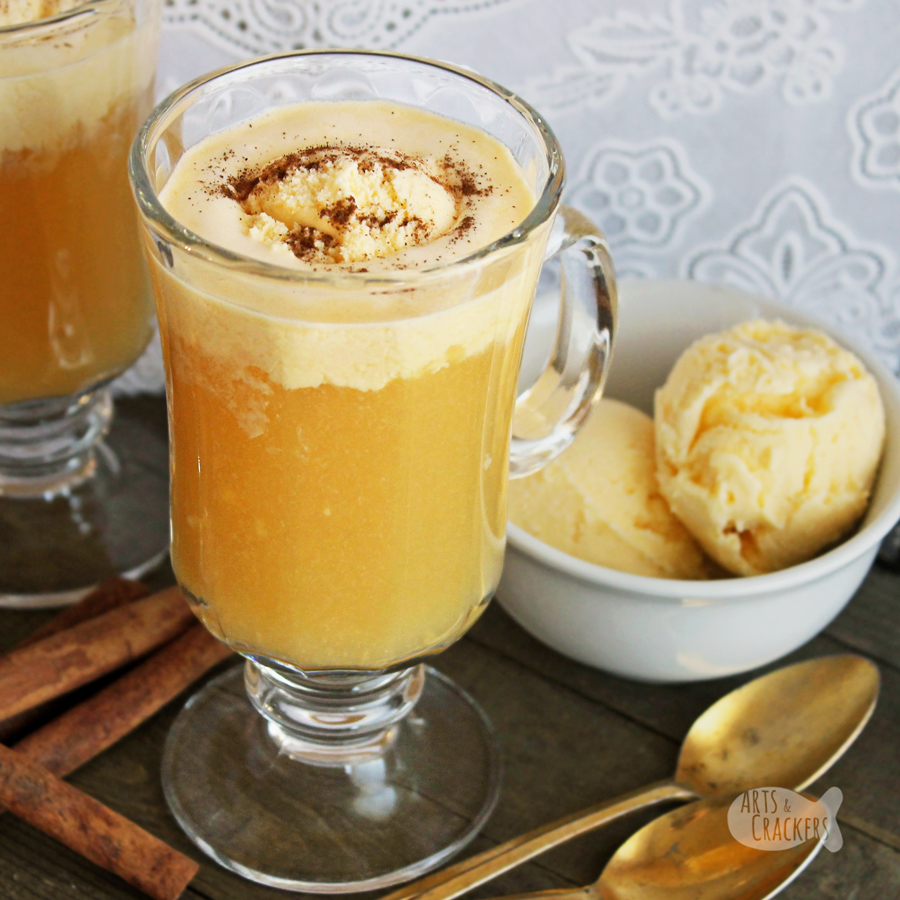 Warm Caramel Apple Pie Ice Cream Thanksgiving Punch Recipe
Ingredients
8 cups apple cider
5 caramel squares (The caramel squares can leave bits in your drink afterwards; these are fine to drink, but you may want to substitute 1/4 cup of gluten-free liquid caramel sauce)
1 teaspoon lemon juice
1-2 apples (organic is best), sliced horizontally so you can see the star
8 scoops vanilla ice cream (optional—leave this out or use dairy-free ice cream for a dairy free version)
Directions
Make sure all ingredients are prepared as needed. I used one small Granny Smith apple and one Golden Delicious apple. Wash the outsides very well with hot water. Apples are almost always coated in wax, and you don't want this getting into your drink. If you are worried about it, you can peel the apple slices. (I love my palm peeler.) They won't look as pretty, but they'll do the job! Remove the seeds.
In a large slow cooker, combine the cider, cinnamon, lemon juice, apples and caramel squares* (*NOTE: Wait until after your drink is heated if you choose to use liquid caramel sauce—this is my recommended option, as it should avoid bits in your cider drink.)
Heat on low for 2-3 hours, stirring occasionally, until warm and the caramels are melted.
If you do use the caramel squares get clumps and you're worried about it, even just because it doesn't look as pretty (like me), add a couple layers of cheesecloth to a small strainer and pour slowly through there as you serve.
Using the caramel sauce should hopefully prevent the clumps—stir in the caramel sauce at this point, once the caramel apple pie cider has heated fully, right before serving. Keep the slow cooker on "warm" to avoid over-cooking.
Once the Caramel Apple Pie Punch has heated fully, serve as is or add a scoop of ice cream while it's hot!
I enjoy mine as just the cider too, but adding ice cream makes it even more wonderful. If you want it to look pretty when you serve it, add a sprinkle of ground cinnamon to the top.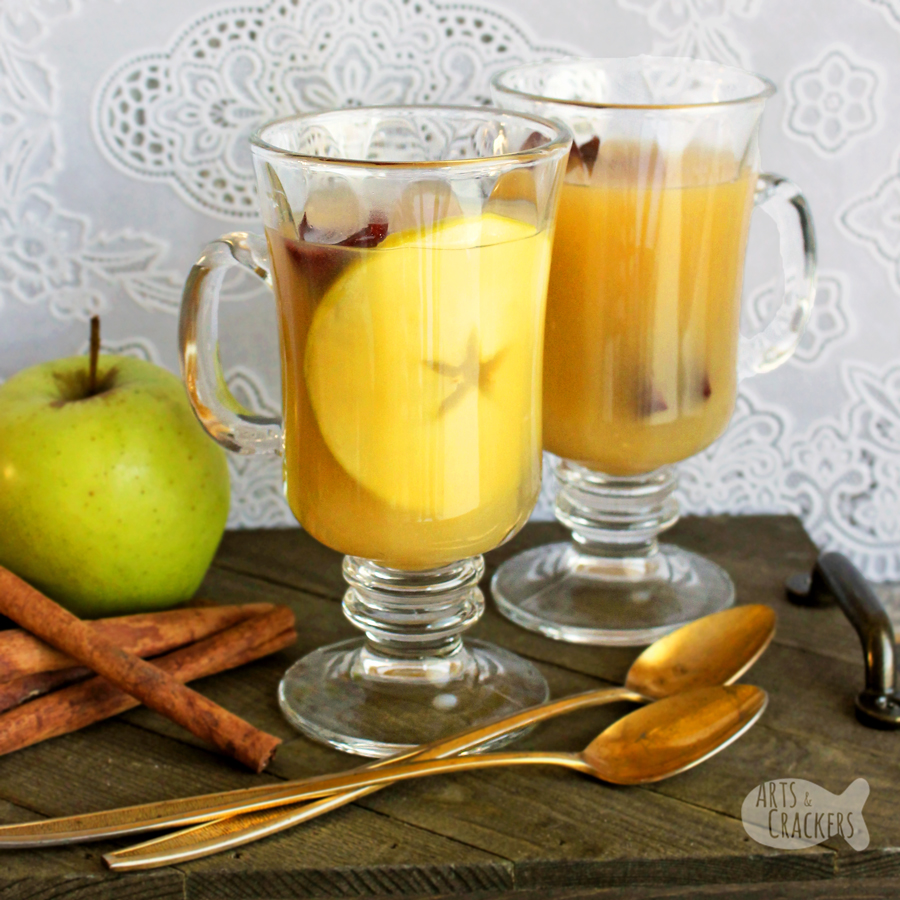 This Caramel Apple Pie Punch looks beautiful served in Glass Irish Cream Mugs!
Apple cider + apple pie = What could possibly be a more fitting and delicious fall beverage for your Thanksgiving gatherings and fall parties?! If you tried out recipe, come back and rate it to let us know how you liked it!
Read also: Delicious Gluten Free Thanksgiving Recipes for Every Course and Explore the Five Senses with this Apple Lesson Plan

Looking for more? View these categories!