Each holiday, we love to pull out the craft supplies and do some sort of simple crafts with the kids. Last year, we made this Easy Turkey Paper Craft and it was a huge hit with the boys. They can bounce. They can fan. Oh, what fun! We adults have our fun…cooking and baking, chatting, etc. Add our turkey craft to make it an extra special Thanksgiving for kids, too!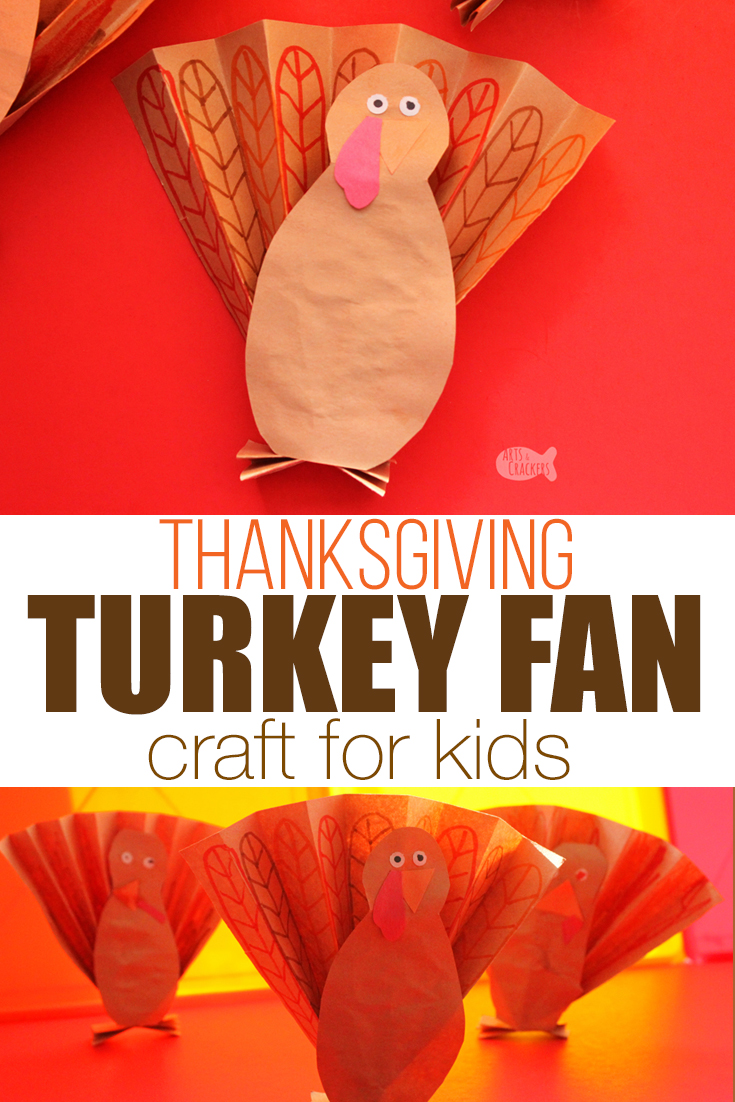 This post contains affiliate links. By purchasing through these links, you help support the family behind Arts & Crackers at no added cost to you! Thank you!
This turkey craft can be made with craft supplies you probably already have around the house. My boys (newly 7 and 4 at the time) were both able to make their own with little to no help from me.
Easy Turkey Paper Craft | Thanksgiving for Kids
Find a quick tutorial video here, on our YouTube, or a faster version on our Facebook!
Supplies Needed:
2 pieces of brown construction paper
1 small piece of orange construction paper
1 small piece of red construction paper
1 small piece of white construction paper
This is a great activity to work on dexterity and motor skills!
Directions:
1. Prepare your pieces. You or your child should draw a turkey body shape (think "bowling pin") on one piece of brown paper. The body should be a little shorter than the brown piece that you will use for the feathers. If you want to, trim both pieces of construction paper into smaller sheets (the construction paper book we used was about 5″ x 7″, which allowed our turkeys to stand up on their own without issue). Draw a squiggly wattle on the piece of red paper and a triangle beak on the orange paper.
2. Cut the body, beak, and wattle out.
3. Use a hole puncher to punch out two eyes from the white construction paper.
4. Use a marker to add two dots to the center of the eyes.
5. Using your glue stick, glue the eyes, beak, and wattle to the head of the brown turkey body.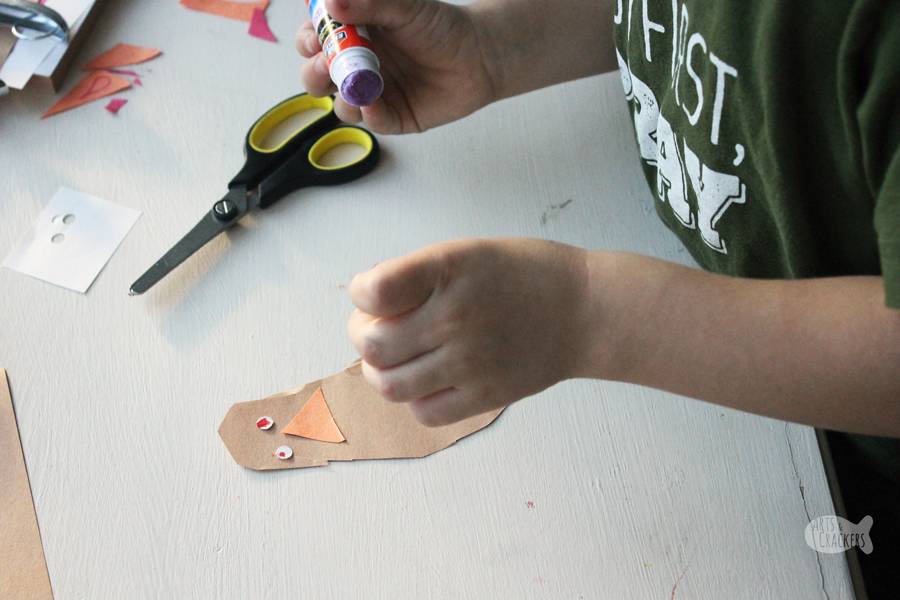 6. Take out your second brown construction paper piece. Fold it like a fan, folding to the front, then folding to the back. We made our feather folds about 1″ wide.
If you end up with excess paper on the end and cannot fit a full feather in that spot, trim the excess off.
7. Open the folds back up and use markers to draw feathers between each fold. We took this opportunity to practice patters using Thanksgiving colors: red, orange, brown. Have your child pick a pattern they want to use and see if they can keep up the pattern throughout the entire feather fan. If you use a larger piece of paper, you will end up with more folds and more feathers.
8. Re-fold your paper then find the middle point. At the middle point, cut a small, approximately 1″ slit between the folds to make feet for the turkey.
9. Fold the two feet out to the sides, then place a piece of tape on the bottom to hold the feet in place. The feet should be folded in a way that allows your turkey craft to stand.
10. Add liquid glue to the back of the turkey body and stick the body to the fan. Make sure you have enough glue that it'll stick wherever the paper pieces touch each other, but not so much that it makes a soggy mess. Press the paper firmly onto the other paper.
Let your turkey craft dry completely before playing!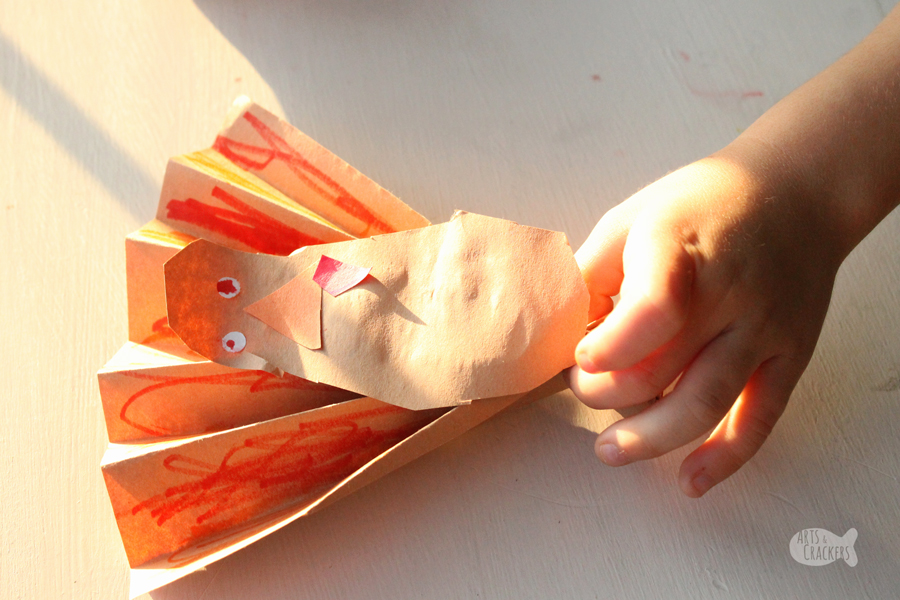 Play with your turkey! Use these to decorate, string them to make a banner, drop them to see if you can make them land on their feet, press quickly on their feathers to make them bounce, use them like a fan to cool off, create your very own stop-motion turkey film, or find another fun way to use your Turkey Paper Craft! Talk about the names of parts of a turkey to make it educational: beak, feathers, tail, wattle.
Thanksgiving for kids has never been so fun!
Read also: Paper Leaf Wreath with Paper Owl Craft and 11 Fun String Cheese Wrappers for Fall

Looking for more? View these categories!