Cranberry sauce, especially homemade whole berry cranberry sauce, is one of my very favorite Thanksgiving sides. I just love the combination of sweet and tart. This year I decided to add a little spice to a favorite, creating this Best Ever Cranberry Sauce with Orange and Ginger. It's a gluten free, dairy free and sugar free cranberry sauce recipe!
This post contains affiliate links. By purchasing through these links, you help support the family behind Arts & Crackers at no added cost to you! Thank you!
Back when my husband and I were in college, before we were even dating, I was staying at our out-of-state university over Thanksgiving break. He had family nearby, so he went to stay with them. The entire break he texted me; we had the most random conversations.
At some point, we got on the conversation of Thanksgiving food. My phone, like all phones I've ever owned, had a mind of its own. (Who needs AI, right? Phones already do what they want.) I'd messed him something about liking cranberry sauce…only, my phone decided to write "I LOVE CRANBERRY SAUCE" in all-caps.
He took this as if I am completely obsessed with everything cranberry sauce and, trying to win me over, brought me a Christmas gift—a box full of everything we'd talked about me liking…including several cans of cranberry sauce…all types and flavors, because I hadn't specified which kind was my favorite.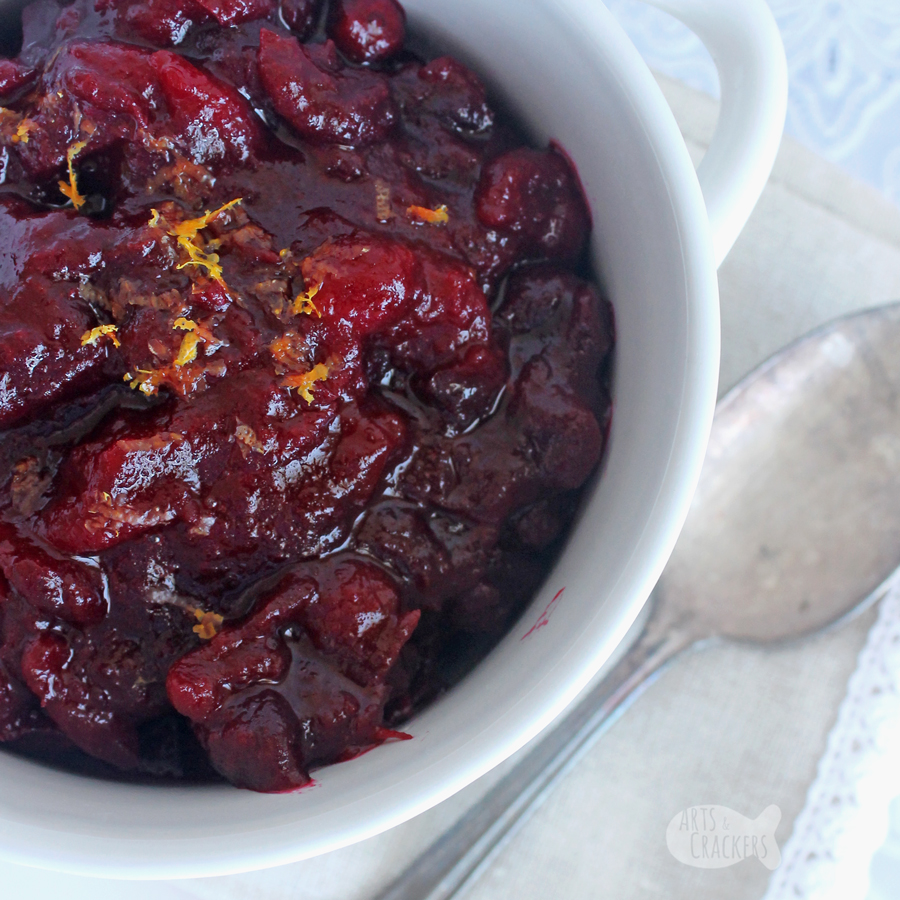 To this day, we still joke about it. I was never completely obsessed with cranberry sauce, but I do love it, and I am always creating new cranberry sauce recipes, like this one.
Easy Homemade Cranberry Sauce with Orange and Ginger | Sugar Free —Gluten Free
Ingredients
12 oz fresh cranberries, rinsed, bad ones removed*
1/2 cup organic honey (local is best)
1/2 cup water
1 tablespoon fresh orange zest (I love this grater/zester)
1/8-1/4 teaspoon ground ginger
*Reserve 1/4 cup of cranberries for later.
Directions
In a medium pot, combine the cranberries, honey and water and bring to a boil.
Reduce the heat to medium-low and simmer for 7 minutes, stirring occasionally to prevent the sauce from sticking to the bottom of the pan.
Stir in the extra 1/4 cup of cranberries and continue cooking another 3-9 minutes depending on the consistency you desire. Remember, the sauce will thicken more as it sits.
Stir in the orange peel and ginger. Add a the higher amount of ginger if you want a bigger kick, or the smaller amount for a very light ginger flavor.
Let cool before serving. Store sealed in the refrigerator and enjoy today or over the next week.
I do love me some yummy cranberry sauce, and hope you enjoy this delicious twist too!
Making my recipe? Come back and rate it—I want to hear how you like it!
Read also: Ama-Zing Ways to Serve Craisins and Coffee, Canvases and Cupcakes Party

Looking for more? View these categories!