On a chilly day, there is nothing better than snuggling up with a blanket and a warm drink. This Gluten-Free Pumpkin Pie Hot Chocolate is one of those fall recipes you will love. It tastes just like pumpkin pie, but it doesn't have the gluten! Our Slow Cooker Hot Chocolate Recipe is perfect for serving at fall parties and Thanksgiving dinner.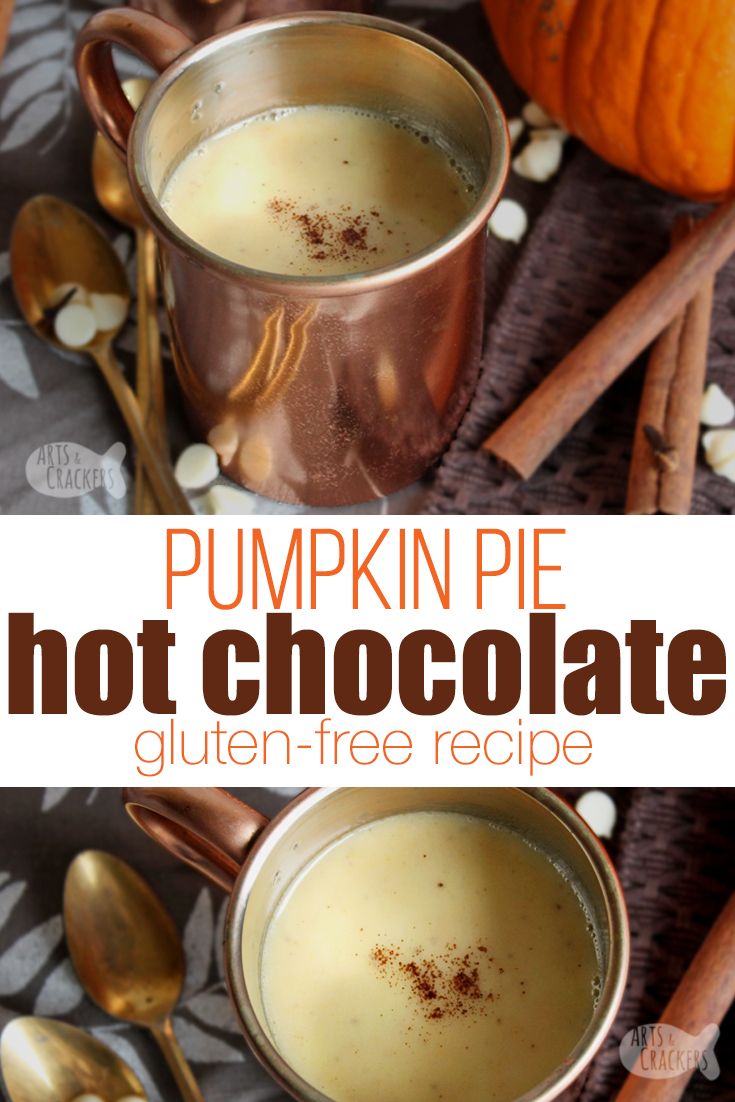 This post contains affiliate links. By purchasing through these links, you help support the family behind Arts & Crackers at no added cost to you! Thank you!
Crock pot hot chocolate is easy to make and it is so yummy. Let the kids help you make it!
We love this creamy twist on a traditional slow cooker hot chocolate. It tastes like you're drinking pumpkin pie!
Gluten-Free Pumpkin Pie Hot Chocolate Recipe | Fall Recipes
Ingredients
1 1/2 cups heavy whipping cream
1 can pumpkin pie puree
2 sticks cinnamon
15 whole cloves
1/4 teaspoon ground allspice
1/2 teaspoon ground nutmeg
1 teaspoons ground ginger
5 cups whole or 2% milk
1 1/2 cups white chocolate chips
1/4 cup brown sugar
Pinch of sea salt
Whipped topping (optional)
Directions
In a slow cooker, combine the white chocolate chips, pumpkin pie puree, milk and heavy whipping cream.
Add in the spices, sugar and salt.
Stir the mixture around until the pumpkin puree has been incorporated into the milk.
Place the lid on your slow cooker and turn it on low heat. Heat the mixture for 2-3 hours, stirring occasionally to mix in the chocolate as it melts.
Depending on your slow cooker, you may need to heat your Pumpkin Pie Hot Chocolate for longer than the standard two hours for it to be hot enough to drink (because that's what happened with mine in my old slow cooker). If you do not have another hour or so to let it sit while you keep stirring and checking on it, turn the heat up to high and heat for another 10 minutes or so.
Once the mixture is hot enough, stir well, remove the large pieces, turn the dial to "keep warm" to avoid over-heating and serve hot.
If desired, serve with a dollop of whipped cream. Homemade is the best and it's simple to make! Buy a big carton of whipping cream and use the leftovers! Pour a cup of heavy whipping cream into a stand mixer bowl. Pre-freezing a metal mixing bowl and the whisk attachment works best, but you can manage without this. Add a tablespoon to two of granulated sugar and 1/2 teaspoon of vanilla extract (optional). Whip on medium until stiff peaks form (about 1 minute).
If your drink isn't too hot, you can serve it in pretty Moscow Mule Copper Mugs like I did!
White hot chocolate with irresistible pumpkin pie flavor will be your new favorite warm beverage of the season! If you make this, come back and rate my recipe to let me know how you like it!
Read also: Hot Cocoa and Marshmallows Melting Snowman Activity for Winter and "MelTEA Warm" Vanilla Mint Tea Recipe

Looking for more? View these categories!