Growing up, I loved all things Hot Wheels, and my boys are quite the same way. I had all the storage containers, tracks, loads of cars, and even a Hot Wheels Power Wheels Jeep. Your little ones will go crazy for these awesome gift ideas for kids who love Hot Wheels™ (like mine).
We've partnered with Mirum for this super fun Hot Wheels sponsored post. All opinions are my own.
Whether you are looking for a gift for the winter holidays, an Easter gift, a birthday present, or just because, your little Hot Wheels lover will have so much with with these! Some are great for indoors, some for outdoors, and some can be enjoyed inside or out!
This bike is super cool and perfect for preschoolers or kindergarteners just learning to ride. It fits my 4-year-old well and the training wheels keep him upright. The seat is adjustable and the training wheels are removable, so this bike can grow with your little one.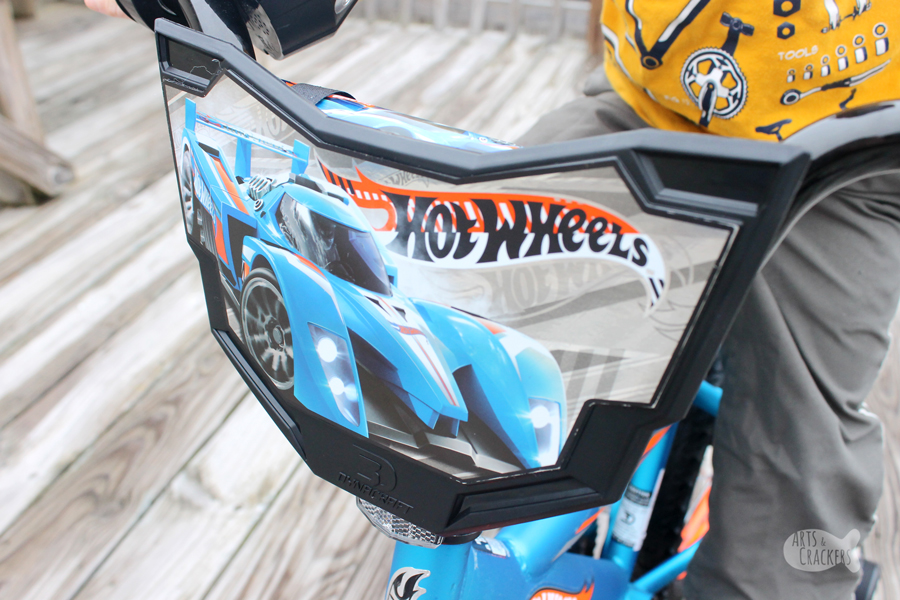 One great thing about this bike is that it can ride on various surfaces with its all-terrain tires. We rode it on the wooden deck so it was a little safer than cement or asphalt for my practicing rider. Speaking of safety, be sure to get a helmet to go with it!
Another cool feature on this bike is the Rev Grip that makes riding the bike even that much enjoyable. Not only is it a fun, noisy, light-up feature that the kids enjoy, but it also is a great way to tell where your kid is if it's getting a little dark outside.
This set is awesome because it has multiple uses. It makes a great race track so the kids can see whose car is fastest, and when you put it all away it becomes a table! The Hot Wheels Car + Track Play Table by Step2 is perfect for kids around my boys' ages. Include some markers, rubber bands, and paper so the kids can have their Hot Wheels cars draw on the table top or add a Hot Wheels coloring book with coloring crayons!
This is similar to the table I mentioned above, but it's better for younger children and is a simple, fun track for them to send their cars down. My boys decided to add some extra track to make the cars jump. There are small bins underneath to store extra Hot Wheels cars or make clean-up easy.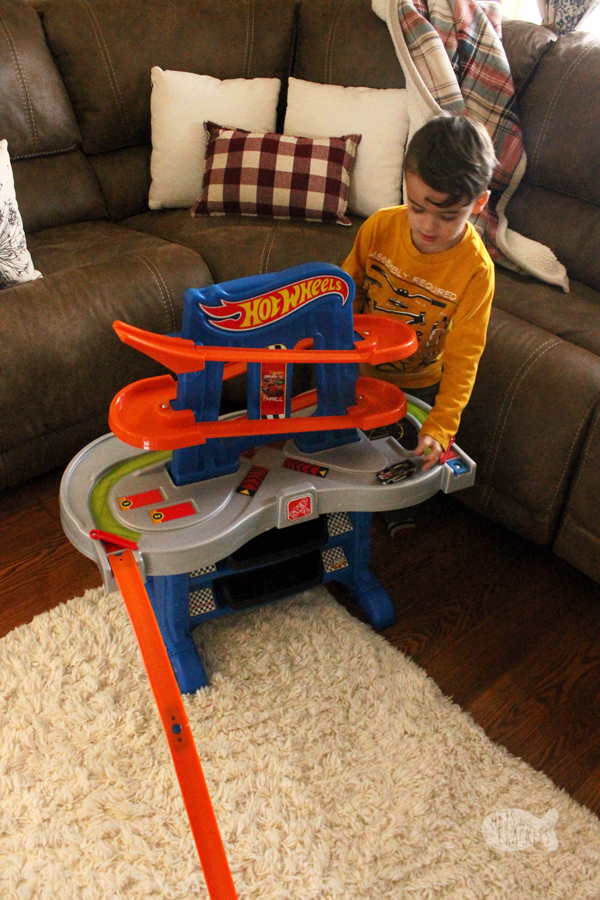 While this track is not as fast as some others, the kids can have fun racing on the two different tracks. Since the cars don't fly down, this track is great for younger children. Recommended age is 4 and up.
The set includes two Hot Wheels™ cars and 8 feet of track. More track can be added for extra fun, as I mentioned above.
Kids will love this RC car that rumbles, lights up, and makes sounds. It's fun for little ones who are new to driving RC cars.
Hot Wheels Flash Lights & Sounds Cars
This series has a few different fun options: Hot Wheels Hyper Racer Lights & Sounds, Extreme Action Scorpedo, Drifters Hollowback, and Drifters Twinduction. Each of these has sounds and light-up action when the buttons are pressed, and they are self-propelled to race across the floor.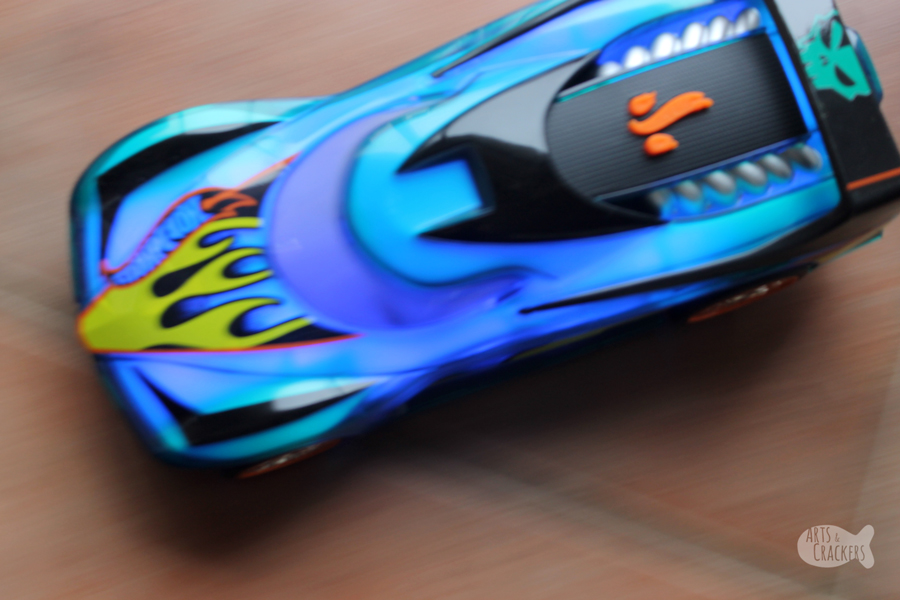 We tried out the Hyper Racer. The boys love the noises it makes and how it lights up when it starts racing across the floor.
Extra Hot Wheels Track
You can never have enough Hot Wheels track. My boys love running it all around the room and through the house. It's amazing to see how creative they can be and how engineer-minded they are with their Hot Wheels tracks.
Car Mat/Rug
Growing up, I always loved having a car mat with roads and parking spots and places I could "drive" to. Buy one or make your own! You can even involve the kids…get a big white cloth or tarp and draw outlines for the roads and houses. Let the kids color in the buildings, trees, and other small decorations!
Light-Up Truck Grille Organizer
This is something I designed and my husband built a couple years ago as extra storage space for our boys' vehicles. How cool is it?! My husband shares how to build your own Light-Up Truck Grille Organizer here.
The sets listed above can be purchased from Walmart stores. Which are your favorites?
Read also: Hands-On Education That Will Stick and Science and Math Activities with Remote Control Cars for Kids

Looking for more? View these categories!