I participated in Mom Blog Tour at the Summer Fancy Food Show on behalf of Wendy's Bloggers and received Saffron Road products to facilitate my review. #MomBlogTourFF
 
Mediterranean flavors have always intrigued me. I especially love all the fresh, brightly-colored vegetables. Since salsa is one of my very favorite snacks to eat, I knew I had to make something like it, only I wanted to make it a bit different by using Mediterranean flavors. That's when I came up with the idea to create this Mediterranean Salsa Relish. I add the word "relish" because it is not very spicy, is made with smaller pieces rather than large chunks, and would make a delicious topping for crackers or bread or other dishes as well the lentil chips (which are my favorite for this recipe).
We've visited Asian-inspired, American-inspired, Caribbean-inspired, Italian-inspired, and school-lunch cuisines and now it's time to try out Mediterranean cuisine.
This Mediterranean Salsa Relish pairs perfectly with Saffron Road Lentil Chips or crackers. It is a very quick and easy snack to make.
This Mediterranean Salsa Relish has so many refreshing flavor notes–salty, slightly spicy, nutty, sweet…I wanted something reminiscent of a Greek Salad, but well-rounded in salsa form. Note: this is a salsa that does not use cilantro! A lot of people have an aversion to cilantro, so I found a delicious alternative that better fits Mediterranean cuisine–mint.
Mediterranean Salsa Relish
The wonderful thing about this recipe is it is simple and does not require a lot of steps, because everything is pretty much one big step.
Finely chop everything–the tomato, cucumber, Kalamata olives, red onions, and mint leaves.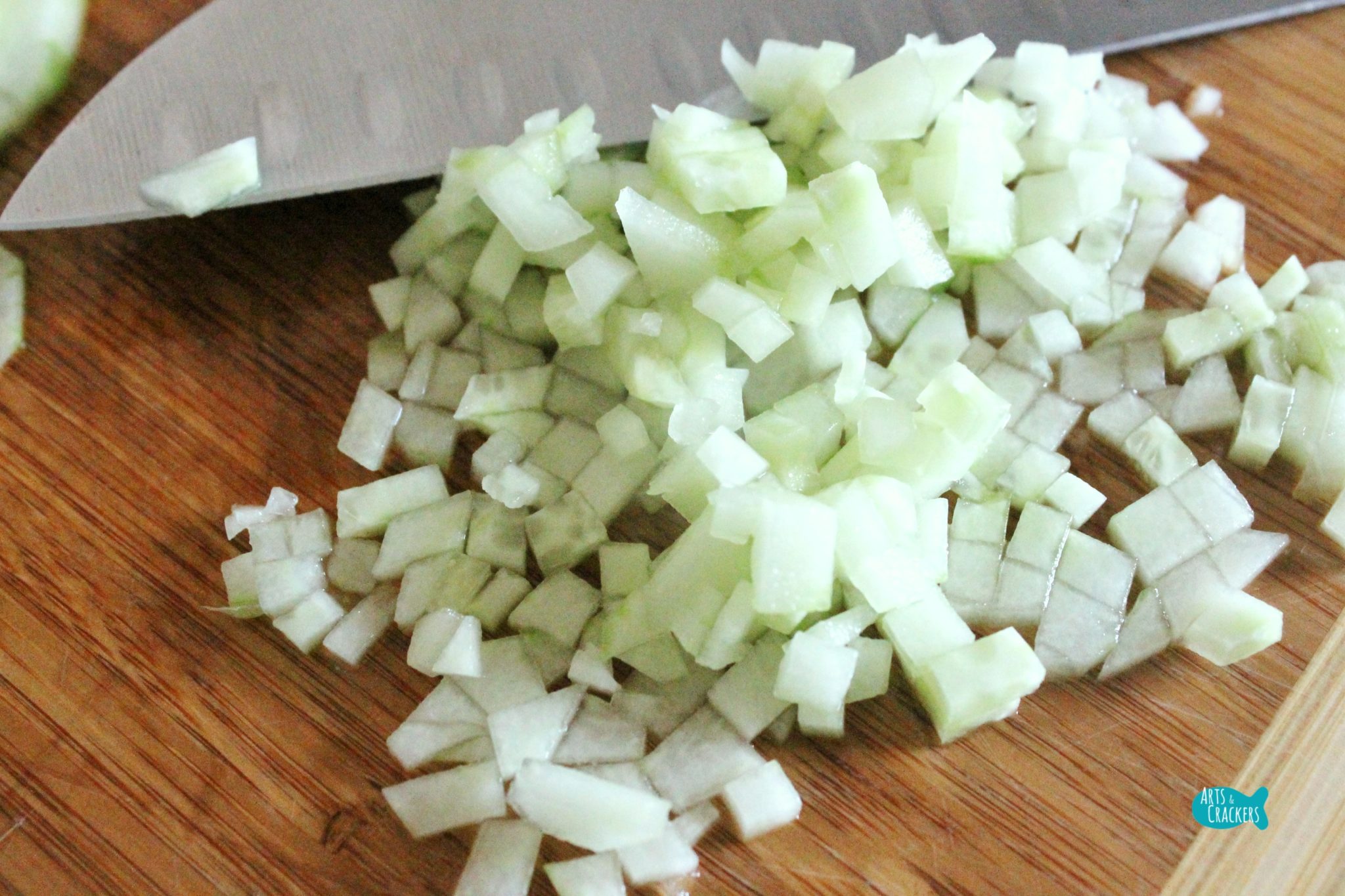 Stir all of your chopped veggies and mint together and add in some Himalayan pink salt and a splash of apple cider.
Let everything sit in the refrigerator at least 30 minutes so the flavors can meld together. I have always found that fresh salsa does not have much flavor right after it is made, but as it sits the flavor will begin to shine through.
Serve with Saffron Road Sea Salt Lentil Chips.
Mediterranean Salsa Relish
This Mediterranean Salsa Relish is easy to make and is the perfect option for those who prefer fresh to spicy, as it has a mild flavor. Enjoy on top of Baked Lentil Chips.
Ingredients
2 roma tomatoes (or about ½ cup), finely diced
¼ cup cucumber, finely diced
¼ cup Kalamata olives, diced
3 Tablespoons red onions, finely diced
4 mint leaves, finely chopped
Himalayan pink salt
Splash of apple cider vinegar (about 1-2 teaspoons)
Instructions
Combine all ingredients in a bowl. Set side for at least 30 minutes in the refrigerator so the flavors blend together, then serve with lentil chips.
Notes
This does not make a very large amount (if you are serving this at a party), but it suitable for the average-size family. Simple double or triple the ingredients as needed for larger batches.
Saffron Road has a ton of delicious snack products like Lentil Chips, Lentil Crackers, Crunchy Chickpeas, and BeanStalks.
Their snacks are all plant protein-based with 3-5 grams of protein per serving. In fact, they strive for clean nutrition, so you know these are snacks you can eat and feel good about. Their Sea Salt Crunchy Chickpeas are also certified organic.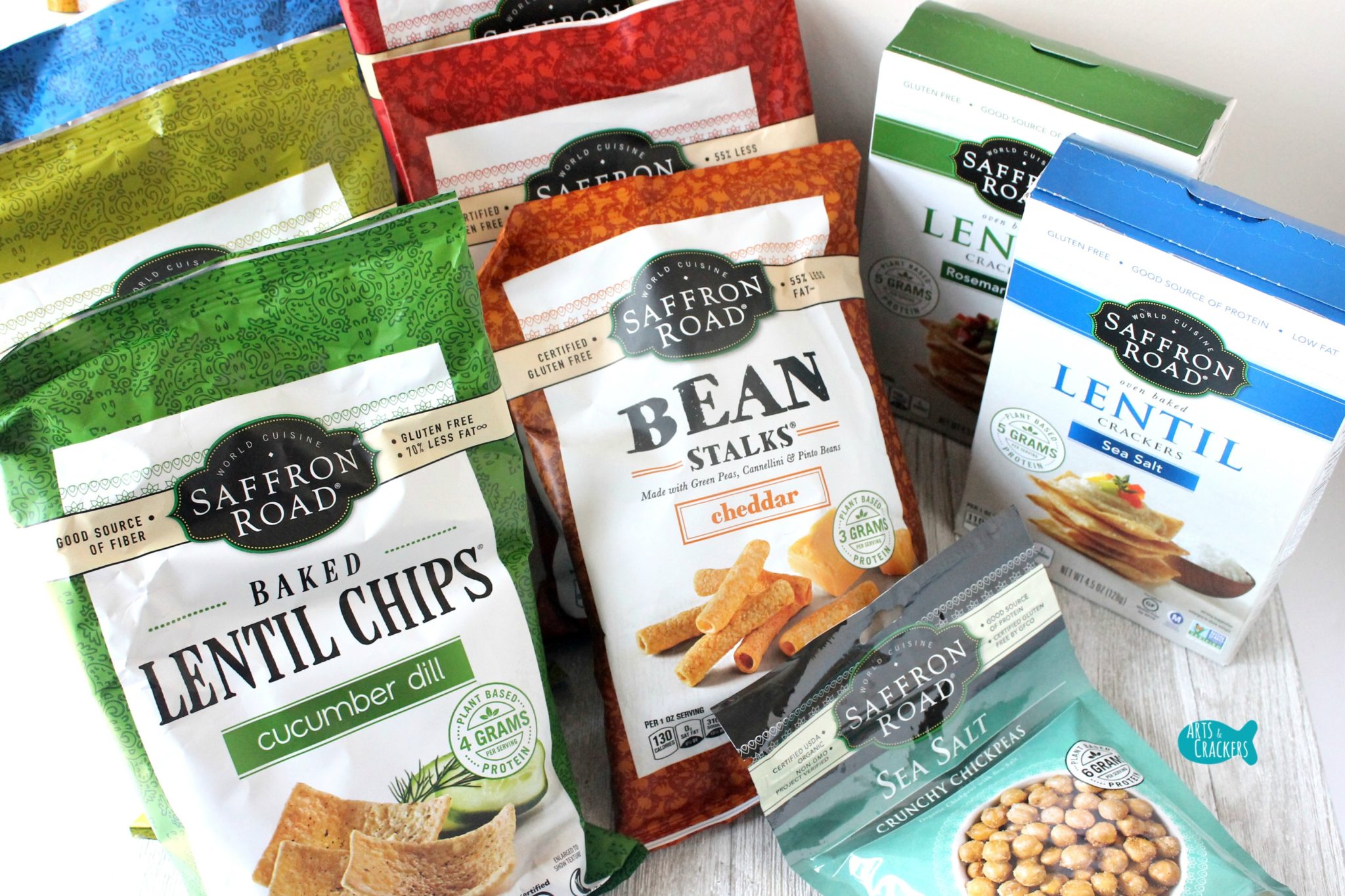 My boys love the BeanStalks, and I do too. Sea Salt is my favorite variety, but they went crazy over the Barbecue and Cheddar flavors.
The Baked Lentil Chips come in several different flavors: Sea Salt, Cucumber Dill, Garlic Parmesan, Moroccan Barbecue, Rosemary, Cracked Pepper. I absolutely love that they have unique flavors, rather than the same old flavors chips always come in. It makes them seem more grown up, yet the kids can still enjoy them.
The Lentil Crackers come in Rosemary Herb, Sea Salt, and Cracked Pepper. These would make the perfect addition to an on-the-go lunch. They pair perfectly with hummus, flavored butter, and cheese. You could even try adding slices of tomato on top along with some salt and pepper.
 
Saffron Road is another brand I worked with last year for the Mom Blog Tour. Check out last year's post: Lemongrass Chicken & Quinoa Recipe.
Follow Saffron Road Food on Facebook, Twitter, Pinterest, and Instagram.
I would love to hear from you in the comments below–-Which Saffron Road snack is your favorite or do you most want to try?