I participated in Mom Blog Tour at the Summer Fancy Food Show on behalf of Wendy's Bloggers and received Capatriti Extra Virgin Olive Oil products to facilitate my review. #MomBlogTourFF
 
Pesto is one of my favorite sauces for pasta dishes. It has a rich and nutty flavor. I wanted to make my own homemade pesto sauce, so I came up with this amazing Italian-inspired Pesto Fresco pasta recipe.
Choosing the best ingredients is of utmost importance when it comes to homemade pesto sauce. We used Capatriti Extra Virgin Olive Oil (EVOO) which is seriously the best EVOO I have tasted. I am very particular about my olive oil. It needs a smooth texture and a delightfully nutty flavor–not too strong, but it still needs some great flavor. Capatriti EVOO tastes just right and so fresh.
Now we have the following cuisines for our Mom Blog Tour series: Asian-inspired, American-inspired, Caribbean-inspired, and Italian-inspired (along with this back-to-school snack).
To make the homemade pesto, I went the more traditional route and use a mortar and pestle. To be honest, that route is painstaking and time-consuming, but to me it was worth it for a richer flavor. I used a small mortar and pestle that I received as a child, but when I make this again I will purchase a larger size so it fits all of the ingredients better. If you want a much quicker option, you can use a food processor instead of a mortar and pestle.
Pesto Fresco Pasta
First you will want to make the pesto sauce. Choose if you want to use a mortar and pestle or a food processor.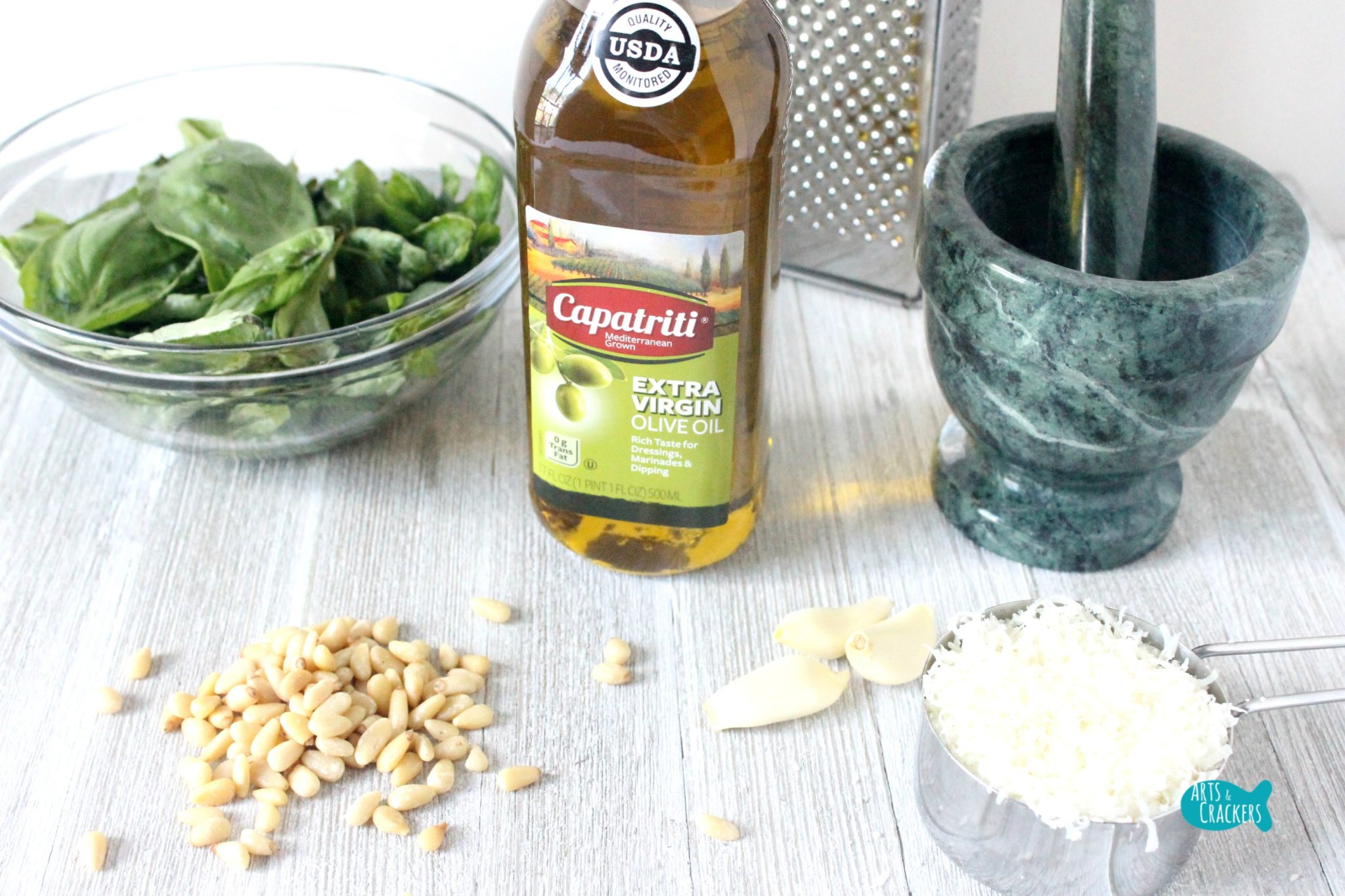 Begin by making a puree of the garlic and pine nuts.
Grind in the basil leaves until they are broken up to your liking.
Add in the salt, pepper, and Capatriti EVOO.
Mix in the grated pecorino romano cheese until well-blended. Set aside. If you need the pesto later in the day, you can refrigerate until the pasta is ready, up to a couple days.
Prepare the pasta per package instructions. We used gemelli noodles, but you may use different types if you wish.
Once the pasta is cooked and drained, mix in the pesto sauce.
Fold in the tomatoes, pine nuts, lemon zest, and a little black pepper.
Sprinkle with freshly-grated cheese to serve.
Pesto Fresco Pasta Recipe with Homemade Pesto
Ingredients
3 cloves garlic
½ cup pine nuts
2 cups fresh basil
salt and pepper
½ cup extra virgin olive oil
½ cup grated pecorino romano cheese (plus extra for serving)
1lb box of pasta noodles
1 cup fresh tomato, cut into cubes
zest of half a lemon
Instructions
With a mortar and pestle (or in a food processor), combine the garlic and ¼ cup pine nuts until a paste has formed.
Mash in the fresh basil until it is broken into little bits.
Stir in salt and pepper to taste and olive oil.
Add cheese and stir until combined. Set aside and refrigerate.
Prepare the pasta according to package instructions and drain.
Mix the pesto sauce into the noodles.
Fold in the remaining pine nuts, tomato, lemon zest, and pepper to taste.
Serve with a sprinkle of fresh grated romano cheese.
Capatriti EVOO comes in a variety of sizes:
17oz./25.4oz/34oz glass bottles
51oz plastic bottles
68/101oz tins
Their products are focused on giving you the highest quality EVOO. They are gluten-free, kosher, have 0 grams trans fat, and are closely monitored by USDA QMP. In fact, they invite them to come test batches to make sure their customers are receiving true EVOO as they expect. The bottles hold the quality seals.
Capatriti EVOO is all about integrity in product labeling. If they say the olive oil is extra virgin, it really is (in fact, that is one of the biggest reasons they invite inspectors in.). Many brands that claim to have "extra virgin" olive oil have diluted the product with nut oils, which can be dangerous for those with allergies. You really can taste the difference.
So what does it mean for an olive oil to be "extra virgin"? EVOO is the very first press of the fresh olives. It's the cream of the crop. They pick the olives, wash them, slightly chill them, then press them to get the oils. EVOO is stronger than, say, "pure" olive oil (which is reprocessed, thus it is lighter), so it is perfect for adding to salads, dipping bread, and using in my delicious pesto recipe.
Since I was a young child, I have been obsessed with dipping oil for bread. You can make this all sorts of ways (I will probably do a post with some recipe ideas eventually!). I have made savory with Italian seasonings, sweet with sugar and cinnamon, and fun flavors like pizza seasoning. Simply use the spices you wish to flavor the Capatriti EVOO, fill a shallow dish with it, and dip fresh bread into it. So yum.
My absolute favorite snack to eat lately has been a fresh heirloom tomato cut up, drizzled with Capatriti EVOO, and sprinkled with Himalayan pink salt and freshly-cracked black pepper. Oh. Man. It is so good; you have to try it.
Follow Capatriti EVOO on Facebook, Twitter, Pinterest, and Instagram.
 
Read Also: Pennette Caprese Salad Recipe from Penelope's Oasis and Garden Fresh Bruschetta from A Grande Life, both a part of the Mom Blog Tour!
 
I would love to hear from you in the comments below–-What is your favorite way to use EVOO? In salads? For cooking? For personal care products?