In our home, we love instruments. We have all types from guitars to accordions. When we were working on the playroom and setting up the music corner behind the farmer's market, I was trying to come up with something to hang on the wall, so I created these DIY Wind Chimes for the wall.
Have you seen our playroom makeover? If not, you HAVE to check it out here!!
These DIY wind chimes were very simple to make and the boys love them. When they play together in their room and I hear the delightful sound of strumming on the guitar and twinkling on the chimes, it fills my heart with happiness.
Shadow Box Wind Chimes for the wall are a fun, interactive decoration for playrooms. My boys brush the chimes with their fingers and tap them with a metal rod from their triangle to make music.
DIY Wind Chimes for the Wall
What You Need
Directions
1. Fully disassemble the wind chimes, keeping the string in tact. If you do not have luck with the string, you will need to purchase some thin, sturdy string as well.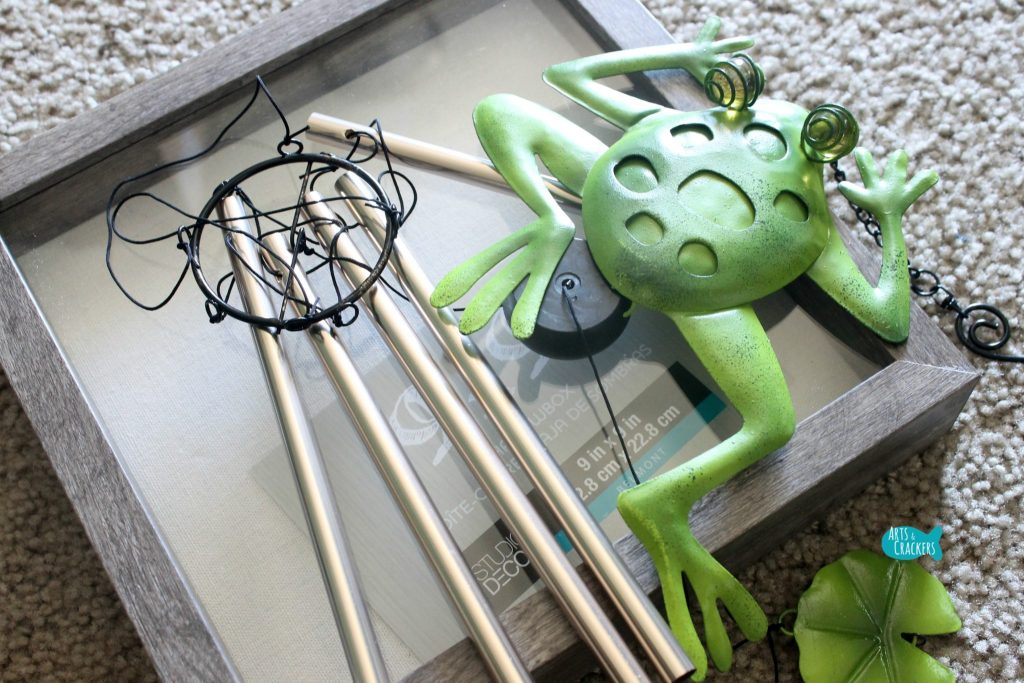 2. Using the pipe cutter, cut each metal chime at the bottom (not the top where the holes are, as you will need to hang the chimes from there.). We made them play these notes: C, D, E, F#, G. To do this, you will need to cut them at different lengths. Keep in mind the bottom make curve some, so cut off a little longer than you are needing it. We used this guide for tube length. Find the All Musical Notes Calculator. When you click it it will automatically download. Check note accuracy using a tuner (you can find tuner apps on the computer and your smartphone if you do not have an actual tuner.). Our longest is just over 6 1/2 inches (and it plays a C.).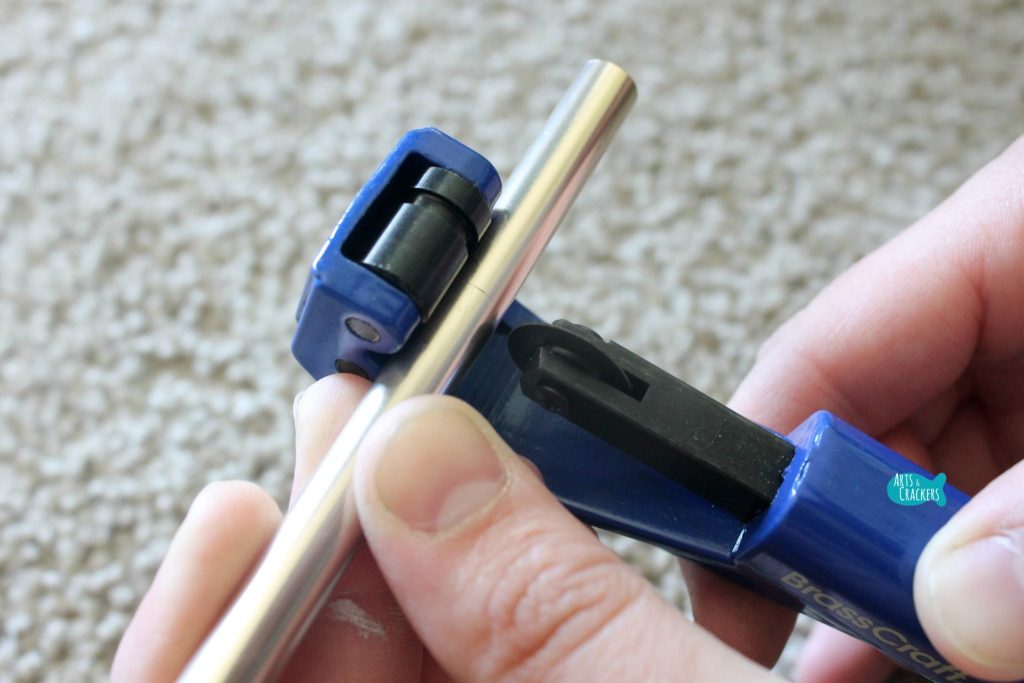 3. Take the shadow box frame apart; the one I purchased had a square frame set inside everything and this is where we hung everything so it would not show. Measure out where you want your chime pipes to hang. Mark the spots with a pencil then carefully drill a small hole on either side of the dot, big enough that the string will fit through.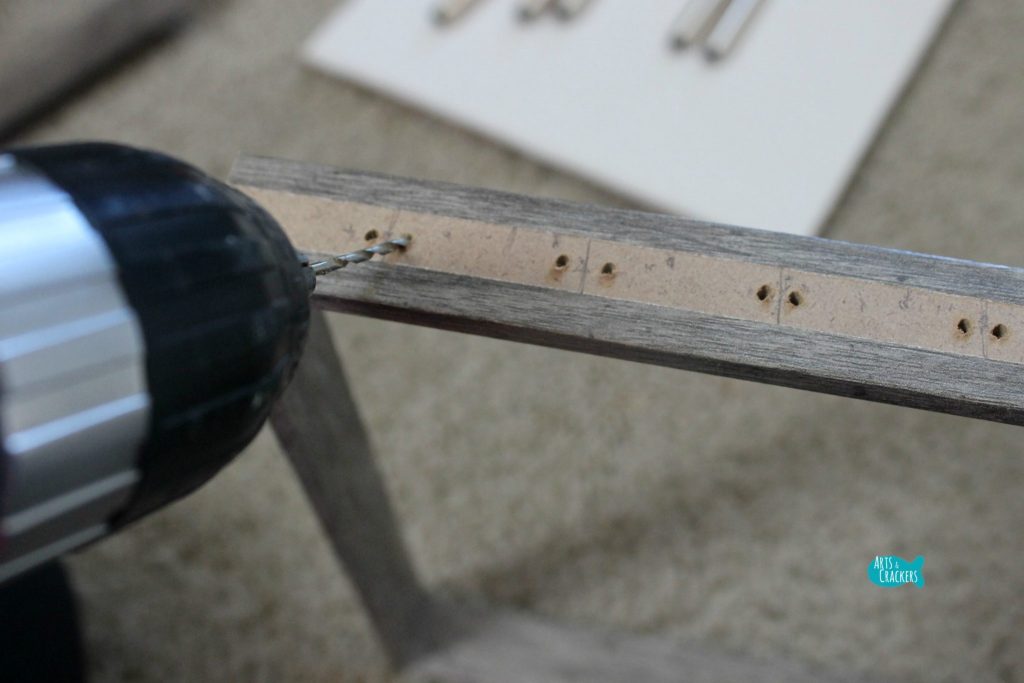 4. Weave the string through. Start on the left by weaving one end of the string up through the furthest hole. Tie a loose knot if needed, so you can ensure you have enough string for the whole thing. Continue weaving the long end of the string through, first through the left then right side of the holes on the chime, then up through the next hole in the frame then back down through the hole after that then through another chime and so on until it is finished. You will want to string these either from longest to shortest or shortest to longest. We chose to hang them in the order they would be on a piano, longest (or lowest) to shortest (or highest). The final end of the string should go up through the last hole.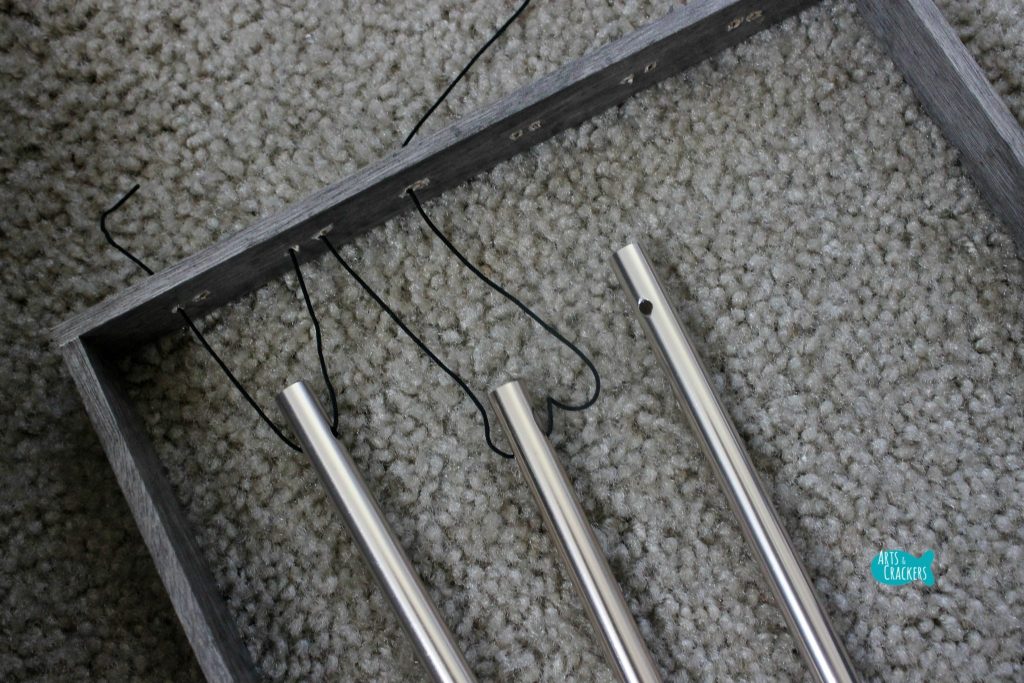 5. Carefully move the string and pipes around until they are all even, aligned at the top. To keep them in position, add a small knot on both ends and a dab of hot glue on the top of the string where it loops above the frame.




6. Once all chimes are in place, put the shadow box frame back together completely. Hang on the wall and make some music! We use the shadow box ledge to hold the metal stick from the triangle so they can plan notes individually.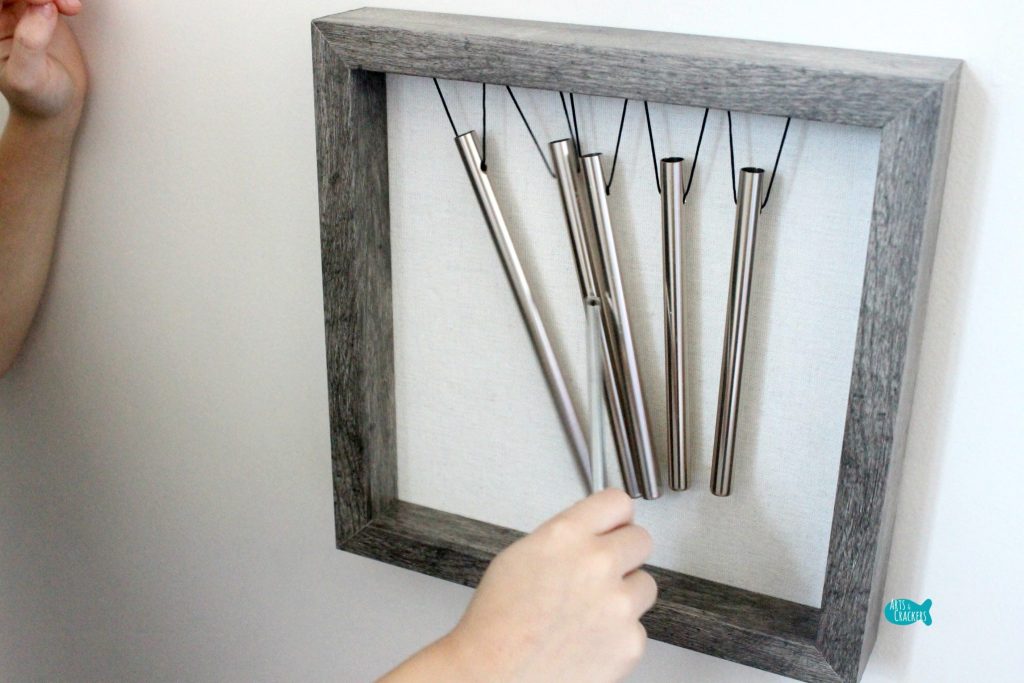 These DIY wind chimes are a great way to teach music notes, tuning (have the kids help!), and how sound works (longer pipes = lower notes and vice versa), and it also allows for some musical creativity! Your wall wind chimes also make for stylish wall decor that you can put anywhere around your home. I absolutely love wall decor that is also functional!


Read also: DIY Playroom Learning Tree for Reading and Math and Frozen-Inspired Handprint Olaf and Winter Shadow Box

What is your favorite instrument? Are you going to make DIY Wind Chimes? Where will you hang them to decorate? Share with me in the comments!
Sign up for my newsletter!
Know someone who would love this? Hit the "share" buttons below! Be sure to follow Arts & Crackers on Facebook, Twitter, Pinterest, Instagram, or the others at the top right!
Written by Alyssa Darby
This post may contain affiliate links and sponsored ads; using these links helps support my blog and my family. Money earned goes towards tithe, coffee to keep me sane, and then placed into savings towards our dream of buying a house and homesteading. Thank you for your support! Content from my site may not be copied, used or repurposed, and all rights belong to Arts & Crackers; however, if you are doing a roundup post, you may included one watermarked "finished product" image with a direct link back to the coordinating post (do not hotlink); I appreciate when notice is given to me ahead of time or specific permission requested. Have questions? Contact me at alyssa@artscrackers.com.