This post was sponsored by Dunkin' Donuts as part of an Influencer Activation for Influence Central. I received complimentary products to facilitate my review. All opinions and ideas are my own.
Coffee.
It's what makes the world go 'round. Or…at least it seems that way sometimes. When I think of coffee, I think art, socializing, relaxing, baked goods (you know, because pastries and cakes just go with coffee!) When I heard of the NEW Dunkin' Donuts' VANILLA CUPCAKE flavored coffee….oh. my. goodness. Party in my mouth. I had to share with others.
So I threw a party. A "kaffeklatsch."
My party ended up being smaller than expected (shout out to the ice storm and weather state of emergency), but we had a blast!
We had everything a perfect coffee party needed:
CUPCAKE coffee
Actual cupcakes (and other delicious baked goods)
Painting
Friends
My very "entertaining" kids (every party needs a little bit of wild, right?)
The Coffee
I absolutely love the new Vanilla Cupcake coffee. I added a dash of sweet cream creamer because I wanted some "frosting" on that cupcake. Be still my heart. It literally tasted like a cupcake! We enjoyed drinking the coffee during the party. It was the perfect guilt-free social drink and kept us warm with the chilly weather outside.
This coffee flavor is one of the many in the Dunkin' Donuts Bakery series and is now available in supermarkets nationwide! You can find a retailer near you on the Dunkin' Donuts website. Seriously, it is so good. I got this new programmable coffee maker (I needed a new one, so I bought this Black & Decker one and it works great!)
The Theme
It's a new year. It's 2016! Can you believe it?! I am still having trouble writing the correct year when I fill out dates. Looking back on last year, I can say that overall it was wonderful. I am looking forward to seeing what this year brings and I want to start it the right way! To encourage my guests and myself to have a great outlook in 2016, I threw a sweet "Coffee and Canvas" party with a purpose.
Since our focus at this party was coffee, I tried to tie everything in with that. We drank coffee, painted coffee, and talked about making sure our "cup is full" of food, fun, family and friends, and faith.

The Favors
These favors have flavor! I wanted to send my guests home with something to remind them of the party and of the party's message, so I gave everyone a bag of this cheeky coffee with a handmade paper straw flower.
I just cut out the printable flowers, taped them to the paper straws, then glued a construction paper leaf near the middle of the straws. When all was said and done, I taped the straw flower to the bag of coffee and tied a piece of string around it.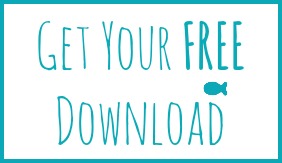 Download Your Free Full Cup Flower Gift Tags Printable
The Food
I wanted to indulge my friends with delicious desserts while still making healthy choices, so I whipped up a few quick treats like the lemon pastries (you guys have to check out the recipe here. It only has 5 ingredients!) You can find more recipes at hungry-girl.com.
We also had these yummy cupcakes and chocolate treats! Continue reading and you can get a free exclusive download of the chocolate treats recipe and just wait till you hear what I did with the cupcakes!