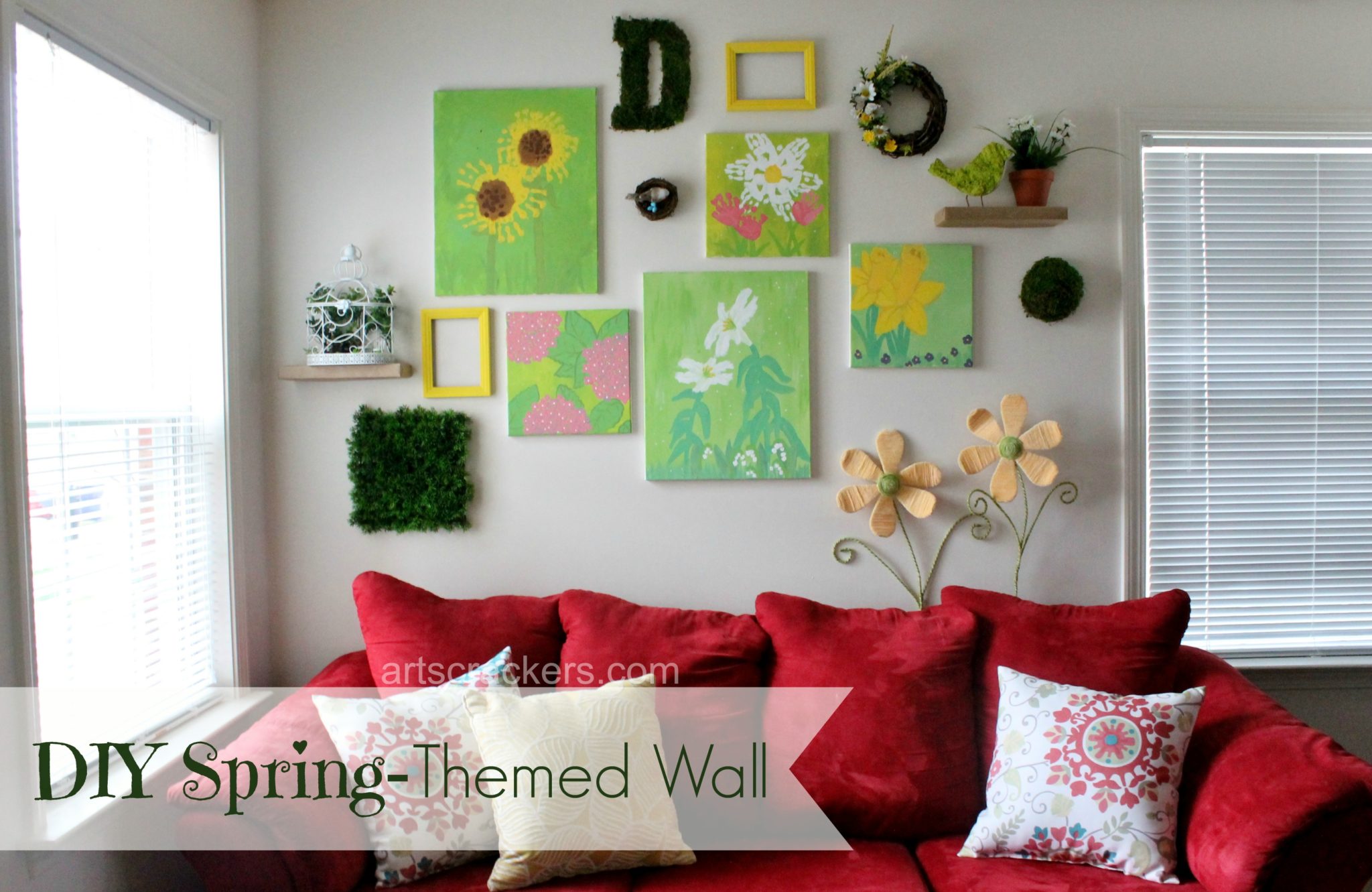 Spring is my absolute favorite time of year! I love everything about it (well, except for all the bugs.) To celebrate the beginning of spring, I made a colorful spring-themed wall collage. You can make one too!
Gather items that remind you of Spring–pictures, flowers, wreaths…you can also make your own decorations like I did! Make it colorful and full of textures!
To make your own spring wall:
Find a space you want to decorate.
Sketch out how you want your decorations laid out or lay them out on the floor and take a picture.
Reference the picture and hang each of the items.
What I included:
Handprint Flowers Canvas Wall Art (Sunflowers, Daisies and Tulips)
Click here to view the tutorial. Don't forget to add mounting hardware to the back!
Footprint/Handprint/Fingerprint Flowers Canvas Wall Art (Daffodils and Violets, Easter Lilies and Lily of the Valley)
Click here to view the tutorial. Don't forget to add mounting hardware to the back!
Fingerprint Hydrangea
Click here to view the tutorial. Don't forget to add mounting hardware to the back!
Robin's Nest
For this, I simply purchased a small nest from the craft store along with a bird that most closely resembled a robin and some small plastic craft eggs. I stuck the robin on with the wire piece that comes attached to it. For the eggs, I could not find robin's eggs so I painted the ones I did find using a bright& blue acrylic paint and added dots of brown paint. I glued them on in the corner. This can be hung on a nail as is.
Moss Letter
You can purchase wooden letters at your local craft store along with preserved moss. Glue chunks of the moss onto the wooden letter (I used hot glue.)
Fill in the gaps with smaller chunks of moss then trim the excess off the edges.
To hang this, you will probably want to attach a photo hanger to the back, but we simply used two nails that have a flat edge that wraps around the wood.
Moss Mound
Do the same as you did for the moss letter, only, instead of using a wooden letter you use a foam half-circle from the floral section (I used the green ones because they are easier to use and hang better than the white ones.) When ready to hang, simply stick it onto the nail on the wall and push down a little to make it stay put.
Moss Bird
Again, I did the same as the moss letter, gluing on moss and trimming the excess. I used reindeer moss for this one and I found the bird pre-made at Michael's. After I finished gluing on moss, I glued a strip of fabric ribbon around the edges to cover up the wood. You can add moss to the front and back, leave the back bare, or cover the back in paint or another texture.
Flower Pot
The pot is actually only half of a pot. I had one that broke, so I wanted to put it to good use. You can use a full ceramic pot, one that is broken in half, or cut it in half. On the inside I glued on a small chunk of flower arrangement foam then cut stems off of a bouquet of fabric flowers and stuck them in the center. I removed excess leaves so it would not look crowded. Make sure your pot is sitting flat and is firmly in place so it does not fall on anyone.
Wreath
This small wreath was pretty inexpensive. I purchased a few bouquets of flowers that were on sale and a fake butterfly.
Using wire cutters, trim off flowers you wish to use. Make sure the stems are long enough to stick, but not too long so they don't poke all the way through. Glue the flowers here and there wherever you wish. Be creative! Add in some smaller flowers, longer flowers, bunches of leaves and other greenery, a butterfly to decorate…I even added a little of the reindeer moss from the bird to incorporate it more in the wall design.
You can hang this simply on a nail or on a screw-in hook.
Yarn Flowers
I actually found and purchased these in the clearance section of the craft store a while back. If you cannot find yarn ones, there are really neat giant flowers at most craft stores in the floral department.
To mount these, we found little brackets that wrap around them and screw into the wall since our couch does not go back enough to hold them in place.
Picture Frames
You may notice the frames are by themselves rather than with pictures in them. While I love pictures and usually would hang them all over my house, I really love the look these give by themselves so I took the glass pieces and backs out.
Since I could not find pretty yellow frames, I found some wooden frames on clearance then painted on a few layers of yellow acrylic paint (you can use spray paint for a more even look.) To hang them on the wall, I actually put a small strip of hot glue just in front of the area the nail would rest under the top of the frame, sort of as a hanger. I used a nail with a wider head on it and the dried glue helped it from sliding off.
Patch of Grass
I love adding many different textures. This cool, grass square was at the craft store on sale. It actually had four little tabs with areas to nail in so it was really simple to hang up and it's not going anywhere. My kids can use this as a touchy-feely texture piece. I put this the lowest down because if they are going to mess with anything on the wall (which is inevitable), this is the best thing for them to mess with without breaking anything.
Scenic Bird Cage
This bird cage I found on sale was just not something I could pass up. I actually had no clue what to do on the inside until my husband had an idea. I made this his project.
He first cut out a piece of cardboard that fit perfectly inside the base of the cage. Then he mapped out where he wanted a little river to go and made edges using hot glue.
He filled the river area with realistic modelling water according to the directions. Once it was dry, he glued on reindeer moss around the river, added rocks, added a model bridge and model bistro table and chairs, and added pieces of artificial greenery to fill up the rest of the space as trees. I am in LOVE with it! He did such a great job!
Brown Shelves
These are actually some shelves I had before, but they were black which I did not feel coordinated with my spring theme.
Rather than painting the shelves or purchasing new ones to make it match better, I simply wrapped them like you would a gift, leaving the side with the hanging gear open, using brown packaging paper. You can purchase this paper on a roll at most craft stores, Target, etc.. Instead of taping the edges, I simply put a small amount of glue under the flap and pressed it down flat to seal.
These shelf covers can actually be removed, carefully stored, and re-used without harming the original black shelves!
You May Also Like
-What will you include on your spring wall?