You may remember that my baby boy's 1st birthday party had a "First in Flight" theme that I shared a while back (click here to see the party post.) We had these adorable biplane cupcakes to celebrate–fun for the guests and perfectly sized for little one's first taste of cake. As promised, here is the tutorial so you can make these cute cupcakes for yourself!
What You Need
Cupcakes (I made my own with white cake mix in blue paper muffin cups—affiliate link), cooled completely
White frosting (make your own or most grocery stores will allow you to buy containers of their plain white frosting in the bakery which is what I did for convenience)
Frosting decorating bag and wide, round tip (affiliate link)
Hershey's ROLO (or Kiss with the peak sliced off)
Blue decorating gel
Sugar wafers (I used yellow, lemon ones I found that were a little shorter; you can use any and trim them if needed)
Pretzel sticks
Sharp knife
Brown candy-coated chocolate (or peanut butter if there are no allergies) button-shaped candies
Melted baking chocolate/chocolate chips
Mike and Ike candies
Chocolate chips
Directions
1. Pipe large dots of white frosting on the entire top of each cupcake to make "clouds."
2. While the frosting is still wet, place a ROLO on each cupcake near the center, pushing down slightly.
3. Draw on a little "cockpit" along the top of the ROLO using the blue gel.
4. Place one sugar wafer above the blue gel and one along the bottom of the ROLO to create the wings then press them down lightly to stick them into place.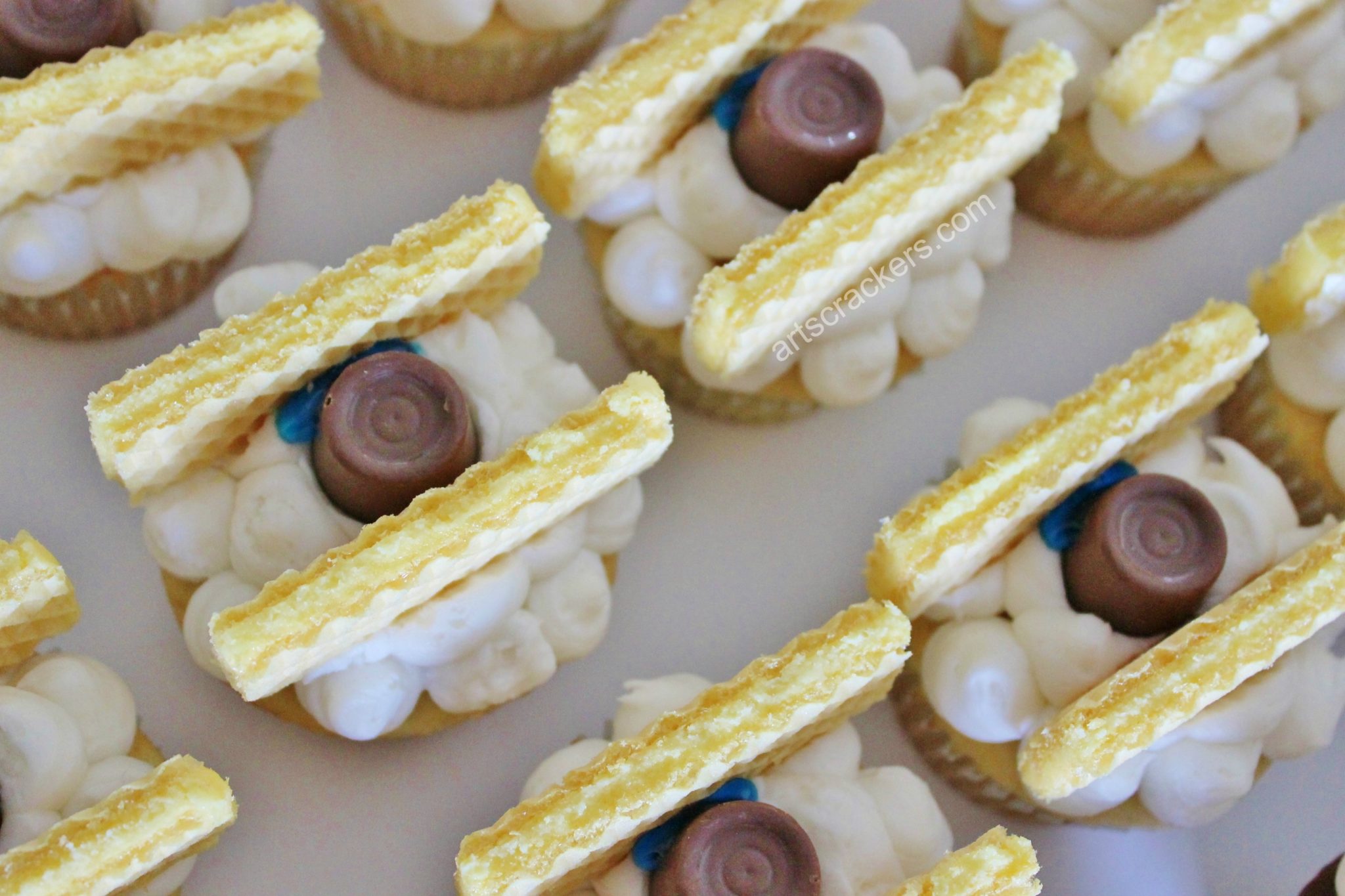 5. Using the sharp knife, trim the ends of pretzel sticks to fit flush in between the top and bottom wings.
6. Put the pretzels into place on both sides of the plane to create the posts and press down lightly.
7. Place two candy-coated candy buttons vertically into the frosting below the plane for the wheels.
8. Now dip the ends of two Mike and Ike candies into the melted chocolate, at the same time, and remove carefully, leaving a clump in the center. Place quickly onto the top of the ROLO candy, letting the leftover clump of chocolate keep them in place then top it with a chocolate chip and let the melted chocolate harden.
*Serve as soon as possible (if you let these sit out too long, they will still taste great, but the wafers may get a little soggy.)
You May Also Like:
-What flavor cupcake will you make? Be sure to take pictures and share them on my Facebook page!