Disclaimer: I am a member of #CollectiveBias Social Fabric©. This shop has been compensated by Collective Bias, Inc. 
and its advertiser. All opinions (and recipes) are mine alone.
My husband was overseas for Thanksgiving, so I had a lot…and I mean a LOT of leftovers. I didn't want the leftovers to go to waste, so I froze some for my husband to enjoy when he returned and ate a ton of sandwiches. Ya, that got old fast. I was bored of eating the same thing over and over. I decided to cook up a new, unique way to eat those leftovers–Sushi-inspired Thanksgiving Turkey Rolls. (For more great ideas, recipes, sweepstakes, loyalty programs, coupons, and more, visit the Cooking Up Good website.)
As someone who is frugal, I try my best not to waste food (see my Top 5 Family Meals and How to Stretch Your Ingredients post.) That includes all those leftovers. Okay, so I'm not always the best at this, but Kraft has some amazing and budget-friendly products that will help you really want to eat up your leftovers and not let them go to waste. Products like cheese, stuffing, dressing…the list goes on…will help give them a fresh new flavor.
Kraft Stove Top Stuffing is one of my favorites. I remember when they had individual microwaveable containers and I had one every day at work with my lunch. I really wanted to incorporate stuffing in my leftover dish and, since it has a similar texture to sticky rice, I thought it would be fun to make these sushi-inspired rolls. To keep up with the Asian theme, I added some flavors you find paired with sushi–horseradish (like wasabi) and ginger.
Ingredients
Leftover turkey, thinly sliced (large pieces work best, at least 1 inch by 4 inches)
Kraft Stove Top Stuffing
Cooked green beans (leftovers or cook a few to use)
1 cup leftover mashed potatoes
1 teaspoon Kraft prepared horseradish (find this in the refrigerated section)
1/2 cup turkey gravy
1/8 teaspoon ground ginger
French Fried Onions (crispy onions)
Directions
Preheat the oven to 350ºF.
1. Lay out a slice of turkey, rough side up (if this applies, if both sides are rough this does not matter.)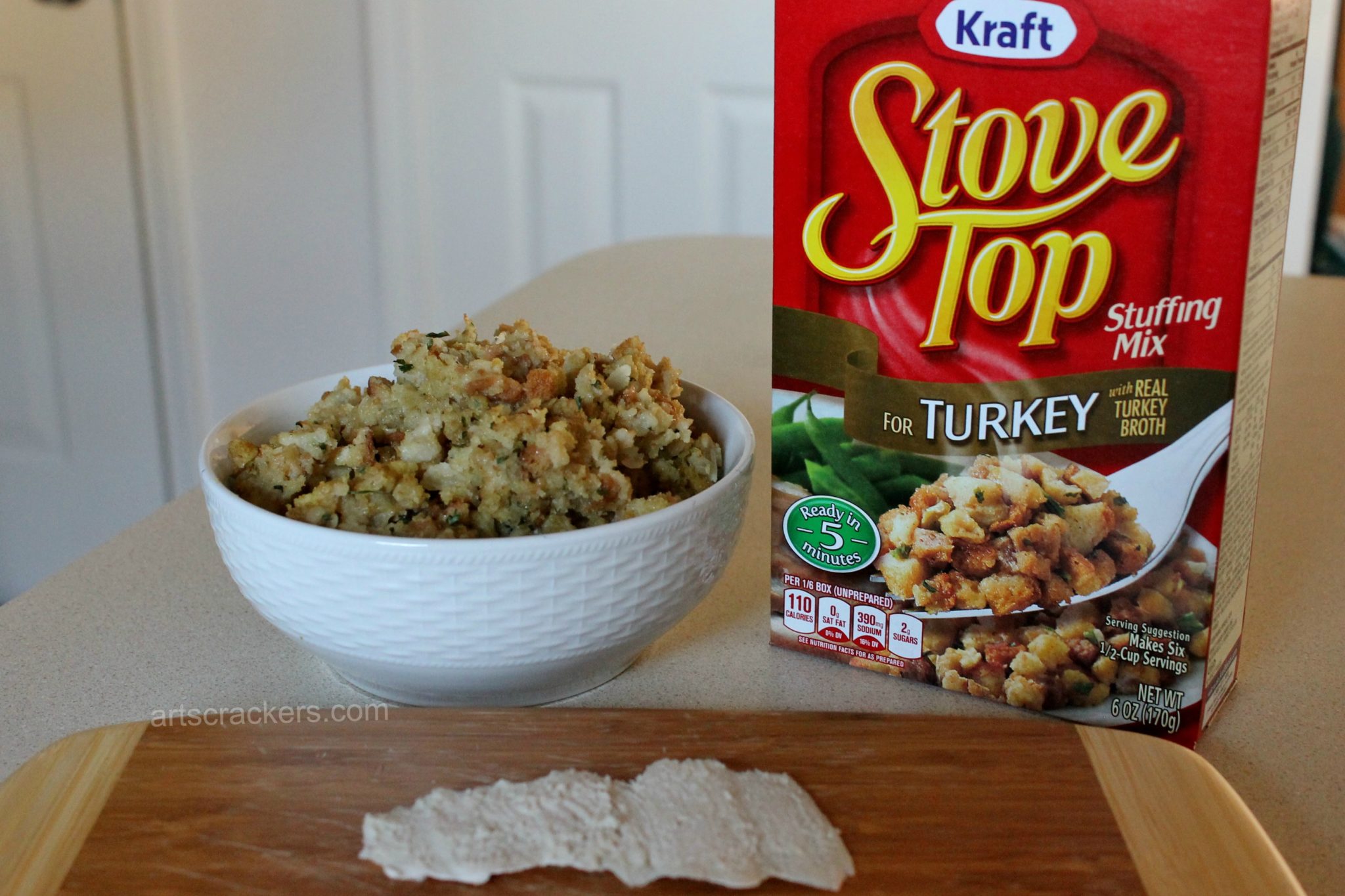 2. Add a spoonful of Stove Top stuffing in the center and carefully spread it out along the slice of turkey.
3. Place two or three green beans, cut to the size of the turkey, on the edge atop the stuffing.
4. Carefully roll the turkey keeping the stuffing and beans tucked inside. If you have a sushi mat, by all means, use it! I did not have one big enough to use, so I just rolled these by hand. To make sure the rolls stay together, you can stick a toothpick in them if desired. If the roll is too big, you can use a very sharp knife and carefully slice it thinner.
5. Place the rolls on a pan and bake for about 5 minutes. This will allow your leftovers to heat back up.
6. Meanwhile, heat the gravy on the stove and stir in the ginger.
7. Mix the horseradish into the mashed potatoes.
8. To serve, drizzle the ginger-infused gravy along the rolls, sprinkle with crispy french fried onions, and add a side of horseradish potatoes (this will be used just like wasabi, added to the top of the rolls.)
What is your favorite Kraft product to use with Thanksgiving leftovers? Share your story in the comments below!
You May Also Like