We love tropical fruit (E's favorite fruit is pineapple and S's favorite is banana), so I am excited for this opportunity to partner with Turbana/Fyffes to bring you a delicious tropical sundae recipe and promote the Sendick's 90th Anniversary event back home in Wisconsin.
Imagine yourself on the beach in paradise, the sweet smell of the ocean and tropical fruits wafting through the air.
In your hand you have a refreshing treat–an ice cream sundae loaded with some of those tantalizing tropical fruits.
Okay, so you may not be in a tropical paradise right now, but this amazing Sunset Tropical Twist Sundae with Turbana Bananas and Fyffes Pineapples will make you feel like you are.
Banana splits have been an obsession of mine lately, so this sundae modeled after this delicious ice cream sundae recipe makes me swoon. I wanted something that I could call a healthy dessert, so I kept it simple with wholesome ingredients.
Instead of just throwing everything on top like I usually do, I added each ingredient in order to give the appearance of a sunset in paradise.
As much as I was tempted to consume this banana split sundae all by myself, secretly indulging in my edible euphoria…I figured I'd be a great mother and wife and share some with my guys.
I set up the ingredients in these fantastic sundae bowls and lined them up for an ice cream sundae bar so we could each build our own Sunset Tropical Twist Sundaes.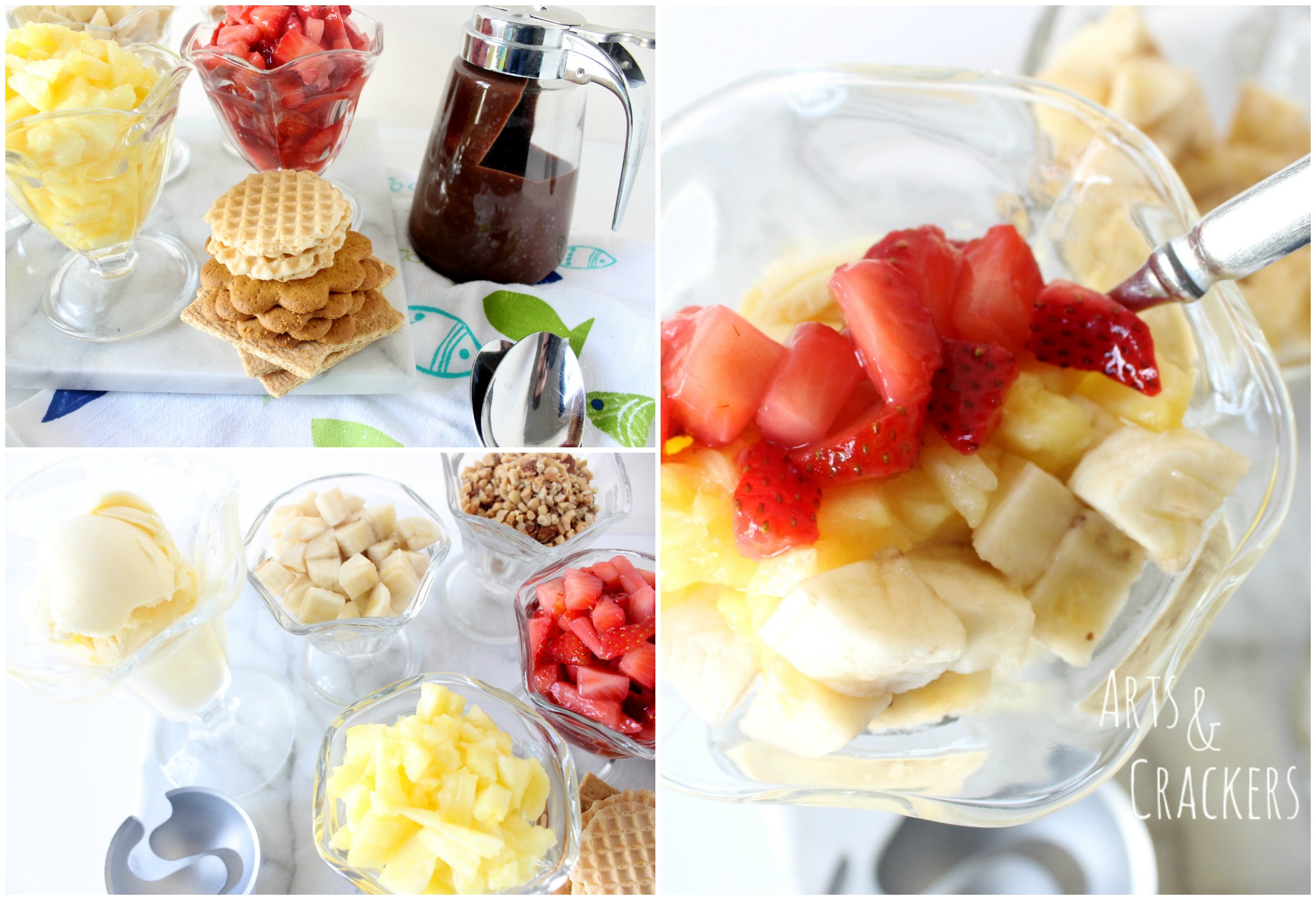 First, I had to prepare the fruit..
Red strawberries were chopped, sprinkled with just a hint of sugar to bring out the juices, and stored in the refrigerator overnight.
Sweet Turbana Bananas were coined and cut into quarter pie pieces.
That juicy Fyffes Pineapple was minced to create the perfect topping.
I made some fantastic homemade hard shell chocolate sauce to drizzle on top.
In my large glass sundae bowl, I layered: smooth vanilla ice cream, tender banana chunks, tart crushed pineapple, sweet strawberries in their sauce, a drizzle of chocolate sauce, a sprinkle of chopped peanuts, a small waffle cookie.
Yummy.
Might need a bigger bowl for all this wholesome goodness! I used these sundae glasses, but I love these sundae bowls too. Next on my list to purchase are these dessert spoons to go with my bowls.
You can layer these any way you wish. As I layered, I wanted to highlight the sunset theme. The cookie (which can be a small waffle cookie like I used, a thin Swedish cookie, or even a graham cracker), was to show the setting sun. The base level was washed with the reds and yellows and sprinkled with nuts to resemble sand.
Writing this is making my stomach growl and my mouth water. I need another one stat. I bet you want one too.

Here is an easy recipe sheet for you to follow:
This is now my favorite ice cream sundae. I love all the layers of flavor and texture.
Read Also: I Spy Gelatin Treat and Ice Cream Birthday Party Theme
I would love to hear from you in the comments below–-What is your favorite ice cream topping?