O Christmas Tree, O Christmas Treeeeee…. My boys love shaped sandwiches, but I don't always love having to clean the sandwich cutters, especially when they have a little more details. We came up with a way to make fun shape sandwiches without needing a sandwich cutter! Our Cute Christmas Tree Sandwich is the perfect Christmas Sandwich for Kids, and it is easy to make with tools you already own.
This post contains affiliate links. By purchasing through these links, you help support the family behind Arts & Crackers at no added cost to you! Thank you!
As I've mentioned before, we usually stick with our traditional rectangle or triangle sandwich pieces. Sometimes we use sandwich cutters, like our puzzle shape sandwich cutter or our elephant shape sandwich cutter. We've even done little bitty sandwiches with our Funbites cutter (these would be cute for a tea party!).
I haven't seen (or been inclined to purchase) a Christmas Tree Sandwich Cutter (though you could try a large cookie cutter), but I decided making and decorating Sandwich "Pine Trees" would be a fun edible activity for the kids to participate in for Christmas. They loved it!
One of our favorite Christmas Lunch Ideas is our Christmas Angel Sandwich. It's easy to make and doesn't require a cutter.
Cute Christmas Tree Sandwich | Christmas Sandwich for Kids (No Sandwich Cutter Needed)s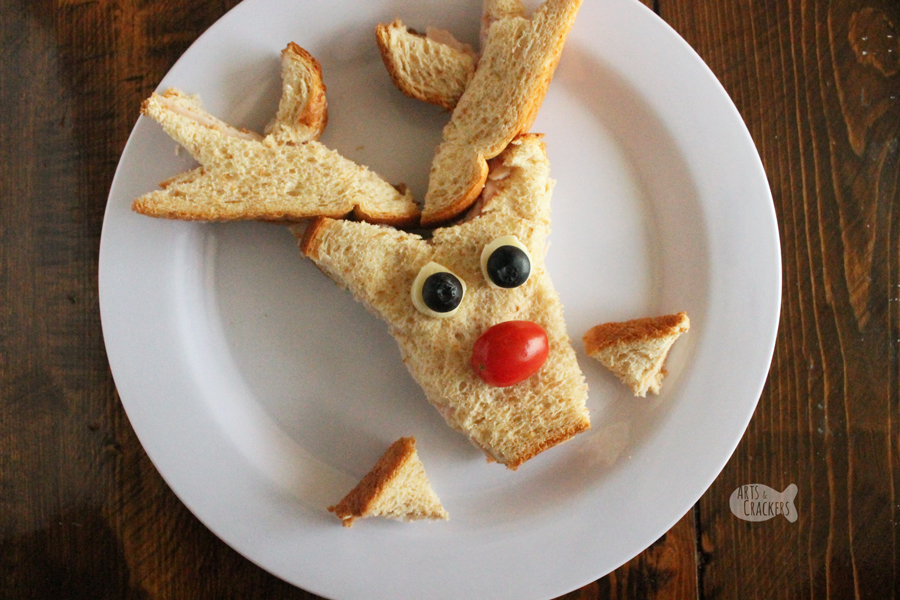 As with all of our fun shape sandwiches, you can make any type of sandwich you want with this since you are not using a sandwich cutter, as long as it's not super thick or loose. Sandwiches that use something to stick them together, like butter or nut spread or mayonnaise, work best. We love making these with turkey sandwiches and PB&J sandwiches—it's such a fun way to serve a healthy lunch for kids!

Ingredients
Sandwich of your choice
Bell pepper slices (alternatives: cheese strips, squeeze cheese, licorice, etc)
Blueberries (alternatives: chocolate chips, green olives, dried fruits, sprinkles, popcorn, etc)
Star-shaped cheese slice (alternatives: star-shaped fruit piece, star-shaped candy, etc)
Directions
Make your sandwich to your liking.
Carefully cut into the bread using a sharp knife. Make slow, tiny cuts with the knife up and down for best results. (See picture below for cut lines.)
You will end up with one full tree and two tree halves. If desired, you can trim off the crust and place the two halves together to make a whole, but we don't like any waste, so we just decorated the halves separately and made it look like a Christmas tree forest on the plate!
Decorate your trees! Use different healthy foods for the garland, ornaments, lights, and tree topper. Use your imagination! If you want to make the tree look green, try dying some butter with natural food coloring or covering your tree in spinach! Use a piece of cheese (cut by hand or with a small star cookie cutter) or a special treat as the tree topper!
This can be a great fine motor activity!
This is one reason I really love open-ended crafts that are edible. They allow your child to get creative with healthy ingredients, and they are more likely to eat their fun food creations!
Serve on a large plate or flat placemat (a Christmas placemat would be cute!) and make a full Christmas scene! You can add more cute edible crafts like our Caprese Salad Snowmen, our Mini Tree Appetizers, Poinsettia Cookies, and more!
My boys adore this lunch, and it's so simple to make. Let your kids help! Use an edible marker to draw the cut lines, then supervise as your child carefully cuts along the lines using a butter knife. (Kids can help the easiest when you make simple sandwiches like peanut butter and jelly.)
Read also: Clothespin Evergreen Trees Craft and Shortbread Cookies with a Secret Ingredient

Looking for more? View these categories!