Let me take a moment to be blatantly honest with you…sometimes I really don't like to cook dinner. In fact, I'll give you 7 reasons why this mom doesn't want to cook dinner (and I'm sure you'll agree). Because I don't want to leave you "hangry," I'll even share what we do instead.
Sometimes people look at my life and I've even been told by a few that I fit the stereotypical retro wife who has it all together and cooks and cleans and crafts…okay, so I do that…sometimes. But let's be real. I rarely have it together, my house is a mess, and I don't always feel like cooking dinner, even if it's microwavable. I'm a real human being, just like you.
Yes, I create super fun recipes and, don't get me wrong, I do enjoy cooking…but ohhhh there is so much more to it than that. Right here and now, I can give you at least 7 reasons why I really don't want to cook dinner (and P.S., I didn't cook dinner tonight).

Moe's is one of our favorite places to eat out when I don't want to cook, so I am happy to partner with them on this humorous and relatable list!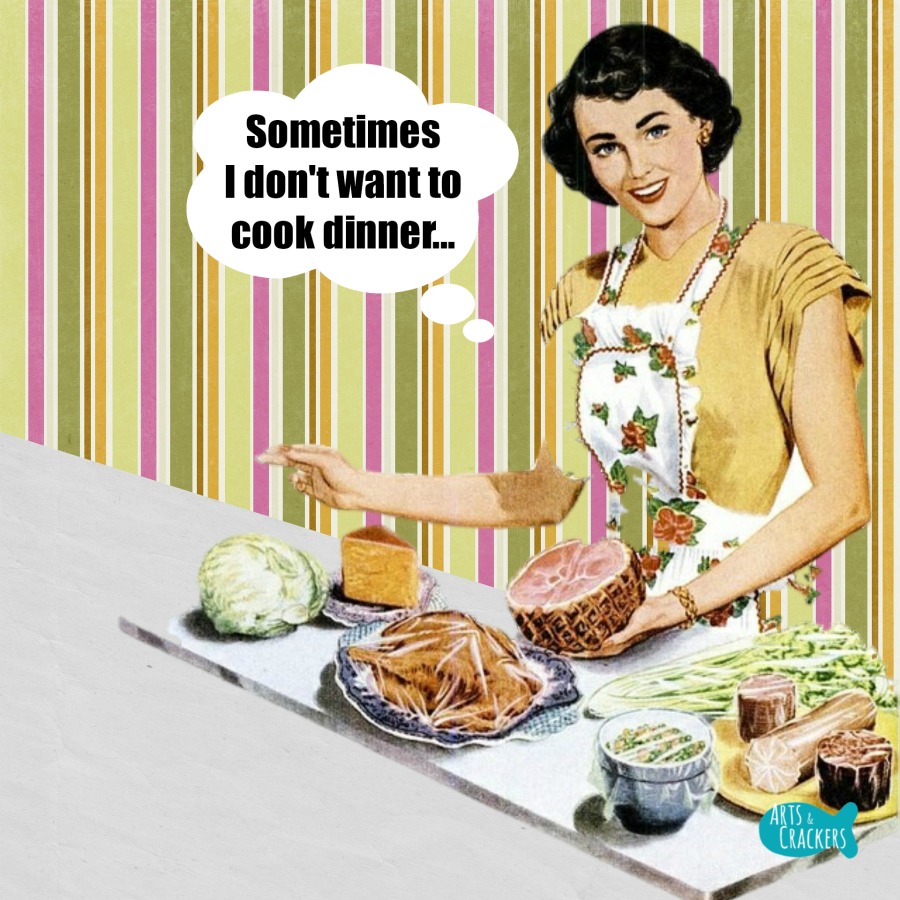 Reason Number 1
Monday, Tuesday, Wednesday, Thursday, Friday, Saturday, Sunday.

This is really seven reasons in and of itself; I could have just left it like this. Have you noticed this terrifying pattern?? You make dinner for your family on Monday then they expect meals every day for the rest of the week…and the week after that…and the week after that.
Sometimes I wish dinner was only necessary once a week. Sometimes moms don't want to cook dinner because they are fed up with cooking. They just need a break.
When I really need a break with cooking and my husband is exhausted from his work too, we opt to eat out. Moe's Southwest Grill is one of our favorite places to eat. My husband especially loves it (many of the locations give him military discount too, which is so neat!). As many these days, I try to watch what I feed my family. I love fresh foods, lots of produce, and well-balanced meals. This is probably one of the reasons why we love heading to Moe's so much.
Every morning, Moe's makes their guacamole (my favorite…mmm) and their salsas from scratch and flash-fries their chips; their meats/proteins are hot and ready for your meal whenever you stop in as they are grilled on a consistent production stream. Everything is fresh and new and ready to go each day.
Reason Number 2
Lunch.

Know what's crazier than the family needing dinner every night? They need lunch every day too. I'm not kidding. Two big meals a day.
Mom has already taken care of lunch for the day. She doesn't want to make dinner too.
Reason Number 3
"But I don't like it [today]!"

One day it's tomatoes. The next it's cheese. Making dinner can be exhausting when you have a picky eater. I've been there. I've been the picky eater and my kids are too at times. A lot has to do with sensory needs, so I try to steer clear of certain textures when I can, but sometimes I just want to make a dish I like.
My husband, for instance, really doesn't like tomatoes. He will eat them if I serve them, but I don't make as many tomato recipes as I'd like even though I love them. Trying to make meals for everyone to collectively enjoy, and those few times I cater to all the separate needs, can also lead to "Mom doesn't want to cook dinner."
The boys love having some control over decisions they make, especially when it comes to dinner. They love going to Moe's because they are able to choose their own delicious meal and customize it. Moe's has over 20 different ingredients to make your meal your own.
I can add a bunch of tomatoes to my meal while my husband leaves them out of his. I am trying to eat gluten-free too, so I love that I can choose gluten-free options. It's perfect!
Hey, fun fact. I didn't even know M.O.E's was an acronym, so I found this trivia fascinating. To share that they have something to cater to everyone, M.O.E.'s actually stands for Musicians, Outlaws, and Entertainers! Which one are you?
Reason Number 4
Fresh outta ideas.

Sometimes I just don't want to cook because I don't even know what to cook. Or maybe it's loss of will power to meal plan. Either way, we've had lasagna, pizza, grilled chicken, burgers (you know, the staples)…now what?
Reason Number 5
Somebody (*clears throat*) ate all the ingredients.

You spend time planning meals. You visit the store and get all the ingredients. Then suddenly half of it is missing. You could get creative and work with the ingredients you still have…but does Mom really want to do that? Not usually.
My guys are always eating things I buy to make dinner. Sometimes I work with it, but sometimes we head out to eat because "I just can't" anymore. Good news. Moe's chips and salsa are all-your-growing-boys-can-eat (aka unlimited)!
Reason Number 6
Cooking is all fun and games until someone has to clean.

That someone is usually Mom (not always, of course; my husband is a huge help.). Even though my husband does work alongside me to clean up kitchen messes, some days I find the thought of actually cooking and cleaning to be a bit much. I mean, they expect me to cook and clean? Every night?
Life isn't like those food shows on TV. You can't cook what you want and a crew cleans up for you. I like the nights we eat out. Someone else cooks and someone else cleans. They get paid and I get a break. It's mutually-beneficial.
Reason Number 7
Mom just doesn't want to cook dinner.

Sometimes Mom just isn't in the mood to cook dinner. Being a stay-at-home mom, sometimes I feel trapped in the house, even if we run our errands and go to appointments, and that translates to a lack of will to cook. Other times I just would love to be treated out or I'm craving something specific like an Earmuffs Burrito Bowl.
Perhaps it would be a great idea to plan a trip to eat out once a week? Give mom a much-needed break? Head to your locally-owned and operated Moe's Southwest Grill and treat Mom out to a dishes-free dinner that benefits Dad and kids too.
Can you relate to not wanting to cook dinner? Have you been to Moe's Southwest Grill? What is your go-to order?

Read also: Top 10 Tips for a Less Stressful Vacation | Visiting Family and Ten Tips for Sending Christmas Cards with Ease and Creativity